Delivering a killer user experience is easier said than done. A slow page load speed is all it takes to send customers running for the hills. Internet monitoring tools are an absolute must for optimizing performance. Website monitoring tools enable you to monitor your connection, discover poor performance and sustain a top-notch user experience.
Here is a list of the 8 best internet monitoring tools:
SolarWinds Pingdom

(FREE TRIAL)

A website monitoring and real user monitoring tool with root cause analysis. The tool monitors website transactions, page speed, uptime, and more.
PRTG Network Monitor

(FREE TRIAL)

A network monitoring tool that can monitor websites. It uses the HTTP Full Web Page Sensor to monitor web page loading times and the HTTP Transaction Sensor to monitor individual transactions.
Site24x7

(FREE TRIAL)

Website monitoring service that comes with web page speed monitoring, DNS server monitoring, website availability monitoring, web transaction monitoring, Real user monitoring, and more.
ManageEngine Applications Manager (FREE TRIAL) Monitors all applications but is particularly strong at monitoring web application performance. Available for Windows Server and Linux.
Dynatrace Real-time application performance monitor. It autodetects application dependencies and uses artificial intelligence to discover performance issues.
Uptrends Website monitoring solution that allows you to test your site from over 215 locations worldwide. It is suitable for web performance monitoring, real user monitoring, server monitoring, and API monitoring.
Uptime An uptime and performance monitor that measures website availability with tests from six continents. It monitors user interactions with your site in real-time.
StatusCake A web monitoring tool that analyses site performance. Supports HTTP/HTTPs, TCP, SSH, DNS, SMTP, PING, and PUSH. It includes a virus scanner and SSL monitoring.
The best internet monitoring tools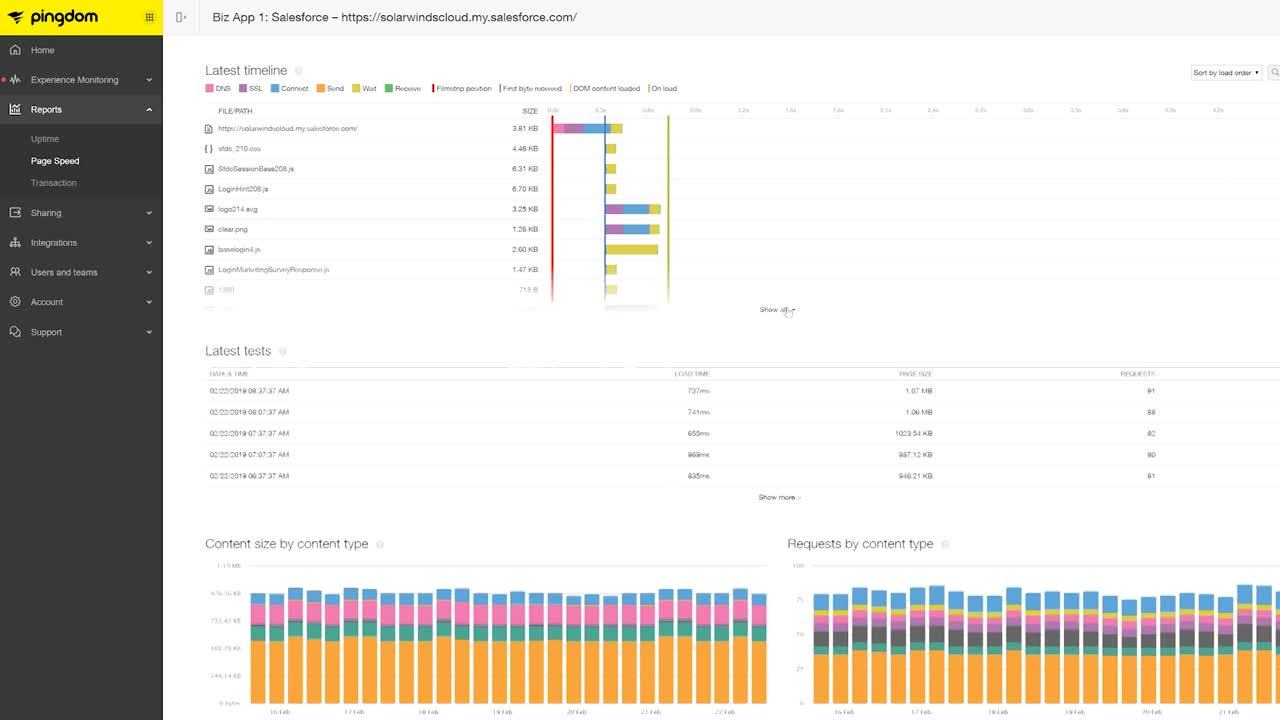 SolarWinds Pingdom is a website performance monitor and real user monitoring tool. With SolarWinds Pingdom, you can monitor your website for performance issues and discover the root cause. The tool combines transaction monitoring, page speed monitoring, uptime monitoring together into one unified solution.
Page speed monitoring allows you to monitor the load time of your site and identify performance bottlenecks. Similarly, uptime monitoring allows you to measure the availability of your site each minute to make sure that it's available.
The alert system keeps you updated on performance fluctuations by email, SMS, and application notifications. You can create custom alerts and configure the Alert Policy you want to use to manage performance events. Alerts stop you from missing out on important information that could impact your service.
SolarWinds Pingdom is a great tool for enterprises that want to monitor a website and deliver an exceptional experience to end-users. SolarWinds Pingdom starts at a price of $14.95 (£11.55) per month. You can download the 14-day free trial.
Pingdom Website Monitoring Download 14-day FREE Trial
PRTG Network Monitor is a network, server, and application monitoring tool. With PRTG Network Monitor, you can configure sensors and monitor almost any system in your network. For website monitoring, you can use the platform to monitor site availability, load times, and processes.
There is an HTTP Full Web Page sensor that can measure the loading time of a web page in real-time. If you're running a site with lots of transactions like an e-commerce site, then you can use the HTTP Transaction Sensor. The HTTP sensor allows you to monitor the loading time of single URLs and the loading time of the entire transaction.
You can automate monitoring these sensors by using alerts. PRTG Network Monitor has a threshold-based alert system where you configure trigger conditions. Alerts can be sent via email, SMS, push notification, syslog message, SNMP trap, Slack message, and more.
PRTG Network Monitor is a high-quality solution for SMEs. The first 100 sensors are included as part of the freeware version but if you require more you'll have to purchase an upgrade. Paid versions of PRTG Network Monitor start at $1,600 (£1,236) for 500 sensors. You can download the 30-day free trial.
Paessler PRTG Network Monitor Download 30-day FREE Trial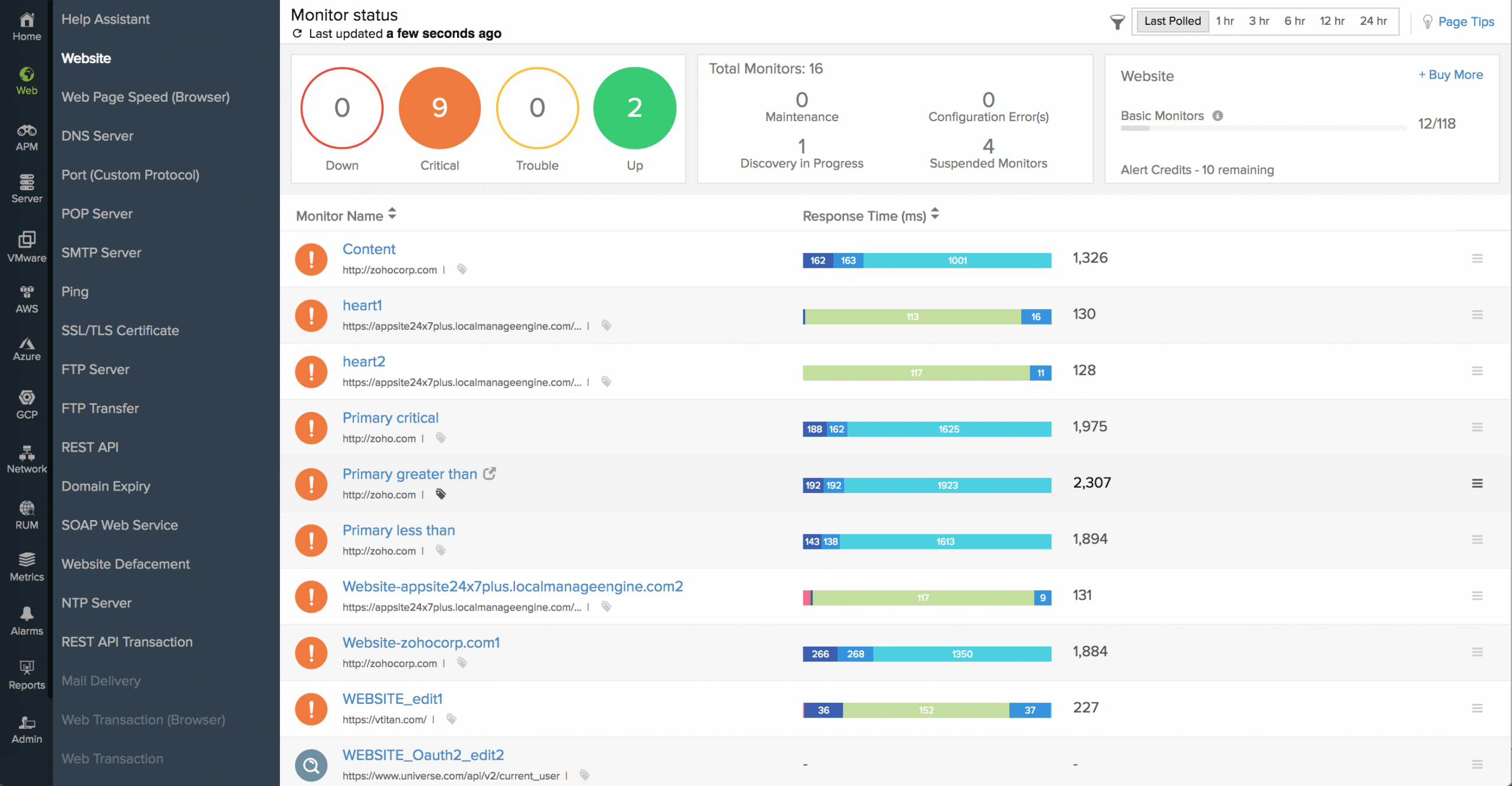 Site24x7 is an all-in-one website, network server, application, and cloud monitoring tool that monitors the availability and user experience of internet services. For website monitoring, Site24x7 offers website availability monitoring with HTTP/HTTPS, SSL/TLS Certificate monitoring, DNS server monitoring, web page speed monitoring, web transaction monitoring, and real user monitoring.
For network monitoring, Site24x7 uses autodiscovery to find devices with SNMP. The software has support for over 200 vendors including Cisco, HP, Juniper Networks, Fortinet, Netgear, and more. You can also configure alerts to notify you of network events as they unfold.
There are four versions of the All-in-One plan available to purchase: Pro, Classic, Elite, and Enterprise. The Pro versions support 40 basic monitors/3 advanced monitors for $35 (£27) per month. The Classic edition costs $89 (£68) per month with 100 basic monitors/5 advanced monitors.
The Elite edition costs $225 (£173) per month with 250 basic monitors/10 advanced monitors. The Enterprise version costs $449 (£346.98) per month with 500 basic monitors/25 advanced monitors. You can start the 30-day free trial.
Site24x7 Start 30-day FREE Trial
ManageEngine Applications Manager monitors a wide range of applications, such as databases, web servers, and mail systems. It is a very comprehensive tool for monitoring web applications and testing website performance, such as response times and load times.
The web application monitoring tools in this package offer code-level activity tracing. The monitor is also able to examine APIs and trace the microservices behind them. Synthetic monitoring tools in the system offer the ability to activate interactive elements in a web page and check efficacy. The Applications Manager identifies application dependencies and draws up an app stack for root cause analysis.
ManageEngine Applications Manager is available in three editions: Free, Professional, and Enterprise. All three versions are available for Windows Server and Linux. The Free edition only allows five monitors. The Professional edition is very comprehensive with the ability to monitor 500 different applications. This service includes all the web monitoring features, such as synthetic monitoring. Advanced monitoring systems, such as distributed tracing for APIs and microservices are reserved for the enterprise edition. You can download a free 30-day trial of the Enterprise edition.
ManageEngine Applications Manager Download 30-day FREE Trial
Dynatraceis an application monitoring platform that you can use to monitor applications and infrastructure in real-time. Dynatrace automatically discovers application dependencies after you install the agent. You can then view a topological map of your infrastructure stack from end-to-end.
Once you've configured Dynatrace, you can start to monitor application transactions right down to code-level. Data analytics and machine learning enhance the monitoring experience by automatically detects performance anomalies and notifies you.
During troubleshooting, artificial intelligence detects causal relationships of application issues automatically. If you require further assistance then you can use instant replay to see how performance changes over time.
Dynatrace is an application monitor that's designed for enterprises that want to build an exceptional user experience. You can find out pricing information for the software by contacting the company directly. You can start the 15-day free trial.
Uptrends is a website monitoring and web performance monitoring tool that you can use to monitor websites, servers, and APIs. At its core, Uptrends is a real user monitoring solution, that allows you to view load times per browser, operating system, and device type. The tool also displays the locations of users so you can see where your users are accessing your site from.
One of the most useful features that comes with Uptrends is automated web performance tests. Automated web performance tests are where Uptrends opens up a Chrome, Firefox, or IE browser and loads up your site so you can see how the site performs. You can run tests from 215 locations across the globe.
The platform comes with an alerts engine, which allows you to add alert definitions and choose what issues you monitor for. Uptrends can send alerts through email, SMS, voice messages, Slack, PagerDuty, webhooks, and mobile apps. There are also escalation levels so you can determine who needs to respond to an issue.
There are many packages of Uptrends available, starting from the Starter Version to the Enterprise version. The Starter version costs $11.67 (£9.02) per month and includes 10 basic monitors and a max of one RUM website. The Enterprise version costs $50.57 (£39.08) with a custom number of monitors and support for unlimited RUM websites You can start the 30-day free trial.
Uptime is a website performance monitor that checks your website availability. Uptime tests website availability every minute from over 30 locations. The platform also monitors transactions, HTTPS, Ping, SSH, TCP, and DNS to give you a broader perspective of performance concerns.
Real user monitoring is another area where Uptime is very useful. You can monitor the page load time of users to check how the website functions for your customers. Data is displayed in graph format so that you can see how response time fluctuates over time.
If there is a problem with your site the tool alerts you by SMS, email, webhooks, push notifications, and phone calls if your site goes down. There is also the option to generate reports for further analysis.
There are four versions of the tool available to purchase: Basic, Superior, Business, and Enterprise. The Basic version costs $15 (£11.59) per month with 10 checks included. The Superior version costs $49 (£37.87) per month with 60 checks included. The Business version costs $89 (£68.79) per month with 100 checks included. The Enterprise version costs $229 (£176.99) per month with 300 checks included. You can start the 21-day free trial.
StatusCakeis a website uptime monitoring tool that uses HTTP, HEAD, TCP, DNS, SMTP, SSH, PING, and PUSH to measure performance. StatusCake tests the availability and speed of your website from 28 different countries to make sure all your users enjoy a good user experience.
Virus scanning goes a long way towards addressing cybersecurity concerns and stops your website from being compromised. The virus scanner can check for threats like viruses, malware, trojans, and other threats that could threaten your service and users.
Other features like domain monitoring help to give you peace of mind, to make sure that your domain doesn't go unrenewed or get hijacked. Similarly, SSL monitoring makes sure that you don't lose your SSL certificate without noticing, which reduces the risk of losing customers.
There are three versions of StatusCake available; Free, Superior, and Business. The Free version comes with 10 uptime tests with a 5-minute test interval. The Superior version costs $20.41 (£12.49) per month for 100 uptime tests and a 1-minute test interval. The Business version costs $66.66 (£41.66) per month with 300 uptime tests and a 30-second test interval. You can start the 7-day free trial.
Internet Monitoring Tools: Stop Losing Customers With Poor Loading Times
Making sure your site is available to your users when they need it is critical to driving business results. If your customers can't access your site immediately then they will go to another site with a better user experience! Internet monitoring tools give you the information you need to improve performance for your users and stop poor loading times.
Using network monitoring tools and taking down actionable performance data gives you a valuable reference point for improving your network's performance. Tools like SolarWinds Pingdom, PRTG Network Monitor, Site 24×7 and ManageEngine Applications Manager are all excellent internet monitoring tools for measuring website performance.