If you're looking to take control over your bandwidth consumption, look no further. In this article, we'll explore the eight best bandwidth limiter tools you can start using today.
Here are our top eight choices for the best bandwidth limiter tools:
SolarWinds Network Bandwidth Analyzer Pack (FREE TRIAL) – Allows administrators to quickly and efficiently shape and filter traffic in both small and enterprise-sized networks.
ManageEngine NetFlow Analyzer – Uses threshold-based filters for more granular control.
Paessler PRTG Network Monitor – Locates new devices on the network through autodiscovery.
NetLimiter – Features quota-based filters that only trigger after a certain time or limit.
Glasswire – Combined firewall and bandwidth limiter tool that is also available for Android.
NetBalancer – Comes standard with IPv4 & IPv6 support.
Net Peeker – Allows for TCPDUMP format exporting.
Zscaler – Cloud-based bandwidth limiter tool available as a monthly service.
The best bandwidth limiter tools (BLTs):
The Network Bandwidth Analyzer Pack includes two tools to measure and restrict networking traffic, NetFlow Traffic Analyzer, and Network Performance Monitor. Together these tools allow administrators to limit bandwidth, troubleshoot network speeds, and measure the overall health of a network's connectivity.
The tool works by capturing traffic over the network and analyzing its destination, size, and bandwidth usage. As the tool runs it begins to paint a picture of bandwidth usage and allows you to easily identify what applications, endpoints, or services are consuming the most network resources. These insights are elegantly displayed on the Netflow Analyzer Summary page and are broken down by the top ten applications, the number of sources, and most bandwidth-intensive processes.
Network topology maps are also included and populate network nodes automatically. This makes it easy to visualize exactly where network issues are stemming from, and how something such as a switch failure impacts certain parts of your network. The network map is dynamic and reflects new nodes and changes in real-time.
Detailed alerting templates allow you to create notifications using nested triggers and conditions. This helps cut down on unnecessary duplicate tickets and alert fatigue on your team. If your organization is responsible for a specific SLA, Network Bandwidth Analyzer can alert based on preconfigured thresholds to ensure customers are satisfied.
Key features:
Network topology map.
QoS queuing.
Advanced alert templates.
You can test out SolarWinds Network Bandwidth Analyzer Pack free through a 30-day trial.
SolarWinds Network Bandwidth Analyzer Pack Start a 30-day FREE trial
NetFlow Analyzer is a traffic analytics and bandwidth management tool designed for use in corporate environments. This tool simultaneously captures, categorizes, and records traffic on your network to help you understand exactly where your bandwidth is being used.
Troubleshooting issues such as poor VoIP call quality or slow online streaming can be a time-consuming task when faced with mountains of log files. NetFlow Analyzer allows you to pick this traffic out from the network in real-time to see exactly where settings may need to be changed.
Under the Netflow Reports tab, you can view an audit of all captured traffic on the network. This traffic paints a clear picture by showing you exactly where the traffic is coming from, where it is going, and what service it is associated with. From right inside the tool you can configure QoS policies to limit bandwidth consumption.
Through the customizable dashboard, you can track and chart the top usage by application, source IP, and protocol.
Key features:
QoS policies.
Threshold-based alerts.
Bandwidth usage reporting.
ManageEngine NetFlow Analyzer comes in three pricing tiers, one is completely free. You can test out any of the paid versions through a free trial for 30-days.
PRTG Network Monitor enables you to control bandwidth usage and other network protocols at scale through a simple three-step process. The platform uses Netflow technology to monitor network traffic and then provides you the tools needed to create rules and policies to restrict and shape that usage.
Probing your network traffic can be done through either manual interface selection or a simple auto-discover tool. Auto Discovery is accomplished through lightweight sensors that use WMI and SNMP to obtain utilization metrics. Once captured these insights are pulled into a customizable dashboard and displayed through live charts and graphs.
The overview dashboard gives you a top-down view of bandwidth consumption as a whole. Historical charts allow you to see right when abnormal spikes occur, where that traffic was coming from, and what service it was associated with.
Between the pre-configured sensors and autodiscovery features, PRTG Network Monitor makes for a great addition to any sysadmins toolkit.
Key features:
Windows and macOS compatible.
Premade monitoring templates.
Autodiscovery of new devices.
The paid version of PRTG Network Monitor starts at $1,750 (£1,410). You can test its features out yourself through a 30-day free trial.
NetLimiter is a bandwidth limiter tool and traffic control tool that allows administrators to quickly and easily limit, prioritize, or block specific traffic.
Through a simple interface, you can select the maximum transfer speed for a specific application, or build out a custom filter to get more granular with your controls. For example, custom filters allow you to build zones and put applications inside of them.
The zones feature is great for larger networks that want a detailed level of control without all the clutter. Ports can also be filtered the same way as applications. Set either an individual port or a  port range to restrict bandwidth traffic for those services.
QoS can be done directly in NetLimiter via the Priorities section. There are three built-in levels you can choose from, Critical, High, and Low. A Critical priority is best for applications where low latency is crucial. Services such as VoIP or video streaming platforms that need consistent bandwidth connections would be a good fit for High priority.
On the opposite end, Low priority puts tagged applications below the Normal level. This is useful for networks that want to allow services like internet radio or entertainment apps, but don't want them to negatively impact businesses functions.
Key features:
Preset traffic control limits.
Visual bandwidth displays.
Quota based rules.
Pricing for NetLimiter starts at $29.95 (£22.68) per standard license and $24.95 (£18.89) for a home license. Licenses are lifelong and come with a 30-day money-back guarantee.

Glasswire is a firewall application that contains intuitive bandwidth limiter tools geared towards smaller businesses and home networks.
Through a simple and vibrant interface, Glasswire sniffs networks for traffic and provides insights such as bandwidth usage, traffic type, open ports, and where that traffic originated from. The main interface has an easy to read dashboard that breaks down all apps, hosts, and traffic along with their corresponding bandwidth usage.
From here, you can block or limit this traffic as you see fit. These rules can be saved into profiles that can apply to other networks running Glasswire. Having multiple profiles can be useful. For example, if you're in the middle of application testing, that may require opening up ports and allocating resources differently. A simple profile swap can make dozens of detailed changes in just a few seconds.
A neat feature called "Ask To Connect" forces new applications to prompt you before connecting. This is similar to how UAC works in Windows, but with a bit more custom control. Glasswire is also available as an Android app where you can measure bandwidth speeds per app, as well as restrict certain access and permissions.
Key features:
Simple user interface.
Firewall profiles.
Android mobile app.
Glasswire has three pricing tiers and currently starts at $39.00 (£29.54) for one PC. This tier includes features like graphical reporting, dark themes, and Ask To Connect.
NetBalancer is a Windows-based application for monitoring and managing network traffic. The tool is able to limit bandwidth by using Deep Packet Inspection (DPI) to help you identify what types of applications and services are running in your environment.
Upload and download limits can be set to restrict network resources based on application, and a full historical view of downloads overtime can be reviewed for auditing purposes. To help visualize this data NetBalancer includes graphs and charts displaying insights such as top process, number of connections, and most visited websites. If you're experiencing intermittent issues, the system tray and toolbar widget gives an instant graphical representation of your current usage.
Rules are created on the host machine running NetBalancer and have a number of different in-depth ways you can limit bandwidth usage. Rather than just selecting a service, NetBalancer gives you detailed control over port ranges, source, and destination MAC addresses, and source IP addresses.
Using those details you can build unique filters that are either always in place, or controlled based on an hourly, daily, or monthly schedule. Advanced statistics and text logs are also available with more detailed troubleshooting. These logs include information like response time, TTL, and timeouts.
Key features:
IPv4 & IPv6 support.
Schedule-based filtering.
Historical connection logs.
NetBlancer costs $49.95 (£37.83) for lifetime activation on one PC and includes free upgrades for one year.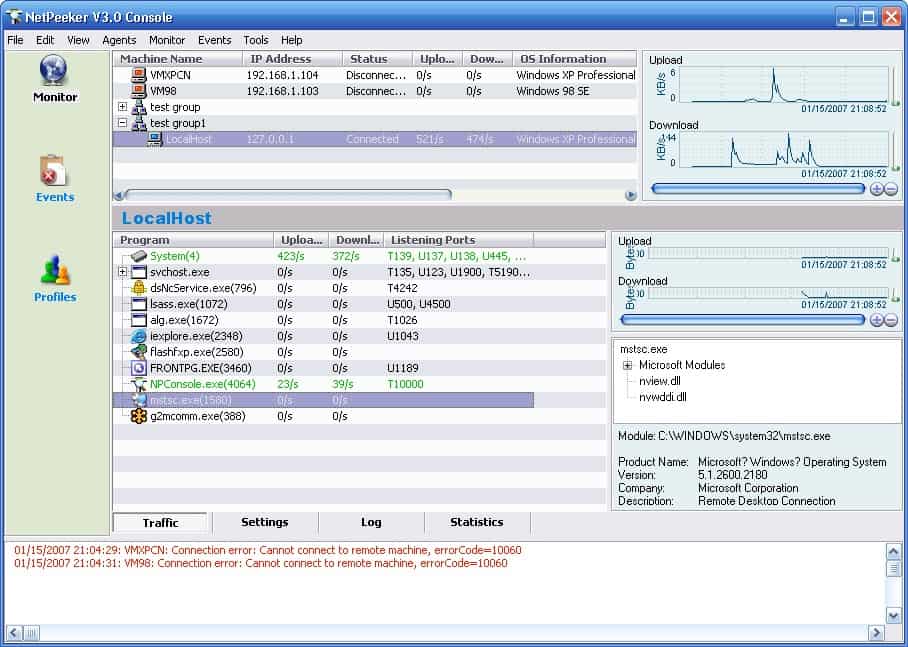 Net Peeker is a Windows-based bandwidth limiter tool and networking monitor that focuses on providing basic traffic shaping capabilities for workgroups and smaller networks.
Net Peeker's interface won't be winning any awards, but that doesn't take away from its powerful traffic filtering features. You'll have a wide variety of blocking features that allow you to filter or restrict traffic based on application, hostname, source country, port, or protocol. Using a combination of these settings ensures that even if an application's ports change, your filter settings won't need to be adjusted.
Hard rules can be put in place to limit bandwidth, but you can also set this dynamically using priority-based traffic shaping. This gives specified applications, servers, or remote sites priority when needed. Network bandwidth quotas can also be implemented to only restrict traffic when a monthly or daily limit is reached. Quotas can either stop traffic entirely or throttle the speed of the service.
Net Peeker is powered by live packet capture and inspection that allows you to get as specific and as detailed as needed. Traffic logs can be automatically recorded and archived in ZIP file format. This compression helps ensure no single log file gets too big to open, or overwhelms disk space. Each session logs records the start and stop time, application type, source address, ports used, speed, and total bytes transferred. For further investigation Net Peeker supports exporting logs in TCPDUMP format, allowing you to import these directly into other third-party tools.
Key features:
TCPDUMP format exporting.
Filtering by country.
Quota-based restrictions.
Net Peeker personal licenses start at $25.00 per machine. Group licensing for five agents costs $125.00.
Zscaler is a cloud-based firewall solution that offers a variety of bandwidth limiting controls in addition to security features. Traffic can be shaped and filtered by application, source IP, protocol, or port range. Specific policies can be set to prioritize critical applications. For example, you can limit 25% of your bandwidth to usage for Netflix while allowing for 70% utilization for VoIP services.
Inside of Zscaler, you can assign rules to an admin rank. This dictates what rules specific admins can change. Administrators cannot change rules that have an admin rank higher than their own. This simple but effective form of permissions allows help desk managers to lock down certain rules without completely locking out other technicians.
The tool features basic reporting that enables you to build graphics displaying bandwidth usage over time sorted by application. This information can be viewed live, or saved as a report for future documentation.
Key features:
Bandwidth utilization limits by percentage.
Internal user account permissions.
Graphical bandwidth reporting.
Since Zscaler is a cloud-based service, you'll pay each month to use its features. At this time you'll need to contact the company directly for an accurate quote.
Choosing The Right Bandwidth Limiter
Bandwidth hogs can create serious headaches for both administrators and other users. Whether it's streaming services or massive downloads the best bandwidth limiter tools will be able to help you regain control of your network.
Our top choice is the SolarWinds Bandwidth Analyzer Pack. These tools give administrators both out-of-the-box filtering, as well as custom settings that can restrict and prioritize traffic in any size network.
How do you manage bandwidth in your network? Do you use a limiter tool? Let us know in the comments below.