Over the past decade or so, network monitoring tools have become one of the core resources of most IT administrators in large organizations. As network monitoring has become more popularized, the market has become oversaturated with new tools, making it difficult to separate the good from the bad. In this article we look at some of the best network monitoring tools on the market and provide you with the key differentiators to look out for.
Key Differentiators
When looking for a network monitoring tool, there are a number of factors to consider in order to get the most value for money. The key criteria listed below are features you can expect from a top-of-the-line network monitoring tool:
Real-time and historic network monitoring
Customizable dashboards
Visualization features such as charts and graphs
Alert systems
User configured parameters
Reports
If you find a tool with most of these features, then you can be sure it will hold its own within a dynamic enterprise environment.
Here is our list of the best network monitoring tools on the market:
SolarWinds Network Performance Monitor

(FREE TRIAL)

An SNMP-based system that checks on the statuses of network devices. The console for the monitor interprets device agent reports into live performance metrics and allows the analysis of historical data. Installs on Windows Server. Start the 30-day free trial.
ManageEngine OpManager (FREE TRIAL) A combined server and network monitoring service. The network performance functions use SNMP to gather device statuses. Available for Windows Server and Linux. Download a 30-day free trial.
Atera (

FREE TRIAL)

This cloud platform of tools for managed service providers includes an automated network monitoring service that operates remotely. Access 30-day free trial.
Site24x7 Network Monitoring Tool

(FREE TRIAL)

This network monitoring is part of a cloud-based platform of system administration tools and it is available as an add-on to a server monitoring system. Access a 30-day free trial.
Paessler PRTG

(FREE TRIAL)

A collection of tools that monitoring networks, servers, and applications. The network monitor is based on SNMP. Tuns on Windows Server. Get the 30-day free trial.
Zabbix A free open-source system monitoring tool that includes SNMP-based network device monitoring. This software installs on Linux, macOS, and Unix.
Icinga 2 Developed from a fork of Nagios Core, this infrastructure monitoring system includes network monitoring and accepts Nagios plug-ins. Runs on Linux.
Nagios XI Based on the free Nagios Core, this infrastructure monitoring tool includes network monitoring and can be expanded by plug-ins that can be expanded by plug-ins. Installs on Linux.

Progress WhatsUp Gold A network performance monitor that uses SNMP procedures to gather device statuses. Installs on Windows Server.
Adrem NetCrunch A network performance monitor and traffic analyzer available in our levels. Runs on Windows Server.
The Best Network Monitoring Tools
These are some of the best network monitoring tools on the market.
When searching for the ultimate network monitoring tool, you need look no further than SolarWinds Network Performance Monitor. This platform has been designed from the ground up to make the process of monitoring your network as painless as possible. Enterprises seeking a performance monitor with extensive automation are supported by a number of features.
Chief among these features is Network Performance Monitor's auto-discovery function. SolarWinds automatically discovers devices on your network and adds them to the platform. This process can be completed in less than an hour and means you don't have to spend time manually locating devices throughout the network. The simplicity of this feature is something that is carried over into the user interface as a whole.
You can customize the dashboard and choose what information you'd like to see about your network. For example, you may wish to view a pie chart that outlines application health or a map of your connectivity. You can also choose to look at activity for a particular IP address. There are many different dashboards and views to choose from show how your network runs. The inherent flexibility of the dashboard makes this a solution that can be tailored to meet an individual organization's needs.
Network Performance Monitor also has an inbuilt alerts system. The user can set parameters for alerts, and the program will send notifications via email or SMS once the alert criteria has been met. You don't need to manually monitor your network 24/7 in order to stay up to date with new events. The notifications feature automates this process and flags up events where there is an issue.
If you want a clearer perspective of your network connectivity and topology, Network Performance Monitor can produce heatmaps as well. A heatmap of IT infrastructure shows where connectivity is good and where it is poor, an invaluable diagnostics tool. The NPM focuses on the statuses of network devices. If you want a deeper perspective on network traffic, you will also need the SolarWinds NetFlow Traffic Analyzer.
Overall this is a great product for SMEs and larger enterprises alike. SolarWinds Performance Monitor comes with a price tag of $2,895 (£2,156). You can also download the 30-day free trial.
SolarWinds Network Performance Monitor Download the 30-day free trial.
ManageEngine OpManager takes aim at those companies seeking a catch-all network monitoring solution. Like PRTG, this tool embodies all the key differentiators one would expect from a top-of-the-range product. Users can conduct real-time network monitoring and view their live network activity through a variety of dashboards and graphs. You can conduct physical and virtual server monitoring to monitor performance indicators like CPU, disk space and memory utilisation.
From the beginning, this program is extremely easy to set up. You can automate the discovery of your network elements by IP range, which helps reduce the amount of time spent setting things up. It doesn't take much time to configure before you can start monitoring your network effectively. Once the program itself has been set up, it has one of the best user interfaces on this list. OpManager takes a minimalist approach that allows you to see just enough information to tell what's going on, but not enough to confuse you (as can sometimes happen with PRTG!).
When it comes to monitoring servers, OpManager offers a large amount of automation. Threshold-based monitoring helps configure parameters to receive alerts. Adding on to this feature is reactive network monitoring, which automates the forwarding of syslog and trap messages. If you want to deliberate on your network performance a little more, you can generate customized reports.
OpManager comes in one free version and two paid versions. The free version monitors up to 10 devices. The Essential version monitors up to 25 devices for $715 (£532). If that's not enough, you can purchase the Enterprise version for $19,795 (£14,737), which monitors up to 500 devices. You can download a 30-day free trial.
ManageEngine OpManager Download 30-day FREE Trial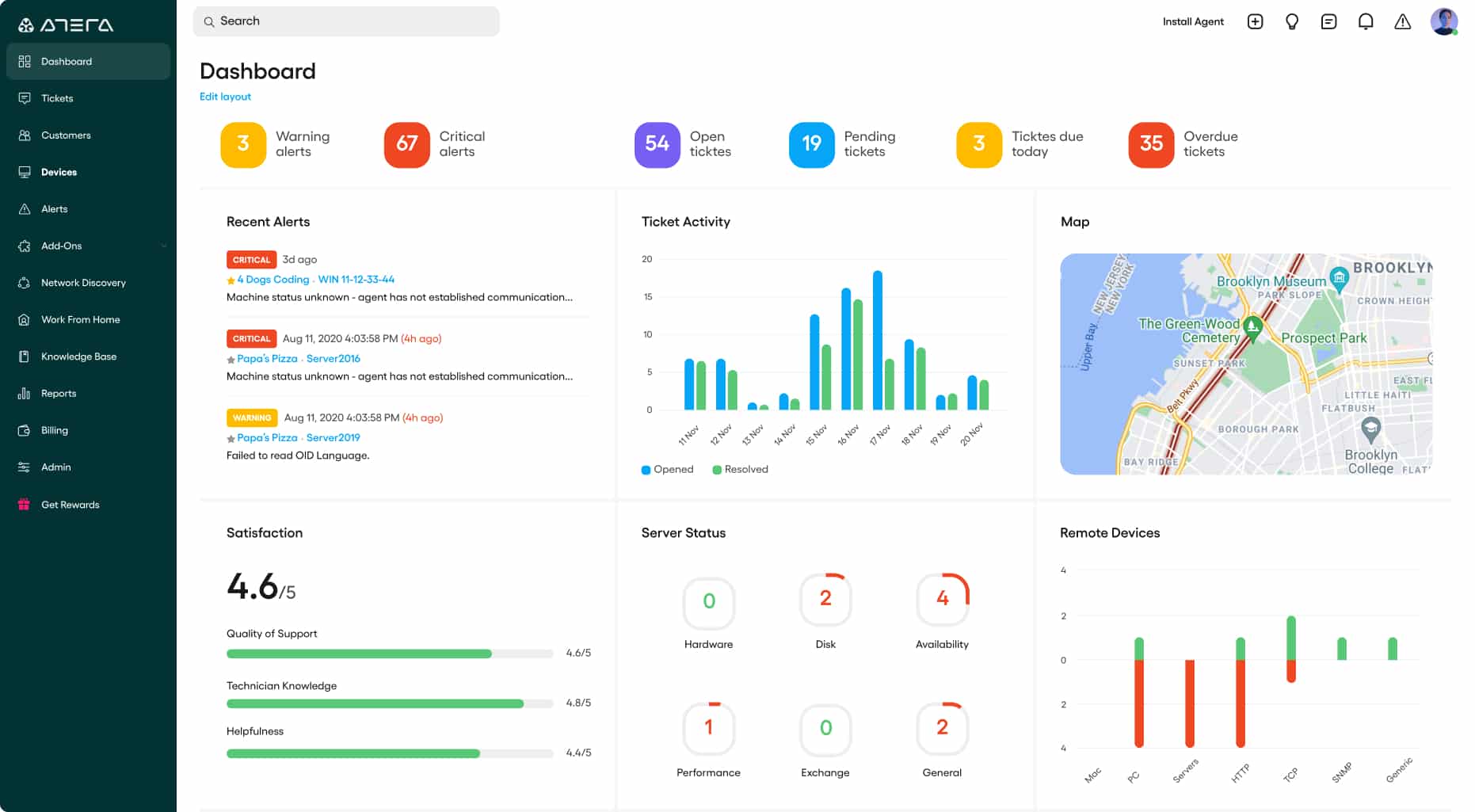 Atera is a SaaS platform that offers all of the software systems that a managed service provider (MSP) needs in order to operate. Among the technician's tools in the remote monitoring and management (RMM) services of Atera is a remote network monitoring system.
The network monitoring system in the Atera package provides automated network scanning through the SNMP system. A sensor installed on the client's network acts as the SNMP Manager. It gathers device agent reports (MIBs) and uploads them to the Atera cloud server for interpretation.
The network monitoring dashboard shows live activity statistics. However, busy technicians don't need to waste time watching t because they will be notified by alerts if any problems need their attention. The alerting mechanism is a great cost saver because it means that multiple networks can be monitored simultaneously without any human involvement.  The dashboard is accessed through any standard Web browser, so it is possible to manage a team of home-based technicians using this system.
The Atera package is charged for by subscription with a rate per technician. Customers can choose to pay on a monthly or an annual cycle, with the yearly payment plan working out cheaper per month. The yearly prices for the three plans of Atera, when calculated monthly are:
Pro – $99
Growth – $129
Power – $169
You can assess the Atera platform with a 30-day free trial.
Atera Access 30-day FREE Trial

Site24x7 Network Monitoring Tool is a cloud-based system monitoring platform that offers a network monitoring module. The network monitor is not available as a standalone tool. It is an element of the Infrastructure package, which primarily monitors servers, and it also part of the All-in-one plan, which includes network, server, and application monitoring.
As a cloud-based service, all of the processing for the network monitor is performed on the servers of Site24x7. The cloud server also hosts the console for the monitor. Although just about all of this monitoring system is hosted in the cloud, you do need one small program installed on a server connected to the network that is being monitored. This is a data collector and it uploads all of the statistics it collects to the Site24x7 server over an encrypted connection.
This network monitoring service merges the two types of monitors that usually supervise networks. This is the network performance category of monitor, which uses the strategies provided by the Simple Network Monitoring Protocol (SNMP). The other type of network monitoring that Site24x7 conducts is traffic analysis. This is a bandwidth monitor, which records data flow volumes through network devices, such as switches and routers.
The bandwidth analyzer can communicate following the different proprietary protocols used by each network device vendor. These are NetFlow, J-Flow, sFlow, Cflow, IPFIX, NetStream, and AppFlow.
Site24x7 is a subscription service and you can get network monitoring in with the Infrastructure plan or with five editions of the All-in-one plan. Get started with a 30-day free trial .
Site24x7 Start 30-day FREE Trial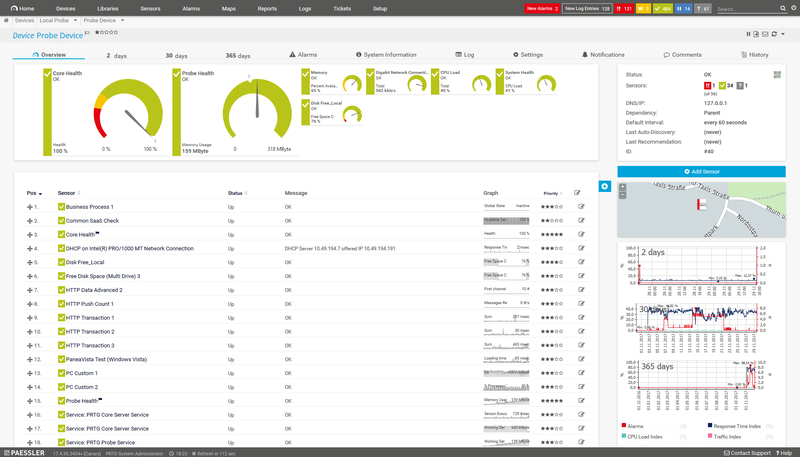 Next up on our list we have Paessler PRTG. PRTG is one of the most well-known network monitoring tools on the market at the moment. One of the biggest selling points of PRTG thus far has been its versatility. It monitors everything from bandwidth to web pages, cloud services, servers, traffic, and databases, making it one of the most comprehensive network monitoring tools.
All data taken from your network infrastructure is displayed on the dashboard in a hierarchical navigation tree. Systems that are up and running are denoted with the color green, whereas problematic services are outlined in red. This makes it easy to distinguish between network elements that are performing from those experiencing difficulties. In order to monitor a network, PRTG uses a combination of packet sniffing, SNMP, HTTP, WMI and SQL.
PRTG is very easy to deploy. PRTG's mobile app allows users to monitor devices on a remote basis. You simply attach a QR code to a network device and scan it on your mobile to view a breakdown of how the device is performing. This is useful in larger organizations because it provides more ease of access.
A number of pricing options are available for PRTG Network Monitor. The price of your license depends on how many sensors you opt for. For example, PRTG 500 costs €1,440 and provides 500 sensors. If you want to buy more, then you can purchase a more expensive option like PRTG 5000 which offers 5000 sensors for €9,600. If you want an unlimited number of sensors, PRTG XL1/Unlimited costs €13,800.
On the whole, the user interface is very easy to use, though the visual displays can be quite consuming at times. A 30-day free trial of PRTG Network Monitor is available.
Paessler PRTG Download 30-day FREE Trial
Organizations looking for an open source application would do well to considering deploying Zabbix. Zabbix is a network monitoring solution that combines infrastructure, cloud services, and KPI/SLA monitoring to provide a complete perspective of your network connectivity. Most consider this tool a network performance monitor, but it can serve a number of administrative functions as well.
Zabbix can view crucial information like network bandwidth usage, CPU, and memory utilization. These are essential to ensure the network is correctly optimized. You can view network health to see if any key services are experiencing difficulties and to help you to act quickly when a device fails.
With regards to server monitoring, you can check server availability and receive a number of predefined warnings. For example, if a device gets dangerously hot, then the system will flag the problem. This cuts down on the number of things you need to worry about.
Even though Zabbix is an open source platform, its user interface looks very up-to-date. While it is a little more clunky than SolarWinds Network Performance Monitor, it still functions as a reliable network monitoring tool. Zabbix is available for CentOS, Oracle Linux, Ubuntu, Red Hat Enterprise Linux, and Debian. As an open source tool, Zabbix is available for free and can be downloaded from this link here.
Next up on our list we have the exceedingly lightweight, open source application Icinga 2. Icinga has become quite a popular network monitoring tool on account of its speed. The multithreaded design allows it to run thousands of checks each second without adversely affecting the performance of your computer.
Most of the user's interaction with Icinga 2 is conducted with the REST API. The REST API is where you manually enter configurations and view information about issues raised by existing dashboards. The Rest API is secured via SSL so it cannot be viewed by unauthorized users. The only drawback to the REST API is that it's not particularly friendly to users not experienced with command line interfaces.
When gathering information on your network, third-party plugins are necessary to get the clearest perspective of what's going on. Plugins like Graphite and InfluxDB are supported by default on Icinga 2, but you might need to use additional services as well. While this isn't as convenient as having everything one place, you can still view your data with complete clarity.
In terms of alerts, Icinga has plenty to offer. If any issues are spotted on your network, will be sent a notification via email or SMS. You can designate additional users to receive certain alerts if you need to come up with a segmented network event response.
Overall Icinga 2 offers a competitive platform despite its open source status. That being said, the REST API makes it unsuitable for users in need of a low-maintenance monitoring solution. Icinga 2 is available for free and can be downloaded here.
Nagios XI is another very well-known network monitoring tool built with ease of use in mind. It can monitor network infrastructure and conduct long term capacity planning. The GUI can be customized to accommodate a range of different views, making it relatively simple to use. As you can see from the image above, Nagios XI takes a minimalistic approach across the dashboard.
The navigation tree on the left hand side provides you with everything you need to monitor your network. For example, if you click on Reports on the menu at the top left of the screen, you will be able to click through to event logs, notifications, bandwidth usage, and network queries immediately. This is important because you don't have to sift through a lot of information to find what you want.
One unique feature offered by Nagios XI is multi-tenant access. Multi-tenant access allows an administrator to control what IT elements certain users see. This is particularly useful for organizations looking to show clients specific internal systems without compromising the privacy of their entire network.
Price-wise, a couple of options are available. The first is the Standard Edition, which can be purchased for $1,995 (£1,486) and offers a GUI, advanced reporting, custom dashboards, visualisations, and notifications. The second is the Enterprise Edition, available from $3,495 (£2,603), which includes a number of features such as scheduled reports, capacity planning reports, and audit logging. Nagios XI can be downloaded from here.
Progress WhatsUp Gold has developed a name for itself as a powerful and polished network monitoring tool for mid- to large-size organizations. Without a doubt, its biggest appeal has to be its robust application performance monitoring. This allows the user to monitor their network right down to a device level. Whether your assessing the performance of Apache web servers, SQL servers, SharePoint, Exchange, or a Linux based system, WhatsUp Gold can monitor almost anything.
It also has its own auto-discovery feature, one of the key differentiators we outlined above. WhatsUp Gold uses either an IP range scan or an SNMP scan to map devices on your network and produce a complete inventory of network elements. You can view network topology in a diagram that shows where each device is situated on your network.
One of the main reasons why WhatsUp Gold has become popular is its ability to monitor cloud-based systems. The user can view the status of their cloud services straight from the dashboard and track cloud services expenditure on a monthly basis. This helps develop a more complete perspective of your IT infrastructure that doesn't neglect cloud services in favour of the in-house network. WhatsUp Gold examines the health of network devices. You can examine network traffic flows by adding on a Network Traffic Analysis module.
Three versions of WhatsUp Gold are available: Premium (Annual Subscription), Premium (License), and Total Plus. You'll can request a quote in order to see the official prices. However, if you'd like to view a detailed comparison of WhatsUp Gold's features, you can do so on the company website here. You can also download a free trial here.
Finally we have NetCrunch, a lesser known network monitoring tool that offers a very competitive package. Through NetCrunch, users can monitor their network infrastructure, servers, and applications from one user interface. One of the first things you notice about NetCrunch is how complex the dashboard is. The comprehensive design helps you to drill right down to the specifics.
As a performance monitoring solution, NetCrunch is excellent. You can view the performance of your network and processing time in graph or dial format. These track your performance metrics in real time. The GrafCrunch feature creates live dashboards of your data. If that's not enough, you can display network information in widget format as well.
NetCrunch allows the user to configure their own alerts. These are shown on the alerts page where you can select the type of alert and date, allowing you to filter results right down to the most pressing issues. Each alert provides a useful description such as "processor queue is too long," or "Disk C: Free disk space is running low".
NetCrunch really knocks the ball out of the park in terms of visualization; users can choose from a wealth of visual formats. Two different versions of NetCrunch are available: Netcrunch NMS and NetCrunch Suite. NMS is designed for organizations with up to 250 nodes, and NetCrunch Suite is designed for larger enterprises with 250-plus nodes. Prices are available upon request and a 14-day free trial can be downloaded here.
Network performance monitoring considerations
As you can see from our list, there are a lot of very good network performance monitoring tools on the market today. It is very difficult to choose between them. You first selection criteria should be the operating systems that each of these tools will run on. For example, if all of your servers have Linux operating systems, you just won't be able to install those tools on our list that only operate on Windows.
Another major consideration that you will face is your budget. Some of these tools are very expensive. Although they are worth the money, if you just can't get the funds allocated to your department for monitoring tools, you won't be able to include them as candidates.
Take advantage of the free trials that the tools in our list offer to put your favorite three through their paces and check out which works best for your network.
The Ultimate Network Monitors
All of the tools mentioned in this list can function as complete network monitoring tools. If you're running an enterprise-grade network, then network monitoring is essential to ensure your key services stay up in the long term. Without a network monitoring tool to guide your hand, running any form of troubleshooting or network optimization is extremely difficult.
Products like SolarWinds Network Performance Monitor and ManageEngine's OpManager are our top picks for network monitoring. Both of these programs allow you to hit the ground running thanks to autodiscovery and monitor your network through a clean and customizable user interface. If you'd like the addition of a heatmap of your network connectivity, then Network Performance Monitor is likely to be your number one choice. Both of these options interact with other monitoring and management tools produced by the same vendor — IP address management and configuration management tools, for example.
In an active business environment that's centred on online activity, network monitoring has become ever more important in keeping enterprises operational year-round. A network monitoring platform should be one of the first purchases you consider to keep your downtime to a minimum and improve core services.