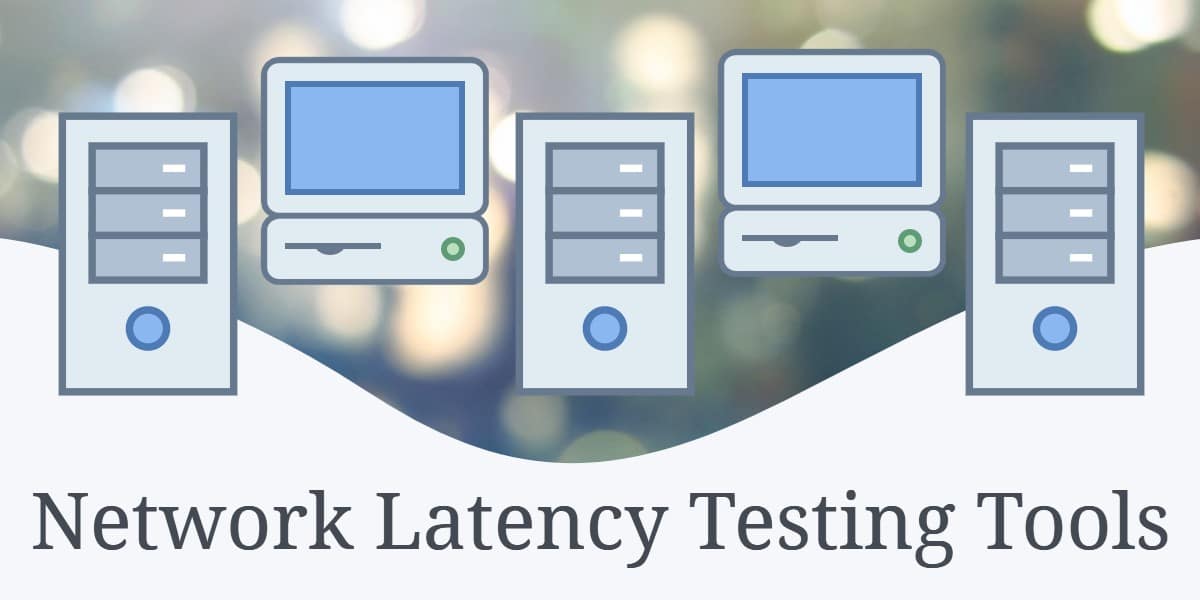 If you're looking for a tool to track down network latency, you're in the right place. While there are dozens of programs to choose from, we've found the top network latency testing tools you can use to track down and eliminate slowness on your network.
Here is our list of the best network latency testing tools:
SolarWinds NetFlow Traffic Analyzer

(FREE TRIAL)

Great second runner-up to PRTG. Built for network engineers, by network engineers.
SolarWinds Network Performance Monitor

(FREE TRIAL)

Monitors latency, network metrics, and both virtual and physical hardware.
SolarWinds VoIP & Network Quality Manager

(FREE TRIAL)

Ideal for sysadmins who are concerned with latency across their VoIP systems.
Pingdom

(FREE TRIAL)

Third-party SaaS that monitors your outward-facing websites and applications.
NirSoft NetworkLatencyView Tool A lightweight and barebones tool that provides a good starting point for troubleshooting.
Paessler PRTG Ideal for MSPs and larger businesses that need to quickly eliminate latency issues and prioritize network uptime in their environment.
ManageEngine Netflow Analyzer Includes reporting and billing features that tie into SLA monitoring features.
PingPlotter Provides basic latency monitoring and testing with simple graphing features.
MultiPing Similar to PingPlotter it allows for altering and more advanced features like dynamic DNS tracking.
Ping Built directly into Windows. One of the simplest forms of latency testing you can perform.
What exactly is network latency? 
Network latency is simply the speed of the traffic across your network, usually measured in milliseconds and abbreviated as "ms." While you can never truly eliminate latency all together, you can make changes to your network environment to help reduce this time and improve your network performance.
However, not all latency is created equal. While 100ms might be an okay latency for a file transfer, that same speed could cause a noticeable drop in VoIP quality or live video streaming. Luckily, there are a few tricks we can use to help prioritize specific traffic types, as well as eliminate unneeded traffic congestion altogether.
What causes network latency?
Network latency is not an easy issue to diagnose and must be looked at thoroughly to find the exact cause. Some perceived slowness on your network may be beyond your control. For example, slowness in a live steam video may have nothing to do with your network, but everything to do with the broadcaster's connection.
When there is a legitimate latency problem, understanding where it's coming from can be a real pain without at least some basic troubleshooting tools. Local area network issues known as packet storms or broadcast storms can cause a flurry of traffic on your LAN that makes accessing internal servers and services slow and unreliable.
Broadcast storms could be caused by a miscommunication of a device resulting in what is known as a switching loop. You can think of these loops as an echo chamber where devices continuously repeat traffic across a network causing congestion, dropped packets, and severe latency.
In more rare circumstances network latency can be the result of a sporadic DDoS attack against your network. Depending on if you have DDoS protection, this flood of illegitimate network traffic could overwhelm your firewall, server, or applications and cause severe network latency.
How can I fix my network latency?
Since network latency is such a broad problem, there is no clear cut way to solve your latency issues in a few simple steps. There are however a few techniques you can use to dramatically improve the performance of your network that very well may fix your latency issues in the process.
Enable QoS on your router or firewall. Almost all modern network devices allow you to configure a custom QoS or Quality of Service configuration. This setting allows you to prioritize traffic based on a number of criteria such as source, type, protocol, or IP address. For example, home networks may want to lower the QoS priority of gaming traffic over the network to increase bandwidth for video chats.
Businesses often use QoS to prioritize VoIP traffic over other network packets. This helps ensure that phone calls have priority and experience less latency when the network is under a heavier load.
Avoid using unmanaged or "dumb" switches. Switches and network equipment that doesn't allow you to configure them are often referred to as dumb or unmanaged devices.
In a network environment, this unmanaged hardware can cause problems by not properly communicating with managed devices on the network. These devices are sometimes unable to understand important instructions through Spanning Tree Protocol, causing a storm of traffic and out of control latency.
Eliminate network paths one by one. If you're dealing with a large network and inconsistent slowness, it pays to take your time and be detailed. If you have multiple switches, try and determine if the latency is only between that switch.
Test the latency of both IP addresses responses, as well as the hostname. Sometimes
stubborn latency problems can be caused by wireless interference or even damaged ethernet cables. It may take a bit of leg work to properly narrow down your latency culprit, but it's well worth ruling these issues out early in your investigation.
Use a trusted latency testing tool. Not using a network latency tool can add significant time to your investigation, which could lead to countless amounts of productive hours wasted in a corporate environment. Even a simple tool that gives you some context to your ICMP queries can go a long way when dealing with a tricky network issue.
But what's better than solving a network latency issue quickly? It's not getting one in the first place. There are tools now available that can help monitor the health of your network and even proactively alert you to events that could cause a rise in network latency and general slowness.
Let's check out some of the best tools you can use to prevent, diagnose, and fix network latency issues.
The best network latency testing tools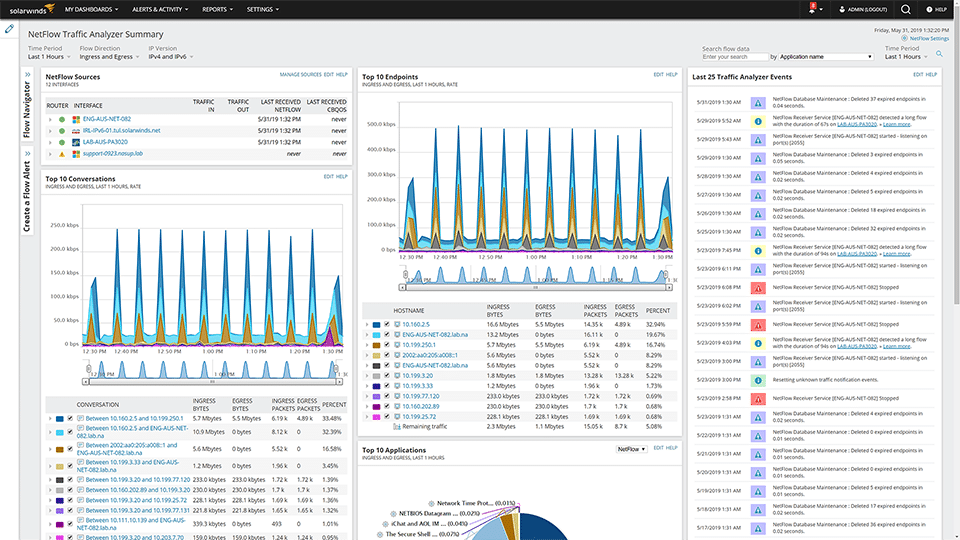 SolarWinds NetFlow Traffic Analyzer (NTA) gives you a precise breakdown of the utilization and latency for every device on your network. If you need granularity in your latency and bandwidth reporting, NTA has you covered. In addition to traditional device monitoring, you'll have the option to dig deep and view traffic on specific source ports, destination IP, or by protocol.
You'll have the option to create monitors based on groups of devices. For example, choose to group all of your high traffic endpoints such as switches and firewalls to get an overall average of traffic flow. You can set specific rules based on triggered conditions with traffic thresholds that measure both high and low levels, as well as an alert if traffic stops completely.
Another neat feature is the ability of NetFlow Analyzer to quickly sort all network traffic by application and process. This gives you a detailed look into how your services are running, and help you visualize your quality of service policy on a macro level. Sorting traffic can be filtered by application, service, protocol, or alert status. By entering port 0 under the application filter you can bring all intrusive traffic to the top of the dashboard so you can take action to address unknown traffic or services
While most latency testing tools fail to properly visualize this data for you, NTA brings all of this data into a cohesive real-time report that you can use to spot trends and catch speed problems in your network fast. You'll be able to customize the summary dashboard to your liking and view your NetFlow top sources, most used applications, and which websites are receiving the most traffic.
For larger corporate networks who need to be able to quickly identify sources of latency and get a deep understanding of what is going on in their network, SolarWinds NetFlow Traffic Analyzer not only helps you get a handle on your latency problems but gives you the tools you need to be proactive about them.
A free 30-day trial of the NetFlow Traffic Analyzer is available below.
SolarWinds NetFlow Traffic Analyzer Download 30-day FREE Trial
SolarWinds Network Performance Monitor (NPM) manages and tracks virtually all aspects of network traffic, resource utilization, and hardware usage on a micro-level. Sometimes it's hard to tell if latency is due to a networking issue or hardware problem, NPM was designed to make that diagnosis easy.
NPM is a good choice tool for larger organizations that are lacking both latency testing tools, as well as other forms of network management and reporting. A fully configurable dashboard will give you access to a wide range of metrics. From average response time to interface availability, bringing the most important data points to the forefront of your monitoring center only takes a few clicks.
Bult-in Cisco ACI support allows you to manage the health of your logical and physical network through a flowchart and topology-based map. This feature gives you an 'at a glance' view of exactly where your bottlenecks are occurring, and whether they are hardware or network-based.
If you think your organization could benefit from Network Performance Monitor, you can try a 30-day trial or an interactive demo.
SolarWinds Network Performance Monitor Download 30-day FREE Trial
If you have a large VoIP network and are mostly focused on maintaining SLAs and the health of your voice-based services, SolarWinds VoIP & Network Quality Manager (VNQM) was built for you. Whether you're running Avaya, Cisco, or another VoIP service provider completely. VNQM monitors the network for latency, quality issues, and outages all from a single tool.
Through the alerts dashboard, you can easily configure alerts to push out based on network latency thresholds, jitter, packet loss, and MOS. You can measure and gain insights into your VoIP network from the trunk, all the way down to individual call connections.
Under the Networking tab, you can see right away if voice issues are being caused by the WAN connection, a piece of hardware, or something else internally. VNQM allows you to search and filter call data for in-depth troubleshooting. Cross-checking that call log with recent network activity will narrow the scope of the phone quality issue.
While latency isn't a problem for most applications, VoIP is one of the few exceptions where lag and jitter can make certain voice services nearly unusable. If you have a large VoIP network or just want to get a better understanding of your VoIP based infrastructure you can download a 30-day free trial of VNQM to test for yourself.
SolarWinds VoIP & Network Quality Manager Download 30-day FREE Trial
Pingdom is a SaaS product that allows you to monitor websites and applications for latency issues, uptime, and a host of other metrics. If you have the need for an external third party to monitor your outward-facing applications, Pingdom has made their services easy to use and proven to be an affordable option for small and large businesses alike.
Record exactly how users interact with your web content and get a detailed look into the scripts that are running or causing latency problems. In addition to latency testing tools, you'll also be given actionable steps to help correct the problems that Pingdom discovers.
Pricing starts at just $10.00 (£8.10) a month. You can sign up for a free 14-day trial.
Pingdom Start 14-day FREE Trial
NirSoft NetworkLatencyView is a free tool that is more suited for smaller businesses and home networks to identify traffic usage, latency issues, and the source destination of the traffic. NetworkLatencyView is lightweight and lacks many of the in-depth analysis that some of the more modern tools provide.
With that being said if you're looking for a simple, quick, and free tool to give you a better understanding of your network slowness problems NetworkLatencyView has proven itself since 2013. If you're running older hardware this tool can support versions of Windows going all way back to Windows 2000 and up to Windows 10 for both 32- and 64-bit architecture.
The only additional download you may need to use is the WinPcap driver and the Network Monitor driver to capture the TCP packets properly. There is a Raw Socket mode, but for the most accurate results, you'll want to make sure you have those additional components installed as well.
Once you're ready, simply press the Play button to start capturing traffic across your network in real-time to view which applications are suffering from latency issues. On a single window, you'll see an exact breakdown of where the traffic is originating from, where it's going, the hostname, and its average millisecond response time.
While this won't be the best tool for most businesses, it's a great free tool to throw on a flash drive in case some quick troubleshooting is ever in order.
You can download NetworkLatencyView for free on Nirsoft's official website.

If you need to track and proactively monitor network speeds, bandwidth, and uptime across your networks, Paessler PRTG is one of the best. When it comes to finding the source of latency or connectivity issues PRTG makes visualizing your network and resources simple. Pinpointing slowness can be as easy as glancing at a dashboard when PRTG is configured to do so.
If you're a sysadmin you'll enjoy the level of customization and freedom PRTG gives you when creating your own dashboard. You can monitor all of your network's assets from the PRTG map designer, which gives you access to over 300 map objects, charts, and lists. This is perfect for static displays in your NOC, or on a spare monitor at your desk. One of my favorite features is the ability to share custom dashboards as a URL, and give anyone access to the same metrics you're monitoring.
PRTG gives you all the tools you need to measure latency across your applications and devices. Measure SNMP, SSH, HTTP, SQL, and REST API response time all with minimal configuration. When you're not at your dashboard, alerting can be configured based on customized thresholds and times. You can receive email alerts, desktop notifications, or be alerted directly on your Android or iOS phone through the PRTG app. If you have your own internal software, you can use PRTG API to script your own notifications.
If you're a NOC who needs to adhere to a specific level of uptime, the clutter failover option will help keep your team informed and in the loop, even during network issues. Automatic failover handling will immediately assign another node to take over all of the altering and reporting responsibilities for the given network. This feature is available for both the cloud and on-premises version of PRTG.
If you utilize third-party cloud services, PRTG can monitor their uptime to ensure you have acceptable speeds and continuous availability from multiple locations across the world. This not only helps you ensure your team is reliably connected from anywhere but also verifies that your vendors are within their own service level agreement.
If network latency and service outages are unacceptable in your environment, PRTG gives you everything you need to catch network traffic issues, before they result in calls to the help desk. If PRTG sounds like a good fit for your network, you can try out a 30-day free trial to test out all of the features.
Similar to our number two pick, ManageEngine's Netflow Analyzer (MENA) also takes advantage of flow-based network traffic monitoring to provide realtime visibility and traffic insights. Drill down into the exact time and location where specific latency issues occur, and uncover traffic patterns down to the individual interface.
A unique feature of MENA is its ability to recognize non-standard applications and detect their services based on protocol, not just the port the traffic is flowing over. This is done by using Cisco's NBAR to provide intelligent network and application classifications. If you have a larger unruly network, this feature alone performs a lot of the manual investigative work you might have to perform to track down traffic sources.
MENA can integrate and analyze flows from other vendors such as 3COM, Juniper, HP, and Cisco, making this a great tool to use if you're already collecting traffic from different devices or software. Sometimes application latency is out of your hands. The IP SLA Monitor is simple to set up and will alert you if your third party vendors are reaching or breaking a specified threshold that you can configure.
Not only does MENA have built-in reporting, but it gives you access planning and billing tools to help use network data to expand your infrastructure, and assign a monetary value to the companies data usage. MENA is compatible with both Windows and Linux and even has mobile versions on iOS and Android.
If you're looking to test out ManageEngines's Netflow Analyzer you can download a free trial for yourself to try.
PingPlotter can be seen as a paid upgrade to NetworkLatencyView and is a bit better equipped for smaller businesses. This tool measures network latency based on an active connection in realtime, while also providing live graphing that records the time and number of hops taken.
Deployment is simple and can be run in nearly any environment. The tool itself uses very low bandwidth so you can measure hundreds of connections with relative ease without worrying about impacting performance.
Pricing starts at $29.00 (£23.49) a month or $349.00 (£282.71) for a perpetual license. You can also test PingPlotter through a 14-day free trial.
MultiPing is another great choice if you're looking for a lightweight latency testing tool. In under 60 seconds, you can launch MultiPing to begin detecting network traffic and monitoring latency through a very simple user interface.
A few unique features that I personally enjoy is the ability to be alerted when a target IP address changes through the Dynamic DNS tool. In addition to the timeline based monitoring, you can configure an alert that notifies you via email or audibly when a threshold is reached.
An evaluation trial version is available for download on the MultiPing website.
Sometimes you don't have to go very far for the tools you need. The good old fashioned ping command is sometimes all you need to get an idea of where a problem is coming from. Built right into the Windows command prompt, the ping command is free and comes with a bunch of different variables you can use to filter with.
Choosing the right tool for you
In this article we've reviewed some of the best ways you can detect and tackle network latency, but which latency testing tool is right for you?
While our clear winner for MSPs and small businesses was Paessler PRTG, smaller companies will benefit greatly from tools like Pingdom or PingPlotter to help test for latency problems.
Do you rely on latency tools to test your network? If so, which ones do you use? Let us know in the comments below.