Network administrators need to keep a close eye on their resources – be they hardware or software. They need to constantly monitor and manage the assets' proper configuration and utilization if they are to get the optimal performances out of them. They also need to protect these assets from being attacked due to vulnerabilities that could, in turn, lead to further exploits. This is where IP address tracker tools and IP Address Management (IPAM) tools come into the picture.
IP address tracker tools are applications that, if used correctly, can help with three major tasks:
The allocation and  management of IP addresses
The identification of packets, devices, and users on a network
The prevention of resource abuse or misuse by hackers or malicious software
But, we are jumping the gun here. First, and although we will have a detailed look at each one of them, here is our list of the best IP address tracker tools:
SolarWinds IP Address Tracker

(FREE TOOL)

  Comes as a stand-alone tool or as a sub-module of the main IPAM suite, the SolarWinds IP Address Manager which is a great collection of network troubleshooting tools.
Advanced IP Scanner This IP tracker is a stout tool that can help even the most experienced of admins; also, combined with their remote admin tools it turns into an indispensable support tool.
GestióIP IPAM A collection of some of the best automatic discovery and mapping tools using a web interface, easy to use, powerful, and gives concise, yet comprehensive, reports as feedback.
WhatIsMyIPAddress  The ideal IP address tracker tool for website owners looking to keep an eye on traffic coming their way; also comes with a cache of tools to keep their website safe.
Angry IP Scanner IP scanner runs on most popular operating systems; it is Java-based and open-sourced which means anyone can tweak it for even better performance.
ipTRACKERonline An IP tracker that you would want to use on-the-go for a fast look-up of an IP address; it gives accurate location data and detailed information about any IP address.
What is an IP address tracker tool and why use it?
IP address management (IPAM) is a software strategy used to plan and manage the assignment, and use, of the IP addresses of operating systems, applications, and hardware devices that are on a network. It ensures their smooth connectivity by preventing address conflicts and limitations on their accessibility due to erroneous subnet configurations, for example.
IPAM is also used to manage the information required for the well-functioning of other systems like the Domain Name System (DNS) or Dynamic Host Configuration Protocol (DHCP) services of a network.
Now, an IP address tracker tool is a software or program that is usually used as part of an IPAM strategy. It can also be used in collaboration with other network troubleshooting and support tools.
Of course, it doesn't mean that it can't be used as a single, stand-alone tool for troubleshooting and conflict resolution of network issues. In fact, most IP address tracking tools are single applications with numerous features.
Among the tasks IP address tracker tools can perform we have:
Test networking policies – they can be used to check for policy compliances by testing IP address subnet masking to see if each connected device is within its allocated sub-network, for example
Network-wide information gathering – reporting can be done on information such as IP addresses in use and their associated devices and users
Historical data retention – auditing and caching of information can be done to support troubleshooting of errors and abuse investigations in the present or future
IPAM tools have become increasingly important as newer IPv6 networks are deployed with larger address ranges of 128-bit, hexadecimal numerals which require complex subnetting techniques.
Also, in today's world of BYOD and the IoT it would make perfect sense to have not only an overall picture of the devices on a network but also detailed information on the devices, and even their users, to ensure security and compliance. This would be the task of an IP address tracking tool.
How does an IP address tracker work?
IP address tracker tools use the information that is extracted out of every connection that is made between computers, servers, or connectivity devices (e.g. routers and switches). This is possible because the initial packets exchanged between any two devices, called "handshakes," are loaded with information that is used to "introduce" the devices to one another – including their IP addresses.
These handshakes are ways of letting devices know more about the other devices they are communicating with. And for this to happen, the IP addresses need to be open or revealed to one another; of course, other exchanges of information also occur.
Now, this revealing of information can show two types of IP addresses:
PRIVATE IP addresses – these are packets that only reveal their addresses to the devices that are located within their trusted, local networks where they are supposed to roam, and
PUBLIC IP addresses – these packets, on the other hand, are exposed to every device on the Internet and travel to a device located on any external network
A private IP address can be "routed" through a… wait for iiiiiitttt… router to be converted into a public IP address which then allows it to go on to communicate with the public network – the Internet or a Wide Area Network (WAN) – that lies beyond the local network's perimeter.
This routing can pose an obstacle to IP address tracker tools as they may lose track of the packets as soon as they hit the router and are converted to public IP addresses. This is because the tracking tools cannot navigate through routers which are usually configured to block such tracking packets to protect the privacy and security of the devices on their networks.
Therefore, an IP address tracker tool is most effective when it is used on either a private or public IP address network, not on hybrid ones – in which case the tracking needs be done from beyond the boundary router.
The 6 Best IP address tracker tools
Now that we have cleared all that up, it's time to go on to the 6 best IP address tracker tools: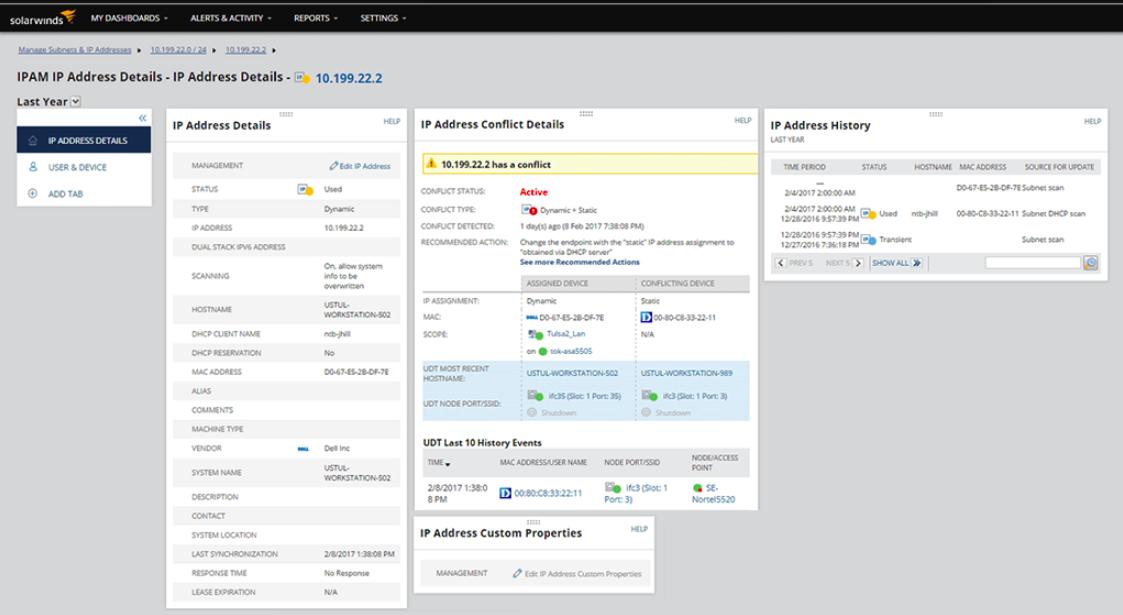 SolarWinds offers two user-friendly IP address tracker solutions: the free, stand-alone IP Address Tracker (IPAT) tool as well as an IP tracker that comes as part of the comprehensive IP Address Manager (IPAM).
Whichever option you may choose, you can expect some great features including:
The ability to manage up to 254 IP addresses as well as monitor subnets
Scheduled network scans to monitor network configurations and detect IP address conflicts
Auto-discovery of networks – discover all active subnets in your environment
A subnet calculator to help with effective network configurations
Easy AD (Active Directory) integration – allows for seamless authentication and avoidance of flagging the tool's packets
Working on DNS and DHCP – auto-import capability using DNS resolution, for example, which makes managing and configuring quicker and easier
Full IP-audit capability to get detailed IP address reports, histories, and event logs
Drag-and-drop functionality to make it easier to troubleshoot and resolves issues with detailed logs and histories; quick-view – ability to view subnet or group details at a glance
ICMP utility (PING) and SNMP browser for effective troubleshooting and pinpointing of network issues
One other important advantage of using this IP address tracking tool is that it can easily integrate with the vast array of other SolarWinds network monitoring and management tools.
Download the SolarWinds IP Address Tracker here for FREE or try the fully functional SolarWinds IP Address Manager (IPAM) free for 30-days.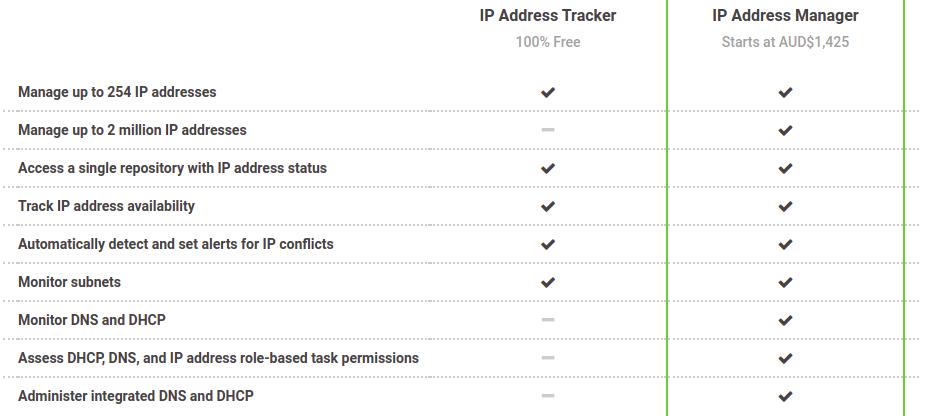 SolarWinds IP Address Tracker 100% FREE Download
SolarWinds IP Address Manager (IPAM) Download 30-day FREE Trial
Advanced IP Scanner is a popular, free, and open-source network scanner for Windows only that has been downloaded over 45 million times.
Advanced IP Scanner's features include:
The program can be used to show all devices on a network including computers, routers, and switches
It can detect MAC addresses as well as IP addresses
The IP tracking tool can access shared folders and peripheral devices, not just the devices themselves
For those requiring remote connectivity, Advanced IP Scanner provides remote control of computers via Radmin that can be used for support or working from home; the tool has the capabilities of remotely switching the computers off too
It has subnet – right down to class "C" – scanner buttons on the toolbar that allows for a more focused scan of a sub-network
Detailed reports that the administrators can export to CSV files for further analysis
You can easily start using Advanced IP Scanner; no installation is required – just download and run it!
GestióIP is a powerful IPAM that makes its IP tracking and network monitoring capabilities among the best in the field. Many would find it amazing that this tool is, in fact, free.
Looking at some of its features, we have:
GestióIP comes with a web-based interface which makes it ideal to use – on LANs, WANs or the Internet
An outstanding feature in this tool is its search-engine which allows administrators the capability of finding devices on their networks
It also has the ability of network, host, and VLAN discovery via SNMP, PING, and DNS tools
It has an incorporated management system for VLANs, leased and dial-up lines, autonomous systems, and even support for clients in their own independent client spaces
GestióIP shows available network ranges for future planning like splitting, joining, scaling up (or down) of networks where host entries can also be maintained without the need to know their corresponding IP addresses
It comes with an integrated subnet calculator and a hierarchical IPv4 and IPv6 addressing plan builder for network configurations
A unique feature from GestióIP is that if the package as a whole doesn't meet a user's requirements, the company offers customization services to accommodate new feature requests.
Try GestióIP for free.
WhatIsMyIPAddress is a free online IP tracking tool. Although it is a website that can be used for free by anyone, it is a tool that would be ideal for individual users rather than enterprises. This is because it focuses more on information regarding individual IP addresses as opposed to mapping the IP addresses of devices on a particular network, for example.
The site comes with a set of tools and features that can help with IP address identification or troubleshooting of security issues:
It can only track one IP address at a time, but the information that it can dig up is priceless: location information that includes a map showing the exact address of the device, for example
One link leads to a tool that offers connection speed tests with results for upload and download times as well as any latency, while another leads to one that checks if an IP address is on any blacklists, and yet another one allows you to reverse-check an IP address to find its hostname – in short, it's full of tools
For those that are concerned about their privacy and security, there are links to VPN services (both free and paid) that they recommend
Finally; although WhatIsMyIPAddress advertises reverse email lookups – based on the addresses' headers – the links lead to third-party websites that require payments. The same goes for the breach and blacklist tools too.
So, proceed at your own risk. Otherwise, you can try WhatIsMyIPAddress for free.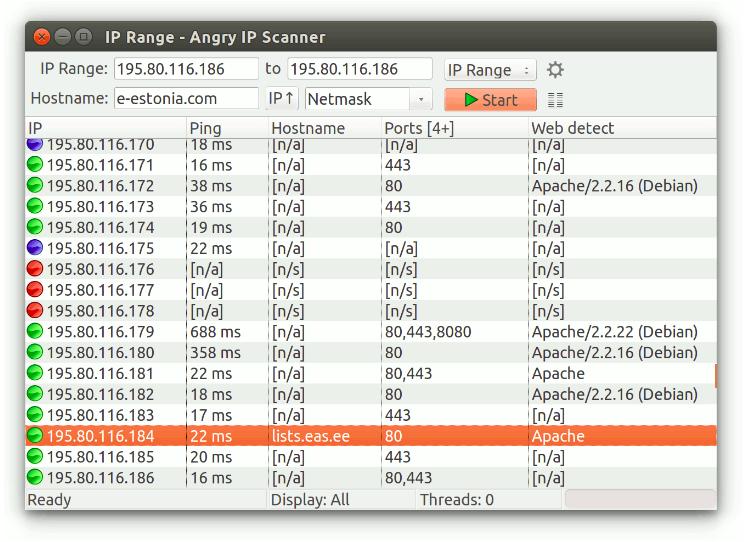 Angry IP Scanner is a free, popular, and open-source tool that has been downloaded tens of millions of times.
Looking at the features, we have:
This is an IP address tracker made for Windows, Linux, and Mac operating systems
Users have the default option of using a GUI but you can also use a CLI to call up different options on the software
It can work on LAN networks as well as the Internet – that is on a private or a public range of IP addresses
This tracking tool can search for single IP addresses, IP ranges, and domain names – with ports thrown in as parameters (i.e., "xxx.xxx.xxx.xxx:yyyy" format)
Angry IP Scanner already comes with other tools like PING, but since it is open-sourced, anyone with a little knowledge of Javascript can extend the tool's code to meet their own unique requirements
It is a light tool as it was designed for transportability; this makes it easy to use with no installation required – just download and run it
Running scans show detailed information about  every device on the network including NetBIOS, MAC or IP addresses, computer names, as well as hostnames
The scan results can be exported into various formats including TXT, CSV, XML, or IP-Port list files for further analysis
Angry IP Scanner uses a multi-threaded scanning approach that runs a separate scanning thread for each IP address. This helps to improve the scanning process and makes it more accurate.
You can download and try Angry IP Scanner for free.
ipTRACKERonline is another online website that is available for anyone to use for free. It is a tracker that gives detailed information about any IP address. The best part, of course, is being able to see the location of the IP address on an actual map. Keep in mind: the location isn't of the individual device, but that of the service provider it is using.
But, important details about the IP addresses can still be extracted, including:
A Google Map location of the service provider's address and current location as well as the server's hostname in use
Other details show the area, postal code, city, and country of the IP address
There is an email header tracking tool that lets you find out details about some suspicious email you may have received:
The tool also offers WhoIS information to find out the details about who owns a domain name
There is also a reverse DNS search tool to find out details about where a website is hosted
A unique feature with this IP tracker is that websites in need of the functionality of an IP tracker tool can buy the service from ipTRACKERonline and incorporate their APIs in any way they may need.
All in all, this is the website you would want to use when you are in a hurry and immediately need to confirm the identity of a device on your network or suspect that an email isn't coming from who they say they are. It is a nifty online tool that any administrator would want to bookmark.
You can try ipTRACKERonline here.
How can an IP address tracker help you?
An IP address tracker tool can help in two major ways:
Marketing personnel for online businesses can keep track of who is visiting their website. Advertisements can then be designed for specific visitors' locations – this helps in targeting their languages, for example. The information can also be used to build demographics for target market profiles to help with designing better-fitting products or services.
System and network administrators can keep their networks functioning perfectly by testing for IP conflicts, connection failures or to see if there are any unused IP addresses. Malicious users behind an IP address can be identified and reported while malware can be blocked.
NOTE: You should never rely on IP tracking tools as lone defense strategies – or 100% success rates – because there are some ISPs that don't share their individual clients' details or a hosting provider may have all of their clients' websites sitting on one server sharing a single IP address. This is mostly the case in countries where there is only one ISP or cheap hosting service providers that cram clients on servers. In either case, further investigations using more tools may be needed.
Features to look into when getting the best IP address tracker tools
Last, but not least, let's have a look at some of the features you need to be looking into when choosing your next IP address tracker tools:
GUI Interface should be great – no one really wants to work with CLIs unless they offer additional services; great GUI's make for great UX (user experience)
It should be easy to use – it shouldn't take an IT degree to run an IP tracking tool or comprehend the feedback information on scanned addresses
Small digital footprint – the payload as well as resource consumption of an IP tracking tool should be as minute as possible without compromising on performance
Comprehensive reporting – the tool should be able to squeeze out as much information as possible from each IP address
Wide scope – it should also be able to cover a decent range of IP addresses or subnets
It shouldn't just track IP addresses – the best IP address tracker tools would be those that did tracking as well as much more: geo-location, host resolution, network mapping, subnet calculation, and much more
Price should be fair – some of the best IP address attacker tools may be worth a payment but, you still won't be able to beat the FREE ones which might perform just as well – or even better than – them
Well, we have had a look at some of the best IP address tracker tools out there and we are sure you will find them helpful. If you have any recommendations we would be glad to hear about them. Just leave a comment below to let us know your thoughts or suggestions.