Snowflake's data cloud platform is ideal for any database analytics project you're working on. Costs are completely customizable with the virtual warehouse system, as they are dependent solely on your utilization periods. However, to avoid overrunning or unexpected charges, it may be necessary to optimize your consumption.
Snowflake doesn't have an in-built solution for this problem (though you can visualize the usage data yourself, see the last item on our list), therefore you'll have to look for a third-party solution to verify your data utilization.
This article goes over third-party monitoring tools (as well as some information on utilizing Snowflake on its own) that you can use to keep track of your consumption. Other features, such as security checks and performance statistic comparisons, may be worth investigating if you want to get the most out of Snowflake.
Because Snowflake's price is dependent only on usage, here are nine tools you can use to keep track of your warehouse activation times and user statistics.
Why Monitor Snowflake Usage?
Snowflake uses monitoring is about more than just saving money. It can also help your company figure out who, what, when, why, and how certain databases, tables, meta-data, and other data tasks are used.
This level of transparency can help you better understand how your firm uses Snowflake and where you can improve for maximum Snowflake ROI.
One of the powerful Snowflake best practices that can offer real benefits is keeping track of Snowflake data.
Some of the advantages of tracking Snowflake usage are as follows:
Across all of your Snowflake accounts, keep an eye on tables, users, queries, and workloads.
At three levels, virtual warehouse, account, and user, you can see and control compute.
Analyze previous Snowflake usage to better forecast future consumption and allocate resources accordingly.
Chargeback and show-back billing can be provided for specific teams, workloads, and departments.
Monitor tables throughout your databases to locate and drop unnecessary ones to save money and free up valuable querying resources.
Remove individuals or profiles who haven't logged into Snowflake in a while.
In Snowflake, find all warehouses that don't have a resource monitor.
The integrated Snowflake Resource Monitors are a handy way to keep track of platform usage, especially if you don't have a lot of data or the budget to invest in a more extensive monitoring tool.'
As your company grows, you may require a more accurate, complete, and informative solution for your employees, account administrators, and corporate decision-making.
The Best Tools for Snowflake Usage Monitoring
Following are famous snowflake usage monitoring tools:
1. Datadog
Datadog's architecture may be fully linked with Snowflake's to take advantage of both solutions' powerful capabilities, like consumption monitoring. Datadog can calculate your expenditures based on active usage time by accessing the essential integrated data within Snowflake. Datadog's tag-based analytic technologies can also help you better understand usage by user, role, or warehouse.
Its key features are:
Monitoring of data use
Cost estimates and projections
Optimization of storage
Detection of configuration errors
Dashboard for visualization
Datadog's forecasting capabilities can also help you plan your future Snowflake credit allocations by providing usage and cost monitoring estimates. This solution is ideal for in-depth study of consumption statistics in a business setting, especially when combined with Datadog's professional approach to data monitoring.
Datadog provides a 14-day free sample, which is ideal for evaluating the Snowflake integration for a decent amount of time. However, you'll need the Infrastructure solution's Datadog agent at the very least for the Snowflake integration. Furthermore, while the Free version can handle up to 5 hosts, it lacks critical capabilities such as data forecasting. The Enterprise edition, which costs $23/host per month, is required for this.
2. Tableau
Tableau offers several ways for tracking usage data on your Snowflake virtual warehouses. You may develop extensive dashboards using the platform that calculates overall expenditures and gives performance monitoring criteria. You may also set up data-driven alerts to track consumption and notify you when expenditures surpass expectations.
Its key features are:
Comprehensive dashboards
Cost analysis based on user information
Integration without a hitch
User-filtering
Alerting on security and performance
Tableau usage monitoring is mostly driven through dashboards, but the integration is straightforward, and the valuable Snowflake monitoring dashboards come standard. User-based filters and alarms are also included, allowing you to increase your monitoring capabilities.
Tableau offers a 14-day free trial of their software so you can see how well it integrates. In addition to the free trial, you can purchase licenses based on a user's specific needs. A Creator license, for example, allows someone to integrate data and create bespoke dashboards (so at least one of these is required for the integration).
A Creator license costs $70 per month, while an Explorer license is $42 per month and allows you to update existing dashboards. A basic Viewer license costs $15 per month and provides read-only access to the data. You can set the exact licensing prices you need using these three license options based on what your users need to do on the platform.
3. Talend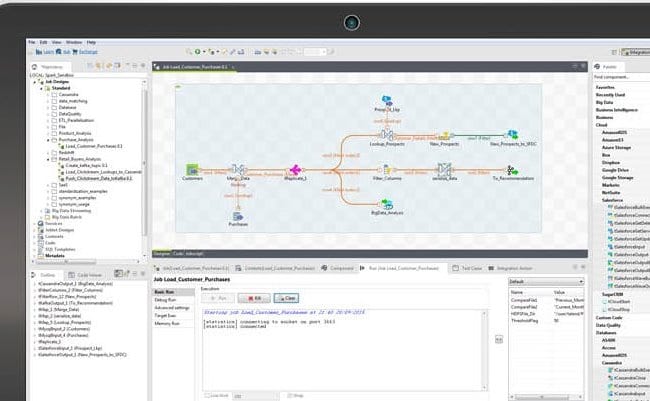 Talend is a professional enterprise-grade data analysis platform with a built-in set of tools optimized for Snowflake integration. Talend has also worked with Snowflake to make it simple to create connected trial accounts through a custom partner program.
Its key features are:
Partnered with Snowflake
Integrated seamlessly
Monitoring the accuracy of data
Checking for usage and cost
Detecting mistakes
The integration is quick and easy due to their proximity. You may examine the reliability of your data using query metrics and error checking on the Talend platform to uncover concerns in real-time. You may also use the platform to project costs to highlight your specific use considerations and plan for the future.
Talend offers a free trial so you may try out their solution and see how the integration works. They have four products that expand from small to big organizations based on features and capacity requirements.
You'll need to contact their sales staff directly for a personalized price quote on each product.
4. New Relic
If you require Snowflake use monitoring on a budget, New Relic is a good option. Because of their flexible pricing, they may provide a completely free alternative as well as Pro and Enterprise options for larger enterprises. Regardless of your pricing preference, the product includes comprehensive Snowflake monitoring features to help you keep track of expenses.
Its key features are:
Model of variable pricing
Identify concerns with warehouse performance.
Reporting on security
Custom query notifications are being tracked.
Analysis of costs based on user data
For spotting unusual issues, New Relic additionally includes a set of alerting mechanisms. Faulty or wrongly assigned data, as well as security vulnerabilities such as failed logins and unauthorized change requests, are examples of these issues.
For a single user, New Relic is free for up to 100GB of data per month. The Standard version allows for five users, while the Pro version allows for a large number of full-access users. You'll need to contact New Relic's sales team for a personalized quotation on price.
5. DataSunrise
You may monitor database traffic and queries across all of your Snowflake-connected databases using the DataSunrise Security Suite. SQL injections and suspicious access requests can be detected using the Activity Monitoring tool. Furthermore, the complete session data is readily available, including the IP address and hostname of individuals that use the database.
Its key features are:
Data from the session is recorded.
Restrictions and security rules
Reporting database errors
Logging of authorization attempts
Monitoring of data queries
Instead of rigorously examining the use and cost analysis, the focus of this approach is mostly on security considerations. While monitoring metrics can be used to quickly determine costs, these assessments must be completed manually and are not included in the program.
The DataSunrise Security Suite is available for free trial download on the internet, with the platform costing roughly $0.20 per hour after the trial period. As a result, if you plan to obtain your cost analysis metrics by another technique and your key worry is database access security, this solution is the best choice.
6. Qlik
Snowflake is a fully integrated solution from Qlik, an enterprise-level data analytics platform with some of the most sophisticated integration options of anything on this list. Furthermore, the Qlik Sense component allows you to visualize data integration procedures, resulting in a simple and highly configurable implementation.
Its key features are:
Integration that is easy to use and extremely adaptable
Data on usage and performance
Dashboards that can be customized
Geoanalytical security checks
Suite for auditing and reporting
The dashboards can be modified to display consumption and expense data as well as estimates to help with credit allocation. There's also a geoanalytics tab that shows where login attempts are made, which improves security significantly. With the bundled performance and optimization view, you can also get specific information about your query speeds and errors.
For $30 per user per month, Qlik offers a business version, as well as an Enterprise version with increased data capacity for global considerations. To get a personalized price, you'll need to contact the Qlik sales team first.
You'll also need to purchase the Data Integration solution to ensure a flawless Snowflake integration. This additional expense may result in a significant price increase, therefore be aware of this necessary extra purchase. A free trial is provided for the Business version and the Integration suite, allowing you to try out the features for yourself.
7. Looker
You can integrate Snowflake into your analytics using an open-source addon for the Looker platform. This gives you a lot of information to help you deploy and manage your Snowflake instances, including use and cost reports.
Its key features are:
Add-on for a premium product that is open-source
Determine performance indicators.
Features of cost analysis
Personalized dashboard
Restrictions for users
The solution enables you to create a dashboard that displays critical Snowflake data while also allowing you to delve down into the data and identify usage, performance, and security parameters. You can also use Looker's platform to execute long-running queries and compare pricing depending on specific virtual warehouses, among other things.
While this feature isn't included with Looker, the open-source development means it may be tweaked to fit your needs if you have the resources and know-how. For a personalized price quote, you'll need to contact Looker's sales team
8. Microsoft PowerBI
PowerBI from Microsoft is a straightforward BI solution that a large number of industry professionals use for analytics, and it can be coupled with Snowflake to display user data. Furthermore, someone has created a plugin that allows you to automate a lot of the work. However, getting your Snowflake warehouses to communicate with PowerBI will take some installation work.
Its key features are:
A platform for Business Intelligence (BI) that is robust
Installation was lengthy; however, it was shortened with the help of open-source software.
Metrics on usage
A dashboard that can be customized
With a premium version, it's free
The fact that PowerBI is free is what makes it such an appealing solution. Using the GitHub scripts and installation instructions, you can easily fully connect your Snowflake setup with PowerBI at no cost. However, a Pro edition of the program has various premium features that you may want to consider based on your tastes.
PowerBI is compatible with any Windows 10 or Windows Server device. The primary product is available for free indefinitely. The Snowflake integration should work without the premium features, but if you wish to upgrade, the Pro version costs $9.99 per user each month.
9. Snowflake Standalone
Snowflake is a data processing and analysis tool at its heart. All of the following integrations' usage, cost, performance, and security data are available without the use of third-party tools. If you don't have the funds or the resources to invest in an additional solution, you can still keep track of your data usage.
Its key features are:
There are no additional fees
There are no extra installations required
Manually export to any other tool
SNOWFLAKE is the name of the database that contains all of this data. This documentation page walks you through all of the different data variables you can use to track your usage. Because the data isn't particularly human-readable, this manual procedure isn't optimal. It may still be exported and uploaded into whichever visualization tool you require, just like any other Snowflake database.
There are no additional expenses to access your data this way because you're already utilizing Snowflake. Furthermore, as previously indicated, the data can be exported to a variety of other third-party tools not included in this list—for example, you could simply export it as a CSV file and import it into MS Excel or Access.
While it does not compare to the other options on this list, it does provide complete versatility without any additional steps or expenditures.
Conclusion
The post above describes eight ways to incorporate Snowflake data with a third-party service to display and monitor your usage data. Snowflake data may be used to analyze expenditures and manage future finances concerning Snowflake's platform. Some of the technologies can also assist with security checks, such as login checks and geoanalytics. Finally, you can use query timings and error detection to assess performance with other solutions.
If you're on a tight budget, Microsoft PowerBI or New Relic are two professional but less expensive options on this list. You might alternatively try discovering and exporting the data straight from Snowflake, avoiding the use of third-party software.
Datadog, Tableau, Talend, and Qlik all offer similar toolsets for enterprise-grade solutions, with minor variances in capacity, cost, and minor features. Use our post to quickly compare them, then try out the numerous free trials to choose the perfect solution for you.