Managing the plethora of threats facing modern organizations online is becoming ever more complex. Cyber criminals are constantly innovating new ways to target unsuspecting business owners to steal data or inflict damage.
Having the necessary systems to flag security issues as they occur is vital. One of the best ways to manage security is to invest in a Security Information and Events Management, or SIEM, tool.
We get into a lot of details on each of the tools below, but in case you are short of time, here is our list of the best SIEM tools:
SolarWinds Security Event Manager

(FREE TRIAL)

This on-premises package provides log management and compliance reporting as well as a SIEM. Runs on Windows Server. Get a 30-day free trial.
Heimdal Threat Hunting and Action Center

(ACCESS DEMO)

This cloud-based threat detection system integrates a SIEM with a vulnerability manager and automated responses. Get a free demo.
ManageEngine Log360

(FREE TRIAL)

Combines powerful SIEM filters and automated detection with user-friendly dashboards that make it easy for any sysadmin to protect their environment quickly. Start a 30-day free trial.
Splunk Enterprise Security This on-premises SIEM tool is a specialist package provided by a leading data processing package and also has a cloud-based counterpart. Runs on Linux.
LogRhythm Enterprise This cloud-based system includes a log collector and consolidator and uses AI for threat detection.
ManageEngine EventLog Analyzer This log manager collects Windows Events, Sylog, and application logs for its SIEM function. Available for installation on Windows Server and Linu or as a cloud SaaS package.
Trellix Enterprise Security Manager This tool was previously a McAfee product. It provides system security, log management, and compliance reporting from the cloud.
OpenText ArcSight Enterprise Security Manager A SIEM package that includes SOAR to extend its reach across a network. Installs on Linux and is also available as an appliance or a SaaS platform.
IBM QRadar A SIEM solution for mid-sized and large businesses that provides connectors to extract application logs. Built for Windows.
NetWitness SIEM This cloud platform is composed of log management, threat detection, automated response, and SOAR modules.
What is a SIEM Tool?
A SIEM Tool is a Security Information and Event Management tool which combines Log Management, Security Log/Event Management, Security Information Management and Security Event correlation into one platform. By combining these elements together SIEM tools provide a comprehensive way to manage security threats within enterprise grade networks.
SIEM tools are comprised of two main tool types; Security Information Management (SIM) and Security Event Management (SEM) solutions. SIM tools pull data from log files to produce reports on security incidents and SEM tools monitor for real-time events and raise notifications. When put together, these tools produce the SIEM experience that has become popular amongst modern enterprise users.
How SIEM Tools Work
SIEM tools are designed to collect log data from elements throughout your network. From this log data, the SIEM tool can identify security events and analyze them to help you find the root cause. More specifically, SIEM tools provide the user with:
Reports and additional details about security incidents
Alerts highlighting when a security event has taken place
In other words, SIEM tools work by providing you with the information you need to respond to security incidents more promptly and effectively. Rather than responding to security events manually, you can act as soon as an alert has been sent to you based on log data provided to you by the SIEM tool.
Why do I need a SIEM tool?
Staying protected against modern security threats is next to impossible without the right tools. If you don't have complete visibility over your log data then you're bound to miss something important. Missing the signs of an attack could potentially cost thousands in downtime. A SIEM tool can avoid this happening by providing you with access to your log data and notifications about security incidents.
Having a SIEM tool is also very pragmatic on behalf of your network administrator as it eliminates the need to manually monitor log data. Once a SIEM tool automates much of your log management activities, your network administrator has lots of time to focus on other important tasks.
Another very important reason comes in the form of security compliance. In many industries, SIEM tools are required to ensure regulatory compliance.
The best SIEM tools
Incorporating a SIEM tool into your environment can keep you on the right side of industry regulations and form the heart of your cybersecurity policy. Below, we review the best we've come across.

If you're looking for an excellent all-around SIEM tool, SolarWinds Security Event Manager is one of the best you can get. SolarWinds Security Event Manager has been designed with fast-track threat response in mind. For example, the user can automate responses so that any suspicious connections are automatically blocked, applications halted, and user privileges revoked when necessary.
Key Features:
On-premises
Log management
PCI DSS and HIPAA compliance
Accepts third-party intelligence feed
Automated responses
There is also an alerts system that helps to keep you posted about significant changes within your network. For instance, the user receives notifications when files are modified or deleted, or permissions are changed. This information helps to identify attacks promptly to minimize damages. This makes SolarWinds Security Event Manager suitable for environments where security is a top priority.
SolarWinds Security Event Manager also excels in the form of security compliance. The platform has reporting designed specifically for HIPAA, PCI DSS, SOX, DISA, and STIG compliance. No matter what industry you're working in, this tool can help you to comply with current security regulations.
Pros:
Collects, standardizes, and files log messages
Provides automated threat hunting on log data
Data viewer for live tail logs
Tools for manual threat analysis
Interfaces with third-party tools for threat responses
SolarWinds Security Event Manager is a tool tailored towards those organizations that require a log management tool that's easy to use and deploy. SolarWinds Security Event Manager is available on Windows and starts from a price of £3,627 ($4,665). There is also a 30-day free trial which can be downloaded from this link here.
SolarWinds Security Event Manager Download 30-day FREE Trial
Heimdal Threat Hunting and Action Center is a cloud-based SIEM package that coordinates with on-premises Heimdal security tools. The service interacts with instances of the Heimdal Next-Generation Anti-Virus package, which runs on Windows, macOS, and Linux. The NGAV also implements mobile device management (MDM) for devices running Android and iOS.
Key Features:
Gets activity records from Heimdal tools
Provides threat hunting
Implements automated responses
The Threat Hunting and Action Center requires at least two other Heimdal products to be operating on the site as well as the NGAV. Options include Network Security, Email Security, Patching & Asset Management, or Endpoint Security.
The Action Center kicks in if the SIEM, which is called the XTP Engine, discovers a threat. The Action Center runs automated playbooks, selecting the appropriate strategy for the type of threat that has been discovered. Response instructions are sent to the threatened device and threat intelligence warnings are sent to all other devices on the network.
Pros:
Implements vulnerability management as well as threat detection
Forms a hybrid threat protection system
Includes log management
Access a demo to find out more about the Threat Hunting and Action Center.
Heimdal Threat Hunting and Action Center Access FREE Demo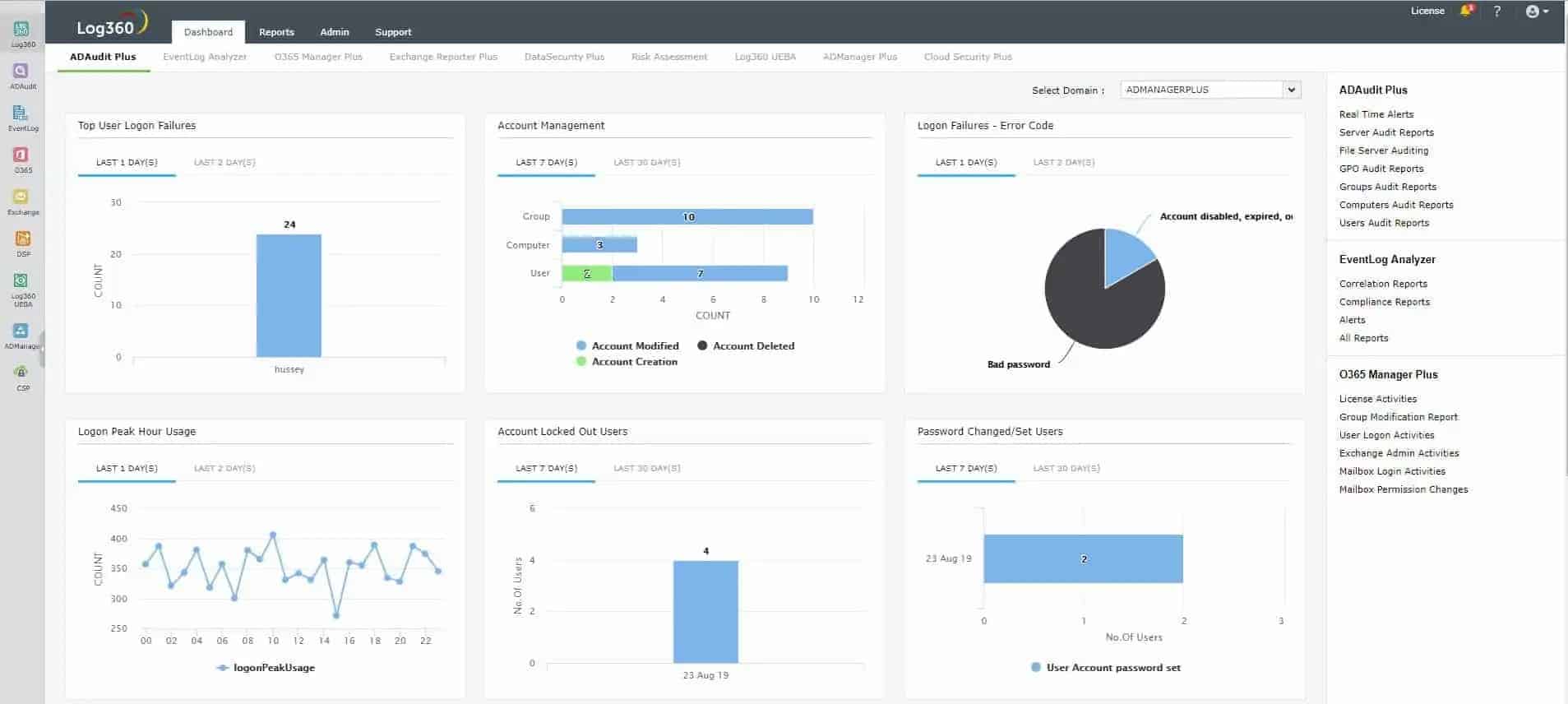 ManageEngine Log36 is a comprehensive SIEM solution that is designed to help organizations detect and prevent threats to their network infrastructure. Log360 has the ability to automate log management, auditing, monitoring, and reporting across multiple systems, including Active Directory, Exchange servers, and public cloud environments.
Key Features:
Automated DDoS protection
Vast SIEM integrations into third-party applications
Behavior and anomaly-based threat detection
Log360 offers several useful SIEM features, including application and network device auditing, forensic analysis, real-time event correlation, privileged user monitoring, and AD change auditing.
These features make it possible to quickly identify potential threats, investigate them thoroughly, and take appropriate action to mitigate them. Log360 also uses an integrated threat intelligence platform to keep you updated on global malicious IPs and threat feeds, allowing you to take proactive measures to prevent potential attacks.
Pros:
Great dashboard visualizations, ideal for NOCs and MSPs
Can integrate multiple threat data steams into the platform
Offers robust searching of logs for live and historical event analysis
Provides monitoring cross-platform for Windows, Linux, and Unix systems
Can monitor configuration changes, preventing privilege escalation
Cons:
ManageEngine offers a suite of advanced services and features can time to explore and test out
Start a 30-day free full trial.
ManageEngine Log360 Start a 30-day Free Trial
Splunk Enterprise Security is one of the most popular SIEM tools available for Linux. Splunk Enterprise Security uses artificial intelligence and analytics to identify and respond to security threats when they occur. These features help to eliminate the risk of false positives and keep alerts down to real events that require a response.
Once an event has been identified, you can go straight into the Investigation Workbench to discover more information about the source and what response you need to take. In the Investigation Workbench you can view data pulled from your network, endpoints, and security data to piece together what happened.
Another strength of Splunk Enterprise Security is that you aren't left at the mercy of compatibility with external tools. There is an Adaptive Response Initiative that has brought together security vendors such as Accenture, AWS, Algosec, Cisco, Phantom, netskope, Sentinel One, and Symantec to provide extra visibility. This compatibility makes threat responses that much easier.
Overall Splunk Enterprise Security is a great choice for those who want to combine production value with fast threat response and third party integration. Splunk Enterprise Security can be purchased as a perpetual or annual license for a price of £1,555 ($2,000) per year for 1Gb per day. You can download the free Sandbox version of Splunk Enterprise Security from this link here.
Next up we have LogRhythm Enterprise, a scalable and responsive SIEM tool. LogRhythm Enterprise combines a data collector, data processor, data indexer, AI engine, platform manager, and analytics module to give you a complete security management solution ready to deploy to any sized environment.
Without a doubt the most cutting edge feature of LogRhythm Enterprise is the AI engine which uses analytics to analyze security data in real time. The AI engine can read usage patterns across your network and identify when there is a problem automatically. The AI is a good addition because it can identify established attacks and day-one attacks immediately.
The more traditional monitoring experience on LogRhythm Enterprise is delivered by the Platform Manager. On the Platform Manager you can configure alerts and alarms so that you're notified when a threat is flagged. If you're not at your desk then you can also automate workflows and responses to minimize the damage of a successful attack.
LogRhythm Enterprise is a tool that should be heavily considered by those who require a top-of-the-range SIEM solution. LogRhythm Enterprise starts at a price of £21,763 ($28,000) and upwards. You can schedule a free trial of LogRhythm Enterprise.
ManageEngine EventLog Analyzer is another product that has made waves as one of the most versatile SIEM solutions on the market.  ManageEngine EventLog Analyzer delivers real-time event log correlation so that threats can be detected instantly. The SIEM platforms combines agentless log collection, agent-based log collection, and log imports to deliver complete visibility over security events.
The compliance audit reports on ManageEngine EventLog Analyzer are excellent as well. For instance, there are preconfigured reports for PCI DSS, HIPAA, FISMA, GLBA and ISO 27001. In addition, reports can be scheduled so that they are generated automatically and emailed to other members of your team. Compliance reports are generated in HTML, PDF, or CSV so that they are available in versatile formats.
There is also an emphasis on alerts in ManageEngine EventLog Analyzer. Users are supported by alerts which notify you once certain thresholds are breached in real-time (there are over 70 out-of-the-box correlation rules). The alerts system helps to make sure that you stay responsive when dealing with live threats.
Overall ManageEngine EventLog Analyzer is a good choice for any organisation seeking excellent log management and auditing features on Windows or Linux devices. ManageEngine EventLog Analyzer starts from a price of £306 ($395) for 10 hosts. There is also a 30-day free trial.
McAfee Enterprise Security Manager is now Trellix Enterprise Security Manager. This is an AI-driven is an AI-driven SIEM tool that has developed a reputation as a platform crafted to provide advanced threat intelligence. Trellix Enterprise Security Manager monitors user activity and network traffic to calculate a baseline for normal activity. Once abnormal usage patterns are recognized the user is sent an alert detailing the anomaly.
The majority of network monitoring is conducted through the Threat Management dashboards which display usage data in real-time. Vendor threat feeds and indicators of compromise keep you updated on current changes to your network and make sure that you're always in the position to respond to security events.
As with all top-of-the-range SIEM tools, compliance has been built into the heart of Trellix Enterprise Security Manager. There are over 240 report templates for HIPAA, PCI-DSS, FISMA, GLBA, GPG13, JSOX, and SOX compliance. However, if you want to personalize your experience then you can customize reports as required.
Compared to other products on this list, Trellix Enterprise Security Manager carries a significantly-higher price tag with a starting price of £31,702 ($40,794). It is well worth consideration if you're looking for a top-of-the-range SIEM tool. There is also a free trial version.
OpenText ArcSight Enterprise Security Manager provides a more aesthetic approach to SIEM with a fresh-faced user interface and some of the clearest visual displays on the market. This tool is also very powerful, capable of monitoring up to 100,000 correlated events per second per cluster. The OpenText ArcSight Enterprise Security Manager is responsible for pulling information from different systems within your environment so that you can respond quickly once a threat has been recognized.
In terms of analytics, OpenText ArcSight Enterprise Security Manager offers integration with ArcSight Investigate. Together these two enable the user to view data visualizations and search for datasets throughout their network. The main benefit of using these two in tandem is faster threat response so that you can deal with attacks before they pick up steam.
Rather than leaving you on your own to respond to threats, OpenText ArcSight Enterprise Security Manager supports automated responses. The user can implement rule thresholds to determine responses to developing situations. Commands can be issued to external devices straight from the ArcSight console and the response can be viewed immediately on the screen.
The power and scalability of OpenText ArcSight Enterprise Security Manager make it suitable for large organizations looking for complete visibility over their network on Windows devices. If you'd like more information about OpenText ArcSight Enterprise Security Manager you can do so by contacting OpenText directly.
IBM QRadar is a product that not only carries a large-name, but also provides some of the best security management capabilities on the market. With IBM QRadar you can view logs and flows across SaaS and IaaS environments. The visibility provided throughout different services is one of IBM QRadar's greatest assets. IBM QRadar can be deployed on premises or in the cloud.
IBM QRadar is no slouch with respect to analytics either. The platform analyzes everything from node usage to network usage to detect the latest cybersecurity threats. IBM QRadar comes out-of-the-box with over 450 integrations and APIs to ensure efficient responses to almost any security situation you can think of.
One feature that stands out for larger enterprise is the platform's self-managing database. The IBM QRadar database is scalable and can automatically upscale and self-tune with the organization. In practice, this means that you don't require a database admin to manually configure your database as you grow.
IBM QRadar is aimed towards medium-to-large organizations and excels in these environments. IBM QRadar is available for Windows.To receive an official quote you will need to contact IBM directly. However, there is also a free trial.
NetWitness is a SIEM tool that delivers advanced threat detection in an easy-to-use package. The NetWitness SIEM platform analyzes data sets to detect day-one cyber threats as smoothly as well-known attacks. Once a security event takes place, automation takes over threat response to minimize the damage done to your network.
With NetWitness SIEM you can combine data from endpoints and logs to give you a complete view of the network's performance. All of this information can be seen clearly through the dashboard which displays all the performance data needed to monitor network performance.
In the event that an attack gets off the ground, NetWitness SIEM supports attack reconstruction so that the network administrator can see how the attack started and key systems have been affected. This is excellent for responding to threats and making sure that your network is fully operational.
Companies looking for a SIEM tool that combines cutting-edge AI with threat remediation capabilities should definitely consider looking into NetWitness SIEM. While an official quote is not available on the NetWitness SIEM website it is estimated that this tool begins at £666 ($857) per month for an enterprise license. However to know the official amount you'll have to request a quote from the company directly. You can also download a free trial.
Best Security Information and Events Management Tools: SolarWinds Security Event Manager and IBM QRadar
Security Information and Events Management tools are not just an exercise in security compliance but an essential component for managing modern threats. SIEM tools like SolarWinds Security Event Manager and IBM QRadar provide the visibility needed to address these threats and stay online.
Make sure to deploy the solution that works best within your organization. There are many tools on this list that might not be right for your organization. For instance, if you're a smaller enterprise a tool like NetWitness SIEM might be overkill for your budget. Likewise, if you're a larger organization you might need a tool that relies more on AI than the dashboard-based approach of other tools on this list.
Successfully deploying a SIEM system is largely down to knowing which tool is best placed to improve your business operations. While you can look at the technical abilities of these tools on paper it is much better to download a free trial and get experience with these platforms first hand. That way if you decide to purchase one you will know what to expect from the beginning.