Almost a decade ago, Cisco discontinued support for Cisco Network Magic Pro. The tool was one that many network administrators used to manage device connections.
Since then, a new generation of network monitoring tools have become available that can autodiscover devices on the network and monitor them in real-time, provide network maps, reports and alerts, monitor TCP/IP connections and more. We explore the most viable Network Magic Pro alternatives.
Here is our list of the six best Cisco Network Magic Pro alternatives:
SolarWinds Engineer's Toolset

(FREE TRIAL)

 – Network monitoring tool designed for monitoring devices in real-time.
Paessler PRTG Network Monitor – Network monitoring software with autodiscovery, network maps, and a threshold-based alerts system.
Atera – RMM tool with network discovery, automation, patch management, and reporting.
Spiceworks – Network monitor with an autodiscovery feature
Network Scanner – IP scanning tool that can scan an unlimited number of devices
Axence NetTools – Bundle of 10 network monitoring tools combining TCP/IP monitoring.
The best Cisco Network Magic Pro alternatives
SolarWinds Engineer's Toolset is a set of network monitoring tools that let you monitor performance in real-time. You can monitor include response time, memory, CPU, interfaces, and more. It automatically discovers new devices so you can monitor them. Once the devices have been located you can view them on a topology map.
The software is available with a desktop or web-based console. You use the tool to run stress tests on your network WAN which is a killer feature. A stress test generates traffic on your network to see how your resources cope under the burden of high use. You can select the Packet Size of the transmission and determine the percentage of bandwidth you want to use.
When it comes to diagnosing performance issues, you have a range of tools at your disposal in including Ping Sweep, DNS Analyzer and TraceRoute. You can use these tools to see where performance problems originate from. You also have alerts, which notify you about changing performance conditions.
SolarWinds Engineer's Toolset is worth looking at if you're looking for modern Cisco Network Magic Pro Alternatives. Prices start at $1,495 (£1,132). You can download the 14-day free trial.
SolarWinds Engineer's Toolset Download 14-day FREE Trial
Paessler PRTG Network Monitor is an SNMP-based network monitoring platform that can automatically discover and monitor devices in real-time. The program is easy to use, and you select the sensors that match the elements you want to monitor. There are sensors for everything from on-premises hardware to cloud services and applications.
For example, if you want to monitor Cisco devices then you can choose between the Cisco IP SLA Sensor, SNMP Cisco ADSL Sensor, SNMP Cisco CBQoS Sensor, and more.
Threshold-based alerts keep you notified when metrics change on these sensors. You configure alert thresholds and then the software notifies you through a range of options including email, SMS, and push notification to let you know there's a problem. These notifications can be customized according to your needs.
A reports system gives you the option to refer back on your findings. You can create daily, weekly, monthly or annual reports for sensors to check up on how performance changes over time. Reports can be scheduled ahead of time to make sure that you always have a periodic update to check upon.
Paessler PRTG Network Monitor is ideal for enterprises looking for a unified network monitoring solution. It's also free for users who require less than 100 sensors. There are paid versions that support additional sensors starting at $1,600 (£1,211) for 500 that scale up to an unlimited number. You can download the 30-day free trial.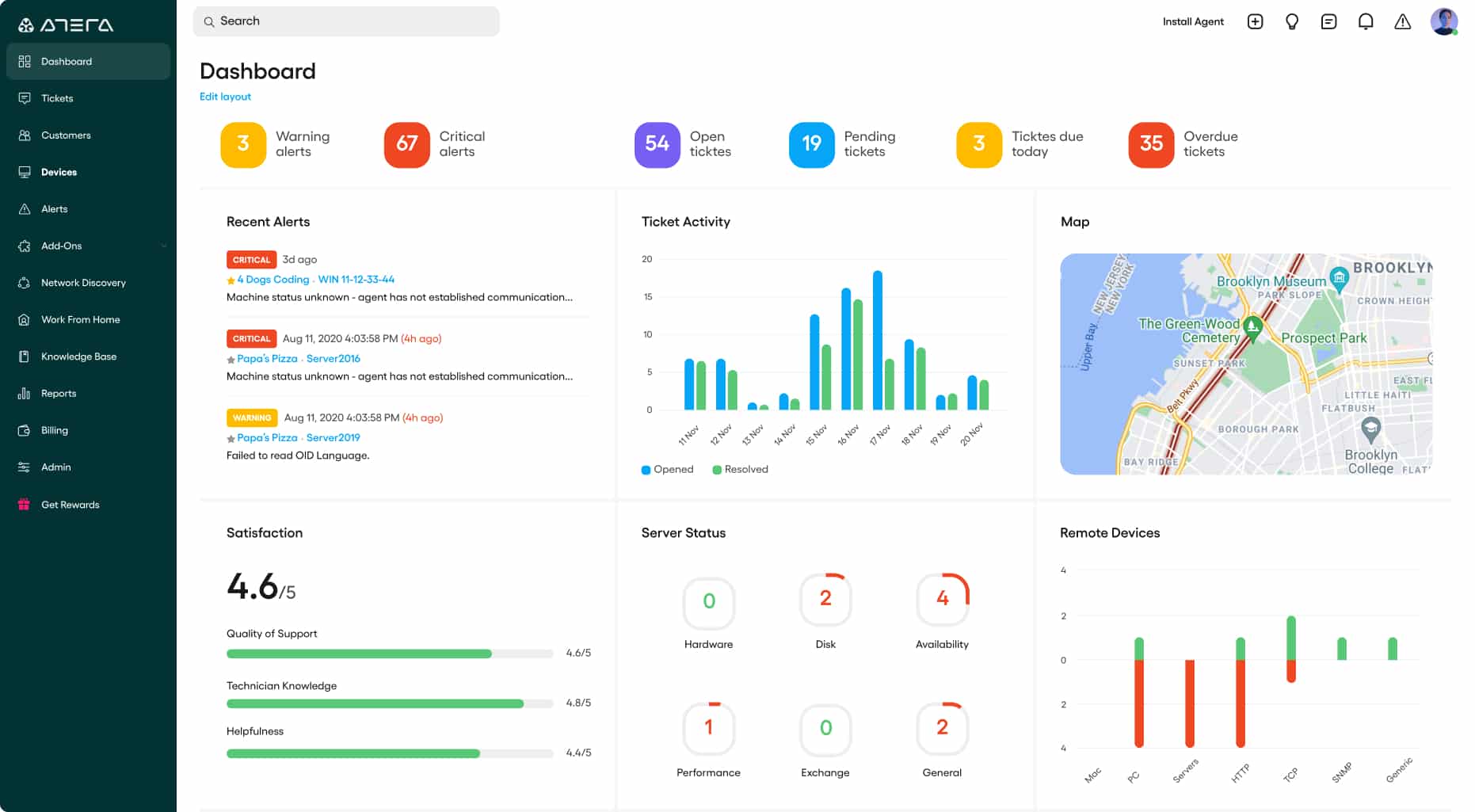 Atera is an RMM solution that allows you to remotely monitor devices in your client's network. It uses network discovery to scan your network and discover SNMP devices. The user can launch automated maintenance tasks to manage remote devices including Create System Restore Point, Delete Temp Files, Delete Internet History, Reboot, Shutdown, Defragment, Check for New Updates, and more.
Similarly, there is a patch management feature that lets the user push out upgrades to devices remotely. With patch management, you can run Windows updates, install Microsoft office updates, drive updates, java updates, Adobe updates, and reboot remotely.
To enhance the monitoring experience, Atera comes with reporting and analytics. With reports, you can monitor the health and performance of devices. There is a range of different reports you have to choose from including System Health at a glance, Specific customer health, Agent health, System Inventory Audit, and more.
Atera uses a per technician pricing model, that includes unlimited devices and agents. Prices start at $99 (£82.60) per month for the Pro version with ticket management and automation features. You can start the 30-day free trial.
Spiceworks IP Scanner is a network monitoring tool that automatically discovers devices in your network by scanning IP ranges. When using the program, discovered devices are listed in the All Devices section which details the name, IP address, vendor, OS, MAC address, and Open Ports associated with the entity.
Once the devices have been listed, you can then use the search and filter features to find the devices you want. Performance data allows you to monitor the CPU, storage, and memory of devices. You can use Spiceworks IP Scanner in a troubleshooting context to diagnose why a computer is performing slowly or failing.
The software also has excellent support for teams. For example, you can create tickets detailing performance issues for other members of your team to respond to. Tickets help to make sure that the issues that you find actually get remedied efficiently.
Spiceworks IP Scanner is ideal if you're looking for a network inventory tool to manage lots of devices. It's also available for free.
Network Scanner is an IP scanning tool that can scan a network of computers and generate a list of IP addresses. The software supports an unlimited number of devices, making it suitable for larger enterprises. Devices can be viewed in the main table view alongside a Name, Address, Latency, and a Comment. You can ping devices to verify that they're available.
The tool is intuitive, with filters that help you navigate your scanned devices. For example, you can filter for Inactive computers to look for devices that aren't up as they should be. You can also filter for Resources by type, and access rights, which enables you to find the information you need promptly.
You can also use the tool to check access rights to resources. Checking read/write access rights allows you to see who is permitted to access which systems. However, you don't need any administrator privileges to run scans.
Network Scanner is recommended if you desire an IP scanning tool that's simple. The software is free as a personal license or can be purchased for $79.95 (£60.56) as a business license. It's available for Windows 7, 2008 R2, 8, 8.1, 2012, 2012 R2, 10, and 2016. You can download the 10-day free trial.
Axence NetTools is a set of ten free network monitoring tools that can monitor the availability and response time of network devices. It can monitor HTTP, POP3, SMTP, FTP, and 50 other technologies. Run network scans to discover devices throughout the network and then view the services running on those devices. The scanning feature can also detect open ports that leave you vulnerable to cyber-attacks.
The range of tools included with Axence NetTools gives you a range of different functions to work with. For example, with the TCP/IP Workshop and SNMP Browser you can view a list of processes and services, alongside HDD, RAM and CPU data. On the other hand, you can use the Netwatch feature to view present and historic performance charts on response times and lost packets.
An onboard Traceroute tool helps you to diagnostic the cause of connection problems. You can view a map of hosts and the route those packets traverse. To measure performance you can view response time to check for issues like latency. For added security, the program detects suspicious connections to Russia or China that could indicate a threat.
Axence NetTools is a reliable network performance and availability monitoring solution. As a free tool, it's well-suited to smaller enterprises looking for monitoring tools on a budget. You can download the program for free.
Choosing a Cisco Network Magic Pro alternative
While Cisco Network Magic Pro may be a thing of the past there are plenty of modern alternatives to choose from. The network monitoring space is packed with tools that offer everything from SNMP monitoring to traceroute. In other words, there's something suitable for your environment no matter what your needs are.
Our editor's pick for this article is SolarWinds Engineer's Toolset on account of its real-time monitoring capabilities and reliable autodiscovery feature. The user interface is clear enough to support the management of lots of devices. Other excellent alternatives include Paessler PRTG Network Monitor and Atera.