No matter what the problem is, it will often start with a request to a help desk. Having a strong help desk platform could make the difference between a productive workday, and complete chaos.
Whether you're running an MSP, or just in charge of fixing problems within your company, you'll want a centralized system to track and organize all of your projects.
Here is the list our list of the best IT Help Desk & Support Software:
SolarWinds Service Desk

(FREE TRIAL)

Powerful help desk solutions for MSPs who are looking to grow and leverage automation. Features detailed reporting, ticket routing, and custom workflow rules.
SolarWinds Web Help Desk

(FREE TRIAL)

Utilizes the best in help desk software, with less additional features and add-ons.
Atera

(FREE TRIAL)

A package of tools for managed service providers that is delivered from the cloud and includes a Help Desk management system.
ConnectWise Manage Ties directly into ConnectWise Automate to provide automation and inventory management.
Freshdesk A budget-friendly help desk platform that keeps tracking tickets simple and convenient.
Kaseya Vortex Built for MSPs, Vortex provides intuitive integration with IT Glue and Live Connect.
The best IT Help Desk & Support Software
SolarWinds Service Desk is a cloud-based service and asset manager that is built around optimizing the efficiency and effectiveness of your help desk support. Service Desk operates in the cloud and is continuously being patched, updated, and improved.
Service Desk supports advanced ticketing features that help you manage ticket flow, and task delegation to keep workloads distributed appropriately. You can set rules that route-specific tickets to certain members or teams based on priority, client, state, or category. The Service Desk platform can receive tickets as emails, calls, or manual entries, and has the ability to integrate with over 200 different applications.
A feature that many technicians love on the incident dashboard is the quick preview function. By simply hovering over the eye-shaped icon on a ticket, you can view and read all of a ticket's most critical information without opening it. Small quality of life features like this can be found throughout Service Desk and really add to making the workflow process faster, and easier for both the technician and the end-user.
When a new ticket comes in, that ticket is automatically scanned and compared with other resolved tickets to help the response team solve that issue faster. Smart Suggestions is a feature that shows up on each new ticket, and suggests resolutions based on keywords in previous tickets, and scans your knowledge base for related internal articles.
While most help desk software gives you the option to search for solutions, Service Desk takes the initiative and saves you time by bringing those related resolutions to the forefront for you. This also applies to users who are in the process of opening a new ticket.
Smart Suggestion will detect what the issue might be, and then suggest an article that may resolve that problem. Smart Suggestion can also be used to identify larger repeat problems. If Smart Suggestion shows that an issue is recurring, it might be appropriate to escalate that problem or work on a solution to fix the bigger problem at hand.
Every ticket that comes in can be assigned to both a user and a machine, giving you a deep insight into a PC's work history and helping you discover larger patterns that could point to another underlying problem. Any computer that has an OS can be inventoried into Service Desk; this is done through a small MSI agent. The ability to quickly pull a machine's past ticket history saves your help desk time and eliminates redundant troubleshooting steps.
SolarWinds' Service Desk focuses on technician efficiency through automation and ease of use and makes this one of the simplest yet most powerful IT Help Desk solutions on the market. Its features and flexible pricing makes this a smart choice for both smaller help desks, as well as larger international service providers.
You can test out Service Desk in your organization for free, with a 30-day free trial.
SolarWinds Service Desk Download 30-day FREE Trial
Web Help Desk by SolarWinds is an on-premise IT support software that manages all the core functions a help desk or network operation center would need to process tickets, automate workflow, and track assets all on one platform.
Web Help Desk shares a number of similarities with Service Desk when it comes to core features like ticket tracking, custom reporting, integrations, and workflow management. You'll have access to powerful workflow automation that helps delegate requests, set default ticket recipients, and even create rules to separate tickets that may be considered more critical or sensitive in nature.
At the dashboard level, you'll get a bird's eye view of how your help desk is performing by displaying the number of current tickets, their alert status, who's assigned to them, and what their priority levels are. This is great for technical leads or managers who want a quick status report of how the help desk is currently working and what their workload is like at any given moment.
Much of the automation that route tickets are done through request types. An end-user will have the option to select a request type before they submit a ticket. Through workflows, you can create rules that route-specific tickets to certain members of your help desk team. For example, you can create a request type called Human Resources and only route those tickets to level 2 technicians who are allowed to have access to more sensitive information. For managed service providers, you may assign specific technicians to certain clients. This can be accomplished through request types as well.
The service portal is fully configurable, giving you a wide array of options for how you want your users to send in tickets. Add and remove different form selections, and make their selection mandatory to assist your help desk is getting the information they need to complete the ticket. Form fields such as room number, request type, and attachment box, give your techs the necessary information to help, without having to go back and forth to get the necessary details with an end-user.
Web Help Desk has some limitations when comparing it to Service Desk. Help Desk does not currently support integration with Dameware Remote Everywhere or provide vendor and contract management. You also won't have access to some of the machine learning features such as Smart Suggestion that come with Service Desk.
With that being said, Help Desk is still an incredibly powerful IT help desk software that really caters to medium to large-sized companies who are looking to manage their own help desk solutions in house. You can test out SolarWinds Help Desk for your organization on a 14-day free trial.
SolarWinds Web Help Desk Start 14-day FREE Trial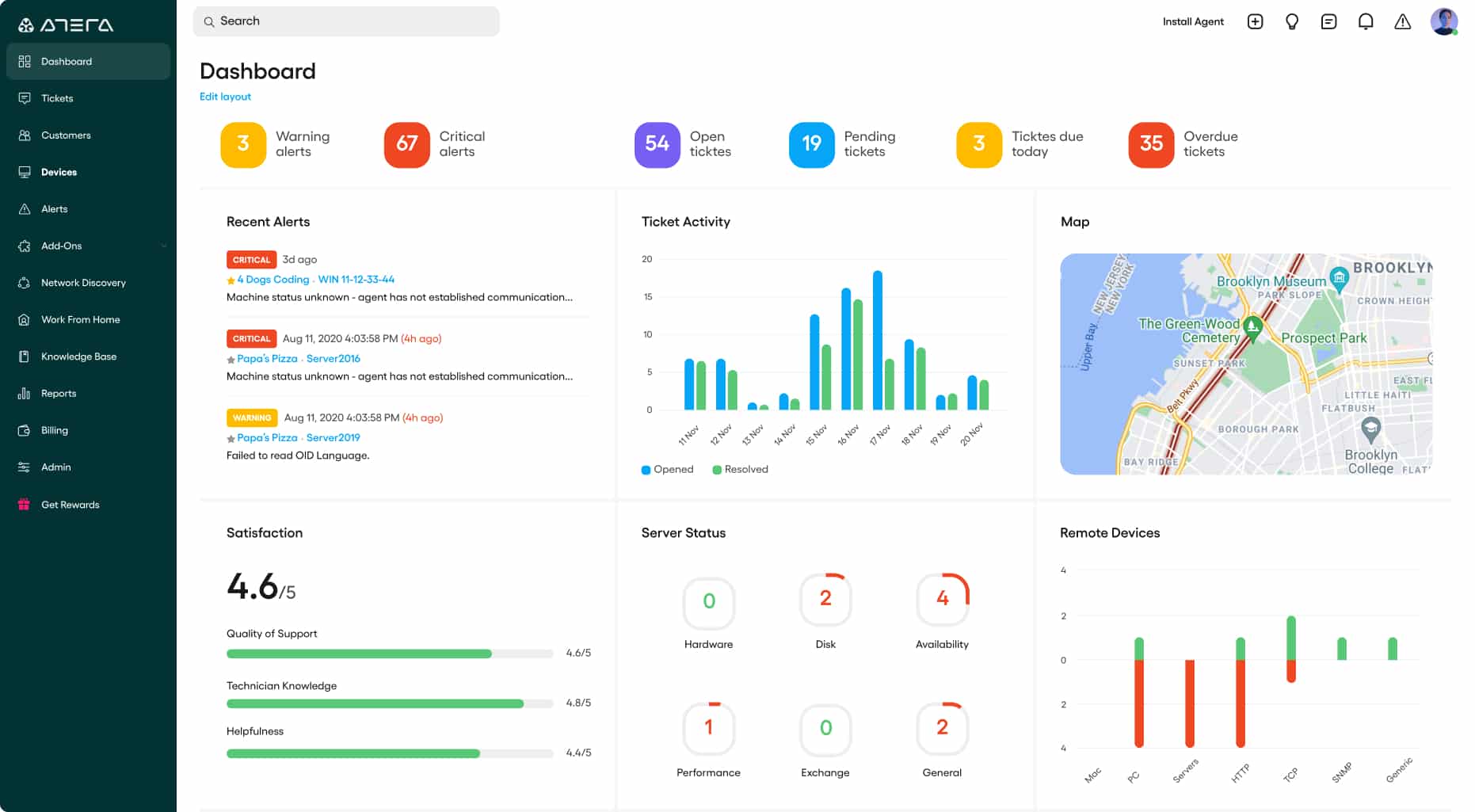 Atera is a package of software designed for managed service providers (MSPs). The bundle is delivered from the cloud and it includes both professional services automation (PSA) and remote monitoring and management (RMM) services. The PSA module includes a full IT Help Desk system.
The Help Desk package starts with a template for a customer portal. This is the page that users will access before contacting the Help Desk. It includes a knowledge base section and the Atera management console includes a section for setting this up with information.
The knowledge base creation service offers templates for adding information to the knowledge base in a range of formats. These include the option to publish blogs and news articles within the system. As well as being available for users, the knowledge base service can be used to create guides for technicians.
The customer portal page is white-labeled so the MSP can brand this with their logo or that of their customer. There is also a contacts page that needs to e set up. Finally, the customer portal contains a ticket-raising service.
The ticket management function of the Help Desk will send the user an immediate autoresponse to confirm receipt and give information on problem processing standards. The service will then route the task to the next available technician. There is a management console for the Help Desk system and the team manager needs to specify how tickets are routed. Tickets that come from specific sources can be allocated to sub-groups of technicians.
The team manager can opt to receive all new tickets for approval and for manual routing. Tickets can be merged or split and they can be set up as a shared task. It is also possible to prioritize tickets and reallocate them. The team manager also gets a rundown on performance per technician and for the team's work for a specific client.
The technician console in the Help Desk Shows all allocated tasks. The progress of the technician is automatically logged, for example, which tasks have been opened, which are on hold, and which are yet to be addressed.
In order to fix the problem, the technician can refer to the knowledge base. It is possible to fulfill a request by sending an advisory email or use the tools in the RMM package to investigate the system and troubleshoot.
The service can be used to forward on problems that require deeper technical analysis. This you can filter out common problems with the 1st line of support and keep experienced technical specialists focused on the really difficult tasks.
Atera is a subscription service and it is available in three plan levels. You can assess Atera on a free trial.
ConnectWise Manage is part of ConnectWise's suite of software designed around serving the technical needs of managed service providers and large enterprise clients. Manage acts as a hub for all incoming helpdesk tickets, time and expense tracking, project management, and sales. Manage aims to be a one-stop solution for MSPs and provides additional integrations such as ConnectWise Automate that extend the usefulness of Manage and its help desk capability.
Help Desk is at the core of Manage where your team can receive incoming tickets from email, phone calls, or through a web service portal. Tickets are broken down into three sections, Discussion, Internal, and Resolution. These tabs are designed to record your client correspondence, internal work time, and the resolution all in one place. This can take some time to get used to and works well for the most part.
Unlike Service Desk, ConnectWise Manage relies on the manual searching of tickets to find solutions. You have the option to search based solely on the content of past ticket resolution tabs, or a broad search that you can narrow down by clients, date, the technician assigned, and primary contact. Manage does have a built-in dispatching feature that allows you to sync and share support calendars across your help desk teams. This helps cut down on the number of different tools your team needs to use and keeps everyone on the same page from one dashboard.
When entering a work time you have the option to make that note 'internal' by checking the Internal box. This can be easily missed and lead to some communication issues, or accidentally making internal notes a part of your correspondence, which makes taking the time to learn the product that much more important.
ConnectWise Manage does have a mobile app for both Android and iOS; however, I found it difficult to use and not very helpful at least from a help desk perspective. Replying to a simple ticket involves digging through nested menus, checking the contact address, changing the default one-hour work time assignment, and then finally sending the message.
While you can automate a lot of the ticketing and workflows, it's a bit less intuitive and more involved than Service Desk. If you have separate teams working on different boards, moving tickets to and from each board can be slow at times. Tickets can get stuck if automation is in place and a ticket was manually changed beforehand.
ConnectWise Manage is available to test through a free trial.
Freshdesk is a cloud-based customer support software with a number of intuitive ticketing features that may fit the needs of small budget-conscious help desks. While Freshdesk lacks some MSP focused features such as project coordination and asset management, it makes up for this in its lightweight design and ease of use.
Features like automatic email notifications,  event-triggered automation, and intelligent ticket assignment all come plug and play with very little configuration or hassle needed to get implemented. One of Freshdesk's standout features is called Omniroute.
Omniroute is an intelligence-based system that can assign tickets based on a number of variables such as skill level, availability, and ticket load. Omniroute alone will help boost your help desk's efficiency and relieve burnt out technicians who were taking on an uneven workload. Small features like prefilled responses and a 'thank you detector' help speed up response time, and avoid finished tickets from being reopened.
On the reporting side, Freshdesk has an entire SLA management dashboard that makes viewing Key Performance Indicators (KPIs) such as response time, completed tickets, and unsolved issues simple and easy to navigate. These metrics can be broken down by team, or even all the way to the individual technician level.
Freshdesk is free to use with limited features and starts at $15.00 (£12.07) per agent, per month. Freshdesk offers a 21-day free trial.
Vortex by Kaseya is a help desk and ticketing platform built with MSPs in mind and integrates into other automation and workflow solutions that are available through Kaseya's platform. Vortex streamlines the ticketing process by optimizing the day to day challenges technicians face. Features like VoIP caller identification allow you to see exactly who in an organization is calling, and create a new ticket with auto-filled information with just one click.
Vortex can utilize platforms such as IT Glue to pull information assets and knowledgebase articles all without leaving the ticket you're working on. Kaseya Live Connect gives you the power to remote into any of your managed machines once you assign a PC to a specific ticket.
Like most platforms, Vortex leverages automation to make follow up and confirmation a simple and reliable process. This is all wrapped in an easy to navigate user interface with in-depth reporting and SLA management. If you think Vortex might be a good fit for you, you can request a free trial.
Choosing the best IT Help Desk & Support Software

For most medium-sized companies and MSPs we'd suggest SolarWinds Service Desk as the best all-round help desk solution.
For IT departments or startups on a tight budget, it's tough to beat Freshdesk's low monthly fee. With that being said, as your technical support needs grow you might find yourself looking to move off of Freshdesk and over to a more holistic solution such as Service Desk or Web Help Desk.
Do you have a ticketing system in your organization? Or just rely on good old fashioned email? Let us know in the comments below.