Device42 facilitates IT decision-making. With precise, automated inventory tracking driven by automatic discovery, Device42 is your go-to for everything from day-to-day ITSM and IPAM to DCIM rack modeling, migration planning, and more!
Key Features:
Asset Management
Document Management
Collaboration
Inventory Tracking
Tax Management
Analytics
Knowledge Base
Alerts/Escalation
Device42 is the most complete agentless discovery and dependency mapping tool for hybrid IT available today. It gives insights to improve infrastructure and applications across data centers and the cloud with a single source of management for your whole IT ecosystem.
Device42 provides customers with precise insights into even the most sophisticated IT companies across a wide spectrum of physical, virtual, cloud, and storage infrastructure, including network switching, bare metal servers, chassis and blades, hypervisors, IP subnets, and more.
Gain accurate infrastructure visibility Know what you have, where it's located, how it's connected, and who owns it.
Beyond – Go beyond just the physical Gain visibility into blades, virtual machines, cloud instances, and the applications running on them.
Support Support and document the entire lifecycle from purchase order to retirement.
Infrastructure Device42's comprehensive infrastructure management enables more informed decision-making.
The company boasts 1,000+ clients and 200+ partners in over 60 countries that use Device 42 to manage their IT operations more efficiently and fulfill compliance demands around the clock. Say goodbye to spreadsheets and hand drawings, which are inefficient and rapidly out of date. Device42 creates correct infrastructure and interdependency diagrams automatically, making data center administration faster, simpler, and more accurate.
Device42 Best Alternatives
Perimeter 81 is a complete industrial-strength platform for securing your business applications, cloud configurations, and local networks. It's much more than just a VPN, with options for custom desktop and mobile apps, cloud support, and secure web applications among other features. In short, Perimeter 81 aims to secure every aspect of your business online.
Key Features:
Extremely secure
Easy scalability
Intuitive user interface
Dedicated servers
Dedicated IPS
Perimeter 81 provides businesses of all sizes and industries with safe, private, and unlimited internet access by integrating next-generation Cloud VPN technology and cybersecurity innovations. This VPN makes bold claims about its service offerings, so I was interested in finding out how it compares to the top VPN providers on the market.
The VPN offers strong encryption, and its strict no-log policy assures user privacy. The app is easy to use and compatible with all major operating systems, including Linux and routers. The WireGuard protocol is also a positive feature, but I would have liked to see faster speeds than I got during my tests. Despite being inconsistently able to unblock streaming services, Perimeter 81 remains a viable option.
If all you need is a VPN then this will seem expensive, but bear in mind that the VPN is only one part of the full Perimeter 81 service. If you need to tightly control access to your business networks and online resources, Perimeter 81 could be a very sound investment. Start with access to a free demo.
Perimeter 81 Coupon
Save 20% on annual plans!
GET DEAL >
Discount applied automatically
2. Datadog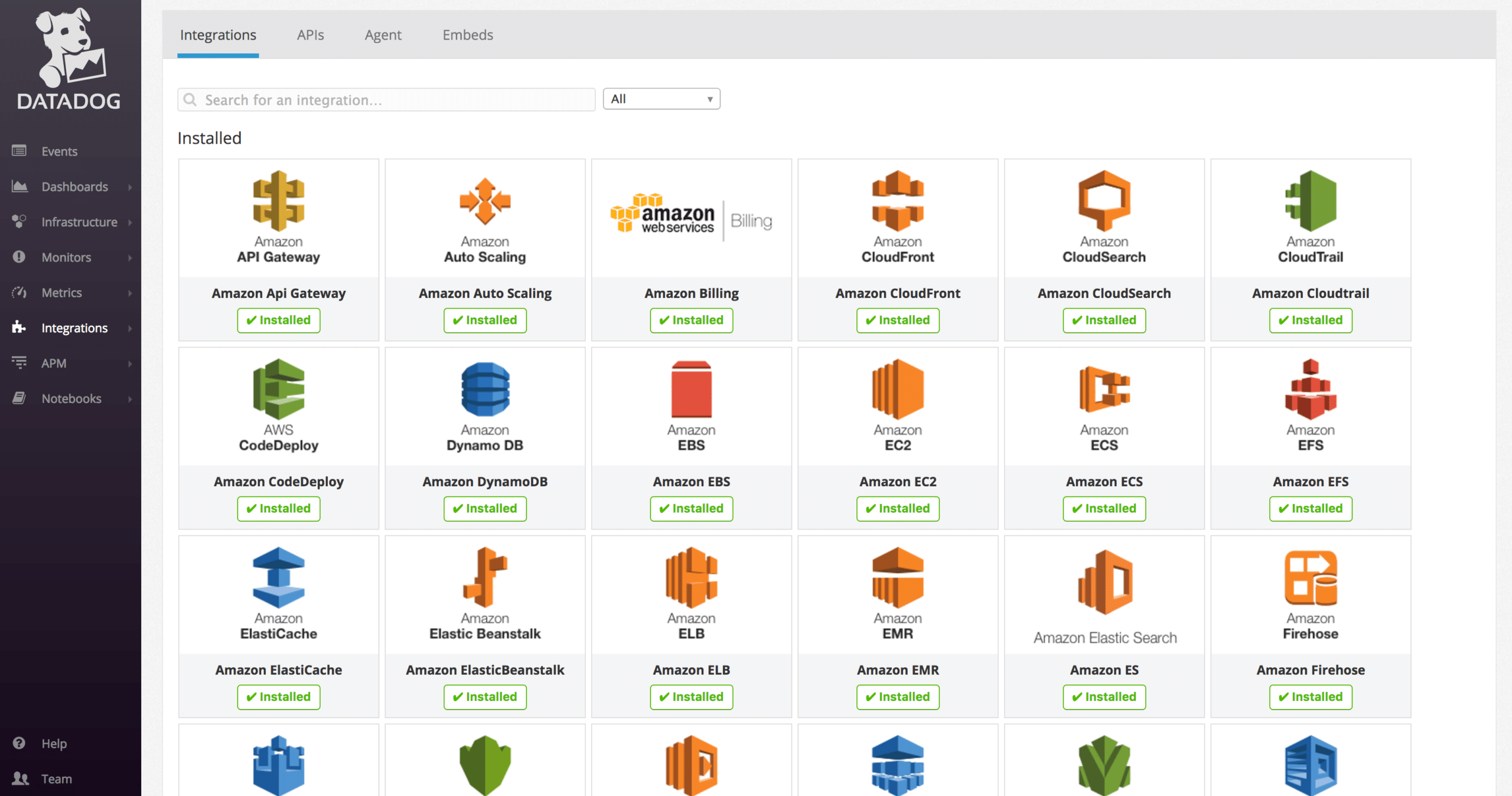 Founded in 2010, Datadog is a VC-funded startup that offers a popular SaaS infrastructure monitoring solution used by thousands of companies. Datadog helps provide visibility across your entire DevOps stack by collecting various metrics, and by presenting them in convenient dashboards and reports. Because the software is cloud-based, Datadog users don't need to worry about storing their data. Datadog stores data for customers for up to 15 months, so that you can analyze historical trends.
Key Features:
Easy installation and setup
Integrations
Customizable dashboards
Automated alerts
In early 2017, the company began offering an APM product, which is fully integrated with Datadog's infrastructure monitoring system. However, since the APM part of the product is still relatively new, we will focus our review on Datadog's core infrastructure monitoring product
Datadog is a Software as a Service (SaaS) infrastructure & application monitoring tool that helps companies detect and resolve issues swiftly — ideally before they impact end-users. The product integrates with over 200 popular tools and services, which makes it easy to monitor every component of your tech stack. Datadog is best-known as a popular infrastructure monitoring tool, but the company has recently launched an integrated application performance monitoring product.
Though Datadog is a newer company, it has gained wide adoption amongst startups, as well as enterprise technology companies, due to its ease of use. Getting started with Datadog requires minimal technical capabilities, which makes it appealing to companies that need a quick solution to monitor their tech stack, and who don't want to spend the time to implement their monitoring solution.
3. Site24x7
Site24x7 offers unified cloud monitoring for DevOps and IT operations within small to large organizations. The solution monitors the experience of real users accessing websites and applications from desktop and mobile devices. In-depth monitoring capabilities enable DevOps teams to monitor and troubleshoot applications, servers, and network infrastructure, including private and public clouds. End-user experience monitoring is done from more than 100 locations across the world and various wireless carriers.
Key Features:
Access Controls/Permissions
Activity Dashboard
Alerts / Escalation
Alerts/Notifications
API
Site24x7 is a cloud-based website and server monitoring platform that helps small to large size businesses monitor websites, servers, clouds, networks, applications, and real-time users. The platform enables users to derive insights on uptime, web applications' performance, internet services, and private networks.
Prime features of Site24x7 include the monitoring of website performance, web page speed (browser) monitoring, DNS servers, website availability, website defacement monitoring, File Transfer Protocol (FTP) speed, Representational State Transfer (REST) API, Secure Sockets Layer (SSL)/ Transport Layer Security (TLS) certificates and more.
4. DCImanager
DCImanager is a platform for managing physical equipment, which helps to optimize the use of computing power, improve the efficiency of the IT department, and flexibly transform the infrastructure according to business tasks.
Key Features: 
OS templates and software auto-installation scripts
Server diagnostics and recovery mode.
Network devices management and VLAN configuration
Power control
Servers and spare parts inventory
Traffic consumption statistics per server and rack
Automatic server search
Automatic server provisioning for infrastructure providers
In a single web interface, the system allows you to keep an inventory of equipment and monitor the occupancy of racks. The system also allows for remotely managing servers and power supply, configuring networks, quickly restoring the infrastructure after failures, and monitoring the load on equipment. DCImanager is compatible with most popular vendors' equipment.
DCImanager manages a geographically distributed infrastructure, monitors the status of all vital elements and systems, alerts you about any potential problems, plans equipment placement, and helps to keep records throughout the life cycle of an IT asset.
5. NetBox
NetBox is an open-source web application designed to help manage and document computer networks. Initially conceived by the network engineering team at DigitalOcean, NetBox was developed specifically to address the needs of network and infrastructure engineers.
Key Features:
IP Address Management (IPAM) – IP networks and addresses,
VRFs, and VLANs equipment racks
Organized by group and site devices
Types of devices and where they are installed connections
Network
NetBox helps build one source of truth by managing your documentation, IP addresses, and infrastructure onto one tool. NetBox's main purpose is to manage and document networks, especially known for its IP address management (IPAM), but it is much more than that.
It can also be used for inventory, design, planning, and with the right add-ons automation too, and those are the advantages. It also brings a great tool to document a physical Rack, everything in it, and manages free space on it. I familiarized myself with this tool by simply planning to document an existing environment
6. Avocent Data Center Planner
Avocent Data Center Planner is an intelligent software program that provides you with information about the physical infrastructure equipment, device connections, and power consumption of your data center. The software comes with comprehensive inventory management that permits asset search, reduces the amount of time to complete audits, decreases unnecessary maintenance costs, access to plans and racks with fine-grained controls, and more to add.
Key Features:
Configuration management
Capacity tracking
Reporting
Intuitive visual interface
The software features configuration management that brings functionalities like simplifying and planning more improved communication, a single platform for IT, capture and view device connections, reducing the time to repair, and more to add. Avocent Data Center Planner has an intuitive visual interface that allows you to enhance efficiency while minimizing the system administrator at the same time. The platform is enabling you to improve your decision-making capability with comprehensive analytics, and you can know the infrastructure capacities to meet the data center requirement with capacity management.
7. CENTEROS
CENTEROS is a reputable data center infrastructure management software that allows you to get access to every piece of information that is reliable for your IT infrastructure. The software comes with the built-in functionality to deliver data-center management solutions and controls the physical infrastructure of your datacenters with real-time visualization. You have benefits like monitoring your devices, delivering online and self-hosted, and managing your power, load, and heat.
Key Features:
Audit Trail
Import / Export Data
Multi-User
Power Management
The software gives you the right strategy to capture data from intelligent devices to monitor power, humidity, and temperature and locate all the issues and graph the data over specified time frames. You can proactively look after most of the operational tasks such as installation, removal, connections, and planning. CENTEROS permits the complete evaluation of the impact of failure, and you can find out repairs for equipment. Moreover, the software working is comfortable with the transition to data center management, and you can robustly export your data from any platform.
8. EasyDCIM
EasyDCIM is an intelligent software that comes with the complete solution for your data center management needs. The software is fully functional with its automated workflows, cloud-bare metal server provisioning, and remote data center management. EasyDCIM is making revolutionary steps by streamlining the server provisioning along with complete management tools for customers. The software provides what you need as an administrator to comprehensively control the entire data center with the management of the dedicated servers.
Key Features:
Automation
Administration
Billing
EasyDCIM features the complete billing integration that permits you effortlessly connect with any billing solution with API. Multiple benefits for you are server status, usage graphs, power management, remote console, and automated reinstallation. EasyDCIM provides various elegant features that include a standalone system to access everything, data center administration tools, WHMCS integrations, modular architecture, and more to add.