Microsoft Hyper-V, also known as Windows Server Virtualization is one of the biggest names in hardware virtualization. Hyper-V is the main competitor of VMware and offers companies a solution for virtualizing operating systems and hardware. However, like physical devices, it's a best practice to monitor computing resources. In this article, we're going to look at the seven best Microsoft Hyper-V monitoring tools.
Here is our list of the nine best Microsoft Hyper-V monitoring tools:
SolarWinds Virtualization Manager

(FREE TRIAL)

– Virtualization management platform with VM recommendations and capacity planning. Use the VM sprawl dashboard to troubleshoot for VM sprawl.
SolarWinds VM Monitor

(FREE TOOL)

– Free virtual machine monitoring tool you can use to monitor virtual machine CPU, memory usage, and network usage in real-time.
SentryOne SQL Sentry

(FREE TRIAL)

This is a monitoring system for SQL Server but it will also monitor virtualizations that support those databases, including Hyper-V. Available for Windows Server or as an Azure service.
Paessler PRTG Network Monitor – Free network monitoring tool with preconfigured sensors for monitoring Hyper-V resources. Monitor the status, traffic, CPU load, and virtual memory of Hyper-V services.
ManageEngine OpManager – Network monitoring software with autodiscovery for Hyper-V devices. Includes over 70 reports for Hyper-V devices and a custom alert system.
Site24x7 VMware Performance Monitoring A server and application monitoring system that includes a special integration for Hyper-V systems. This is a cloud-based platform.
ManageEngine Free Hyper-V Performance Monitor (Free Tool!) – Free Hyper-V monitoring tool that can monitor the CPU, memory, disk read/write, and network traffic of Hyper-V servers and virtual machines.
WhatsUp Gold – Infrastructure monitoring tool with an add-on that can monitor Hyper-V and VMware machines. Includes an autodiscovery feature and a threshold-based alert system.
LogicMonitor – Network monitoring tool that automatically discovers virtual resources. Monitors VM health, performance, CPU utilization, memory usage, and more.
The best Microsoft Hyper-V monitoring tools
SolarWinds Virtualization Manager is one of the top Hyper-v monitoring tools / virtualization monitoring solutions that provide visibility on virtual machine performance. From the dashboard, you can monitor Hyper-V virtual machines for issues such as high CPU utilization, high memory utilization, datastore latency, and more.
The software has been designed to help you find the root cause of performance issues. For example, you can view how virtual machines share storage and monitor services competing for I/O storage. You can see storage contention all the way from the virtual machine, to host, and cluster.
You can also troubleshoot for VM sprawl with the VM sprawl dashboard. The VM sprawl dashboard provides recommendations on how to free up resources and optimize performance. Here you'll be able to see how resources like CPU and memory are allocated. The main value of the dashboard lies in its ability to stop losing resources to inactive machines.
SolarWinds Virtualization Manager is a tool that's ideal for enterprises that want to monitor the performance of virtualized resources. SolarWinds Virtualization Manager starts at a price of $2,995 (£2,275). You can download the 30-day free trial.
SolarWinds Virtualization Manager Download 30-day FREE Trial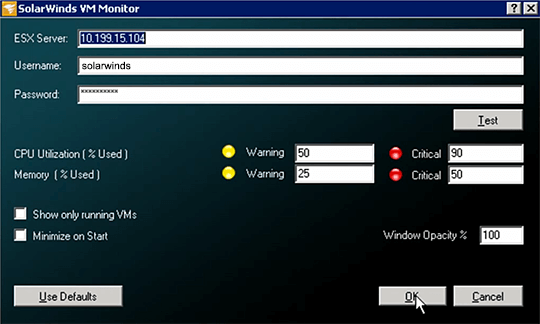 SolarWinds VM Monitor is a free virtual machine monitor for Microsoft Hyper-V and VMware hosts. With SolarWinds VM Monitor you can monitor CPU, memory usage, network usage, number of configured VMs, and the number of running VMs in real-time. You can also view basic VM information like VM name, guest OS, and VM state.
The user interface is easy to use and can be configured in a matter of minutes. Simply enter the name of your ESX server, login credentials, and CPU/memory parameters to begin monitoring. The GUI is structured in a list format, with each virtual machine having a collapsible section displaying performance data.
SolarWinds VM Monitor is a lightweight utility that is great for enterprises seeking fast deployment. It is also an excellent entry-level tool for monitoring VM performance. Although if you require more diagnostic features then you should consider SolarWinds Virtualization Manager instead. Download the free tool.
SolarWinds VM Monitor Download 100% FREE Tool
SentryOne SQL Sentry is a monitor for SQL Server instances. It can be hosted on your own server or in the cloud. If you run SQL Server and Hyper-V, SQL Sentry is a great choice because it can monitor both systems.
The Hyper-V monitoring part of SQL Sentry is a full monitoring tool. The system dashboard has a separate section for Hyper-V statistics. This shows live representations for a range of performance statistics. The service tracks CPU usage and also memory and disk I/O activity.
SQL Sentry tracks interactions between hosts and virtual machines and also records all of the performance metrics of the host as well as the VMs. The service watches the operating system and the physical server to correlate Hyper-V activity with system resource availability.
As well as presenting live data on SQL Server, Hyper-V, and server performance, SQL Sentry offers analytical tools, based on past performance. This offers two formats for past data examination. One is called Sample mode, which lets you extract a range of statistics for a specific point in time. The other system is called History mode, which shows time-series graphs for each statistic for a given period.
SentryOne offers two implementation models, which are a software package for installation on Windows Server and an Azure platform service. You can get a 14-day free trial of the on-premises version.
SentryOne SQL Sentry Start 14-day FREE Trial
Paessler PRTG Network Monitor is a network monitoring tool that monitors Hyper-V devices. The software measures the status, traffic, CPU load, and virtual memory of Hyper-V hosts, virtual machines, and Cluster Shared Volumes. To enable you to monitor virtual services, PRTG Network Monitor comes with a range of sensors designed specifically for virtualization monitoring.
Sensors like the Hyper-V Host Server Sensor and the Hyper-V Virtual Machine Sensor can be used to monitor different segments of your virtual infrastructure. For example, with the Hyper-V Virtual Machine Sensor, you can monitor the CPU usage, IDE disk read speed, and IDE disk write speed of a virtual machine.
There are also additional features like alerts and reports that you can use to react to performance concerns when they occur. You can configure alerts to be sent through email, SMS, push notifications, and Slack messages to notify users about issues. The alerts system is threshold-based and you can decide when you receive an alert.
PRTG Network Monitor is free for the first 100 sensors. If you require more then you will have to purchase a paid version. Paid versions start at $1,600 (£1,206) for 500 sensors and one server installation. You can download the free trial.
5. ManageEngine OpManager 
ManageEngine OpManager is a network monitoring software with virtualization monitoring for Hyper-V and VMware devices. The tool automatically discovers Hyper-V devices and assigns an out-of-the-box monitor so you can monitor them. Data you can monitor includes CPU utilization, Disk I/O usage, Disk Utilization, Network Usage, Disk Read Speed, Disk Write Speed, and more.
The user interface allows you to view graphs of resource usage. For example, you can view the top hosts/guests by utilization. If you need to take a closer look then you can generate a report. There are over 70 reports for Hyper-V devices that you can export in PDF, CSV, and XLS.
The tool is suitable for live monitoring because of its notifications system. ManageEngine OpManager notifies you immediately by email and SMS when virtual machines perform poorly. You can also create scripts and use automated fault resolution to respond automatically to performance issues.
There are three editions of ManageEngine OpManager available: the Standard Edition, Professional Edition, and Enterprise Edition. The Standard Edition starts at $245 (£184.74) for 10-1000 devices without virtualization monitoring.
The Professional Edition starts at $345 (£260.14) for 10-1000 devices and includes virtualization monitoring. The Enterprise edition costs $11,545 (£8,705) for 250-10,000 devices. You can download the free trial here.
Site24x7 Infrastructure is a server and application monitoring that identifies all of the services that support the front-end software that serves users directly. One of those services is Hyper-V. The Infrastructure module is part of a wider platform of system administration tools that are hosted in the cloud. Network Monitoring can be added onto an Infrastructure subscription and both monitoring systems form part of the All-in-one package, which includes all of the monitoring services offered by Site24x7.
The Hyper-V monitoring system in Site24x7 Infrastructure is an add-on service. It is free to use, but it needs to be activated. This is what Site24x7 calls an "integration." The monitoring system automatically maps your hypervisor structure, identifying the allocations of VMs to virtual servers and detailing the resource allocations of each. Below the Hyper-V environment, the Infrastructure monitoring system is able to link together the underlying resources of the physical server that support Hyper-V activities.
The connections that Site24x7 identifies between VMs, Hyper-V servers, and physical servers enables root cause analysis to pinpoint the reasons for virtualization problems. The system places performance thresholds on all resources and raises an alert if any of these get crossed by deteriorating conditions. The alerts can be forwarded to technicians by SMS message or email. This allows staff to get on with other tasks, knowing the Site24x7 is keeping an eye on normal Hyper-V activities.
Site24x7 is a subscription service and you can get a free trial to test it for your business.
7. ManageEngine Free Hyper-V Performance Monitor
ManageEngine Free Hyper-V Performance Monitor is a utility you can use to monitor the CPU, memory, disk read/write, and network traffic of Hyper-V servers and virtual machines. The user interface lists all of your hosts on the left-hand side with a button showing the device's status, which enables you to efficiently monitor multiple virtual machines.
When using ManageEngine Free Hyper-V Performance Monitor, the user can not only view basics such as whether VMs are powered on/off but also view more advanced graphs detailing the CPU usage of virtual machines. While this isn't as advanced as ManageEngine Virtualization Monitor it is very useful.
To create alerts on virtual machine performance, the user can configure warning and critical threshold values for CPU utilization. That means that devices will be classified as Warning or Critical if they meet the parameters set by the user. Likewise, you can set the refresh time interval to determine how often the performance data is refreshed.
ManageEngine Free Hyper-V Performance Monitor is one of the best free hyper-v monitoring tools, low-cost for Windows users. For a more full-featured monitoring experience upgrade to ManageEngine Virtualization Monitor. You can downloadit  from this link here.
8. WhatsUp Gold (Virtualization Monitoring Add-On) 
WhatsUp Gold is a top network monitoring provider that offers a Virtualization Monitoring Add-On for managing Hyper-V and VMware machines. WhatsUp Gold automatically discovers and maps virtual infrastructure so you can monitor the real-time of your virtual machines.
View the real-time availability, CPU, memory, disk, and interface utilization of servers through the dashboard. The dashboard can be customized according to your environment. You can also generate reports that display information such as VIM, API version, number of CPU cores, powered on and off, and suspended VMs.
The tool also comes with a simple alert system. You can configure alert thresholds and receive notifications via email, SMS, Slack, or log files. The range of alert options gives you complete control over where you hear about performance updates.
The WhatsUp Gold Virtualization Monitoring Add-On comes with the Total Plus edition and is available as an add-on for the Premium, MSP, and Distributed editions. However, you will have to request a quote from the sales team. You can download the free trial of WhatsUp Gold from this link here.
9. LogicMonitor 
LogicMonitor is an infrastructure monitor with Hyper-V monitoring. The tool is easy to configure and all you need to start monitoring is to enter the Hyper-V server hostname and LogicMonitor will start to automatically discover virtual resources. From then on you can monitor health, performance, CPU utilization, memory usage, storage, network throughput, and more.
Resolving performance issues with LogicMonitor is relatively straightforward. You can view an overview of performance across all virtual machines. The overview is supported by graphs so you can easily see what devices are consuming the most resources.
There is a threshold-based alerts system so that you can receive updates on performance issues when they occur. There are pre-configured alerts for Hyper-V so you don't need to configure notifications manually.
There is a range of packages available to purchase from 50 devices upwards. However, you will need to request a quote from the company directly. You can download the 14-day free trial of LogicMonitor from this link here.
Hyper-V Monitoring Tools: Get Rid of Bottlenecks 
Maintaining visibility over virtual devices is a challenge. If you don't have a reliable monitoring solution then managing and optimizing resource usage amongst a group of virtual machines is almost impossible. Using a solution that provides you with real-time visibility allows you to stop performance bottlenecks from ruining your productivity.
Tools like SolarWinds Virtualization Manager, Paessler PRTG Network Monitor, ManageEngine OpManager, and LogicMonitor are some of the top tools on this list. If you're unsure about your requirements then starting with one of the free utilities can be a great way to dip your toes before committing to a more costly solution.