Without the right tools, network administration can be a nightmare. Every minute of uptime needs to be meticulously maintained through sheer will. Or does it? For years, network administrators have been using networks scanners to automate the process of scanning devices throughout corporate networks. The main incentive has been to improve transparency over the network.
Here is our list of the best Network Scanners for Windows:
SolarWinds Network Device Scanner (FREE TRIAL) Part of the Network Performance Monitor, this module identifies all connected devices by using SNMP procedures. Installs on Windows Server.
ManageEngine OpUtils

(FREE TRIAL)

A network utility bundle that includes four scanners to discover connected devices. Installs on Windows Server and Linux.
ManageEngine OpManager

(FREE TRIAL)

A network and server monitoring system that includes automated network scanning, device discovery, and topology mapping. Available for Windows Server and Linux.
PRTG Network Monitor A network discovery sensor as part of a network and infrastructure monitoring suite. Installs on Windows Server.
Advanced Port Scanner A free IP address and port scanner that also logs MAC addresses, hostname, and port protocols.
GFI LanGuard A network management system that includes device discovery. Available for Windows, Mac OS, and Linux.
PortScan and Stuff A free network scanner that can identify open ports on all network-connected devices.
Nagios Discovery Tool A Nagios XI component that offers four scanning methodologies.
MiTeC's Network Scanner A multi-threaded scanner with four different operating methods.
OpenNMS A free, open source network management tool with a scanner included.
Xirrus Wifi Inspector A real-time network monitor for wireless systems that includes SSID scanning to identify nearby devices.
Capsa Free Network Analyzer An attractive free network monitor that is based on Wireshark – a paid version is also available.
Nmap A very popular free command line network scanner and device identifier.
The Dude Suitable for SMEs, this network scanner automatically produces a range of network maps.
WhatsUp Gold A network monitoring system that includes a device discovery feature and network topology mapper.
A network scanner will help you document the network, monitor it, and guard it. Here are some systems administration tasks that network scanners can help with:
Device auditing – get a list of all live equipment on your network. Recheck for missing devices that would indicate equipment failure.
Network mapping – create a graphical representation of your network from your device inventory. Many network scanners will perform this task for you
Security procedures – spot rogue devices on your network
IP address management – scan for duplication of IP addresses
DHCP reconciliation – check for expired DHCP leases and IP addresses that are no longer active that enable you to return discarded addresses to the allocation pool
Subnetting – log IP address ranges that indicate your subnet and look out for range exhaustion
Capacity planning – begin your resource planning with a list of active devices on the network
Network scanners are invaluable to network administrators because they eliminate the need to manually scan network devices via the command line. Scanning for devices automatically frees up time for the administrator to do other important tasks. Network scanners are also the only reliable way to troubleshoot your network and ensure its longevity on an ongoing basis.
Attempting to run scans manually through the command line will leave you unable to keep up with the demands of your network. A basic network can have hundreds of different networks and IP addresses to manage. Even the most attentive administrator will struggle to keep up to date in this environment. At the best of times this leads to inefficiency but at worst, it leads to damage. Advanced IP scanners can even automate many of your auditing tasks and provide deeper intelligence on your inventory than a standard operating system command could give you.
Initially, finding a comprehensive networking scanning tool can seem like a tall task. However, with a little bit of research it doesn't need to be. We've put together a guide to help you find some of the most competitively priced tools on the market.
The best Network Scanners for Windows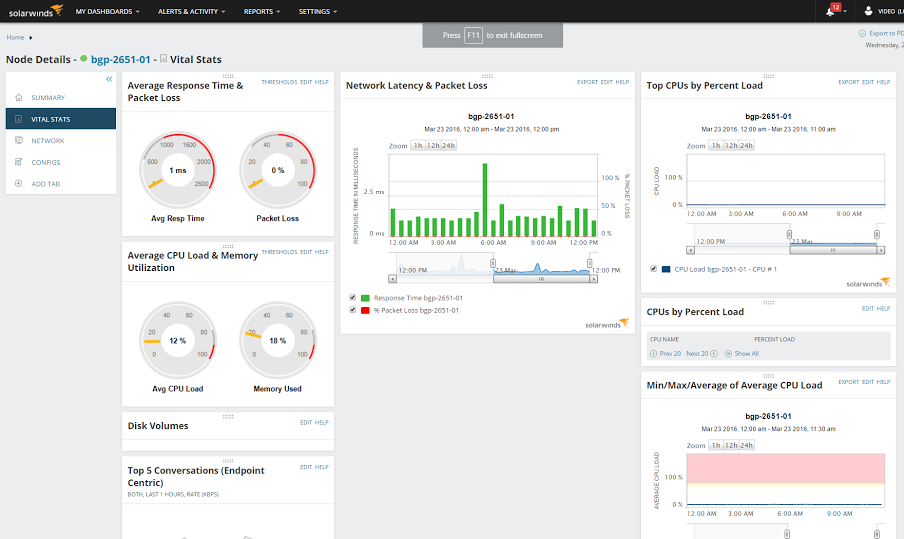 First up on our list, we have SolarWinds Network Device Scanner, which is one of the SolarWinds Network Performance Monitor tools. SolarWinds Network Device Scanner is a program that uses SNMP to identify and flag active devices on your network. One of best things about Network Device Scanner is its slick user interface. It is very easy to use and the visual displays make it very easy to see what is happening on your network in real time.
A number of features mark this tool out as an advanced IP scanner. All the user needs to do start using Network Device Scanner is enter a list of IP addresses and the program will start the auto-discovery process on your network devices. You can also schedule regular auto-discovery as well, which makes this a program with scalability in mind. When your devices are logged in SolarWinds, you can monitor their performance via the platform's simple GUI dashboard. You can also display this data in charts or graphs to make it easier to use as well.
Overall SolarWinds Network Device Scanner is a great offering because it allows you to have transparency over a large network. SolarWinds Network Device Scanner is one of the SolarWinds Network Performance Monitor tools and is available for $3,043 (£2,245). There is also a 30-day free trial period available here.
SolarWinds Network Performance Monitor Download FREE 30-day Trial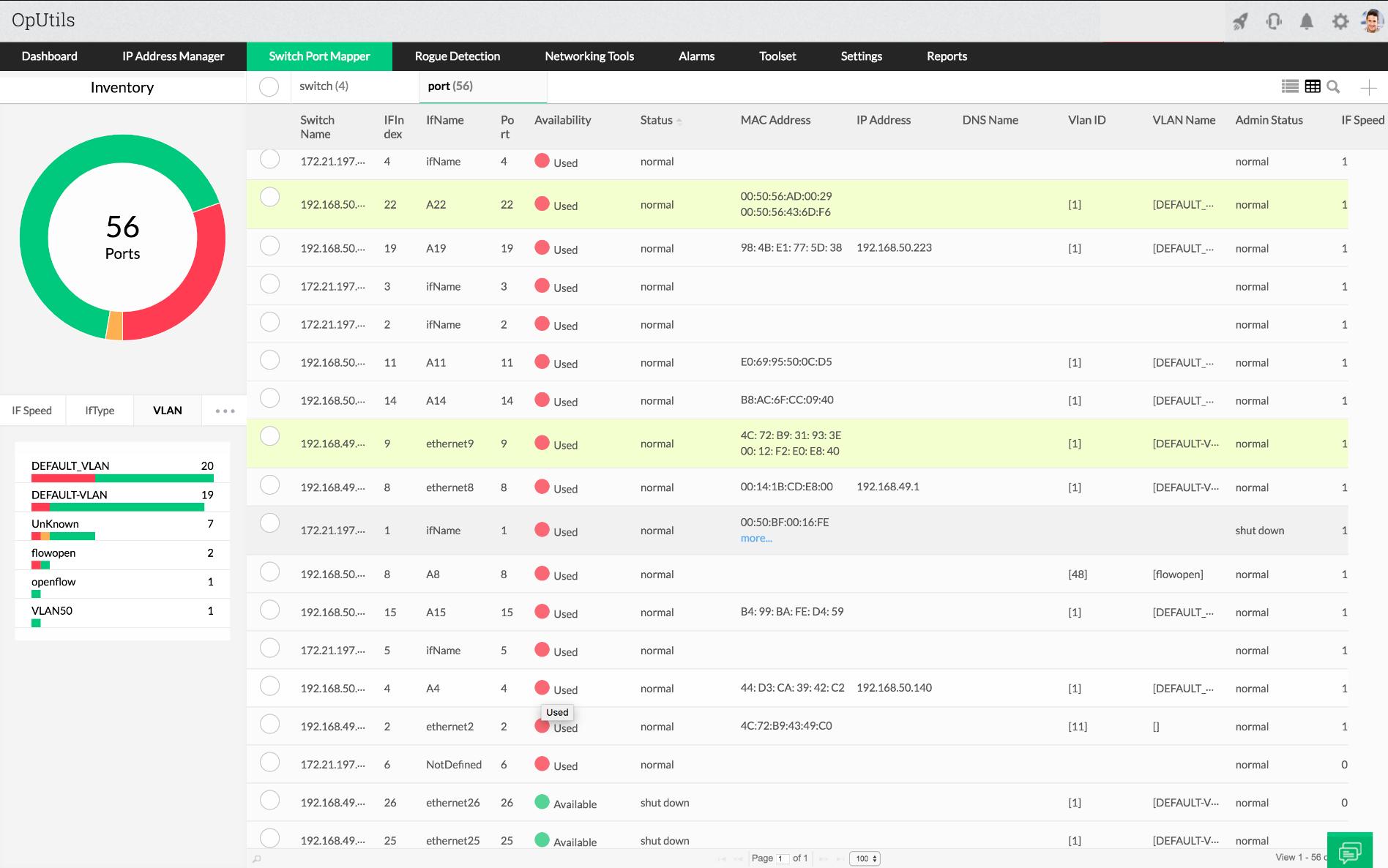 ManageEngine OpUtils is an IP address manager (IPAM) and switch port mapper. Network scanning is an integral part of these two functions and the console of the system also makes a Network Scanner Tool available for on-demand system scans.
The network scanner can search through a range of IP addresses or a non-sequential list. The scan can be requested via a number of methods:
Ping Scan
SNMP Scan
MAC Address Scan
DNS Scan
Once active IP addresses are identified, the tool will list them in the lower panel of the screen, showing hostname and MAC address as well as the IP address in use.
The other functions in the OpUtils package also prove useful for anyone wanting to manage IP address allocation. For example, the IPAM will probably be the next screen you jump to.
OpUtils installs on Windows Server and Linux. ManageEngine makes the tool available for a 30-day free trial.
ManageEngine OpUtils Download 30-day FREE Trial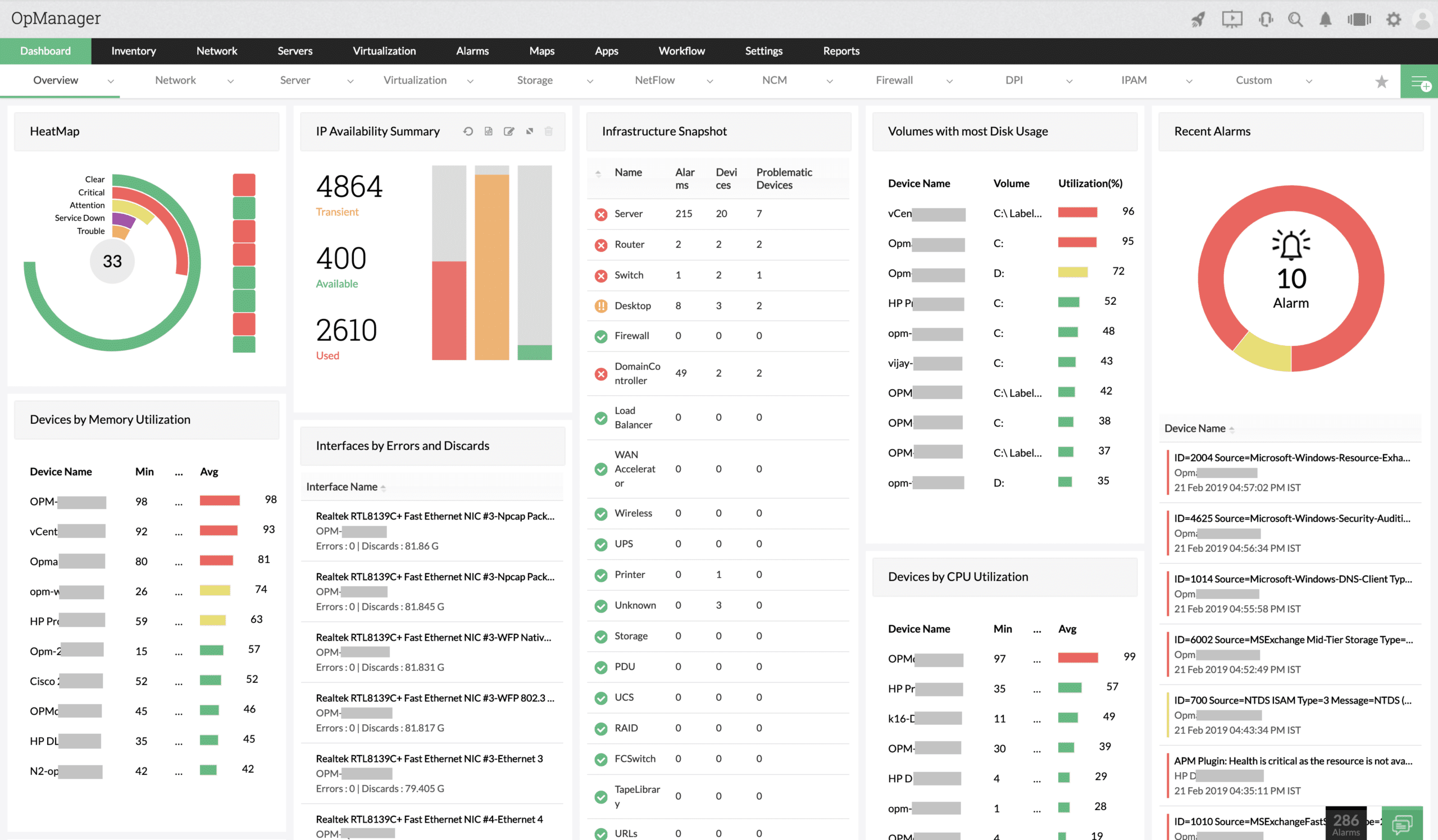 ManageEngine OpManager is a network and servicer monitoring package that includes an autodiscovery function. The network sweep populates a network inventory when the monitor first goes into service. This scan is continuous throughout the monitor's service life and this keeps the network inventory up to date.
The network inventory forms the base for the monitoring service and provides a menu of devices shown in the console for the service. The inventory is also the primary source material for an automated network topology mapper. This draw the network map on demand, so it is always based on the latest version of the network inventory.
ManageEngine OpManager is a software package for installation on site. It is available for Windows Server and Linux. There are three editions of the package: Free, Standard, and Enterprise. The Free edition will only monitor three devices but the Standard version can monitor up to 1,000. The Enterprise edition includes distributed monitoring for multiple sites. You can get a 30-day free trial of OpManager.
ManageEngine OpManager Download 30-day FREE Trial
Many network administrators are familiar with PRTG Network Monitor, which has made waves as a versatile network scanner in the past. If you want to monitor your network and maximize your uptime, you can't go wrong with PRTG Network Monitor. PRTG Network Monitor tracks your network usage through a variety of methods including Netflow, SNMP, and WMI. It also has roughly 170 different sensors available for app, SLA, and virtual server monitoring.
Its extensive notification feature make it ideal for network administrators looking to take a less hands-on approach. Status and threshold alerts keep you updated when a network event happens and you need to take action. In the event that something does come up, you can use the diverse report feature to break it down even further.
PRTG offers both a free and a paid version. The paid version costs $1,429 (£1,055) for 1000 sensors or $9,532 (£7,037) for 5000 servers. Pricing options are available from the Paessler website and you can download a 30-day free trial.
5. Advanced Port Scanner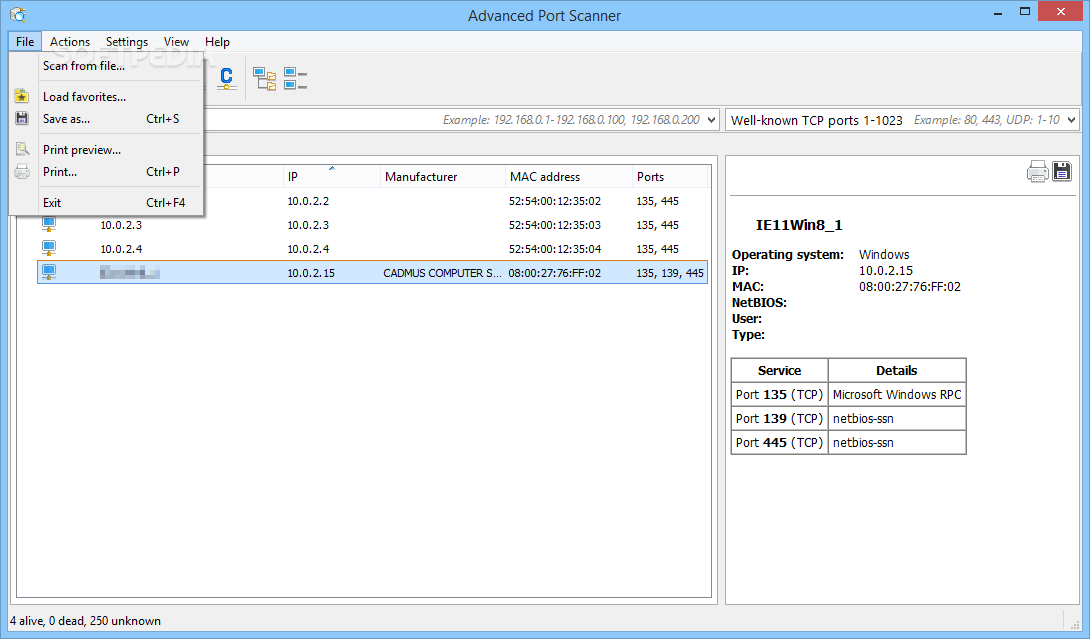 When it comes to inexpensive network scanners, Advanced Port Scanner for Windows is one of the most popular tools available to date. Advanced Port Scanner is available up until Windows 8.1 in 32-bit and 64-bit formats. This program allows you to scan hundreds of IP addresses simultaneously with fast multithreaded port scanning. This really speeds up the discovery process. It can also access the names and addresses of computers via their TCP ports, adding further visibility.
Advanced Port Scanner is a great tool if you want to scan IP's on your network and gain network transparency without spending any money. The best part about Advanced Port Scanner is that it is free. If you'd like to download Advanced port scanner it can be downloaded here.
6. GFI LanGuard
If you're looking for a lightweight network scanner that you can deploy quickly, GFI LanGuard is an excellent choice. With a fast track installation process that will see you up and running within minutes, LanGuard is ideal for companies that want a low maintenance network scanning solution.
LanGuard's dashboard takes a back-to-basics approach with its Windows-inspired dashboard. GFI is available on Windows, Mac OS and Linux, making it a good choice for companies looking for cross-platform potential. Likewise, the platform has a number of visualization features to help access your network performance quality (such as the 'computer vulnerability distribution' chart shown above).
LanGuard has a wider range of vulnerability management functions than other tools like Advanced Port Scanner. For example, you can use it to run patch management to ensure your network doesn't miss any patches. Features like this are incredibly useful if you're looking for a network scanning and monitoring solution all in one bundle.
GFI Languard is available for $26 (£17) a year for 25-49 nodes but decreases to $10 (£6.67) a year for 250-2999 nodes. There are a variety of pricing options available but GFI LanGuard is cheaper per node for larger organizations The free trial of this program can be downloaded here.
7. PortScan and Stuff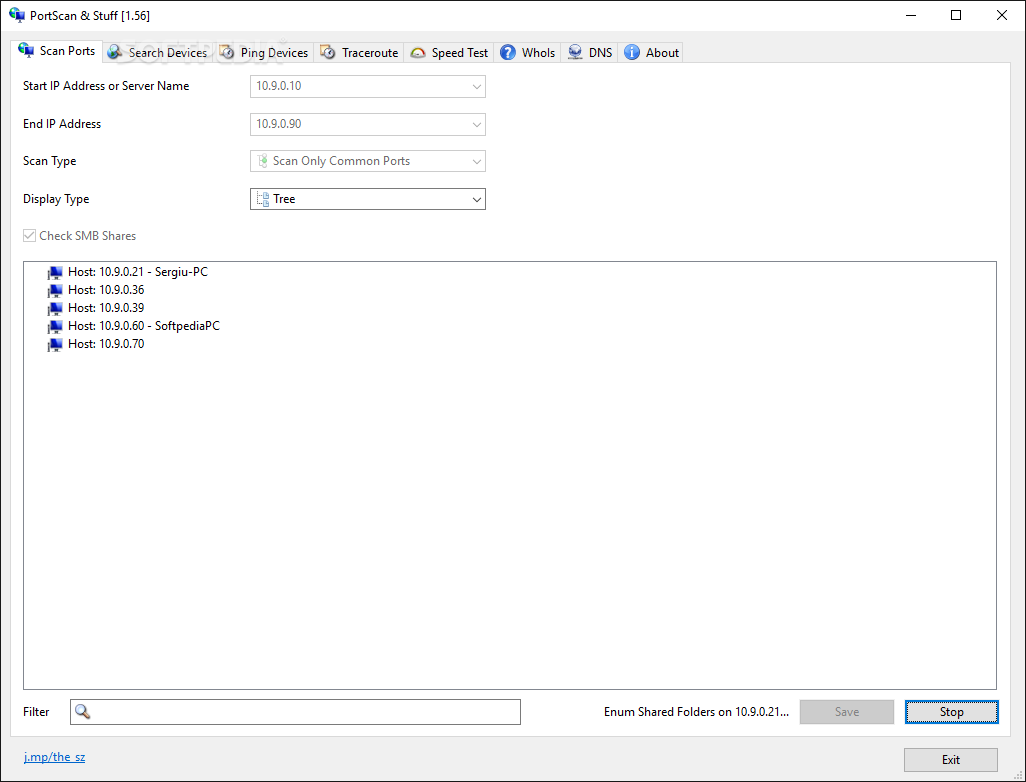 Another trustworthy network scanner that holds its own against the premium applications on the market is PortScan and Stuff. It has all the core features you would expect from a mid-range network scanner, with the ability to scan existing devices on your network and highlight open ports. The only limitation is the lack of visualization, which makes it a little more difficult to gain a cohesive picture of your network.
That being said, the filtering process does help to better your perspective of the network. For example, typing 3389 will flag up all devices that have the Remote Desktop Protocol active. While features like this do go a long way towards improving the feel of PortScan, they aren't enough to bridge the gap made by the lack of visual elements available. If you're interested in using PortScan, it can be downloaded for free online here.
8. Nagios Discovery Tool (Nagios XI)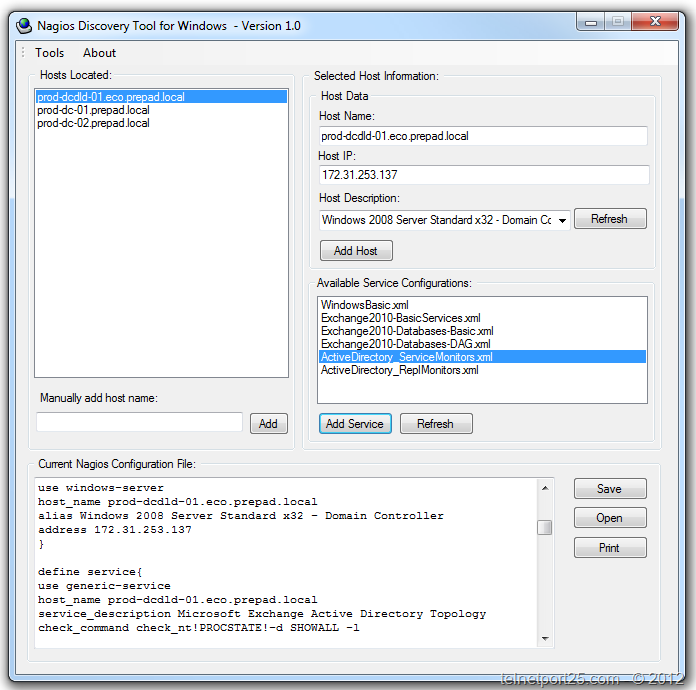 Nagios have been an established name in the network monitoring space for quite some time, and Nagios Discovery Tool has established itself as a dependable platform for network administrators. You can use the program to scan for discoverable hosts in multiple ways: Nmap, Ping, SNMP and TCP. In terms of dictating the criteria through which a scan will run, you can select an IP range.
The only drawback is that Nagios Discovery Tool is only available through Nagios XI. Nagios XI offers users a 60-day free trial. After the trial period finishes, you can buy Nagios XI for a price of $1,995 (£1,471). If you decide to purchase Nagios XI you will also have access to range of other network monitoring tools and data visualization. Nagios XI can be downloaded from the company website here.
9. MiTeC's Network Scanner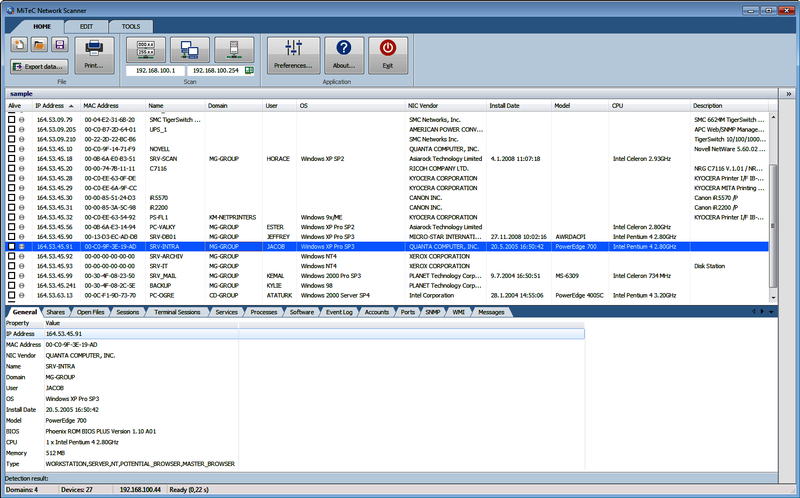 One of the lesser known scanners on this list is MiTec's Network Scanner. This multi-threaded scanner has the capacity to run a broad range of scans such as ICMP, IP, Port, SNMO and ActiveDirectory scans. MiTec's diversity makes it useful for network adminstrators looking for versatile scanning functionality. The GUI doesn't have a snazzy design, but it does the job rather well.
Once you've run a scan you can then save the results or print them. You can also export your data straight to CVS for further analysis. Like a number of the other tools on this list you can also access deeper information on your network elements and view information like: operating system, IP address, MAC address, domain, and general description.
The icing on the cake is that MiTeC network scanner is a free tool. You can download a copy of MiTeC Network Scanner from the MiTeC website here. One of the only drawbacks is that this platform doesn't come with any form of user guide. While you can improvise and use your initiative you might find yourself scratching your head if trying to run more complex scans.
10. OpenNMS
In the world of network management, open source tools can be very hit or miss. OpenNMS is no exception. Through OpenNMS you can conduct comprehensive scans to view individual nodes and vulnerabilities. OpenNMS was primarily designed to help network administrators minimize downtime. For this purpose, it is extremely effective.
For an open source platform, OpenNMS looks rather presentable. The core dashboard provides you with a clear overview of your network and the tabs are listed within reach. OpenNMS's biggest asset is its appearance, so if you're looking for a well-designed network scanner, this is a tough choice to beat. But if you need more depth, then you might want to look elsewhere. OpenNMS is available for free and can downloaded from the company website here.
11. Xirrus Wifi Inspector
Network administrators who seek a more fresh-faced network scanner for Windows would be well advised to consider Xirrius Wifi Inspector. Xirius was designed to help troubleshoot network infrastructure and identify connected devices. With over 1 million downloads, this tool has certainly made a good impression on IT administrators around the world. As a real-time monitoring solution, Xirrus is very impressive.
Every network you detect shows information such as network SSID, network mode, signal strength, frequency, channel, and type of encryption. This information is invaluable for improving transparency. What really sets Xirrus apart from the competition is its contemporary dashboard. Having a graphically pleasing user interface makes it much easier to monitor your network. The onscreen charts provide you with an accurate snapshot of what is happening on your network in real time.
A free trial of Xirrus can be downloaded from the Riverbed website here, but you'll need to contact the sales team in order to get a price for the paid version.
12. Capsa Free Network Analyzer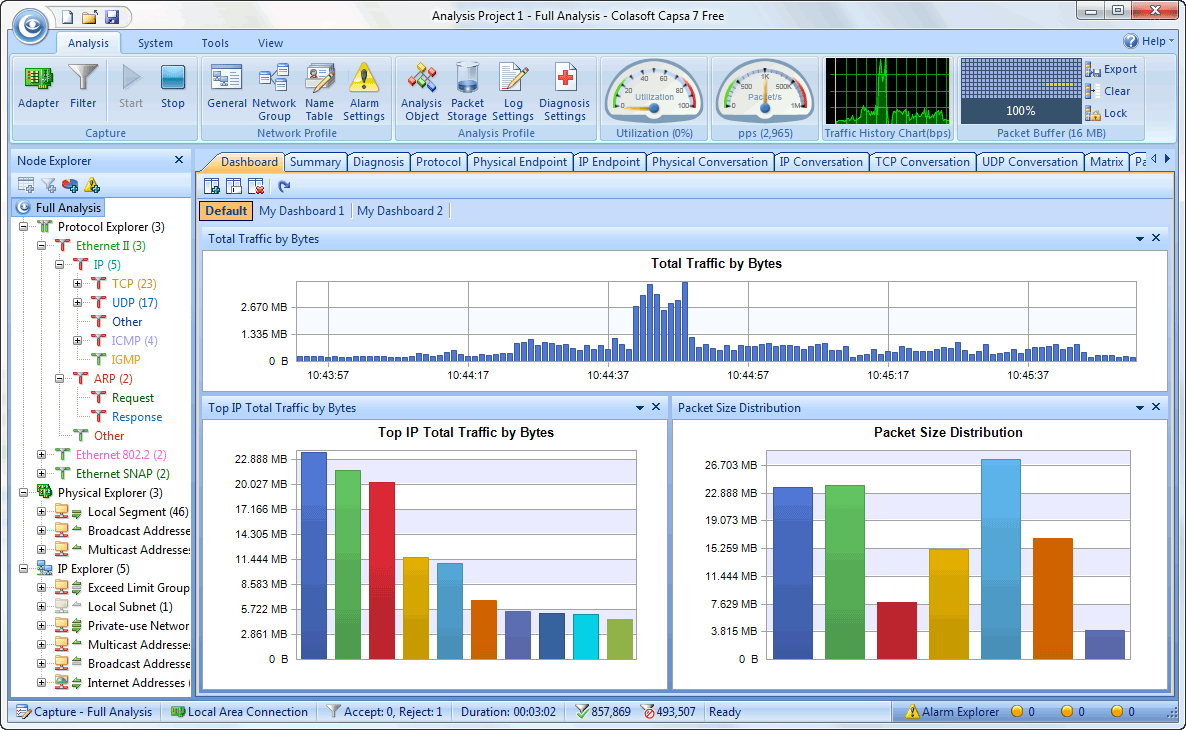 Capsa is Colasoft's entry-level network analyzer tool. This is a product aimed at anybody seeking to monitor moderate network traffic and conduct regular network maintenance. In many ways, Capsa is a paid version of Wireshark. There are visible similarities between the two, but in many ways Capsa's user interface considerably outperforms Wireshark's.
If you're ever in doubt of what changes are taking place on your network, you can simply click the graphs tab to view an extensive breakdown of the minutiae. Likewise the protocols tab will provide you with a display detailing all the different types of traffic active on your network. Its features like this that make Capsa one of the most user-friendly applications on this list.
Two license options are available for Colasoft's Capsa. A single seat perpetual license costs $995 (£734) and a 5 Seat Perpetual License is available for $4,475 (£3304). Both versions can be downloaded from the Colasoft website here.
13. Nmap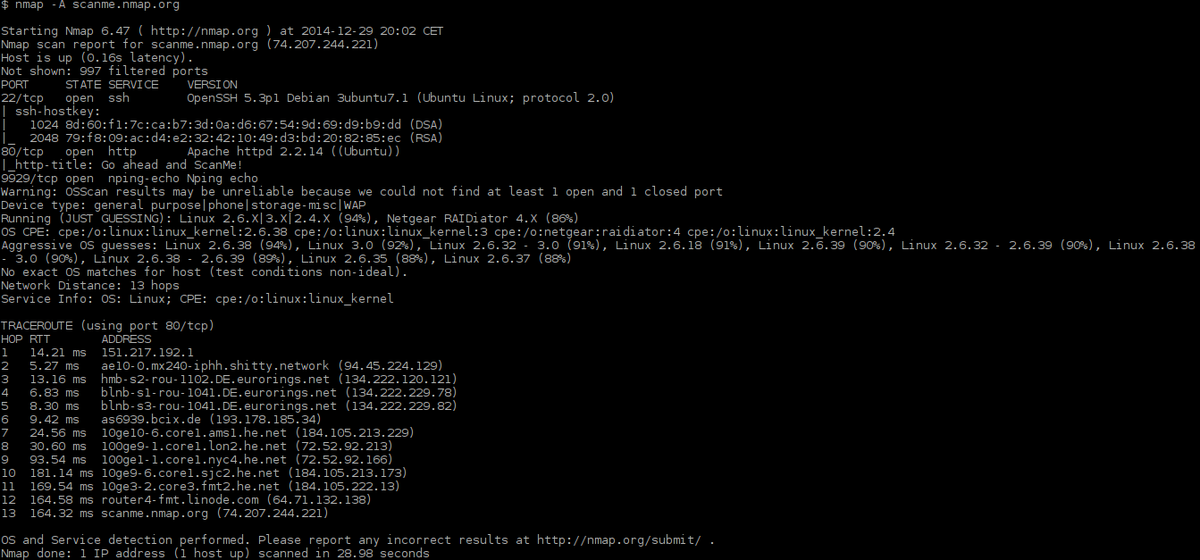 When it comes to network scanning tools, almost every administrator has used or at least heard of Nmap. The reason is that this is one of the top free network scanning tools on the market. Nmap can be used to run port scans throughout your network, locate vulnerabilities, and troubleshoot your connection.
Nmap is far from a superficial network scanner. Once it discovers a computer, it can identify a range of information about the device such as: OS, device, active software, and version number. This information is useful because it helps to build up a more complete picture of your network.
One of the biggest advantages of Nmap is that it is such a well known tool that there are hundreds of online resources available to help you use it. This means that even new users can take the time to research how to use Nmap and maintain their IT infrastructure on an enterprise level. If you're not a fan of command line interfaces, then you might want to move on to a device with a friendly GUI. As an open source platform, Nmap can be downloaded for free here.
14. The Dude
Then there is The Dude. This network monitor has developed a name for itself as a solid network scanner for SMEs. Its auto-discovery feature is great at automatically identifying devices even when compared to other paid tools. The best part is that the initial setup process is incredibly quick, so you don't have to spend ages tweaking configurations before getting started.
The Dude also has the ability to provide the user with notifications. You can go to the Notification File and configure email notifications in response to network events and other such incidents that require action. The only issue with The Dude is that there isn't much documentation to support you. Though the user interface is simple to use, it is unfortunate that there is more direct information out there. The Dude is a free platform and is available to download through the MikroTik website here.
15. WhatsUp Gold
You get an initial network discovery phase when you install WhatsUp Gold. This network monitoring system will scan your network and identify Layer 2 and Layer 3 network equipment and also servers. The details of each device are recorded, including its device type, manufacturer, and serial number.
The results of the network test are logged in an inventory. This record of all equipment on the network is the basis for a network map. The WhatsUp Gold software will plot this map for you automatically.
WhatsUp Gold uses a Ping sweep and the SNMP method to explore the network. These processes keep running while the WhatsUp Gold software is still in operation. This means that WhatsUp Gold will continue to search for devices on the network. It might seem that the repetition of the network discovery process is a waste of time. However, this service means that you can add, change, remove, or move devices anywhere on the network and those changes will automatically be written to the inventory and result in a redrawn network map.
The network scan queries each device in turn to discover which other devices it is connected to. This results in links reaching out to cloud servers and remote sites as well as HQ networks. So, WhatsUp Gold is a good tool for mapping WANs and not just LANs. If you employ virtualization on your site, you would benefit from the WhatsUp Gold Virtualization Monitoring Add-on. This will focus on mapping the relationships between your servers and VMs, showing the applications and network links that deliver your VM environment.
On all network maps devices are shown as a circular icon. Each icon shows the IP address, the MAC address, or the hostname of the node — you select which of these identifiers you want to see. The rim of the circle is color coded to tell you the status of the device. These colors are red, yellow, and green, for alert, warning, and normal conditions. Links between devices are also color coded to show whether they are operating normally or congested.
The WhatsUp Gold software installs on Windows environments and you can get a 30-day free trial of the network monitor to give it a test before you commit money to the deal.
Network Scanners: Fundamental Tools
If there is one thing to take home about network scanners, it's that organizations running enterprise-grade networks can benefit tremendously through automating their network scanning. In many ways it is impossible to manage a large network effectively if you're scanning devices manually. Rather than running your network through the command line, it makes sense to incorporate the use of a quality network scanner.
If you're running a large network then incorporating a network scanner into your toolkit is highly advisable. All of the tools we've outlined above will serve you well in staying productive and managing your network. However, our top pick would have to be SolarWinds Network Device Scanner, as it is both scalable and easy to use for SME's and larger organizations alike.
Ultimately, trying to monitor your network manually is a dead end. The time wasted trying to manually run port scans could be better spent actively observing your network. If you're looking for a tool that gives you a better perspective of your network and allows you to troubleshoot poor performance, then you should definitely considering integrating a network scanner into your network maintenance strategy.
Network Scanner FAQs
What Does a Network Scanner do?
Essentially, a Network scanner is an IP scanner which scans the IP of devices throughout your network. Typically they are used on enterprise grade networks with hundreds or thousands of computers. The primary purpose of a network scanner is to automate the process of locating devices and sharing resources across a large network. This is achieved by scanning IP addresses and IP ranges together.
Why Do I Need To Use a Network Scanner?
As mentioned above, network scanners are used to identify devices and computers throughout a network. The reason why administrators need to use network scanners is that checking up on IP addresses manually simply takes too much time. Opening up command prompt and ping testing IP's directly is a very inefficient way of checking up on your network. It not only means your wasting time doing this when you could be doing something else, but it's hardly a suitable way to keep up to date with an enterprise grade network.
A network scanner will automate the process of scanning your network for computers, and show you which devices are active. By seeing what computers are active throughout your network you're better able to monitor usage and run troubleshooting. You're also in a much better position to respond to security events when they occur because you have network transparency.