The best data center monitoring tools can not only help a business extract the optimal ROI from its digital technology investments but also help its administrators fine-tune it for peak performance.
In this article, we will have a look at some of the best data center monitoring tools and how they can help an administrator take absolute control of their software, hardware, and connectivity devices.
Here's our list of the best data center monitoring tools:
SolarWinds Data Center Management Solutions

(FREE TRIAL)

A superior, powerful product from one of the biggest players in the server and application management tools market; apart from giving you full control of your assets in real-time, it can be further enhanced by integrating it with other tools from SolarWinds. Start a 30-day free trial.
Site24x7

(FREE TRIAL)

This cloud platform provides multiple system monitoring services that offer a suitable combination of monitoring tools for data centers. Start a 30-day free trial.
Datadog Data Center Monitoring Dashboards A SaaS-based server monitoring tool that is ideal for both administrators and IT DevOps teams that offers highly customizable web-based dashboards for better insights.
ManageEngine OpManager Plus A powerful and affordable monitor with a special focus on networking devices; it works well with all major brands and works well in collaborative environments.
PRTG Network Monitor Another great data center monitoring tool that uses agents for minimal footprints but can collect metrics and events from digital assets like routers, servers, and much more.
Zabbix An open-source data center monitoring tool that can scale up to cover a large number of assets; it works on all major operating systems and because it is agent-less, has a tiny digital footprint.
 Device42 A free data center monitoring tool that helps with overseeing hardware, and can be used to visualize the whole architecture using digital models all of which can be controlled from an intuitive, web-based dashboard.
What is a data center?
The definition of a data center is:
A data center is a digital architecture that is used to share mission-critical applications, services, and data with the help of complex networking, compute, and storage devices. In a business setup, a data center also provides access to its users – both internal and external – in a secure, efficient way.
It is the job of the administrator to ensure that all storage, processing, and distribution of the data is done in a way that doesn't negatively affect the business' performance or the data consumer's user experience (UX).
What is data center monitoring?
Data center monitoring, also known as data center management, consists of three major tasks:
Using manual and automated tools and techniques to ensure the best operating health of a data center.
Monitoring, managing, and operating a data center to be in compliance with operating and organizational requirements.
Finally, ensuring mission-critical functions and services of a data center are delivered without interruptions, breaches, or abnormalities.
In general, data center monitoring is a process that provides insights and visibility into the health and status of a data center by tracking specific metrics in real-time and sending alerts or notifications when readings exceed or fall below set thresholds making it easier to quickly resolve the issues that are causing them.
What do data center monitoring tools do?
A data center monitoring tool performs the following tasks:
Monitoring switches and routers for connectivity in a data center
Monitoring critical server metrics in a data center
Providing end-to-end visibility across all data center components including computers, storage, network, and software
Ensure continuous power availability and optimal consumption
Tracking data center environments for safe temperature, heating, and ventilation systems performance
Keeping an eye on the physical data center as well as the software solutions' security to prevent unauthorized access
The whole point of using a data center monitoring tool is to ensure nothing comes between the optimal performance of the consumption of the data, functions, and services that are being provided.
The Six Best Data Center Monitoring Tools
SolarWinds Data Center Management Solutions offers a suite of tools that help administrators monitor all aspects and features of the software and hardware in their data centers. Armed with these tools, they can gain observability into the whole domain, and get insights into every device or solution that caters to networking, data storage, and virtualization.
Some of the tools in the Data Center Management Solutions include:
SolarWinds Network Performance Monitor (NPM) – this tool monitors the network. It connects to and correlates with, NetFlow – a network traffic analyzer. It tracks configurations, virtual machines (VMs), servers, and applications to help diagnose and resolve complex hybrid network data performance issues.
NPM comes with its own set of tools – like PerfStack, NetPath, and Orion Maps – that can be used to correlate historical or real-time data and present it in a format that can be used to perform root cause analysis and then resolve issues quickly.
Network Configuration Manager – this tool is used for automatic network configuration management and backups. It helps save time and improves network reliability and security by managing configurations, changes, and compliance of routers, switches, and other connectivity devices.
It can identify performance or configuration issues on many of the popular network devices made by the likes of Cisco Nexus, Cisco ASA, and Palo Alto network devices.
When coupled with NethPath, administrators can see any changes that have been made in the configurations of network service paths and then handle them accordingly. They can also troubleshoot performance issues caused by configuration changes when this tool is coupled with PerfStack.
Virtualization Manager (VMAN) – as the name suggests, this is a tool for monitoring and optimizing the performance of VMs.
It is an affordable, easy-to-use, and intuitive tool for VM performance management and capacity planning across platforms like VMware vSphere, Microsoft Hyper-V, and Nutanix AHV. Administrators can pinpoint if the root cause of an issue lies in an application, a virtual server, a host, or a data store – especially when it used in tandem with Server & Application Monitor (SAM) and Storage Resource Monitor which are SolarWinds' other solutions for monitoring servers, applications, and storage devices.
Storage Resource Monitor (SRM) – and here, we have a storage management and performance monitoring tool.
It helps visualize storage environments by tracking volumes, RAID groups, storage pools, disks, and much more. This, in turn, helps fix storage issues faster by allowing for drilling into data store details where administrators can first spot storage issues and then use SRM to investigate each layer further.
Users can quickly understand the impact of storage issues spotted in SRM with the help of VMAN and SAM which can help to identify the dependencies between the VMs, hosts, and storage.
As we can see, SolarWinds Data Center Management Solutions are worth investing in because of their own capabilities as well as its ability to integrate and work with numerous other SolarWinds products that are used to administer applications, servers, and networks.
Register for a 30-day free trial of SolarWinds Data Center Management Solutions.
SolarWinds Data Center Management Solutions Start a 30-day Free Trial
Site24x7 is a cloud platform of system monitoring tools that provide the ideal combination of services for data centers. This package is available in editions for managed service providers (MSPs) and for IT departments for in-house use. You can provide centralized services and monitor all of the services of the data center and also monitor the delivery of those services to remote sites.
The main assets in a data center are its servers and the Site24x7 system includes server monitoring that will track processing activities. It monitors resource capacity island utilization and will raise an alert if any alert starts to reach its full capacity. Alerts can be forwarded to technicians by email or SMS. this is a great cost saver because it means that IT staff do not need to sit and watch the monitoring system console.
The system can track the activity and capacity of storage servers and other hardware, such as printers, load balancers, and WAN optimizers. You can watch the performance of networks and internet connections, including VPN services. The package also includes troubleshooting tools, such as Ping.
The Site24x7 platform includes a website monitoring system, so if your data center is a Web hosting service, you can keep track of performance through Real User Monitoring and application performance monitoring. The APM includes code profiling and distributed tracing so you can identify which line of code or which function in your Web application is causing problems.
The package of monitoring tools can be expanded by activating an integration. This term refers to a plug-in and there is a library of them to add on the ability to monitor a specific technology or product. Examples of these are database management system monitoring lug-ins for specific types of database.
The modules on the Site24x7 platform are marketed in packages and you can get a 30-day free trial of any of them.
Site24x7 Start 30-day FREE Trial
Datadog Network Device Monitoring is the ideal tool to use for the collection of telemetry from SNMP-managed devices which are themselves automatically discovered by the Datadog Agent which collects their metrics and events and sends it back to Datadog, the SaaS-based data analytics platform.
Once discovered, the metrics are instantly visualized with out-of-the-box dashboards that display data for data center and device performances. Administrators can then start identifying and troubleshooting a range of issues, be they on on-premises or hybrid networks before they impact users.
The data center Overview dashboard gives a high-level bird's eye view visibility into the health and performance of devices in any location, including data centers, and campus sites.
This dashboard quickly shows how many devices are up and running and displays an inventory of all the monitored devices, sorted by device uptime or with the help of tag-based filters, for example, to zero-in on devices from any particular location.
The data center Overview dashboard also has graphs that display forecasts on inbound and outbound bandwidth metrics in order to predict when specific interfaces will exceed their limits based on their historical performances.
This is intended to help determine whether an upcoming spike, when parameters like predicted bandwidth consumptions are taken into consideration, will negatively affect a data center's performance. After all, an increase in usage could lead to greater network latency, which could in turn render a network unusable during this time.
Administrators can, therefore, create forecast monitors using such predictive models to make sure they are alerted ahead of time of any impending spikes and tackle them beforehand.
Try Datadog data center Monitoring Dashboards FREE for 14 days.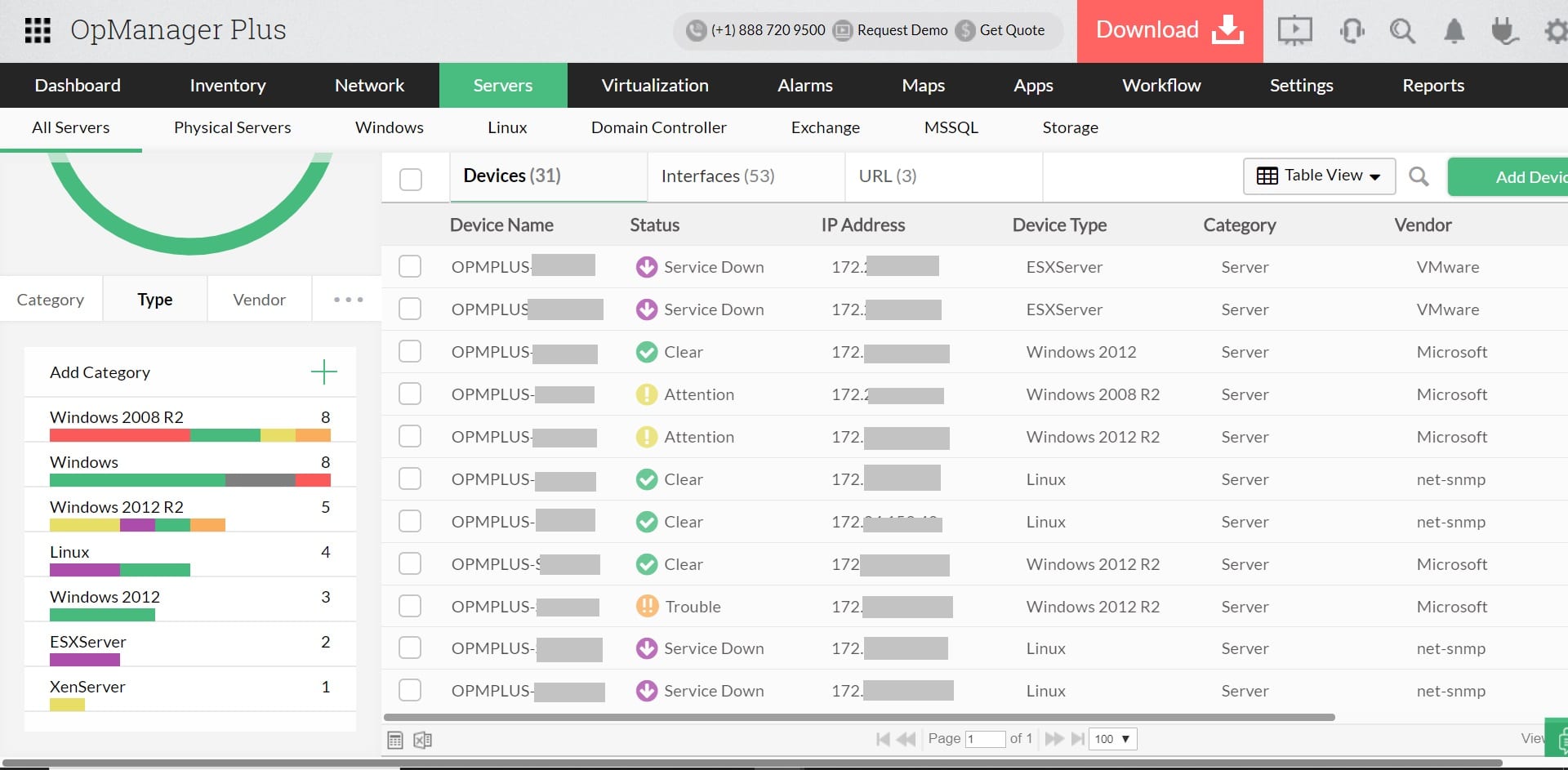 ManageEngine OpManager Plus is another tool for managing and monitoring all the different aspects – from the end users' UX to the databases' performance in the back – of a data center's wellbeing; all from a central console.
Once it has discovered all the assets on a network, OpManager immediately starts to associate performance monitors based on device types. It can then be used to monitor both physical and virtual servers in a data center with the help of SNMP, WMI, and CLI protocols.
It uses critical performance metrics, which are collected in real-time, to track the performance of resources and then gauge the assets' health at their peak levels.
With ManageEngine OpManager, administrators can get end-to-end visibility and analytics of network infrastructure including local devices, wireless networks, WAN links, and even non-computing devices like printers or access points. OpManager also provides integrated troubleshooting capabilities with planning and configuration management thrown in.
More features from ManageEngine OpManger are:
It can be used to monitor and manage networks for performance, traffic, and configuration changes in real-time thanks to its over 2000 built-in monitors that track critical metrics like packet loss, latency, speed, errors, and discards, as well as analyze performance bottlenecks. In case any issues are detected, it can be configured to send out instant alerts via email and SMS.
It also has WAN Link monitoring of key metrics such as jitter and round-trip time (RTT) to keep an eye out for network issues; administrators can even view hop-by-hop performances to find defective or offline devices.
It tracks the performance and health of the CPU, memory, and disk utilization of Windows and Linux servers; administrators can then manage their storage assets with configuration management database (CMDB) plug-ins.
OpManager also monitors the performance of hosts and VMs created on VMware, Hyper-V, Xen, and Nutanix server virtualization platforms.
Administrators can proactively monitor network performance with multi-level thresholds where they can set various thresholds and get instant alerts for their violations.
They can also use default dashboards, or create their own custom ones by making use of over 200 performance widgets that are available and help to view the overall performance of a data center via aesthetic and informative graphics or by creating realistic, 3D views of the data center and its racks, for example.
Finally, administrators can use multiple credential profiles to monitor virtual servers in a collaborative working environment.
Download a 30-day FREE trial of ManageEngine OpManager.
Paessler offers PRTG Network Monitor as its tool for data center monitoring. It is, in fact, a tool that takes care of data centers that, from a monitoring perspective, can be seen as an entity composed of three main blocks:
Data center environment – this covers all aspects of data center facilities and includes physical sensors for monitoring temperature, humidity, smoke, and even feedback from security cameras.
IT and network Infrastructure – this includes connectivity devices like switches and routers, as well as servers, firewalls, load balancers, and VMs.
Applications and services – these are the applications and services that are hosted in a data center and include examples like web servers (IIS, Apache), database servers (Microsoft SQL Server 2005-2016, Oracle, MySQL, PostgreSQL), mail servers (Exchange, IMAP, POP3, SMTP), web applications (websites, portals), backups, security solutions (proxies, VPNs), and any other in-house custom applications.
PRTG Network Monitor covers these three blocks and takes care of the whole data center from internal software to the hardware that holds and connects it all, and onto the peripheral devices that facilitate the proper and secure delivery and usage of data.
On top of that, it offers over 250 predefined sensors – right out of the box – to cover device manufacturers like Dell, Citrix, HP, IBM, and more.
PRTG is agentless, which means that even when other brands are brought into the data center it is still easy to integrate the devices with the help of custom sensors.
It can be safely assumed that any object with an IP address – and which supports a monitoring protocol like HTTP, SNMP, or WMI – can be monitored by PRTG.
PRTG has a flexible and powerful notification mechanism that lets administrators know about issues like overuse of bandwidth or changes in the temperature in a data center. All that is needed is to set the thresholds and since the monitoring is done in real-time, the tool will automatically detect any performance anomalies and instantly send out alerts.
Finally, we have PRTG's data reporting service which is used to not only see how a data center and the digital assets that are under it are performing at present but also serves as a platform with which administrators can spot trends and make decisions about future scaling and planned capacity enhancements.
Try the FREE unlimited version of PRTG Network Monitor for 30 days. (After 30 days, PRTG reverts to a free version).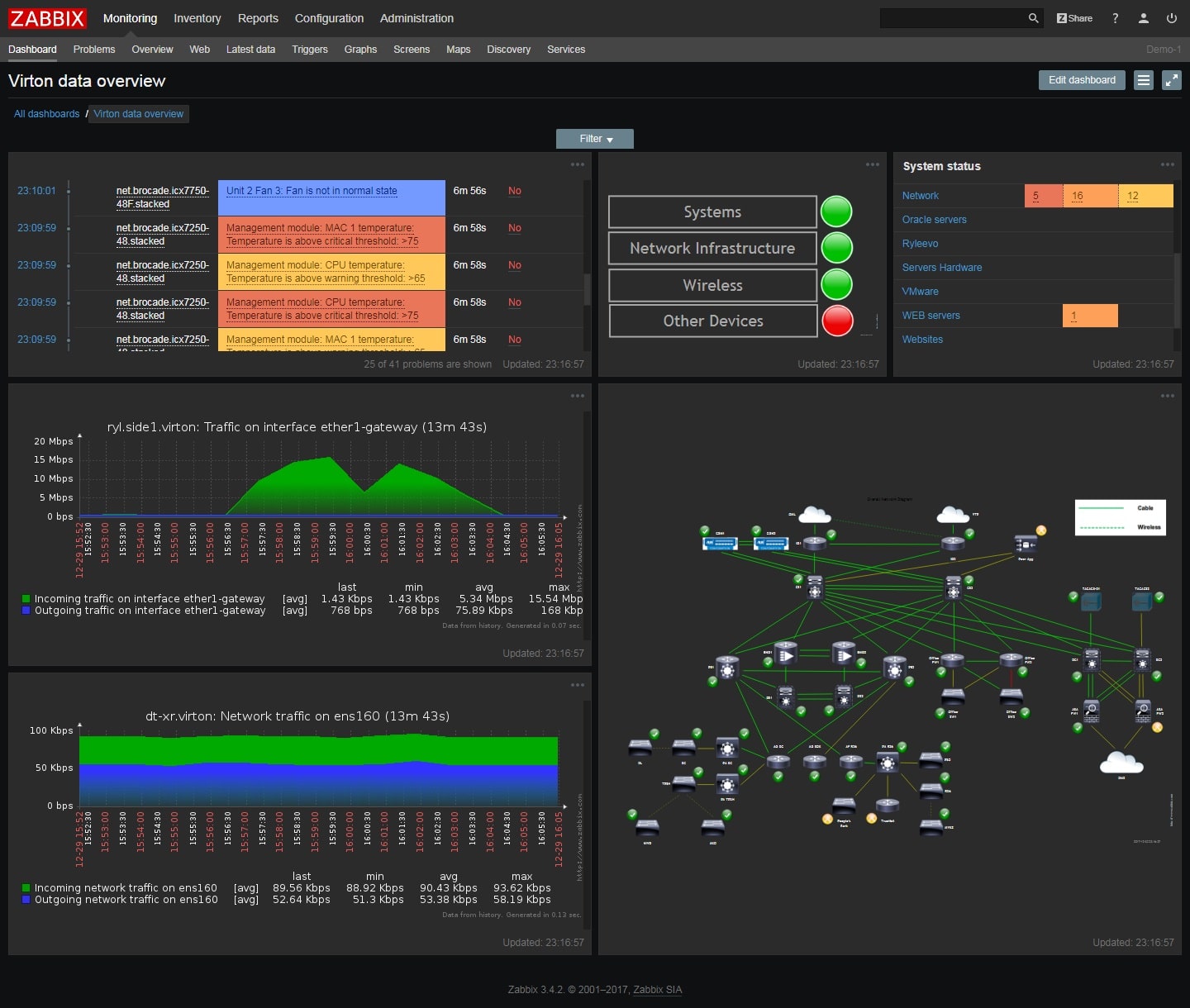 With Zabbix, we have a data center monitoring tool that can be implemented in any environment – be it big or small. This level of scalability is possible because of the algorithm that lies behind this tool which leverages modern hardware and software modularity to allow for the optimal use of modules and sub-programs.
The level of scalability can be further appreciated by the fact that this tool can cover over 100,000 interfaced devices monitored by one single Zabbix installation that can processes over 3,000,000 checks per minute, collecting gigabytes of historical data daily, and only using mid-range hardware.
The topography of the data center doesn't matter because, even in a distributed architecture with branches and clients' sites involved, the number of connections and opened ports are kept low while the monitoring still continues.
Throw in low-maintenance monitoring with Zabbix proxies and it becomes clear why this is one of the best data center monitoring tools out there.
And then we have Zabbix agents which offer high performance for monitoring operating systems and application-specific metrics. These agents have a tiny digital footprint, which means they use minimal CPU resources and memory and can run on platforms like Windows, Linux, and UNIX.
Zabbix server and Zabbix proxy use various data caching solutions, giving them greater performance capabilities and reducing the load on the backend database. An interesting fact is that all components of Zabbix are immune to network and communication outages because they have efficient data buffer controls.
Surprisingly, Zabbix is released under the GPL license and is thus free for commercial and non-commercial uses. There are no limitations on the number of monitored devices; you can use Zabbix to monitor any number of devices – absolutely free!
Download Zabbix for FREE.
Device42 is a data center and network management tool that offers inventory and asset management solutions for an efficient administration experience.
The tool also offers administrative management features for IP addresses, software licenses, app dependency mappings, capacity and power planning, IT assets and QR codes, and much more.
In addition, Device42 comes with an audit trail, a cross-reference system, device auto-discovery, as well as data import and export features.
It is all controlled from an intuitive web-based dashboard that uses powerful data center visualization tools of the monitored data and presents it as intelligent diagrams that reflect the IT environments in real-time.
In fact, administrators can replicate their data centers with ease – they can simply drag and drop objects to create digital models that show their buildings, server rooms, and even individual racks.
Furthermore, dependencies between applications and the infrastructures can be represented with insights into complex architectures that involve physical, cloud, and virtual platforms and taking into consideration configurations like switching, subnets, and bare metal servers, for example.
Device42 works well with legacy infrastructures and systems as it would do with modern ones thanks to its simple, out-of-the-box integrations. I can be integrated with IT service management (ITSM) and automation tools like Jira, VMWare, Zendesk, PowerBI, CloudEndure Migration, and much more.
Administrators gain access to the updated data on all deployed applications as well as their related dependencies, brand names, and version information. In the case of the hardware, Device42 documents their categories: physical, virtual, blade, clustered, etc., for example.
They can also record server processing powers and connection properties along with asset tags, serial numbers, and support information and details on the likes of CPUs, memory, HDDs, as well as IP and MAC addresses.
Try Device42 for FREE.
Those were the six best data center monitoring tools…

We have just seen the six best data center monitoring tools and how they can help you master your core data storage and sharing architecture. We hope you have found it useful. Please, let us know if there is a tool you think belongs on this list. Simply leave us a comment below.