Do you have an overwhelming amount of remote desktop shortcuts to manage? If so, you're not alone. We've put together a list of the very best remote desktop connections managers so you can spend less time hunting for shortcuts, and more time knocking out tickets.
Here's our quick overview of the best remote desktop managers:
Dameware Remote Support

(FREE TRIAL)

Built to provide technicians with quick and efficient access to remote machines and features a full suite of troubleshooting and administration tools. Start a 14-day free trial.
Dameware Mini Controller

(FREE TRIAL)

A streamlined version of Dameware Remote Everywhere. Best for companies who just need remote connection management. Start a 14-day free trial.
ManageEngine Remote Access Plus

(FREE TRIAL)

This package will mediate between computers running Windows, macOS, or Linux and it includes a bundle of troubleshooting tools. Offered as a SaaS platform or for installation on Windows Server. Start a 30-day free trial.
Devolutions Remote Desktop Manager Features an intuitive layout and encrypted password manager for application and endpoint credentials.
Atera A cloud platform of remote monitoring and management tools that includes access to two remote desktop systems, which are AnyDesk and Splashtop.
RoyalTS Built for smaller help desks and features a wide array of tools and integrations.
mRemoteNG An open-source remote desktop connection manager.
MobaXterm A connection manager that enhances SSH sessions with X server forwarding, file transfers, and GUI.
Terminals A remote connection tool that is now being maintained by a small open source community.
The best remote desktop managers
At the top of our list is Dameware Remote Support (DRS) by SolarWinds. While most remote desktop managers simply provide a place to store your shortcuts, Remote Everywhere provides a full suite of help desk tools to enhance your RDP session.
SolarWinds is known for building tools tailored for tech support teams, and Dameware Remote Support is no exception. DRS is a self-hosted product that supports all modern Windows, macOS, and Linux environments.
Dameware Remote Support keeps the helpdesk in mind by offering multiple ways to organize remote desktop sessions and Active Directory objects. With a single click, you can toggle between different remote access protocols such as RDP, SSH, VNC, MRC, or Intel's AMT KVM.
All remote desktop shortcuts can be arranged via a customizable folder structure that closely resembles the Windows user interface. While this UI certainly won't win any design awards, it makes navigating through multiple clients and machines quick and efficient. The DRS tool uses the familiar Microsoft Management Console interface which gives it a familiar and intuitive feel.
Internet proxy features are built right in for additional security and can be configured for organizations that launch DRS in centralized mode. For companies that need to adhere to more stringent security measures like FIPS 140-2, smartcard and two-factor authentication policies can be applied to all DRS client logins. With this feature enabled the client machine does not need a smart card reader, and all traffic is encrypted by default.
One of my favorite features in DRS is the Mobile Gateway, which allows Android and iOS devices to initiate support sessions through mobile devices. While you certainly wouldn't want to work a full day from your phone, it does allow access to servers or endpoints in a pinch. I was surprised just how smooth the connection was when connecting through a VNC session.
Pricing for DRS is straightforward with licenses currently priced at $382.00 (£296.51) per user. Each license does come with one year of support and updates. If you run a network operations center or MSP Dameware Remote Support is a highly competitive option, especially when priced against SaaS platforms that bill monthly.
You can test-drive the full version of DRS completely for free through a 14-day free trial.
Dameware Remote Support Start a 14-day FREE trial
Coming in at number three is the Dameware Mini Controller. If you've been reading from the top you're probably wondering how the Mini Controller differs from Dameware Remote Support. Here's a quick breakdown.
Dameware Remote Support is a remote desktop connection manager that has many different built-in support features, such as mobile remote control, registry editing, hardware statistics, and system information.
You can think of Dameware Mini Controller as the slimmed-down version of Remote Support. While the Mini Controller can still manage remote desktop connections, it lacks many of the aforementioned features. This isn't necessarily a bad thing. If your tech support team already has network monitoring and asset management, there's no need to have another tool that does the same thing.
You'll still get access to plenty of helpful remote features such as keyboard and mouse control, multiple monitor support, and built-in chatbox functionality. If a machine has been turned off, fallen asleep, or crashed, a remote connection can still be established. Through the built-in Intel AMT connection, you can still get connected if the machine is powered off or stuck in BIOS.
The Mini Controller is best suited for departments that are solely looking for remote desktop connection management and not much else. There's no need for a centralized server install or complicated deployment. To remote into your client machines using the default MRC viewer you'll need to install a lightweight agent on the endpoint. You can install as many endpoints as you'd like, and are only billed by the number of licensed Mini Controller users you have in your company.
Dameware Mini Controller is a great option for IT departments who already have monitoring in place, and don't need their technicians to perform advanced remote troubleshooting such as remote registry changes or script executions.
Pricing includes an unlimited number of end-user connections and only changes per the number of technicians who need access to the Mini Controller. Currently, a single technician license is $276.00 (£214.66). Bulk discounts are available and lower the price per license to $199.00 (£154.77) for 15 or more technicians.
If you want to test out the Mini Controller for yourself, you can sign up for a 14-day free trial.
Dameware Mini Controller Start a 14-day FREE trial
ManageEngine Remote Access Plus manages connections between a team of technicians and a fleet of endpoints. Each side in the connection can be running Windows, macOS, or Linux and they don't need to be the same operating system to connect. The service provides a central console for an administrator.
The technician console is tabbed, allowing for multiple open sessions to different computers. The connection configurations can be set up centrally and then made available to the technician instances. This also means that you can manage access by withdrawing connection links as well. Access credentials are hidden, which ensures confidentiality.
Upon connection, the Remote Access Plus console provides a quick status report on the device, which includes its make and model and operating system version. The dashboard also presents a number of diagnostic tools that can be easily triggered at the start of a session.
When connected, the technicians can open up a number of panels for different functions. For example, the main screen will show the Desktop of the remote device and the technician can also open a file transfer window or a connection to communicate with the user of the device.
The chat facility in the console provides text, voice, and video options. This enables technicians to question or coach the attending user and this is particularly useful in a remote control session. The technician can switch to a mirror view and hand over control without having to restart the connection.
Unattended access is also possible, thanks to a Wake-on-LAN function. The technician can also bounce or shut down the machine.
You can subscribe to Remote Access Plus as a cloud-based SaaS package or opt to download the software onto Windows Server. There are three editions of the service and the first of these is Free. That edition is offered in both SaaS and on-premises versions and it has all of the features of the top paid edition but is restricted to connecting to 10 devices. The two paid editions are Standard and Professional. The Standard package doesn't include voice or video chat – just the text-based version. That edition starts at $75 (£60) per year to support five technicians managing 25 computers. The Professional editions has all of the features at a price of $95 (£76) per year for five technicians supporting 25 computers.
ManageEngine offers the Professional edition on a 30-day free trial.
ManageEngine Remote Access Plus Start a 30-day FREE trial
Devolutions Remote Desktop Manager (DRDM) is a hybrid remote desktop and password management software that aims to bring simplicity and efficiency to the help desk. The product takes a 'Swiss army knife' approach to remote desktop management by also providing a host of other helpful features that streamline the remote support process.
With a few clicks, you can launch multiple remote desktop connections and toggle through them via tabs on your dashboard. Support sessions can be launched through many different protocols such as RDP, Citrix, SSH, Telnet, or through 14 other third-party remote applications.
For ticket escalations or training opportunities, sessions can be shared through a central repository that either allows or denies connections to specific machines. With simple role-based security, you can get as restrictive or as permissive as you'd like.
Devolutions Remote Desktop Manager also heavily focuses on providing credential management as a core part of its product. Through a centralized vault usernames and passwords can be stored and organized for quick access with a one-click sign in.
Password vaults can also be assigned to individual technicians or users. This helps encourage safe password practices and gives your technicians the freedom to store their personal logins under their own account. All password data stored in the vault is protected with AES 256 bit encryption.
MSPs will find the full audit logs helpful when tracking their technicians' logins and access. From a simple dashboard managers can view active remote sessions as well as view complete logs detailing connections made, commands executed, and other password related actions.
Devolutions Remote Desktop Manager pricing will vary depending on how many users you have, how many sites you operate from, or where your technical team is located.
Single user licensing is currently $199.99 (£155.44) per year. Depending on your organization's size, you can opt for sitewide licensing that allows for unlimited users at a single site for $4999.99 (£3886.17) per year.
If your team is large and distributed across a single country or across the world, additional licensing and prices can be negotiated with its sales team.
You can test out Devolutions Remote Desktop Manager through a 30-day free trial.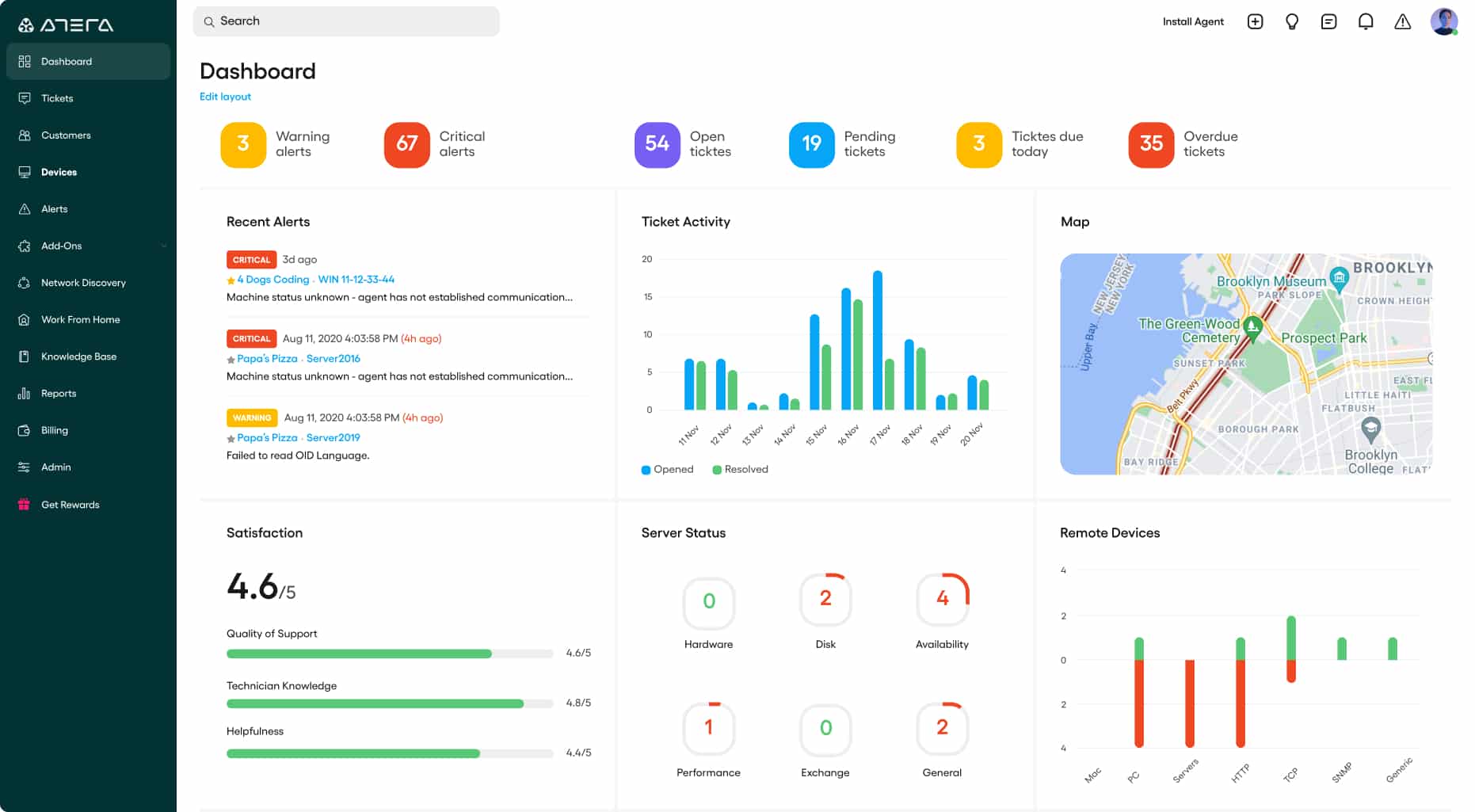 Atera is a SaaS platform that is designed to cater to managed service providers (MSPs). The package includes tools for use by MSP management to run the business that are known as professional services automation (PSA) systems. It also provides systems for use by technicians in their task of looking after the remote networks, servers, and applications for clients – this is known as a remote monitoring and management (RMM) package. The technician tools include a system for remote access to endpoints, which includes the desktop computers on client sites.
Remote access to computers can be implemented by connecting to the operating system at the command line or through a view on the screen, known as the Desktop, of a PC. The Desktop view can be a clone of that environment, which lets the technician work on the remote computer without anyone else watching, or it can be performed through remote control, in which case, the user can see the actions taking place while the keyboard and mouse of the technician are controlling the computer – the technician get a live view of this as well.
While many RMM systems provide a proprietary remote desktop system, Atera RMM provides you with a subscription to two third-party tools, called AnyDesk and Splashtop. There are three plan levels of Atera and the first of these gets technicians access to Splashtop. The two higher plants get both Splashtop and AnyDesk.
The technician dashboard includes a chat facility, which enables the Help Desk operator to communicate with a user that has raised a support ticket. The ticket management system is also included in the Atera package. This enables technician team managers to set up automatic ticket routing algorithms and then track progress on each task.
The technician dashboard lists each open ticket that has been allocated to that specific technician and includes opportunities to add notes and change the status of the task. All of the technician's work should be mediated by the operative's dashboard. This way, Atera is able to automatically compile a timesheet for the technician, ensuring that all of the time spent by each technician is billed for.
The three plans for Atera are available on subscription, which has a rate per month and a rate per year. The annual payment plan works out cheaper per month. Whichever payment period is chosen, the subscription charge is levied per technician. The price per month for each plan when paid annually is:
Pro – $99
Growth – $129
Power – $169
RoyalTS is part of the Royal Apps product suite and was built to be an all-in-one solution for remote access and administration. At its core, RoyalTS offers multiple ways to connect and manage your remote desktop connection.
Protocols such as RDP, VNC, SSH, and S/FTP are all fully supported inside RoyalTS. If you need to manage third-party remote integrations such as Team Viewer, those applications can be added and arranged in the remote connection dashboard.
If your company relies on virtualization through VMware or Hyper-V, RoyalTS allows you to connect and manage all of your virtual instances in a single place. Multiple remote windows can be toggled through via tabs, or aligned side by side to work simultaneously.
On the admin side, RoyalTS provides a number of helpful tools technicians can use to troubleshoot problems. Before accessing remoting into the target machine you'll have the ability to sort through Windows events viewer, start and stop Windows services, and manage system processes. These tools can help resolve most basic help desk issues without ever actually logging into the user's session.
Outside of the basic troubleshooting tools, RoyalTS has some impressive automation features built right into the remote session window. Repetitive tasks can easily be streamlined by either macro or script.
If you find yourself always needing to help a user with a specific task, or restart troublesome services it can all be scripted on the fly. You can even get more complex script with the opening and closing of VPN tunnels or reuse authentication tokens to run programs with specific credentials
Pricing for RoyalTS starts $47.88 (£37.15) per user and includes remote desktop connection management as well as all of the listed admin tools above. The site and global licenses are available as well at $796.79 (£618.15) and $1533.43 (£1189.63) respectively.
mRemoteNG is an open-source remote desktop connection manager for Windows that is a fork of an older application called mRemote. This community-based connection manager supports a multitude of protocols including RDP, VNC, ICA, SSH, Telnet, and HTTP/S.
While mRemoteNG lacks many features that other remote desktop connections managers may have, it's simplicity and ease of use give it a place in our top seven list. Organizing remote shortcuts is as easy as dragging and dropping them into a folder. You can create and nest as many folders as you'd like.
Features like SSH file transfer and PuTTY are built into the tool, however, they are a bit more cumbersome than other remote desktop connection managers. If you have the time you can analyze the source code and program your own features or fixes directly into the tool itself.
One of the downsides of using free open-source software is the potential for vulnerabilities. mRemoteNG does appear to have an issue tracker, however, the rate at which problems are patched or resolved isn't closely tracked.
Since this tool is open-source, you'll be on your own when it comes to support. There is a small but dedicated community surrounding this tool, but don't expect bugs to get fixed overnight. What mRemoteNG lacks in support, it makes up for with extensive documentation.
While I can't recommend this tool in a business setting, it makes for a great addition to the home lab toolkit.
If you're looking for a simple barebones connection manager, mRemoteNG is worth trying out.
The MobaXterm connection manager boasts itself as the 'ultimate toolbox for remote computing', but does it live up to the hype? The MobaXterm tool is built for Windows only and uses a simplistic and sometimes primitive-looking UI to organize your remote sessions.
On the left-hand column, you can save remote connection sessions that are conveniently organized by session types such as SSH, puTTY, and SCRT. Supported protocols include SSH, X11, RDP, VNC, FTP, MOSH. If you connect to Unix machines you can run a number of popular commands such as bash, ls, and cat remotely as well.
One of the most notable features in MobaXterm is the SSH graphical interface. Through X11 forwarding you can run SSH commands to launch applications locally. An embedded X server inside of the MOdaXterm application allows for this added flexibility, which can definitely come in handy if you spend a lot of time working in SSH.
The X server can also run OpenGL graphics and allows you to navigate a GUI file system with full drag and drop file transfer support. Embedded tools are also included in the download but are a bit clunky compared to more modern UI.
From a remote session, you can launch a number of basic network troubleshooting tools such as port scanning, network scanning, and network packet capturing. Through a slimmed-down interface, you can also query and get a list of running processes as well as hardware devices connected to your target machine.
Since the core functions of MobaXterm are so basic, a series of plugins are available for free to enhance its functionality. Currently, there are just over 40 different plugins you can install directly into the tool via the MobaXterm terminal. These features are pretty basic and add options such as front end editors, Windows managers, DNS utilities, and even a text-mode web browser.
MobaXterm does have a completely free version which limits your number of simultaneous connections to 12, and the maximum number of macros to four.
For most hobbyists and home users, the free version will be enough. If you do find yourself enjoying the free version you can remove those restrictions by purchasing the Profession Edition for $69.00 (£53.48). The professional version also allows for further customizations to the startup script and modifications to the logo.
While there are definitely more intuitive tools out there, technicians who find themselves loving command-line base tools will likely enjoy using this simple remote desktop manager.
Terminals is last, but certainly not least on our list of best remote desktop connection managers. Terminals, much like mRemoteNG, is a very basic open-source connection manager that allows users to initiate multiple remote sessions over multiple common protocols.
While Terminals has died down in popularity, in its heyday it was a popular replacement to VNC which would often crash under multiple remote sessions. Terminals can manage and save your remote connections via a simple folder structure and allows for basic customizations such as a favorites section, modular toolbar, and resizable terminal window.
To date, Terminals GitHub repository is no longer under active development, however, the software can still be installed and utilized. In 2016 Terminals received a fresh new upgrade with the Chocolatey package, which made a number of improvements and bug fixes to the project.
Choosing a remote desktop manager
With the discontinuation of RDCman, tech support teams are looking for safer and more feature-rich remote desktop connection managers. So which one should you choose?
For small to medium-sized help desk teams, we'd recommend Dameware Remote Everywhere. Remote Everywhere combines an elegant interface with admin tools that help get problems resolved quicker, and ultimately fewer tickets in your queue.
Its many integrations into third-party vendors make it easy to include in your current software environment, and unlike open-source products, it's backed by prompt technical support staff.
For home network labs or hobbyists, MobaXterm is a great free tool that still has the potential to be purchased later. Its free version will offer more than enough active connections for personal use, and its numerous plugins add network features that most technicians would find valuable.
Do you have a favorite remote desktop connection manager? Are you still using RDCman? Let us know what you use in the comments below.