Finding the right IT Service Management (ITSM) tool is by far no easy task. The tool must be able to manage assets, handle tickets, but most importantly provide better business performance through the use of technology.
We've taken the guesswork out of finding the best ITSM tools, and have narrowed it down to our top nine.
Here's our top ten list of the ITSM Tools:
SolarWinds Service Desk

(FREE TRIAL)

Allows for fast implementation and can easily scale within large and growing service desk environments. Start a free 30-day trial.
N-able N-sight

(FREE TRIAL)

A great option for MSPs who are looking to manage and customize their service for a multiple clients. Get a 30-day free trial.
Atera

(FREE TRIAL)

A remote monitoring and management system that is designed for use by managed service providers and is delivered from the cloud. Start a 30-day free trial.
ManageEngine ServiceDesk Plus Combines workflows and automation for optimal service desk efficiency.
ServiceNow IT Service Management Uses predictive intelligence to assist technicians with repetitive tasks.
Jira Service Desk Flexible ITSM with a focus on simplicity.
Freshservice Clean UI, ideal for those who are nontechnical.
Spiceworks Help Desk Provides the basic ITSM tools for small help desk teams.
Kaseya BSM Integrates with the Kaseya suite of MSP tools.
SysAid Available for both on-premises and cloud environments.
The Best ITSM Tools:
When it comes to delivering a top tier ITSM tool, SolarWinds Service Desk sets itself apart from the crowd. Through the combination of help desk and asset management features you'll be able to streamline your managed service offerings and create predictable outcomes for your customers.
The SolarWinds Service Desk platform is cloud-based, so it's ready in minutes, not hours. This provides out of the box templates and frameworks that are built directly from ITIL standards and best practices.
A simple yet sleek design keeps the help desk area clutter-free and allows your technicians to easily focus on high priority tasks, without stripping out any important features. Tickets can be automatically routed to specific groups or individuals based on priority, clients, or any number of customizable variables you wish to set.
To help get issues resolved faster, knowledgebase articles are pre-populated right under the new ticket. By leveraging AI to scan new tickets, the Service Desk can determine which knowledge base article is likely to be the most helpful, and result in a closed ticket. The predictive text search feature also helps guide technicians to the correct resources, resulting in faster resolutions, and happier customers.
Automation is a large part of the SolarWinds Service Desk offering and allows for a wide variety of solutions to be crafted through its REST API and many third-party integrations. Through simple deployment network devices can integrate and check in with the Service Desktop platform, allowing you access to a devices performance metrics as well as the ability to track devices on a per-ticket basis.
Key features:
Cloud-based
Proactive threat detection
AI-powered search features
Knowledgebase support
SolarWinds Service Desk comes in four different pricing tiers, but to leverage the full ITSM functionality you'll need at least the Professional plan. You can try out any of the Service Desk plans through a free 30-day trial.
SolarWinds Service Desk Start a 30-day FREE trial
Running a single IT department can be challenging, running an IT department for dozens of clients can seem daunting. However, with the right combination of tools, it doesn't have to feel impossible. N-able focuses all of its attention on providing an ITSM solution that can scale across all of your clients, no matter how different or complicated each of them is.
N-able N-sight does this by combining key elements into a single management platform.
N-able can provide:
Back up and recovery
Remote support
Asset monitoring
Mail security and archiving
Automated threat monitoring
Ticketing and PSA
Managing these services under a single platform allows you to not only simplify your business but also position your MSP for growth knowing your team has the capacity to take on new clients quickly and efficiently.
N-able has features that are similar to SolarWinds Service Desk, but it provides a more comprehensive and holistic ITSM solution for larger, more established MSPs. Agents can be deployed to monitor and pull data across Linux, Windows, or macOS environments making this an ideal tool for supporting diverse organizations.
All of this functionality is hosted in the cloud and provided as a SaaS, meaning you don't have to worry about maintaining and patching your own N-able server on-premises. This product makes for a great ITSM for companies who are either missing key features in their current solution or are completely missing core services such as asset monitoring or automated threat monitoring.
Key features:
In-depth automation
Over 200 app integrations
Multi-platform
Cloud-based
You can test out N-able N-sight and all of its features completely free with a 30-day trial.
N-able N-sight Start 30-day FREE trial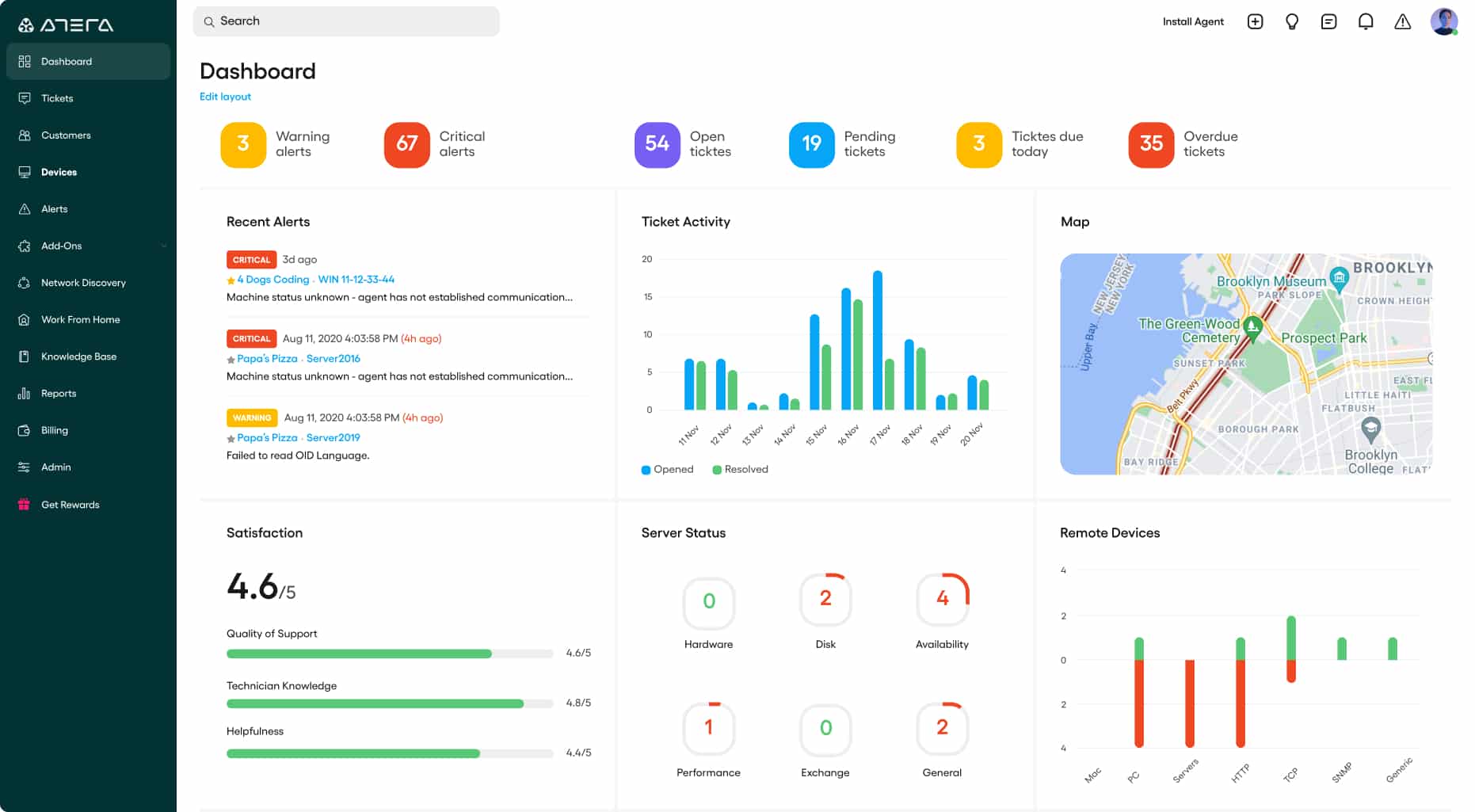 Atera is a platform of tools for managed service providers (MSPs). The list of services is divided into two categories: professional services automation (PSA) and remote monitoring and management (RMM). The SaaS system is multi-tenanted, so each account holder can set up sub-accounts to hold the data of each client.
The PSA package provides a ticketing system, which is great for udder communication and technician supervision. With the ticket routing service, a team manager can ensure that all support operatives are fully occupied and it is possible to track tasks to ensure that they are resolved in a timely manner. The Atera system automatically implements SALA tracking and timesheet creation to assist billing.
The RMM category of tools watches over all assets for a client and also performs automated maintenance tasks. The bundle includes a patch manager that can update Windows and macOS automatically. Technicians can also use the patch manager to launch software installations and updates and implement scheduled, unattended maintenance tasks.
Key features:
Task automation
Contract management and SLA tracking
Remote monitoring and management
You can assess the Atera platform with a 30-day free trial.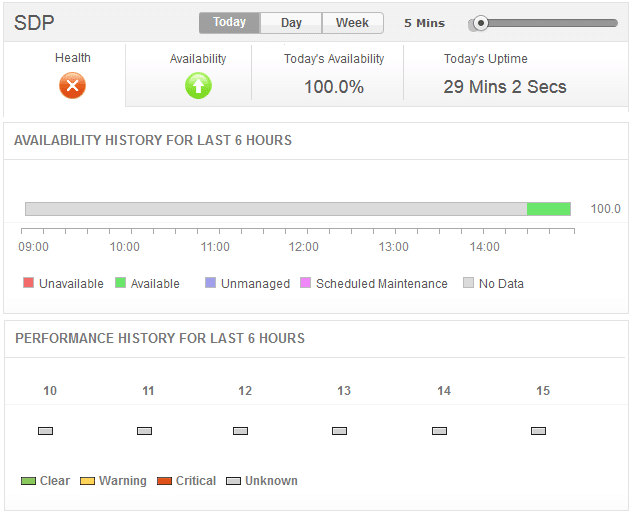 ServiceDesk Plus powered by ManageEngine helps bring clarity and organization for MSPs through its feature-rich ITSM features. ServiceDesk is designed to help transform help desks from being a ticket churning machine to a proactive IT command center. ServiceDesk Plus is currently in use by over 100,000 help desks across the globe.
The platform brings clarity to overwhelmed support teams by prioritizing events automatically and streamlining day-to-day routines. Activities like creating, deleting, and disabling Active Directory (AD) accounts can be done quickly through a single click inside the ServiceDesk Plus dashboard. Patch installation and software deployment can be scripted, and even placed in templates to suit each client's specific needs.
A feature called Workflows can automatically apply configurations, launch a script, or create a ticket based on a nearly limitless number of variables. For example, you can build a workflow that automatically adjusts the Active Directory security group memberships when it detects that a user has left or moved departments.
ServiceDesk Plus also offers incident response templates that technicians can apply to their tickets. These templates can autofill responses, add internal notes, and even prompt to launch automation to remedy the problem. All of these features combined help make for a more efficient NOC, and happier end users.
If you already use a ManageEngine product, ServiceDesk Plus integrates seamlessly with other ManageEngine tools like ADManager, OpManager, Analytics Plus, and Endpoint Central.
Key features:
SLA reporting
Both cloud-based and on-premises options
Flexible automation templates
You can test out ServiceDesk Plus completely for 30-days.
ServiceNow IT Service Management is an ITSM tool that focuses heavily on metrics like capacity planning and cost tracking. If gathering business intelligence is at the forefront of your ITSM needs, ServiceNow aims to fill those needs.
ServiceNow leverages AI in a few unique ways which help it stand out from other competitors in the ITSM tools market. One notable feature is the Predictive Intelligence Workbench, which puts the power of machine learning to work for your help desk with no coding or configuration needed. Predictive Intelligence comes with a series of templates and dashboards that are designed to work out-of-box with little effort.
The AI can promote relevant action and content based on the context of the current ticket as well as help identify major incidents before they spiral out of control. This same feature can be used to help spot patterns and trends that might otherwise be missed, helping highlight bigger picture problems across your organization.
On the management end, assets can be tracked not only from a technical perspective but from a business perspective as well. By assigning values to devices, machines, time, and services, you can get an accurate picture of metrics like your total cost of ownership and asset lifecycle. These reports are built to help reduce wasted resources and assign a tangible value to each of your devices, contracts, and services
Key features:
Cost tracking
Templates and frameworks
Predictive Intelligence
ServiceNow currently does not provide a demo, nor does it make its pricing public. If you think ServiceNow might be a good fit you can sign up to view an interactive demo.
Jira Service Desk is a flexible cloud-based ITSM tool that focuses on simplicity and out-of-the-box processes. When you first set up Jira Service Desk you're already configured using ITIL best practices and can use this foundation as a starting point to fine-tune the platform exactly how you'd like.
The Jira platform also has the ability to store ticket resolutions as part of knowledgebase articles for faster ticket resolutions. After a ticket is resolved, you can configure Jira Service Desk to ask the user how your team did. This rating can be reviewed over time and incorporated directly into SLA or CSAT reports.
The status of tickets as well as their solutions can be automated from the Jira desk. This helps cut down dramatically on manual tasks that increase ticket time. Escalations and prioritization can also be automated based on time, status, workload, and availability of other staff.
Incident management is approached in a unique and proactive way. In Jira, incidents can be closely monitored and automation can send alerts through multiple channels to notify other team members of a breached resolution or specific type of problem. When the issue is resolved you can schedule a post-incident review to help identify what went wrong.
The post-incident reviews can playback exactly what happened and help highlight key areas of improvement in your help desk. If your company has stakeholders, Jira offers an add-in called Confluence, which records the planned improvements and documents them for you to share with investors.
Key features:
Post-incident response
CSAT reporting
Ticketing automation
Jira Service Desk has a transparent three-tier pricing system that allows up to three agents and some of its features for free. At the premium tier, three agents will cost you $1200 (£927.82) per year.
Freshservice is a cloud-based ITSM tool that focuses on taking the complexity out of your help desk without limiting your technicians' ability to be efficient. If you manage a high ticket volume environment, having features like canned responses and internal process automation can shave off countless wasted hours of your team's time.
While traditional ITSM tools require coding and lengthy scripts to use automation, Freshservice takes a simple drag-and-drop approach for creating workflows and automated actions. These look like flowcharts and allow for any manager or technician to improve their performance, no matter their technical ability.
Tracking KPIs and SLAs are done through the dashboard tab which can be completely customized. Technicians can toggle to the tab to see their individual performance as well as how they are doing as a team, tracking metrics such as hours logged, tickets closed, and pending resolutions.
On the management side, you can view and breakdown performance metrics on a team or individual level. Dashboards can be assigned permissions and access just like many of the other features inside of Freshservice. All dashboards are modular and don't require any knowledge of query language to configure.
The entire platform was built in a way that would require no training to use. While there are extensive support options and documentation available, Freshservice has this unique ability to seem completely intuitive, even for those who are in non-technical roles.
Key features:
Intuitive UI
Detailed reporting
Simple workflow automation
Pricing for Freshservice comes in four plans with the most basic tier starting at $19.00 (£14.69) per agent, per month. However, most MSPs managing more than a few clients will need the $79.00 (£61.08) plan to fully benefit from all of Freshservice's features.
Spiceworks Help Desk is a free cloud-based help desk ITSM tool that is best suited for smaller teams and MSPs who are in their early stages of growth.
In Spiceworks Help Desk teams will be able to leverage all of the key tools that make help desks function effectively. Flexible and fully customizable dashboards give your team the ability to view the current status of your NOC, as well as compare those metrics to the previous day or month.
Basic calendar scheduling ensures that your help desk is always on the same page. This is especially useful for smaller teams who need to schedule on-site requests around the availability of other team members. Non-priority tickets such as upgrades can be planned and balanced across a group calendar to ensure all tickets are getting completed.
Remote desktop access is built right into the ITSM, this helps speed up the workflow and allows for quick remote access directly from the newly submitted ticket. User portals can also be created giving end-users a clear path to submit tickets and view their progress without sending in additional emails and taking time away from your service team.
Spiceworks Help Desk is a great free option for small budget-strapped help desks. Teams using Spiceworks may find the need to move on to a paid platform as their demand for automation and asset management increases with their size.
Key features:
Detailed reporting
Team calendar
Customizable ticket portal
Kaseya BMS is a cloud-based ITSM that is part of a larger suite of Kaseya products that can be used for both MSPs and in-house IT departments.
The Kaseya BMS platform provides all of the basic ITSM functions you would expect such as asset management, process automation, and incident alerting. However, the power behind Kaseya comes from its extensive integrations into both Kaseya and third-party systems.
For example, Kaseya VSA can integrate seamlessly with BMS to merge both ticketing and reporting with remote management and asset tracking. This integration also can execute VSA scripts and agents automatically for auto-remediation.
On the administrative side, BMS can track and record ticket times and import those directly into Quickbooks for invoicing. If your shop operates on fixed project pricing those tasks and projects and also be automatically applied to a client's invoice for billing.
If your company is looking for an ITSM tool with robust financial features, you can test out Kaseya BMS through a 14-day free trial.
SysAid is a simple ITSM tool that can be installed either on-premises or operated from within the cloud. SysAid is popular amongst MSPs who insist on having all of their software solutions managed internally.
The product can be installed on either Linux or Windows and utilizes email as its primary method of ticket management. The SysAid platform combines business intelligence metrics with simple graphs and reporting that makes it ideal for departments who are frequently producing reports for non-technical individuals.
Pricing is broken down into two categories, Basic and Full. In order to take advantage of group policies and permissions management, you'll need to purchase the full version.
Key features:
On-premises and cloud-based
Available for Linux and Windows
You can try SysAid completely free for 30-days.
Choosing an IT Service Management Tool

ITSM tools need to check a lot of boxes to truly bring value to an MSP environment. We've narrowed down the top nine ITSM tools, but which one is best for you?
For medium to large-sized MSPs and IT departments, SolarWinds Service Desk will be your best option. By combining ITIL best practices in a done-for-you way, SolarWinds Service Desk allows any sized service department to start leveraging its features almost instantly.
For smaller budget restrained departments SpiceWorks Help Desk offers a great free way to get started processing tickets and managing technicians tasks. You may find that as your business grows, so will your need to find a more robust ITSM tool.
Does your business use an ITSM tool? What features are most important to you? Let us know in the comments below.