Forcepoint ONE, a cloud platform that simplifies security for both traditional and remote workforces, users may receive secure, regulated access to company information on the web, in the cloud, and in private apps.
Key features:
You can track intellectual property in both organized and unstructured forms using Forcepoint.
When you use Forcepoint, you'll be able to automatically avoid data breaches.
It has features such as automatic policy enforcement, interoperability with categorization vendors, and database flexibility.
In addition, it delivers risk-adaptive protection, risk-based policy enforcement, and behavioral analytics.
Secure Web Gateway, Remote Browser Isolation (RBI), Content Disarm and Reconstruction (CDR), Cloud Access Security Broker (CASB), and Zero Trust Network Access (ZTNA) are all included in Forcepoint ONE, making it easy for clients and partners to implement the Security Service Edge (SSE) (ZTNA). Advanced Threat Protection and Data Loss Prevention (DLP) are integrated to keep malware out and preserve sensitive data across company apps and BYOD devices without the need for fragmented products.
For the first time, with Forcepoint ONE, security teams can now administer a single set of rules across all apps, from a cloud-based dashboard, through a single endpoint agent, with agentless support for unmanaged endpoints.
Users can work from any location, visit risky websites, and utilize unmanaged SaaS programs from unmanaged devices, making it difficult to simplify security. A single security policy can enforce regulations and prevent unauthorized access or sharing of information with Forcepoint's all-in-one approach. Forcepoint:
An investment firm's internal auditing program may be safely accessed without a VPN or a Microsoft 365 document can be edited but cannot be downloaded or shared with another third-party site.
The combination of ZTNA, CASB, and SWG, functioning in concert and transparently from a single set of policies, results in a safe access, replete with sophisticated threat prevention and integrated data security. From wherever in the world, AWS-based infrastructure provides employees with fast, low-latency connections as well as 99.99% service availability.
Forcepoint ONE Alternatives
ManageEngine Device Control Plus discovers, manages, protects, and monitors virtually all devices across your network. Device Control Plus makes it easy to start managing and protecting your network devices, even if you've never performed any asset management before. The platform automatically probes your network to collect various devices such as laptops, phones, and network appliances.
Key Features
Simple yet powerful access controls
Built-in asset management
Built on a zero-trust architecture
Once collected, administrators can apply security policies or have those devices grouped and automatically managed. The platform also continuously monitors the network for new devices to manage and safeguards data by protecting real-time data transfers.
The platform makes getting started easy with various dashboard temples, reports, and configurations. Lastly, Device Control Plus makes it easy to grant timed or continuous access to files, folders, and devices. This is great for allowing temporary access to resources for specific projects or audits.
Pros:
Designed to work right away, it features over 200 customizable widgets to build unique dashboards and reports
Leverages autodiscovery to find, inventory, and map new devices
Uses intelligent alerting to reduce false positives and eliminate alert fatigue across larger networks
Integrates well in the ManageEngine ecosystem with their other products
Cons:
Is a feature-rich tool that will require a time investment to learn properly
You can try ManageEngine Device Control Plus through a free and fully functional 30-day trial.
ManageEngine Device Control Plus Download a 30-day FREE Trial
2. CrowdStrike Falcon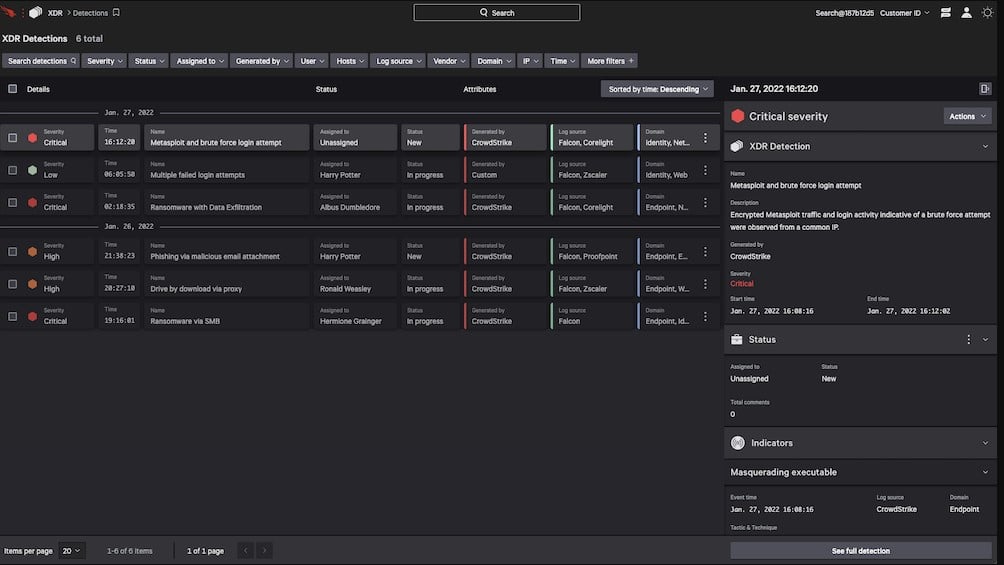 In the world of cyber security, CrowdStrike is a relative newcomer. The firm was founded in 2011 as an alternative to the traditional, time-consuming approach to IT security. In just a few short years, the Falcon platform was widely praised and awarded for its innovative approach to endpoint security.
Features:
Threat protection
Security management
Threat intelligence
Anti-Exploit Technology
Centralized Management
Vulnerability Management
It's a cloud-based security product from CrowdStrike. The traditional on-premise antivirus systems can be compromised by cyber thieves, but with cloud-based antivirus, clients save money on hardware and maintenance.
There is no one-size-fits-all strategy for CrowdStrike's security services. Your firm will be able to select the things it needs because of this. A CrowdStrike Falcon module that provides visibility into the utilization of containers by your software development team is an example of this.
Enterprises of all sizes may benefit from CrowdStrike's Falcon IT security solution. There are no limits on how many endpoints may be supported by it.
CrowdStrike Falcon requires a professional IT staff for small firms to use. The platform might be daunting if you don't have that level of technical knowledge.
CrowdStrike Falcon is ideal for moderate and big businesses because of its comprehensive set of features, security insights, and managed services. Businesses employing a security operations center will particularly benefit from this (SOC).
Windows, Mac, and Linux PCs, as well as Windows servers and mobile devices, are all protected by the platform. The data centers that use CrowdStrike's services are likewise protected.
In addition to protecting your data, CrowdStrike's Falcon solution conforms to regulations. Its clients include financial institutions such as banks and governments, as well as healthcare organizations.
3. Barracuda CloudGen Firewall
To handle thousands of CloudGen Firewalls, the Barracuda Firewall Control Center was built. An extensive range of central administration services and features is included.
Features:
TINA's VPN Tunnels are supported (Transport Independent Network Architecture)
Quality of Service and Traffic Shaping
SSL Interception
As a result of the Firewall Control Center, administrators may manage and monitor firewalls placed in numerous geolocations as well as manage several firmware updates and platforms simultaneously (hardware, virtual, and public cloud). Administrators can also remotely configure and update licenses for the controlled units.
Administrators' lives are made easier by the user-friendly interface of the Barracuda Firewall Control Center. A network firewall may either be added or removed in one fell swoop.
There are no predefined security rules for the firewall. Admins have complete control over how endpoints are protected. Using the control center, you can centrally define rules and manage software fixes and upgrades. Additionally, you may schedule the deployment and apply it to all of your managed devices at the same time.
Administrative responsibilities may be tailored to certain departments or locations, or even only certain components of the security posture, thanks to this feature (e.g., web filtering). Additionally, for MSPs, this includes a multi-tenant strategy in which the client has (adjustable) access privileges to the Firewall Control Center while the MSP hosts it. Centrally established security rules may be implemented at every site and administrators will be notified of all the statuses of remote gateways. In addition, an integrated revision control system makes audits simple and reduces administrative burdens. You can see what each machine is doing at any given time. Logs and events may be accessed, as well as the ability to customize the box's settings.
4. Zscaler Cloud Protection
Jay Chaudhry established Zscaler in 2007 as a cloud security firm. The firm, headquartered in San Jose, California, offers cloud-based software that enables users to view and share data securely. Its Zero Confidence Exchange approach presupposes that everyone is a danger and develops trust only after confirming the user's identity.
Features:
Zscaler Internet Access
Zscaler Private Access
Zscaler Business-to-Business (B2B)
Secure access service edge (SASE) protection
Cloud access security broker
Zscaler protects businesses with a zero-trust cloud security platform that helps minimize business risks while delivering on the promise of digital transformation. Zscaler Cloud Protection eliminates the burden of managing cloud workload security by combining the power of four data protection solutions that are natively integrated to deliver secure configurations and permissions of cloud workloads as well as access to private apps and app-to-app connections while eliminating all lateral threat movement.
Zscaler CSPM automates the visibility of more than 1,500 security rules and 14 compliance frameworks across AWS, Azure, and Office365. In addition to allowing enterprises to build their private benchmarks, the software supports large-scale application environments and enables quick adoption of DevSecOps.
5. Fortinet
Fortinet is a company that specializes in cybersecurity and provides endpoint security solutions, firewalls, anti-virus software, and intrusion prevention systems. Zscaler is one of the competitors that the company's FortiGate NGFW faces. Fortinet had 9,700 people and brought about 2.59 billion dollars in sales in the year 2021.
Features:
Safety and effectiveness
Support
Cloud characteristics
Management
Fortinet is trusted by more than 530,000 enterprises to speed up their transitions to digital environments. FortiGate Next-Generation Firewalls (NGFWs) offer to improve visibility and threat prevention for businesses operating of any size.
Fortinet was recognized as a Leader in the 2021 Gartner Magic Quadrant for Network Firewalls, marking the twelfth time the company had earned this distinction. When it comes to threat prevention, Fortinet is among the very finest alternatives to Zscaler.
Next-generation firewalls from FortiGate offer high performance, many layers of security, and deep visibility to provide comprehensive end-to-end protection for a whole company network. Scalable performance and low latency are provided by the purpose-built security processors (SPUs) utilized by it. Threat intelligence updates and automatic mitigation are both provided by the security services offered by FortiGuard Labs. The firewalls connect with other security products manufactured by Fortinet for the network, endpoint, application, data center, cloud, and access layer, as well as solutions manufactured by third parties. The operating system that they use is called FortiOS.
6. Cisco
The international technology company Cisco specializes in the provision of solutions for problems relating to communication, networking, and cybersecurity. This company, much like Zscaler, is in the business of providing cloud security services through the use of the Cisco Umbrella platform. In the year 2021, Cisco reported having around 79,500 employees on its payroll and making revenues of $49.8 billion.
Features:
Inspection of Content
Kubernetes-orchestrated scalable architecture
Restful API Support
Visualization Tools
A Secure Internet Gateway (SIG), also known as Cisco Umbrella, is a platform that is hosted in the cloud that protects PCs and networks against threats that originate from the internet. It is equipped with the capabilities of a secure web gateway, a firewall, security for the DNS layer, and a cloud access security broker (CASB).
These skills, which serve as the first line of defense against the threats posed by the internet, are depended on by thousands of enterprises all over the world. Cisco's networking technologies are responsible for enabling and safeguarding 85 percent of all of the world's Internet traffic. These solutions also enable Cisco to offer these services. Zscaler is not a good alternative to Cisco Umbrella when it comes to protecting web gateways because Cisco Umbrella offers more features.
7. Endpoint Protector
Endpoint Protector is a data loss prevention application that aids enterprises of all sizes with the encryption of sensitive data as well as the scanning of stored files. Compliance management and reporting, policy administration, device control, and sensitive data identification are some of the key elements of the platform.
Key Features:
Easy to install and manage
Cross-platform
Extensive Number of Device Types
Granular Policies
The program comes with a content security module that enables users to monitor, regulate, and stop the movement of private data through multiple exit points such as emails, cloud solutions, and applications. This module is included as part of the application. Endpoint Protector is a tool that may be utilized by teams to do content and context scanning, in addition to file tracing and shadowing. Its content filtering functionality for data both while it is at rest and while it is in motion encompasses predetermined material based on dictionaries, regular expressions, machine learning, and profiles for data protection standards such as GDPR, HIPAA, and others.
Endpoint Protector encrypts, maintains, and protects USB storage devices by protecting data while it is in transit. Users are also given the ability to set difficult master passwords to their accounts. Because of its mobility management function, teams can identify and manage Android and iOS mobile devices safely and securely.
8. Palo Alto Networks Next-Generation Firewall
Palo Alto Networks is a cybersecurity service company that focuses on the cloud. All traffic is categorized according to application, function, user, and content by the next-generation firewall that this company uses. Palo Alto's annual sales reached $5.325 billion in 2021, a 25 percent increase from the previous year. The firm is responsible for the empowerment of tens of thousands of companies via mobile devices, networks, and clouds.
Features:
Application Security Enablement (App-ID, User-ID, Content-ID)
Detection and Prevention of Malware (threat prevention service, buffer overflows and port scans, anti-malware capabilities, command-and-control protection, and WildFire)
DNS Protection (URL filtering, predicting and blocking malicious domains, signature-based protection, extensible cloud-based architecture)
Panorama Security Management (containing graphical views and analytics, manage rules and dynamic updates, a configurable application command center (ACC), log collecting mode, and a real or virtual appliance)
The Next-Generation Firewall offered by Palo Alto enables customers to draft all-encompassing security policies to enable apps in a risk-free manner. Authorized users are the only ones who are allowed to operate sanctioned programs, which lowers the organization's overall vulnerability to cyberattacks.
The price-to-sales ratio of the firm is 12, but the P/S ratio of Zscaler is about 60. Palo Alto Networks is an alternative to Zscaler that comes at a lower cost.