Jay Chaudhry established Zscaler in 2007 as a cloud security firm. The firm, headquartered in San Jose, California, offers cloud-based software that enables users to view and share data securely. Its Zero Confidence Exchange approach presupposes that everyone is a danger and develops trust only after confirming the user's identity.
Zscaler protects businesses with a zero-trust cloud security platform that helps minimize business risks while delivering on the promise of digital transformation. Zscaler Cloud Protection eliminates the burden of managing cloud workload security by combining the power of four data protection solutions that are natively integrated to deliver secure configurations and permissions of cloud workloads as well as access to private apps and app-to-app connections while eliminating all lateral threat movement.
Zscaler CSPM automates the visibility of more than 1,500 security rules and 14 compliance frameworks across AWS, Azure, and Office365. In addition to allowing enterprises to build their private benchmarks, the software supports large-scale application environments and enables quick adoption of DevSecOps.
Zscaler Cloud Platform Features:
Zscaler Internet Access The Internet Access module provides a secure, cloud-based Internet connection. It provides a strong cloud firewall that stops unauthorized users and internet traffic from gaining access to your system regardless of their location. Using Domain Name System (DNS) and Transmission Control Protocol (TCP) technologies, the module enhances connection security and decreases latency.
Zscaler Private Access This feature provides comprehensive security administration from a centralized, clean dashboard. This hub allows you to administer permissions for every user and application on the system. It allows you to provide user roles and permissions to your staff. The application includes a comprehensive threat detection and management toolbox as well as incisive threat feeds.
Zscaler Business-to-Business (B2B) Using a B2B module, Zscaler encourages simplified business procedures. It enables your suppliers, vendors, and other business partners to access your system securely so they may conduct business with ease.
Secure access service edge (SASE) protection SASE features expand the software's defenses to your cloud-enabled infrastructure. It allows rapid and safe access to cloud-based and locally installed apps. It employs sophisticated encryptions to protect your data from external dangers, guaranteeing that no hostile hackers gain access to your private data.
Cloud access security broker The Cloud Access Security Broker (CASB) module of Zscaler protects all SaaS applications. It does a thorough examination of the apps themselves to find and remedy any vulnerabilities inside your networks.
Zscaler cloud protection alternatives
Here is a comprehensive review of Zscaler's eight leading alternatives.
1. CrowdStrike Falcon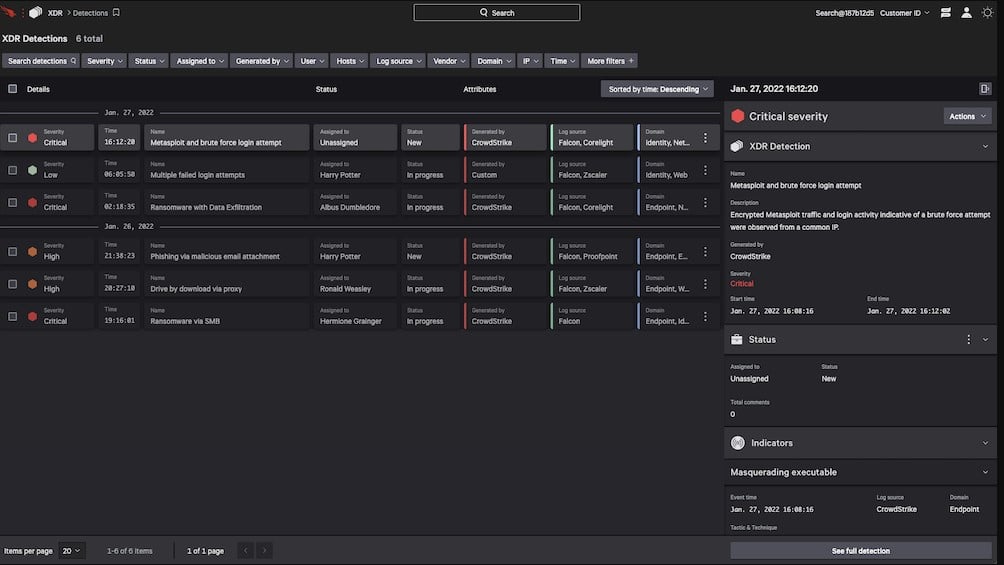 CrowdStrike is the market leader in next-generation, cloud-delivered endpoint security. CrowdStrike has revolutionized endpoint security by being the first and only firm to integrate next-generation antivirus (AV), endpoint detection and response (EDR), and a 24/7 managed hunting service – all through a single lightweight agent.
Key Features:
Risk mitigation
Security administration
Intelligence on threats
Several of the world's largest organizations, including three of the ten largest global firms by revenue, five of the ten largest financial institutions, three of the top ten health care providers, and three of the top ten energy companies, have already placed their faith in CrowdStrike.
Falcon is a cloud-based security platform provided by CrowdStrike. This enables clients to reduce hardware and maintenance expenses while preventing cyber criminals from breaking into the protection technology, which is possible with traditional on-premise antivirus systems.
CrowdStrike's security products are offered on an a la carte basis. This provides you the choice to select the business-related items you require. For example, if your engineers utilize containers as part of the software development process, you may choose a CrowdStrike Falcon module that provides insight into container utilization.
2. Barracuda Cloudgen Firewall
The Barracuda Firewall Control Center is a centralized administrative unit designed to handle tens of thousands of CloudGen Firewalls from a single interface. It has an extensive array of central management services and capabilities.
Key Features:
TINA VPN Tunnels (Transport Independent Network Architecture)
Traffic Shaping and Service Quality
Interception of SSL
The Firewall Control Center enables administrators to manage and monitor firewalls placed in diverse geographies, as well as handle several firmware updates and platforms simultaneously (hardware, virtual, and public cloud). Additionally, administrators may remotely configure and update licenses for monitored devices.
The elegant user interface of the Barracuda Firewall Control Center makes the lives of administrators much simpler. Add or remove a network firewall and duplicate its configuration in a single operation.
3. Forcepoint One
Since January 2021, Forcepoint LLC, the makers of Forcepoint DLP, has been owned by Francisco Partners, a private equity firm. Raytheon founded the firm in 2015 by combining Websense with two Intel purchases, Stonesoft and Sidewinder. The partnership acquired the company from Raytheon. McAfee sold both the Stonesoft and Sidewinder firewall products to Intel.
Key Features:
Utilizing a network, cloud, and endpoint discovery, identify, remediate, and protect sensitive data
Centralized policy administration across all channels, including cloud, endpoint, network, online, and email
Optical Character Recognition (OCR) for identifying embedded picture data
Personally Identifiable Information (PII) for validation checks, actual name detection, and proximity analysis
Forcepoint Data Loss Prevention (DLP) is a data loss prevention product that safeguards users against sophisticated attacks and data breaches. The technologies of Forcepoint DLP can swiftly detect and safeguard sensitive data, as well as provide visibility and awareness into assaults on endpoint devices both on and off the network.
Data security teams must have visibility and control across all channels, including endpoint, web, network, email, and cloud, due to the continual movement of firm data. Forcepoint DLP offers safety and visibility for all cloud-based and on-premises data. Forcepoint DLP's ability to recognize data at rest, in motion, and use and safeguard sensitive information effectively is one of its important characteristics.
4. Netskope
Netskope is an American supplier of security platforms and software solutions. It provides an extensive selection of cloud-native solutions for data security in cloud infrastructures, applications, and threat defense.
Key Features:
Security of Public Cloud Services
Next-Generation Secure Web Gateway
Netskope Cloud Firewall
Security Service Advantage
Its cloud-native solutions secure enterprises' data, cloud applications, and infrastructure. In 2021, Netskope had 1,500 workers, received $300 million in fresh capital, and was valued at $7.5 billion.
Netskope securely links users from any device to the internet and applications. Combining CASB, Firewall, SWG, and ZTNA in the Netskope Security Cloud. These capabilities inside a single platform allow for granular context and enforce zero-trust data protection and attack prevention.
The platform supports over 1,500 clients, including some of the most technically demanding enterprises on the planet. IDC MarketScape designated Netskope a leader in the cloud security gateways (CSG) sector in November 2021. Netskope is the leading Zscaler rival and alternative in every respect.
5. Cisco
The international technology company Cisco specializes in the provision of solutions for problems relating to communication, networking, and cybersecurity. This company, much like Zscaler, is in the business of providing cloud security services through the use of the Cisco Umbrella platform. In the year 2021, Cisco reported having around 79,500 employees on its payroll and making revenues of $49.8 billion.
Key Features:
Inspection of Content
Kubernetes-orchestrated scalable architecture
Restful API Support
Visualization Tools
A Secure Internet Gateway (SIG), also known as Cisco Umbrella, is a platform that is hosted in the cloud that protects PCs and networks against threats that originate from the internet. It is equipped with the capabilities of a secure web gateway, a firewall, security for the DNS layer, and a cloud access security broker (CASB).
These skills, which serve as the first line of defense against the threats posed by the internet, are depended on by thousands of enterprises all over the world. Cisco's networking technologies are responsible for enabling and safeguarding 85 percent of all of the world's Internet traffic. These solutions also enable Cisco to offer these services. Zscaler is not a good alternative to Cisco Umbrella when it comes to protecting web gateways because Cisco Umbrella offers more features.
6. Cloudflare
Cloudflare is a corporation that specializes in the infrastructure of the web and Internet security. It provides a content delivery network (CDN) in addition to technologies that defend against distributed denial of service attacks (DDoS). Cloud Flare reported a 52 percent growth in sales to $656.4 million in 2021 when the company had 2,432 workers and a total workforce of 2,432.
Key Features:
Multi-Org Setup
Account Access Based on Roles
Control Single-Sign-On
Support Bot Countermeasures
The zero-trust strategy is utilized by both Cloudflare and Zscaler to ensure client safety. However, Cloudflare provides a wider variety of options than Zscaler does. The firm offers a domain name system (DNS), content delivery network (CDN), web security services, and cybersecurity. More than 100,000 clients are served by its network, which is spread out over more than 250 locations in 100 different countries.
A partnership between Cloudflare and CrowdStrike was announced in March 2022 to provide zero-trust security for devices, apps, and networks. In comparison to Zscaler, Cloudflare is the most effective zero-trust security service currently available.
7. Palo Alto Networks Next-Generation Firewall
Palo Alto Networks is a cybersecurity service company that focuses on the cloud. All traffic is categorized according to application, function, user, and content by the next-generation firewall that this company uses. Palo Alto's annual sales reached $5.325 billion in 2021, a 25 percent increase from the previous year. The firm is responsible for the empowerment of tens of thousands of companies via mobile devices, networks, and clouds.
Key Features:
Application Security Enablement (App-ID, User-ID, Content-ID)
Detection and Prevention of Malware (threat prevention service, buffer overflows and port scans, anti-malware capabilities, command-and-control protection, and WildFire)
DNS Protection (URL filtering, predicting and blocking malicious domains, signature-based protection, extensible cloud-based architecture)
Panorama Security Management (containing graphical views and analytics, manage rules and dynamic updates, a configurable application command center (ACC), log collecting mode, and a real or virtual appliance)
The Next-Generation Firewall offered by Palo Alto enables customers to draft all-encompassing security policies to enable apps in a risk-free manner. Authorized users are the only ones who are allowed to operate sanctioned programs, which lowers the organization's overall vulnerability to cyberattacks.
The price-to-sales ratio of the firm is 12, but the P/S ratio of Zscaler is about 60. Palo Alto Networks is an alternative to Zscaler that comes at a lower cost.
8. Fortinet
Fortinet is a company that specializes in cybersecurity and provides endpoint security solutions, firewalls, anti-virus software, and intrusion prevention systems. Zscaler is one of the competitors that the company's FortiGate NGFW faces. Fortinet had 9,700 people and brought about 2.59 billion dollars in sales in the year 2021.
Key Features:
Safety and effectiveness
Support
Cloud characteristics
Management
Fortinet is trusted by more than 530,000 enterprises to speed up their transitions to digital environments. FortiGate Next-Generation Firewalls (NGFWs) offer to improve visibility and threat prevention for businesses operating of any size.
Fortinet was recognized as a Leader in the 2021 Gartner Magic Quadrant for Network Firewalls, marking the twelfth time the company had earned this distinction. When it comes to threat prevention, Fortinet is among the very finest alternatives to Zscaler.
Next-generation firewalls from FortiGate offer high performance, many layers of security, and deep visibility to provide comprehensive end-to-end protection for a whole company network. Scalable performance and low latency are provided by the purpose-built security processors (SPUs) utilized by it. Threat intelligence updates and automatic mitigation are both provided by the security services offered by FortiGuard Labs. The firewalls connect with other security products manufactured by Fortinet for the network, endpoint, application, data center, cloud, and access layer, as well as solutions manufactured by third parties. The operating system that they use is called FortiOS.