There are few resources as important as your network bandwidth. Analyzing your network provides you with a mountain of insights that you can use to keep your connection stable. Deploying a wifi analyzer can help you to maintain optimum performance across your entire network. The best wifi analyzer tools enable you to look out for pesky bandwidth hogs and make your network more efficient.
By identifying top talkers across your network and reducing their bandwidth consumption you can make sure that your connection is distributed more evenly among your devices. This results in a high-quality service for users throughout your network. Using a wifi analyzer will allow you to monitor bandwidth usage by user or IP address so you know exactly when to step in if a device's traffic consumption becomes problematic.
In this article we're going to look at the best wifi analyzer tools for 2018.
Here is our list of the best Wifi Analyzer tools:
PRTG Network Monitor
WiFi Analyzer
inSSIDer
WifiInfo View
NetStumbler
Wireshark
NetSpot
WiFi Explorer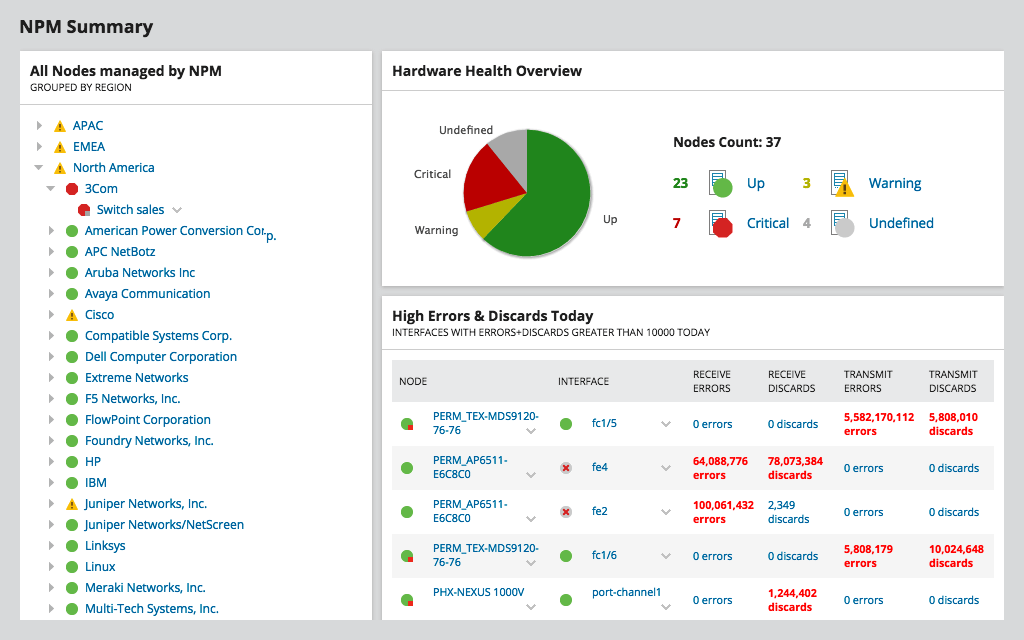 SolarWinds Network Performance Monitor has an excellent wifi analyzer utility. From the moment you start the program, SolarWinds Network Performance Monitor starts the process of automatically discovering wired devices, wireless devices, access points, and controllers throughout your network. These elements are added to your monitoring environment so you can keep track of them for future Quality of Service (QoS) monitoring activities.
Wireless heat maps are one of the features that makes SolarWinds Network Performance Monitor a top performer. With wireless heat maps you can view the areas where your connection is weakest from a geographical perspective. This is invaluable for finding those pesky wireless dead zones and getting rid of the root cause.
The metrics you can monitor with SolarWinds Network Performance Monitor include SSID, connection time, IP Address, MAC Address, Received Signal Strength Indication, and how many bytes were transferred. This provides you with the basic information to assess the strength of a connection. Once you've finished gathering this data you can convert it into a report for further reading.
You can purchase SolarWinds Network Performance Monitor in a number of different packages based on the number of elements you require. The price range starts with SL100 with 100 elements for the price of $2,955 (£2,268). The next version is NPM SL250 with 250 elements for $6,720 (£5,158). The largest versions of SolarWinds Network Performance Monitor are NPM SL500 with 500 devices for $10,445 (£8,017) and NPM SL200 with 2000 elements for $32,545 (£24,978). You can also download a 30-day free trial for SolarWinds Network Performance Monitor from this link here.
SolarWinds Network Performance Monitor Download 30-day FREE Trial
PRTG Network Monitor which includes the Professional WiFi analyzer is a network monitoring tool that also offers a fully functional wifi analyzer. The PRTG Network Monitor wifi analyzer can be used to check in on the status of devices, network load, and signal strength. For instance, if a router goes down then you can tell immediately because PRTG Network Monitor will alert you via email or SMS.
One of the most useful resources offered by PRTG Network Monitor is the SNMP Custom Table Sensor. The SNMP Custom Table Sensor keeps track on how traffic is flowing through your network. If too much traffic is travelling through an access point you'll be able to see it immediately. This keeps you up-to-date on current developments so that your service stays up and running.
Security is an integral part of wifi analysis, which is why PRTG Network Monitor has provided you with the ability to monitor last access. Last access lets you know when a device last accessed the network. This is good for spotting devices leeching off your network outside of working hours. This provides you with a valuable way to find those rogue devices that are stealing your connection.
One of the biggest advantages of PRTG Network Monitor is that there is a freeware version limited to 100 sensors. This is ideal for smaller networks and SMBs looking to try their hand at wifi analysis. You can download the 30-day free trial of PRTG Network Monitor from this link here.
PRTG Network Monitor Download 30-day FREE Trial
3. WiFi Analyzer
WiFi analyzer is a wifi analyzer that was built specifically for Windows 10. From the clear WiFi analyzer dashboard you can view the speed and health of your connection in seconds. No matter how fast moving your network is you can keep track of it here. On the pro version you can even use a beeper to hear how strong the signal is. This allows you to combine visual and audio clues and stay on top of recent developments.
In an office environment, WiFi Analyzer is particularly useful because you can view the signal strength around your office. This allows you to pinpoint the best locations for routers and access points in your network. The end result is a less congested connection and less packet loss.
The information you can view through WiFi Analyzer includes SSID, Channel, Frequency, Bandwidth, Protocol, BSSID, Location, Private IPv4, Private Subnet, Encryption, Authentication, and Interface. You have all the basic information to look further into a connections origin and any problems that could be emerging.
If you're looking to monitor your network on a Windows device then WiFi Analyzer is a product you should definitely consider. The basic version of WiFi Analyzer is available for free and can be accessed on your PC, Mobile Device, Hub, or HoloLens. The only drawback is that you need to have Windows 10 or higher in order to run this tool. You can download WiFi Analyzer for free from this link here.
4. inSSIDer
Anyone who is familiar with wifi analyzers will have heard of inSSIDer at some point or another. This is a tool that was designed to function within enterprise environments and delivers a wifi analyzer experience that stands with the very best on the market. With inSSIDer you can view information such as channel location, signal strength, data rates, and the type of security used.
However, what really makes inSSIDer a solid wifi analyzer is its use of filters. You can filter what information you see from scans so that you don't have to sift through all network consumption at once. Likewise, you can give specific SSIDS unique nicknames to make them stand out more. This makes sure that you don't miss anything that could cause you problems further down the line.
Being able to assess how your connection fluctuates over time is very important to being able to troubleshoot effectively. The team behind inSSIDer have recognized this and allowed users to monitor signal strength over time. For example, you can monitor the signal strength of an access point through a graph to see when the signal drops and when it's performing well. This enables the user to point to any patterns where the connection drops at a specific time.
Overall inSSIDer is a quality tool for those looking to monitor an active network within an enterprise environment. inSSIDer Lite is available for free but only for non-commercial use. With the Lite version you can discover nearby networks and track signal strength. Enterprise users will need to purchase inSSIDer Plus to be able to monitor a business network. This comes at a price of $99 (£75) for the year or $9 (£6) per month. You can download inSSIDer from this link here.
5. WifiInfo View
Administrators looking for a a free Wifi Analyzer would be well advised to look no further than WifiInfo View. With WifiInfo View you can monitor your network and pull key data such as SSID, Mac Address, PHY type, RRSSI, Maximum Speed, Company Name, Router Model, and Router Name. This is shown in a main table view so that you can read the results easily.
This tool has two main panes splitting the screen in half horizontally. The top half allows you to select a wireless network to monitor and the lower half displays the results in hexadecimal format. There is also a summary mode where you can view wireless networks grouped by channel number. This is great for giving you a top-down view of your network.
WifiInfo View is a solid Wifi Analyzer suited to anyone looking for a simple but effective approach to wifi analysis. The design may be outdated  but the monitoring abilities of this tool are as relevant as any other tool on this list. WifiInfo View is available for Windows Vista, Windows 7, Windows 8, Windows Server 2008,  and Windows 10. WifiInfo View can be downloaded for free from this link here.
6. NetStumbler
NetStumbler is another product that has developed a reputation as one of the best free wifi analyzers online. NetStumbler is aimed specifically at networking professionals and has the ability to scan networks and retrieve information such as SSID, channel, signal strength, security type, SND and provider. This information is shown in a list format so you can look through your network quickly and systematically.
However, if the list format is too bare for you then you can also make use of signal and noise graphs to view the strength of you connection. While these are particularly glamorous they are still readable. Once you've finished monitoring you then export a CSV report to give to other members of your team.
One of the more interesting features included within NetStumbler is its ability to connect to GPS systems. You can connect NetStumbler to a GPS to establish the physical location of your AP. This isn't as sophisticated as the mapping offered by a tool like SolarWinds Network Performance Monitor but it does add a welcome touch of geographical monitoring to this tool.
Overall this program offers a monitoring experience that performs well against even the top of the range wifi analyzers on this list. NetStumbler is available for Windows but you can also find modified versions for Linux and Mac devices. NetStumbler can be downloaded for free from this link here.
7. Wireshark
Wireshark is one of, if not the most, famous network analyzer in the world. Wireshark (or Ethereal as it was once known) is an open source network analyzer that allows you to monitor your traffic through a classic user interface. You can capture traffic data and view information such as Protocol, Time, Source, Destination, Protocol, Length, and Info.
One of the features that makes Wireshark so easy to use is that of filters. With Wireshark you can use capture filters to determine what information you capture and display filters to filter through the information that has already been captured. This allows you to mix up your perspective between specific targeted analysis and wider generalist monitoring.
The convenience doesn't end here either. You can use coloring rules across your packet list to make collected information easy to distinguish. This is great because it allows you to get a sophisticated snapshot of your network without having to look through too many views. If you need an even closer look at your network you can export your captured results in XML, PostScript, CSV, or text.
When it comes to open source wifi analyzers, Wireshark is at the very top of the list. Wireshark can be installed on Windows, Mac OS, Linux, Solaris, FreeBSD, and NetBSD (on Linux distributions Wireshark is available as source code). You can download WireShark for free from this link here.
8. NetSpot
There are few wifi analyzers  as compelling for Mac and Windows users as NetSpot. This wifi analyzer provides network analyzing  in a neat package. One of the main selling points of this program is that you can create wireless heat maps to view the signal strength throughout your office. You can look to see whether you have any dead zones and act accordingly.
NetSpot is accessible to newer users because it is so easy to use. For instance the process of creating a heat map is very simple. All you need to do is start a new survey, enter your details, your network measurement radius and load your network map from a file (though this isn't necessary it makes setting up a heatmap easier). If you don't have a file you can draw it from scratch. Then you simply carry a laptop throughout the network to map your connection.
Visualization is another feature that NetSpot absolutely nails. You can create graphs of your signal and noise data and select the time windows you want to measure. Once you're done analyzing your signal you can export the visualization in PDF format or CSV. The ease with which this is done makes this one of the most cost-effective wifi analyzers on the market.
This product is worth a try based on its excellent heatmap alone. There are a number of different pricing options available for NetSpot, and these start with the Home license for $49 (£37). This offers two  zones with 50 data points per zone but is limited to personal use. The Pro Version is licensed for commercial use and offers 50 zones with 500 data points per zone for $149 (£114). Larger organizations can buy the Enterprise version for $499 (£383) with unlimited zones and data points. There is also a limited free version of NetSpot you can download from this link here.
9. WiFi Explorer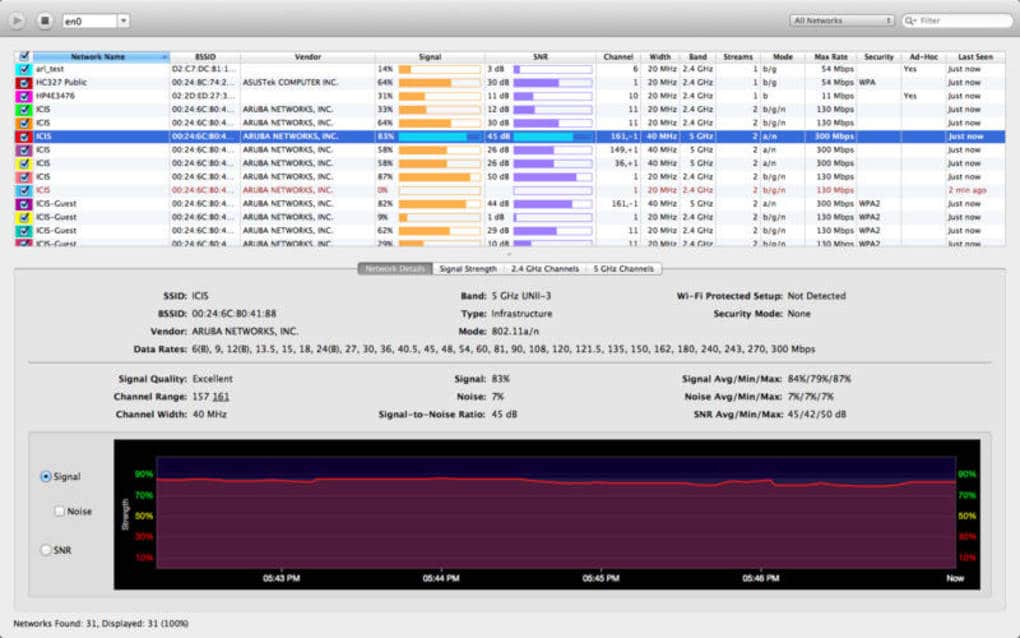 Finally we have WiFi Explorer. WiFi Explorer is one of the most well-designed wifi analyzers for Mac. WiFi Explorer captures all the information you need to monitor your network performance. Information you can monitor includes SSID, network name, vendor, country code, channel, security configuration, and streams. With the Professional version you can view results by SSID or access point to give you a more thorough look at what is going on.
One of the most interesting features included with WiFi Explorer in the Pro version is spectrum analysis which allows you to create a graph of RF information and helps to point to interference from energy sources that aren't 802.11-based. This allows you to diagnose whether your poor connectivity is due to interference rather than any performance issues with a device.
There are a number of different versions of WiFi Explorer available to purchase. This starts with the Lite version which provides you with active scan modes and limited filtering abilities. The Standard Version is available for $19.99 (£153) and offers the same as the light version with more comprehensive filtering abilities and the ability to save scan results. The Professional version can be purchased for $99.99 (£76) and comes with active, passive and directed scan modes, advanced filtering, and SSID/Beacon overhead estimations. You can download WiFi Explorer from this link here.
Best Wifi Analyzer Tools Verdict:  SolarWinds Network Performance Monitor and NetSpot
The products on this list are the cream of the crop as far as the best wifi analyzer tools go. However, if you want to get the best experience we recommend that you go for a tool with a wifi heatmap. A wifi heatmap from a product like SolarWinds Network Performance Monitor or NetSpot will allow you to take a geographical approach to troubleshooting. There are many scenarios where numbers on a screen won't be able to give you the full picture.
Being able to look at a heatmap and point to locations where the signal is weak tells you lots about your network that raw statistics won't. If you're looking for a free network analyzer then Wireshark is a classic tool that will function in almost any networking environment. The filtering system will be able to cut out the white noise whether you're dealing with five devices or 100.