Job scheduling is of the utmost significance for companies, particularly large-scale ones that are comprised of a significant number of staff members. They can assist both simple and complicated workflows and help automate IT processes that operate during processing intervals known as batch windows.
Batch scheduling software helps automate IT activities that function in these processing periods. Batch scheduling software has been available for many years and was initially used in mainframes to process massive amounts of data at once. Because early mainframes only had a limited amount of computing capabilities, it was necessary to optimize those resources to do the most amount of work in the shortest amount of time.
The batch scheduling software that is most suitable for your business will be determined by the needs of that organization; nevertheless, in general, batch scheduling software possesses a few significant advantages, and are mentioned below:
Here is our list of the best batch scheduling software:

The following table provides an outline of the primary characteristics of each tool. If you're short on time, take a look at this streamlined rundown of the top batch scheduling software.
ActiveBatch A system that helps customers automate and manage batch processes. It is a workload automation and enterprise task scheduling tool.
Redwood The tool will generate a script based on the diagram, and that script will be part of a batch that can be set to run based on a timetable or an event trigger.
JAMS Scheduler JAMS centrally monitors the status of all jobs, provides notifications of failure (or success), and maintains a detailed audit trail and log of every execution.
Activeeon Batch Scheduling It provides functionality for additional resources such as the migration of data, synchronization of processes, optimization of resource consumption, and so on.
VisualCron VisualCron can create solutions that are tailored to the specific characteristics that each client requires. It is compatible with the Windows operating system.
ConnectWise Automate It provides businesses with the ability to track and manage their IT assets from a central location.
Atera Atera assists managed IT, service providers, in expanding their businesses while maintaining their status as suppliers of the best service possible.
Turbonomic Application Resource Management It is a comprehensive package of usefulness that includes network, on-premises, cloud, and application administration, as well as excellent cloud management capabilities
1. ActiveBatch
ActiveBatch is a workflow management solution that can be deployed in the cloud or on-premise and is focused on assisting enterprises in the implementation of low-code IT workflow automation. With event automation and job scheduling, resource optimization, security and audit management, analytics, and customizable alerts, the amount of time it takes to manage workflow and business processes can be cut in half.
Key features:
Management and monitoring of systems and technologies that work across multiple platforms that are centralized.
Construct workflows without having to write any code by utilizing prebuilt, drag-and-drop Job Steps.
Cloud and virtual resource deployment, administration, and cost optimization.
Includes interval-based scheduling along with individualized notifications.
Enables quick and painless integration of any application with an API.
Machine Resource Optimization is supported, which improves the scalability of machine resources.
Generates analytic reports based on dozens of different role-based views.
Granular date/time scheduling for different time zones and custom calendars ensure that data and reports are provided on time. Dozens of event triggers support real-time processing, with limits to prevent processes from being left unfinished.
ActiveBatch Mobile Ops, which is compatible with both iOS and Android devices, enables users to access ActiveBatch while they are on the move. Additionally, this solution supports multi-factor authentication (also known as MFA) for all of ActiveBatch's user interfaces and is compatible with the vast majority of authenticator apps.
Using out-of-the-box, pretested, drag-and-drop Job Steps, you can assemble end-to-end workflows in less than half the time it would normally take. Because of this, developers can concentrate more on the functions of workflows and integrations than on the coding that underpins them.
2. Redwood
Redwood RunMyJobs is a Workflow Lifecycle Automation (WLA) tool that enables information technology teams to schedule and run essential event-driven workloads, manage file transfers and data, and orchestrate across applications and other automation tools such as robotic process automation (RPA). IT can eliminate gaps in performance and operational workarounds by leveraging a single WLA platform.
Key features:
Monitors the location of execution and takes into consideration local working hours as well as holidays.
Notifies users if any of the batch steps fail.
Keeps a record of the performance metrics of the execution and the termination states.
It incorporates the tracking of SLAs.
Does Live progress monitoring.
Using low-code wizards, templates, and a drag-and-drop user interface, you can create reusable automation.
Initiate activities based on real-time events or data, without resorting to elaborate scheduling.
Creating a process flow diagram, which depicts the general layout of the batch work, is done through the system's graphical user interface, which makes using the system straightforward. It is possible to run many process branches in parallel to provide multiple possible sequences.
It is necessary to provide specific information for each step in the diagram, including the name of the application that should be started as a result of that step. You can automate your batch workflows by creating reusable templates with the help of RunMyJobs. In addition, the intuitive user interface of Redwood, which consists of a drag-and-drop workspace and a clickable toolbar, makes it simple to rapidly build new processes.
Automating FTPs through enterprise job scheduling, automating data warehousing and business intelligence processes end-to-end, and automating the passing of data and managing dependencies between applications are some of the automation strategies that businesses should implement to ensure SLA and save money.
3. JAMS Scheduler
JAMS is an enterprise workload automation solution that manages IT processes, ranging from straightforward batch processes and scripts to cross-platform workflows that integrate jobs running on multiple servers and business applications. JAMS can manage these processes at any level of complexity, from the simplest to the most complex.
Key features:
Provides the ability to integrate complicated operations across a wide variety of apps and platforms.
It is necessary to have a centralized timetable for whichever batch process it is that you are a part of.
Enables you to review previously created job definitions, make modifications to those definitions, and also keep those definitions.
Using this software, you will be able to identify any problems that arise in the process as soon as they occur.
You can keep track of changes and keep the job definitions you had before.
Dedicated integrations with a wide variety of SAP applications and systems are made available by it.
Maintaining a centralized repository of job definitions is made easier with JAMS Scheduler's assistance. It provides a unified platform for the safe execution of multiple tasks at once and the consolidation of job monitoring.
You may define, schedule, carry out, and monitor jobs from a single centralized console using JAMS. JAMS is capable of automating jobs on any platform, including Windows, Linux, UNIX, and OpenVMS. It also has native application integrations, which allow processes to be run that are particular to databases, business intelligence tools, and enterprise resource planning systems.
These issues arise when businesses try to automate these processes with a collection of homegrown tools. After jobs have been centralized and managed in JAMS, IT teams can have peace of mind knowing that JAMS is managing workflows across platforms. Its extensive automation features enable you to run jobs on any schedule, as well as trigger off the completion of other events.
4. Activeeon Batch Scheduling
Activeeon is an open-source solution for workload automation and batch scheduling. It has features that may automatically retrieve additional resources, migrate data, synchronize operations, and maximize the consumption of resources, among other things. It includes a workflow UI that is simple to use.
Key features:
Capabilities for integrating several clouds, applicable to either hybrid or cloud-native environments
Granular distribution of available computing resources
Web-based user interface that is simple to use and supports different languages
Availability of both time-based and event-based scheduling options
Prefabricated connection points for a variety of databases, including Oracle
Notifications and alerts determined depending on events
Activeeon offers a straightforward dashboard that makes it simple to locate work statuses and update job priorities in a short amount of time. This consists of a log panelboard for task output visualization that gives users the ability to filter through any logs to locate problems.
Desktop agents and the ability to transmit files are further capabilities offered by Activeeon. Workflows that help you scale in a matter of minutes and optimize resource use can be created with the assistance of this tool.
You will find that Activeeon is one of the most helpful tools for batch scheduling in your arsenal. It has a plethora of capabilities that can assist you with the transfer and synchronization of data in your organization. In addition to this, Activeeon helps maximize the usefulness of all of the resources that are already there in your system by optimizing their resourcefulness.
5. VisualCron
VisualCron is software for process automation that was developed to assist businesses in automating formerly manual activities such as data management, auditing, task scheduling, and many more. An integrated task scheduler provides managers with the ability to create tasks, assign them to members of the team, and generate reports to evaluate team members' performance.
Key features:
The job scheduling software called VisualCron includes functions for event-driven scheduling.
Notifications regarding problems and delays are going to be sent.
It features task architectures, trigger architectures, and connection architectures.
Compatibility with a large number of standard protocols and services
Event-based and date/time triggers
Extended logging for quicker problem diagnosis and resolution
Control of the flow and treatment of errors
A low-code workflow builder that uses a drag-and-drop interface
VisualCron has a user interface that is intuitive and straightforward, making it possible for people who have limited knowledge in programming to create and run automated processes. The product development of VisualCron is based on feature requests from customers
You will be able to oversee the entirety of the work process from a centralized console when you use VisualCron. It has jobs for every conceivable scenario. It includes more than 300 specialized tasks for a variety of different technologies. As a result of its customer-driven development.
VisualCron is compatible with a wide variety of widely used protocols and services, including SFTP, FTP, SCP, SSH, SQL, Amazon S3, Amazon EC2, Telegram, SAP, and Microsoft Azure. In addition, the company provides a Basic license at a cheap price, which makes it simple for businesses of any size to get started using the software.
6. ConnectWise Automate
ConnectWise Automate proves to be quite useful. It is a solution for IT automation that automates everything from straightforward operations to difficult problems. The RMM solution offered by this company provides you full control over both agent and agentless systems. It is equipped with features such as computerized time entries and improved management of desktop computers and servers. Off-the-shelf script solutions are made available to businesses as a result.
Key features:
It comes with a remote monitoring and management (RMM) solution that offers you control over systems, whether they use agents or not.
Obtain remote access to the endpoint devices, allowing you to control them either manually or automatically without disturbing other users.
You can manage numerous platforms, carry out preventive maintenance, and provide end-users with alternatives for self-service.
ConnectWise Automate, formerly known as LabTech, is an IT automation solution that is both cloud-based and on-premises. Users can collaborate on documents and publish material on their websites thanks to the features of content management systems.
These capabilities can detect and correct faults and bugs, which will assist reduce the amount of downtime experienced by the website. The solution offers remote monitoring capabilities, which allow users to control desktops, laptops, and other devices. These capabilities are made possible by the solution's provision of remote monitoring features.
ConnectWise Automate also has a network administration feature that enables users to locate and fix errors, configure services, increase uptime, and monitor server performance. Users can manage security features such as antivirus, anti-malware, email protection, encryption, password management, and patch deployments from a single solution thanks to the security module.
7. Atera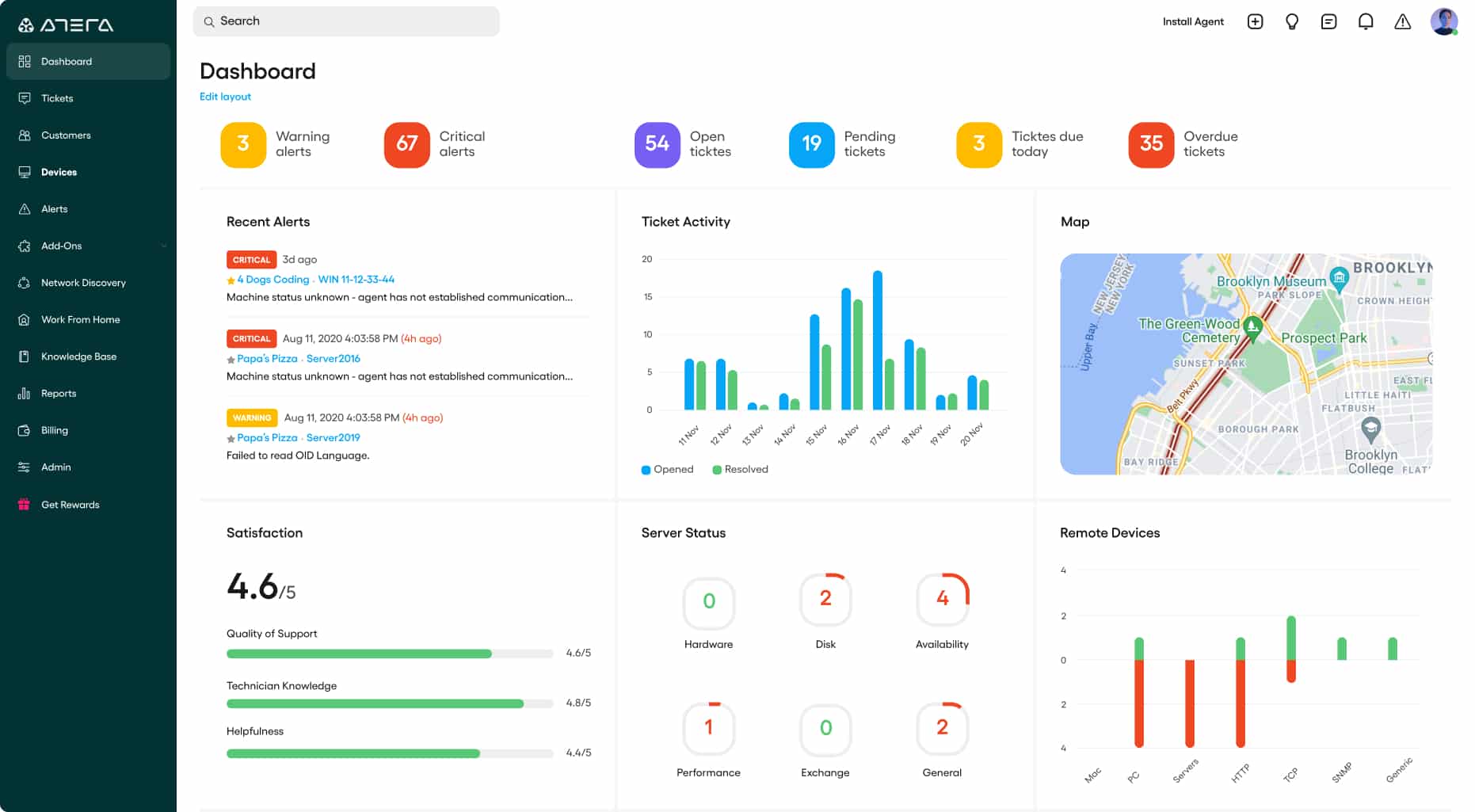 Atera is an end-to-end IT management software system that is hosted in the cloud and designed specifically for use by small to midsize organizations in the IT industry. It offers the capability for monitoring time and expenses, billing and invoicing, providing customer support, managing knowledge and documents, and providing help desk support.
Key features:
Tens of thousands of paid users in over seventy-five countries
Free trial for the first 30 days, with no obligation or need for a credit card
There are no additional costs or limits, and each plan includes an unlimited number of devices.
Effortless integration with all of your preferred information technology solutions, such as Splashtop, AnyDesk, TeamViewer, and ScreenConnect
Users can spot problems even before consumers become aware of them, and they also can do root-cause investigations and manage patches. A customer relationship management (CRM) module is incorporated into the system.
Within this module, users have access to a database that contains information on customers, contacts, contracts, service-level agreements (SLAs), devices, and tickets. Additionally, there is a secure store for passwords built into the system.
It contributes to the complete streamlining of both your job and your services. You can keep your interactions with your clients and their workstations under control at all times. In addition, IT automation profiles should be applied to business servers on a per-device or per-workstation basis.
8. Turbonomic Application Resource Management
The platform known as Turbonomic Application Resource Management is responsible for maintaining full visibility across the application stack. At each successive layer, Turbonomic will have an understanding of the resource linkages as well as the dangers to the performance.
Key features:
Turbonomic will have an understanding of the entire stack, from software applications to physical hardware.
You'll find it useful for application-driven prioritization thanks to it. It gives a concise overview of the performance of the leading business applications as well as the leading business transactions.
Turbonomic will assist you in gaining a rapid comprehension of the existence of performance risks.
It offers analytics as well as actions that need to be taken.
It provides a visual representation of the effect that infrastructure changes have on the operational efficiency of data warehouses. You will be able to optimize application compliance, performance, and cost with the software that is powered by AI, and you will be able to do it in real-time.
Application demand is used as the driver for making resource allocation decisions by software. This ensures continuous performance regardless of the complexity of your apps or the infrastructure on which they run, regardless of whether they are hosted on-premises, in the cloud, in multiple clouds, or at the edge.
The knowledge of Turbonomic is always up to date about the entire application stack. Your company's business applications and the components that make up those applications are given the resources that are provided by each tier of the application stack, and Turbonomic can understand this information effectively.
Best Batch Scheduling Tools: Editor's Choice
Batch Scheduling Software will assist your organization in numerous ways, including task scheduling, process automation, and secure data transfer. It will all eventually contribute to the success of your organization and allow your IT personnel to focus on mission-critical tasks.
Out of all, our first choice is to be ActiveBatch as it enables users to perform end-to-end automation and execute their workflows across numerous platforms, applications, and technologies. It automates the execution of repetitive tasks on systems where ActiveBatch is installed.