Help Desk technicians sometimes can't get sufficient cooperation or comprehension from end users to enable them to investigate problems. Often, it is just simpler to gain direct access to the problematic device and investigate the problem without the user's involvement. Similarly, checking for unauthorized applications or updating software on remote computers is a task that a central support team can perform better with direct remote access.
Remote Management and Monitoring tools (RMM) enable Managed Service Providers (MSPs) and IT departments to solve problems and manage remote devices much more efficiently than could be delivered through site visits and local technicians. RMM software liberates the IT support function from being divided between local offices. A centralized technical support department can now be located anywhere in the world, or stationed around the globe at regional centers to always provide round-the-clock support.
Here is our list of the best remote management and monitoring tools:
NinjaOne

(FREE TRIAL)

A cloud-based platform of remote monitoring and management services, plus a ticketing system. Start a 14-day free trial.
Atera

(FREE TRIAL)

A cloud-based package for managed service providers that includes RMM and PSA functions. It's a multi-tenanted system for handling multiple clients, has a customizable dashboard capable of automated process like patch management. You can register here for a free trial.
N-able N-Central

(FREE TRIAL)

Runs on a dedicated server and requires a Windows server. Tracks the performance of networks, servers, Web services, Microsoft Office 365 applications, and email systems, on client sites and includes NetPath
Dameware Remote Everywhere

(FREE TRIAL)

A remote support system suitable for Help Desk technicians
N-able N-sight

(FREE TRIAL)

Part of a set of tools aimed at MSPs
ManageEngine RMM Central

(FREE TRIAL)

Comprehensive remote management for medium to enterprise-sized networks.
Site24x7

(FREE TRIAL)

This cloud platform provides full stack monitoring and is available in packages for IT departments and MSPs. Available for a 30-day free trial.
Paessler PRTG A server, application, and network monitor that can track events on remote sites
Comodo One A free, Cloud-based RMM with paid extras
ConnectWise Automate An RMM that features task automation
Kaseya VSA A comprehensive suite of remote network and server management tools
Pulseway RMM Part of a Cloud-based suite aimed at MSPs
The need for remote management and monitoring tools is varied and ranges from software vendors supporting the general public with problems, to multinational MSPs that give global support to some of the world's largest corporations.
Global support services are essential to ensure the successful operations of any IT-dependent business. That support team cannot be relied on without efficient and comprehensive technical tools. That means, a successful support team is only as good as the RMM tools that it uses.
In this review, we will look at the best remote monitoring and management tools that are available on the market today. We have found eight that we feel we could happily recommend.
The best RMMs
NinjaOne – formerly NinjaRMM – is an RMM package that includes a ticketing system – a function usually only found in PSA platforms. This cloud-based service provides technician tools and team management functions that are ideal for MSPs. The package is also suitable for use by IT Operations departments with multiple sites to take care of.
The package is multi-tenanted, which keeps the logs and credentials of client systems completely separate. The service begins monitoring a client site with a discovery process. This logs all of the devices connected to the network. The tool then installs endpoint agents and scans each device to compile a software inventory. The service is able to monitor devices running Windows and macOS through scanning agents and Linux devices across the network.
As well as performing performance monitoring, this package also includes security monitoring services. Other security systems included in the NinjaOne package are an endpoint detection and response system, including anti-virus, a backup service, and secure password distribution.
The monitoring system relies on a system of alerts, so operators don't need to watch the system console all of the time. Notifications get sent out when problems are detected and these are routed through the ticketing system.
With that ticketing system available, this is a good package for supporting a Help Desk. The team manager can set up automated task allocation and then gets an overview dashboard, which details workloads and progress. Tasks can be manually reallocated, split, and merged.
Automated functions in the NinjaOne package include a patch manager and a configuration manager. The system doesn't include a remote access tool. However, there are third-party options for this function available in the NinjaOne Marketplace.
As a cloud-based service, this system provides a console that is accessed through any standard Web browser. This makes it possible to bind together a team of home-based technicians and managers.
NinjaOne doesn't publish a price list, so you need to contact the Sales Department to request a quote. NinjaOne is available on a 14-day free trial.
NinjaRMM Start 14-day FREE Trial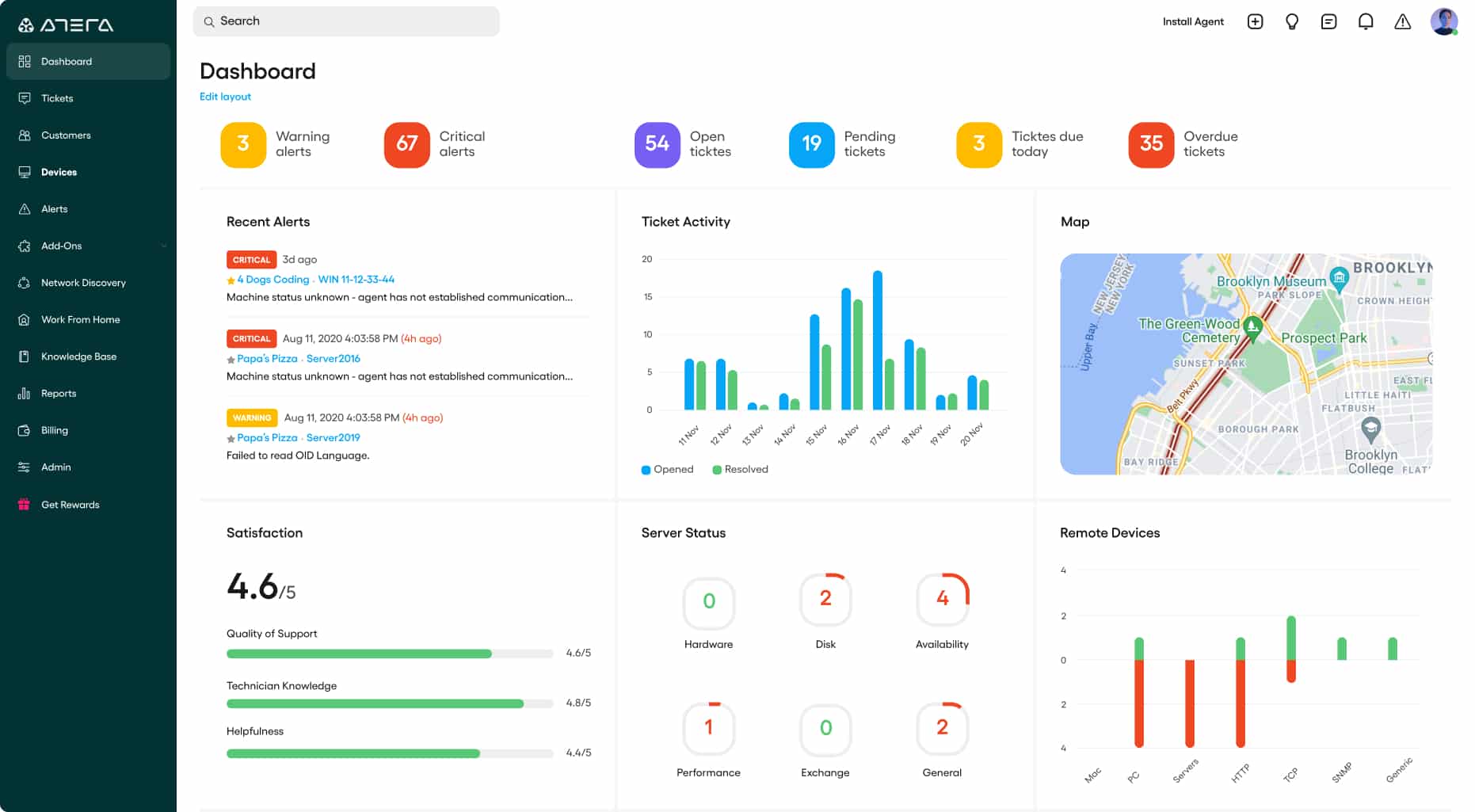 Atera is a full package of software services for managed service providers. The platform is hosted in the cloud and includes both PSA and RMM systems. This service is multi-tenanted to keep the data and settings of the monitoring services for each client separate. It also includes the storage space needed for log files and patches. So, you don't need any of your client's data to be stored on your own site.
The console for the Atera system is available in a range of dashboards that supply tools for technicians, team managers, and business administrators. The RMM tools in the technician dashboard are linked to a ticket management system and a team monitoring service. All technician tasks are logged, which automatically compiles a timesheet for each operator. This data can be fed through to a related invoicing package through an integration.
The ticketing system supports a full Help Desk service and the technician dashboard includes access to remote devices through Splashtop. The remote management systems are not limited to endpoint investigation tools. They also include automated processes including a patch manager. An add-on service supplies an automated network mapping system to make system management easier.
The RMM researches out to remote sites through the installation of endpoint agents. These are available for Windows, Windows Server, and macOS. Technicians get automated monitoring services that include an alerting system. This enables the MSP to monitor many client sites simultaneously without having to dedicate a technician to each network.
The cloud-based platform enables you to tie together operators and managers located in different offices into a team – you can even integrate home-based staff into the team through this system. Atera is offered in three plans and they scale to make the system suitable for businesses of any size. The Atera service is available for assessment through a free trial.
N-central is an acquisition of N-able (Formerly part of the SolarWinds MSP division). The new owner added on some of its award-winning infrastructure monitoring tools to the original IT support software. This results in the requirement for two servers in order to install N-central. The first of these should be a bare server because the core N-central system has its own integrated operating system. The second server should have the Windows Server operating system – this hosts the N-able system monitoring software.
This RMM tracks the performance of networks, servers, Web services, Microsoft Office 365 applications, and email systems, on client sites. A standard tool included with N-central is NetPath, which shows the health of links from one point to another on a connection. This information is vital to remote support staff who need to know that their own connection into the client site is not introducing performance interference.
Other key modules in the package include an Endpoint Security Manager, with patch management and configuration management. All tasks can be scheduled and many routine management jobs can be automated with N-central. You can get a 30-day free trial of N-Central.
N-able N-central Start 30-day FREE Trial
Dameware is on-premises IT support software that installs on Windows and Windows Server environments. The software is charged for per agent and the Dameware system is offered at two levels of service. The lower package is called Dameware Mini Remote Control and the upper package is called Dameware Remote Support. The extra features of the Remote Support package are user management and software license tracking. The upper tool also has a constant connection testing facility to the remote site that is based on Ping and Traceroute.
With both packages you get a remote access system that enables technicians to access user devices directly. This facility can also be used to run scripts and automate data gathering and problem resolution tasks. The system is able to access devices running Windows, Mac OS, Linux, Android, and iOS.
Connections are secured by Transport Layer Security and it is possible to enforce two-factor authentication for end-user access. Both Dameware packages can be tested on a trial basis.
Dameware is now available on the Cloud. Dameware Remote Everywhere has the same functionality as Dameware Mini Remote control, but you don't need to install any software on premises. You can access the system through a browser on Windows, Linux, and Mac OS and through an app on Android and iOS mobile devices. This service is also available for a 14-day free trial.
Dameware Remote Everywhere Activate 14-day FREE Trial
N-able N-sight is a product of an MSP software division of SolarWinds. This is an essential support system for MSPs that can also be a useful tool for any in-house IT department that manages several sites from a central location.
The N-able MSP tool suite includes the N-able N-sight module. You don't have to buy the other tools in the N-able MSP kit bag in order to deploy the RMM tool.
This tool is specifically designed to facilitate remote access to devices both manually and through automated processes. The remote control features of N-able N-sight are supplied by the package Take Control. This is needed by support staff who have to explore an individual remote computer.
The automated remote management processes supplied by the RMM will help the MSP or IT professional to update software, firmware, and operating systems or introduce new applications to remote devices in bulk. Those mass device monitoring functions include remote antivirus management and patch management. The RMM also includes mobile device management functions.
The console for the service is web-based, making it operating system-neutral. The service is able to access any operating system including computers, mobile devices, servers, and network equipment. This tool is also able to track VM components and access virtual terminals.
Management functions include a system monitoring tool that will alert the support team if there are communication problems on the remote network.
The companion modules that make up the rest of N-able MSP are EDR for endpoint protection, the Mail Assure module for email security, and the Cove Data Protection module, which enable you to offer data guard services to clients or implement backup strategies in-house. Passportal is a system documentation and password locker bundle.
The MSP Manager includes administrative tools for MSP team leaders and Take Control is a set of diagnostic tools. Together, the entire MSP toolset provides an IT service management (ITSM) suite for an in-house IT department of MSP, but the RMM service also works as a standalone package.
N-able N-sight is available on a 30-day free trial.
N-able N-sight Start 30-day FREE Trial

ManageEngine RMM Central is a network management platform that combines several solutions into a single interface. One of the key features is the ManageEngine agent, which helps administrators quickly discover all devices and infrastructure on the network.
Key Features
Collects and displays various network and asset performance metrics
Offers native remote access to endpoints and network devices
Gives a detailed view of the overall health of the network, covering all devices
Using this information, administrators can run various reports to obtain details about patch status, installed applications, and other metrics, including automatic reporting of disk space and memory usage. Additionally, the platform offers a variety of automated responses, including the ability to integrate alerts into a helpdesk system and execute scripts.
Pros:
Provides a range of automated and manual monitoring tools for various helpdesk needs
Can be used on both Windows and Linux platforms, offering greater flexibility than some other products
Offers detailed reporting capabilities, ideal for enterprise management or MSPs
Cons:
May require some time to fully explore all options, features, and tools
ManageEngine RMM Central is available on a 30-day free trial.
ManageEngine RMM Central Start 30-day FREE Trial
Site24x7 is a cloud platform that offers system monitoring modules plus a log management service. This SaaS service is offered in editions and one of those is designed for use by managed service providers. The four other plans are suitable for in-house monitoring by businesses of all sizes.
The platform requires an agent to be installed on each site that is to be monitored. It is also possible to include cloud platforms in the monitoring service. The agent runs on Windows Server or Linux.
The package provides a device discovery system. This creates a hardware inventory or the site and this document is constantly rechecked. The platform will also create a network topology map, based on data in the inventory. This process is all driven by SNMP and constant repolling for SNMP reports provides live monitoring for network devices and endpoints.
The tool also includes a network traffic analysis service that is able to segment traffic statistics by protocol, source, or destination. It is able to calculate VoIP quality of service metrics in IP SLA and MOS formats.
Sever monitoring extends to cloud platforms and there is also a monitoring element for virtual environments. You get alerts for server resource shortages, which could explain sudden application performance problems. The MSP plan also gives you log management and website monitoring tools.
You can experience any of the Site24x7 tools by actually using it with a 30-day free trial.
Site24x7 Start a 30-day Free Trial
Paessler PRTG is a network, server, and application monitor that has a few special features that make it a good choice for some remote management situations. The system doesn't include any remote control functions, but it is able to track events on remote sites. The tool would be suitable for a multi-site organization that wants to centralize its IT support functions in one location.
An interesting feature of the Paessler charging structure means that this monitoring system would also be suitable for MSPs. The company doesn't segregate its charges by the company which owns the site that the software is used for. That is, an MSP can use the same license to manage the sites of client companies with PRTG.
The system is composed of a series of monitors, which are called "sensors." If you install a remote sensor on a client site, that installation counts as one of your sensor allowances. PRTG is charged for in bands of sensors and you can decide which of the sensors in the package you want to activate as part of that allocation. You can also implement the same sensor several times over – with each instance counting as one of your paid-for allowances. The cost-per-sensor of PRTG reduces with the higher allowance bands, so by becoming a bulk buyer of PRTG, you can acquire the monitoring system at a cheaper price per site than any of your clients would pay.
The dashboard of PRTG is completely customizable and you can set up different user accounts. Thus, you could even act as an agency for your clients, allowing them to get direct access to the monitors for their sites.
You can install the PRTG software on Windows Server, and check it out with a free trial that has no sensor limit.
Comodo is a security software company and it has come up with an interesting offer for remote management. Comodo One is a free RMM tool. However, the company uses this excellent online service as a teaser in order to sell its connection security products. All of those security features are paid add-ons and you wouldn't conduct any business over the internet without such protection.
As a Cloud-based service, the console can be accessed through a browser from anywhere and you don't need to worry about maintaining the software or buying in the right host with the right operating system. The service can monitor WANs, LANs, Cloud-based resources, and hybrid systems. The monitoring system can access Windows, Linux, Mac OS, and mobile devices.
Key modules in the Comodo One package are a remote management module and a remote control utility. Remote system monitoring features include a topology mapper, a network performance monitor, a risk assessment utility, a system audit and inventory manager, and a policy compliance facility. The system monitor constantly guards the remote system with 18 recursive system security and performance checks.
Other features include a mobile device manager, a mobile applications manager, and an automated patch manager. Extra security options include add-on services such as automated data backup, Cloud storage, DDoS protection, and DNS services.
As the name of this tool suggests, ConnectWise Automate is all about automating system management tasks. This Cloud-based service is charged for by subscription, with a rate per console account. This means it would be good for an independent freelance support technician as well as for a global multinational.
The network, server, and software monitor can check on any system anywhere in the world, which makes this a great remote monitoring system. Remote management features include license management, patch management, configuration control, and software update services. You can create standard software packages for user groups and remotely set up new endpoints for onboarding new staff. This capability also extends to mobile device management. A scripting language built into the system enables you to customize automated monitoring and set up routines.
The system includes a self-service mechanism to enable new staff to enroll themselves and trigger system and software access routines. A self-service user account system also enables end users to perform straightforward admin tasks, such as resetting passwords. A remote control utility enables technicians to intervene manually when things go wrong. This comprehensive RMM can be tested on a 14-day free trial.
Kaseya VSA is a remote management and monitoring system that is offered on a Software-as-a-Service (SaaS) model from the Cloud. The charging structure is based on the number of supported endpoints, so the service is very scalable.
The system monitoring service makes constant checks on the infrastructure on client sites. The technical support department gets notified by alerts when anything goes wrong, so that they can fix problems before Help Desk complaint calls start.
Remote system management tools include the automation of tasks, such as onboarding users. Software installation, license usage tracking, and patch management are also tasks that are automated by the Kaseya VSA system.
A digital documentation platform module, called AssetIQ enables you to set up a knowledge base, training pages, and even standardized workflow scripts for support technicians. These scripts can be accessed directly by users to create an automated Help Desk function and reduce the time that your human support team needs to dedicate to routine requests.
A remote access module, called Live Connect gives support technicians access to fix problems and also carries automated data gathering and problem resolution scripts to user endpoints.
You can get a 14-day free trial of Kaseya VSA. If you are an MSP, you should also consider Kaseya Business Management System, which is a billing and SLA-tracking module. This is also available for a 14-day free trial.
Pulseway was developed as a product that would be an excellent choice for MSPs. This Cloud-based service is divided into three modules: Pulseway RMM, Pulseway PSA, and Pulseway Antivirus.
The tool can monitor devices running Windows, Linux, and Mac OS. Pulseway is great for monitoring Web services and it is also useful for keeping on top of VMWare, Citrix, and Hyper-V virtualizations. Services available as add-ons include a Cloud data backup service and Web server protection.
The RMM module is the main workhorse of the package. It includes network and server monitoring functions that are based on the Simple Network Management Protocol (SNMP). Other features include workflow and script-based task automation, configuration control, patch management, software installation routines, and update management.
The PSA module is aimed at client account management including progress tracking, policy enforcement, and auditing for SLA and security standard compliance.
The group plan is called Team, which can also be installed on premises. Extra features of the Team plan include technician work allocation and monitoring functions for group leaders.
The service is charged for on a subscription basis per monitored endpoint and it is free to monitor just two endpoints. The dashboard for the service is available through a Web browser and there is also an app for mobile devices. The online version is available on a 14-day free trial.
Selecting remote management and monitoring software
The best match to your RMM requirements will depend on whether you are an independent technician offering on-call support services, an MSP, or an in-house Help Desk. The options on our list provide examples of support software that would be great for any of these situations.
You can take advantage of the free trials and limited free versions of the tools on our list to give several of them a test without risking any of your budget. You may well find that a number of the options on the list are suitable for your site, in which case only a trial will help you narrow down your choice.
Do you already deploy remote management and monitoring software? Which package did you choose? Leave a message in the Comments section below and share your experience with the community.