System Administrators need flexible tools to be able to solve problems from anywhere, now more than ever. In this article, we'll be reviewing some of the best remote administration tools you can use to manage your servers and troubleshoot endpoints.
Here are our top eight choices for the best remote administration tools:
Dameware Remote Support

(FREE TRIAL)

 – Robust remote access tool for growing helpdesk teams and larger MSPs looking to simplify and scale their services. Start a 14-day free trial.
Atera Remote Management and Monitoring

(FREE TRIAL)

A cloud-based remote administrator tool designed for MSPs that provides  monitoring metrics through a user-friendly interface. Start a 30-day free trial.
ManageEngine Remote Access Plus Offers great automation and script deployment.
N-able N-sight RMM An all-in-one solution for remote administrators working in an MSP environment.
NinjaOne Provide easy integration for teams who rely on third-party remote software.
N-able Take Control A simple remote tool that has built-in satisfaction surveys.
ISL Online Available both in the cloud and on-premises.
ConnectWise Control Provides both one-time and permanent remote access solutions.
The Best RATs:
Dameware Remote Support (DRS) is a professional administration tool designed to provide everything a sysadmin would need in a bundled package. You can use Remote Support in Windows, macOS, and Linux environments.
DRS allows for flexible deployments between their centralized and standalone installation modes. While both deployments offer many of the same features, smaller organizations will likely prefer the faster serverless Standalone install. On the other hand, larger enterprises and MSPs can scale more confidently by managing all licenses and endpoints from a centralized server.
Active Directory management allows you to perform unlocks, disable users, and even create new accounts all without having to sign in to a server. While Dameware Remote Support is marketed as a support tool, you'll find that its uses can extend far beyond troubleshooting, and speed up many of your day-to-day routines.
Key features:
14-day free trial.
Mobile app support.
Windows, macOS, and Linux compatible.
In Centralized mode, a secure internet proxy can be created to ensure all remote connections are safe. Beyond this standard layer of security, DMS offers two-factor authentication with smart card support for remote connections and networks. This traffic can be encrypted up to FIPS 140-2, making DRS a great option for organizations that must adhere to strict standards.
Remote sessions are handled by Dameware Mini Remote Control, which is included in DMS but can be purchased separately. This provides a simple interface to launch a remote connection to an agent through a number of different protocols. MRC viewer is the default method of connection but this can easily be changed to RDP, VNC, or something else entirely.
Once connected all the standard end-user support features such as chat, screen capture, and file transfer are easily accessible for technicians to use. DRS does a good job of making these tools feel intuitive, meaning you won't need to invest a ton of time trying to learn the platform.
Lastly, you can even provide support and make changes from your Android or iPhone via the Dameware Mobile Gateway. This is a great feature if you're in a pinch and need to unlock an account, or just need to remote into a machine and perform a simple task. Most mobile apps in the remote administration space are clunky and slow. DRS stands out by keeping its mobile app design simple and streamlined without sacrificing features.
Once authenticated you'll have full keyboard access with both left and right mouse button control. Built-in macros in the toolbar allow you to launch a command line or perform open Task Manager with one click.
Dameware Remote Support is our top pick due to its speedy deployment, intuitive features, and ability to scale in larger environments. You can test out Dameware Remote Support and all of its features through a 14-day free trial.
SolarWinds Dameware Remote Support Start a 14-day FREE trial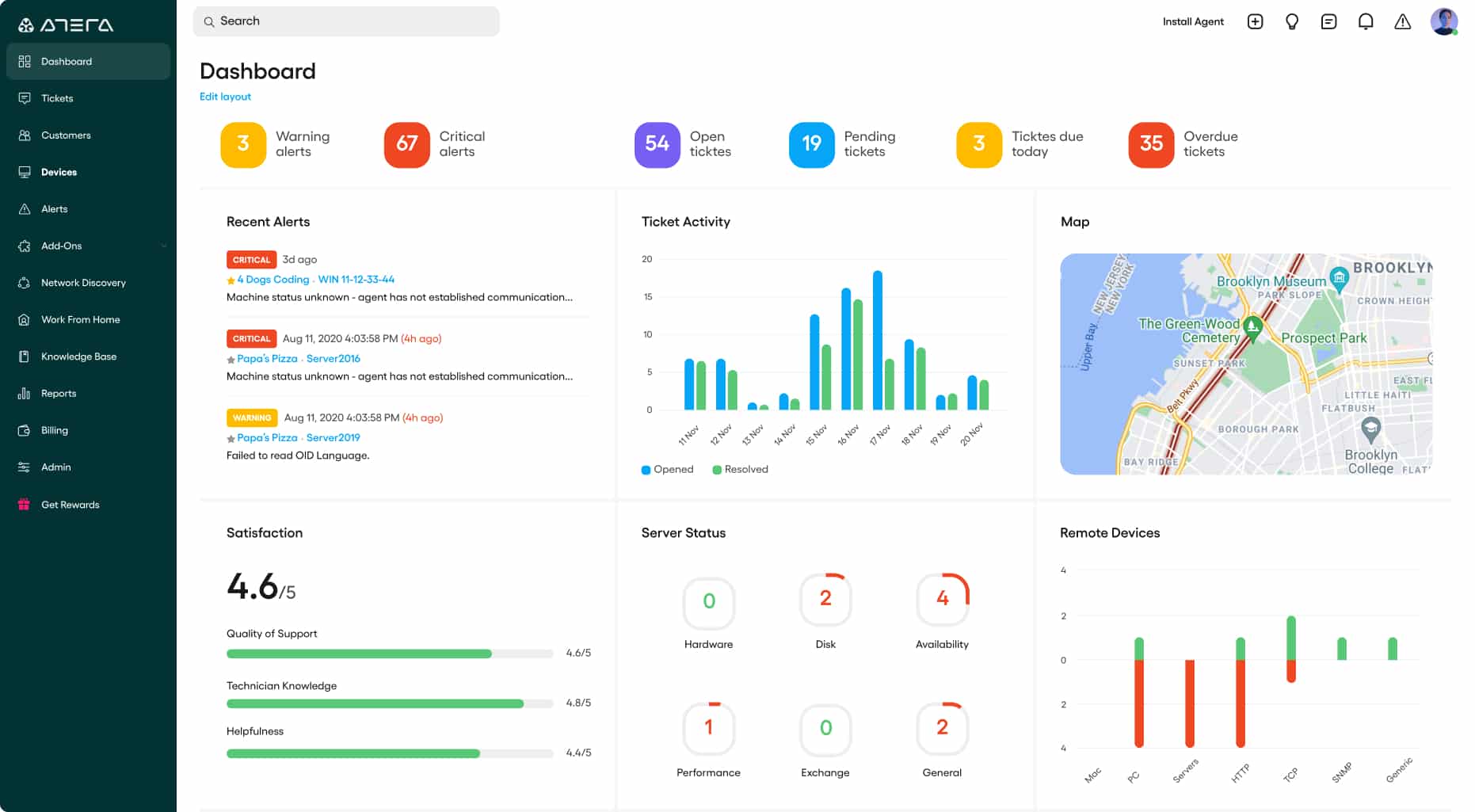 Atera is a cloud-based suite of remote administrator tools developed to cater to MSPs. It focuses on supporting administrators by providing remote access and monitoring metrics through an elegant and simple interface.
Remote access is built into the core of Atera and allows you to access endpoints not only from the dashboard but also directly from incoming tickets as well. Remote access is powered by Splashtop and can be configured to also securely give clients access to their work machines from home.
Key features:
Cloud-based RMM solution.
Community driven script library.
Compatible with Windows, Linux, and macOS.
The remote agent supports basic text chat functions, screen capture, and file transfer for both attended or unattended sessions. All communication between endpoints is encrypted via 256-bit AES encryption both at rest and in-flight.
Atera comes with out-of-the-box automation tools that are intended to shorten open ticket duration. Pre-built scripts include actions like clearing temp files, restart and shutdown commands, restore point creation, and disk defrag.
Atera is flexible and allows you to add your own custom scripts to the library as well. These automations can be applied to individual workstations, specific clients, or custom groups. If you're struggling to build your own tools you can turn to Atera's shared script library. Inside are hundreds of scripts created by both Atera and the other Atera users. Scripts can be copied and implemented right away, or dissected and customized to your specific needs.
Atera comes in three tiers, Pro, Growth, and Power. Pricing starts at $93.80 (£71.29) per technician, per month. A 30-day trial of Atera is available for anyone who would like to test it out.
Atera Start a 30-day FREE trial
ManageEngine Remote Access Plus allows users to access servers and endpoints remotely and conveniently while providing a built-in troubleshooting toolkit. Remote Access Plus can be deployed either on-premises in a Windows environment, or used as a cloud-based service that's hosted by ManageEngine.
Key features:
Both cloud-based and on-premises.
30-day free trial.
Supports Windows, Linux, and macOS.
Endpoint agents can install on Windows, Linux, or macOS machines, and allow for scripted deployments at scale. Once installed, agents can be accessed and grouped through a sleek and simple interface. On the backend, you can either remote directly into an endpoint, or leverage automation to execute a script. These script modifications can be done to single machines or groups of machines all at once.
Remote Access Plus stands out by going the extra mile on the backend. Without interrupting the end user you can launch and open a remote command line, transfer files, remotely access registry, or sift through the Device Manager. When connected, features like wake on LAN, screen capture, and chat logs all help make the troubleshooting process as easy as possible.
In addition to text chat, support techs can even initiate a voice or video chat directly with end-users at their workstations. This comes in handy especially when an issue turns out to be much more complex than described in the initial ticket.
Remote Access Plus is available for free but is limited to only ten client computers. However, you can test out all of the platform's features through a 30-day free trial.
N-able N-sight RMM is a combination of remote administrator tools and monitoring agents that are specifically designed to suit the needs of managed service providers. N-able N-sight is best suited for MSPs who may be in the market for both a remote administration tool, as well as a comprehensive suite of tools to manage their clients.
Key features:
Support for Windows, Linux, and macOS.
Designed for MSPs.
Live node-based maps for each of your networks.
If you're tired of keeping track of all of your remote admin tools, monitoring agents, and reporting dashboards, N-able N-sight aims to simplify this problem by bringing them together under one roof. N-able N-sight is cloud-based, so there's no need to spin up your own server.
Remote access is built right into the N-able N-sight platform and allows you to take both control from the front and backend of the machine. This helps your technicians gather information and troubleshoot data before ever connecting with the end-user.
Monitoring and reporting are a large part of N-sight's core features. Outside of just reporting, endpoint metrics such as CPU usage, memory utilization, and disc space are all dynamically reported on per agent. This gives you an at-a-glance look at each endpoint to help narrow troubleshooting efforts. You can apply this same monitoring feature at scale to proactively create tickets for workstations or create alerts.
A unique feature called NetPath automatically creates a network diagram of your client's environment that can even show assets outside of the firewall like VPN connections and cloud-based services. This is a live map, meaning it's pulling real-time data to populate the details of each device. This can help both new technicians understand complicated client environments, as well as serve as a blueprint for network expansion and planning by sysadmins.
Simply put, you can think of SolarWinds RMM as a much more comprehensive version of Dameware Remote Support, specifically built for MSPs who manage multiple clients.
You can test out N-able N-sight for free through their 30-day trial.
NinjaOne is another powerful cloud-based platform that combines a suite of remote administrator tools with monitoring and alerting capabilities. NinjaOne RMM is best suited for MSPs or larger organizations that lack both remote administration and adequate endpoint monitoring.
Key features:
14-day free trial.
Intuitive cloud-based interface.
Advanced access control option.
Agents can be installed on Linux, Windows, and macOS endpoints allowing you to support a variety of different environments. The backend of NinjaOne RMM is simple and uses a vibrant color-coded dashboard to ensure critical tasks, alerts, and events don't get lost or missed. The UI makes all of your servers, workstations, and metrics available to you through a single-pane-of-glass, allowing you to quickly and efficiently deliver support.
Remote access in NinjaOne RMM allows you to connect in just one click and automatically pulls in a suite of remote administrator tools for troubleshooting. If you're already using a third-party remote app like RDP, or Splashtop, NinjaOne RMM can integrate directly with those existing platforms. Audit logs can give management a look at who is accessing what machines and detailed permission controls allow you to restrict machines, assets, or clients to specific users or groups.
More in-depth features like asset management, patch deployment, and user administration separate NinjaOne RMM from smaller tools and prove to be a valuable asset for MSPs who are looking to improve their efficiency and customer service.
NinjaOne RMM does not have a free version but does offer a free 14-day trial.
N-able Take Control enables administrators or helpdesk staff to quickly provide support to users on any Windows, Linux, or macOS platform. Take Control was designed with growing IT departments in mind and is priced for just about any size helpdesk department.
After a small agent is installed on your client endpoint, a remote connection can be made in mere seconds, allowing you to resolve issues quickly without session keys or connecting to a website.
Key features:
Multi-platform support.
Bulk agent deployment.
Customer satisfaction surveys.
Device details such as CPU, OS, and disk usage can all be viewed before the connection takes place, helping give your technicians deeper context into the situation. Some issues can be resolved without a remote connection through a backend PowerShell command that enables you to run scripts remotely.
Without connecting, you can read and write to the target machine's registry, enabling you to implement fixes and changes without having to schedule a time for maintenance. Once a remote session is active, a simple chat window allows for quick and easy communication as well as file transfer, and screen capture.
With Take Control Plus you can implement customer satisfaction surveys to get a pulse on exactly how your team is performing. This ties directly into technician performance reporting, which summarizes this data into a brief that can be automatically sent to management or technician leads.
N-able Take Control is a great fit for small helpdesk teams or new MSPs who need to solve issues quickly while on a tight budget. If you just need to provide fast reactionary support, Take Control is a great option.
Pricing for N-able Take Control starts at $228.00 (£173.29) per year. Take Control Plus starts at $540.00 (£410.41) a year and includes additional features like survey creation tools, performance reports, password vaults, and batch scripting capabilities.
You can try the full version of Take Control for free through a 14-day free trial.
ISL Online is a remote administrator tool available as both a cloud-based service, as well as an on-premises installation. Both the remote agent and control dashboard are compatible with Windows, Linux, and macOS systems.
The remote agent install can be deployed at scale and allows for permanent access without any interaction of the end-user. Once connected you'll have access to a host of tools like text chat, whiteboard drawing, file transfer, and screen recording.
Key features:
Available both in the cloud and on-premises.
Compatible with Windows, Linux, and macOS.
Features automatic session recording.
While the interface is fairly basic, it offers a clean and uncluttered view of all connected endpoints. These are broken down by active sessions and inventoried machines that can be toggled through via a tab towards the top of the dashboard. On the left column, you can build groups and place agents inside those folders to organize your dashboard to your liking.
All communication is protected with end-to-end 256-bit encryption and has the option for two-factor authentication, as well as integration with other authentication services. Audit logs and automatic session recording can also be configured, ensuring compliance in even the most strict of environments.
ISL Online charges a one-time fee for the on-premises install, and a monthly fee for their cloud-based service. You can test out ISL Online free through a 15-day trial.
ConnectWise Control is a remote administration tool that is part of a much larger suite of tools created by ConnectWise. ConnectWise Control comes in two variations, Control Support and Control Access.
ConnectWise Control Support offers on-demand remote support as needed, and is ideal for break-fix services. Control Access allows for device management and unattended remote sessions that better suit managed service providers.
Key features:
Shared toolbox.
Multi-platform support.
Simple copy/paste file transfer.
Both plans offer multi-platform remote access and quick connection times. All connections are protected via AES 256-bit level encryption and offer additional security through two-factor authentication.
Once connected, you'll have the ability to transfer files, blank the screen, disable user input, screen record, and much more. A unique feature in ConnectWise Control is the Toolbox feature. This allows you to access a customized suite of tools directly from a remote location.
This makes launching scripts and self-contained executables quick and easy. Toolboxes can be either customized or synced across an entire team to ensure everyone has the tools needed to complete the ticket.
Pricing for ConnectWise Control access starts at $30.00 per month for 25 agents. Control Support starts at $19.00 per month with limited sessions. Free trials are available for both packages upon request.
Conclusion
We've tracked down the eight best remote administration tools on the web, but which is right for you?
Dameware Remote Support is our top choice for nearly all help desk environments. It's combination of quick deployment, ease of use, and ability to scale secure it as our number one choice for this roundup.
For larger environments that are looking for remote administration tools as well as features like inventory management, and proactive monitoring, SolarWinds RMM will likely be a great fit. SolarWinds RMM offers great remote support features on top of robust features for MSPs that are ready to grow quickly.
Do you rely on any remote administration tools? Be sure to let us know in the comments below.