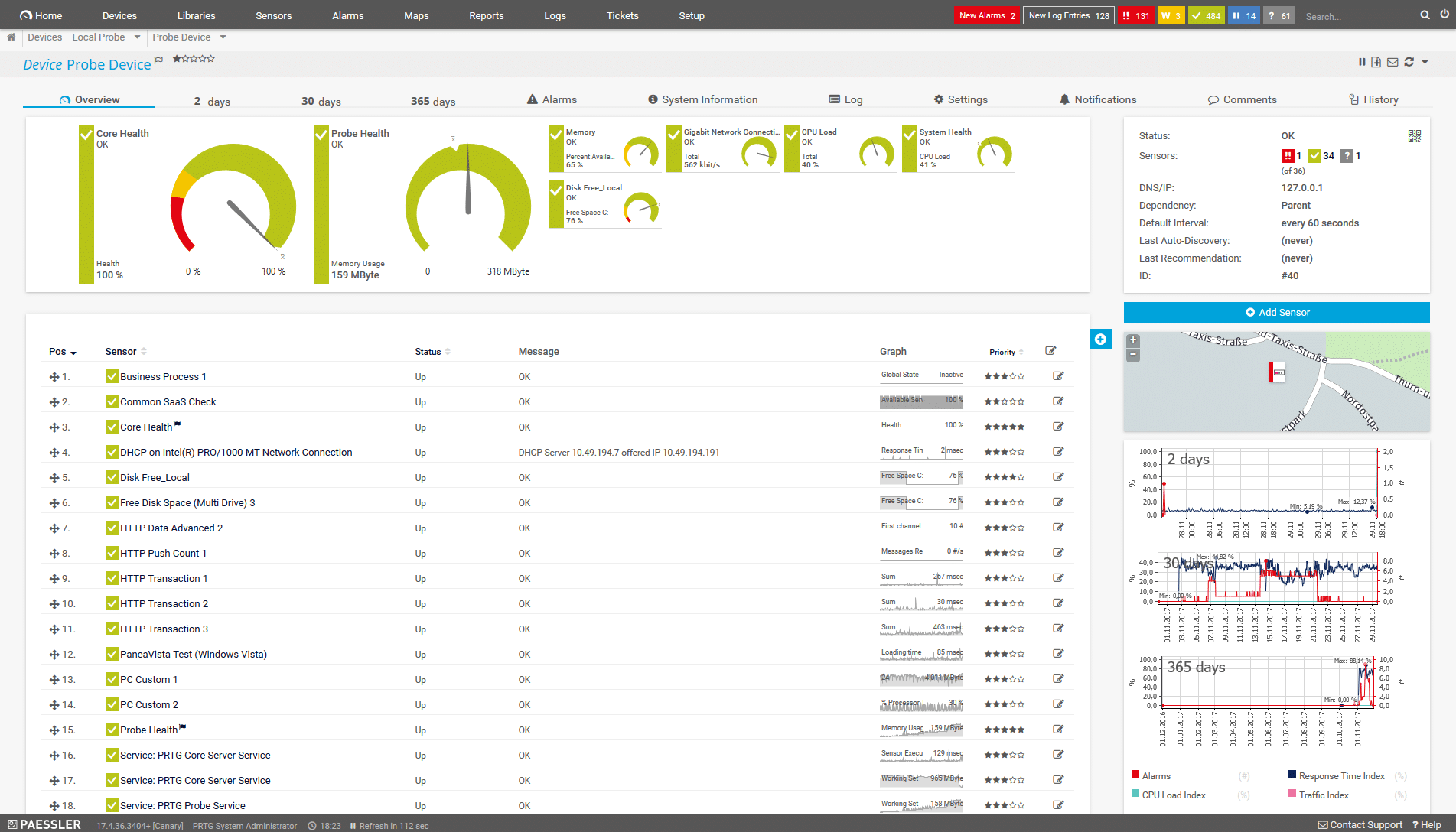 Paessler PRTG Network Monitor is widely regarded as one of the top network monitoring tools on the market. As a free network monitoring alternative, PRTG stands among the very best monitoring tools that can handle everything from bandwidth monitoring to devices, cloud services, applications, virtual services, and more. In this PRTG review, we're going to look at what makes the service so popular.
As part of our review, we'll be diving into some of the features that PRTG provides and evaluating the overall monitoring experience of the product. Some of the features we'll be looking at include autodiscovery, customizable dashboards, mobile applications, reports, and more.
What can you monitor with PRTG Network Monitor?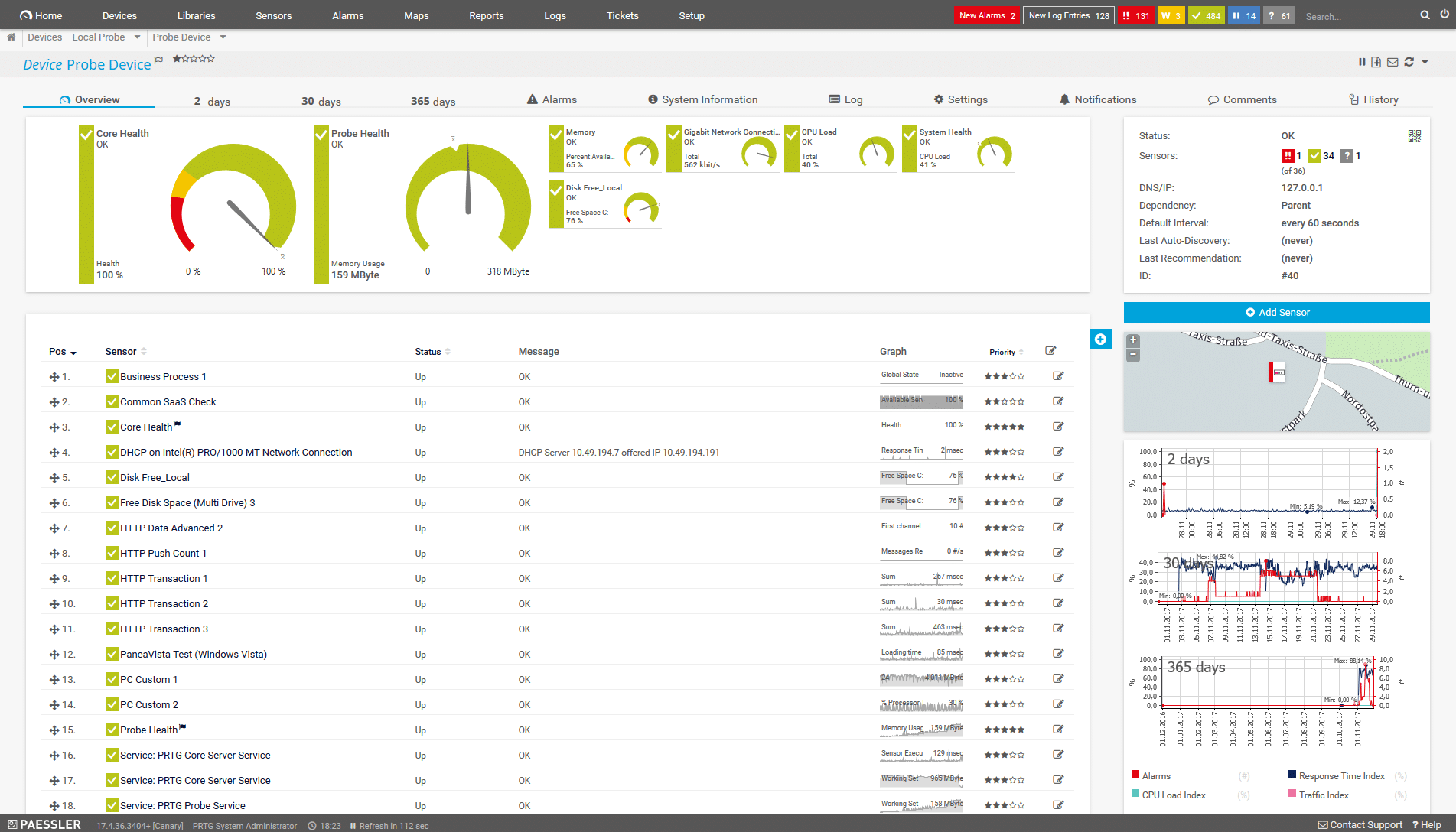 PRTG Network Monitor has a range of monitoring capabilities including SNMP monitoring, server monitoring, application monitoring, bandwidth monitoring, cloud monitoring, virtualization monitoring and more. The wide cross-section of monitoring capabilities offered gives you the opportunity to monitor most services within your network whether you're managing hardware or virtualized services.
PRTG Review: Feature Highlights
| Feature | Description |
| --- | --- |
| Autodiscovery | Automatically discover devices by ping. |
| Customizable dashboard | Create unique dashboards with a drag and drop editor. |
| Notifications | Threshold-based notifications. |
| Customizable Reports | Create and schedule custom reports. |
| Deployments | On-premise and cloud version available. |
| Pricing | Free and Paid - Paid versions start at $1,750 (£1,413) for 500 sensors. |
| Applications | Desktop application, mobile application iOS and Android), web-interface. |
| Operating Systems | Supports Windows and Mac. |
Setup (Autodiscovery!)
Setting up PRTG Network Monitor with an on-premises installation is seamless. You need to download the software, install a core server, and deploy probes throughout the network. The platform is agentless so you don't need to install countless network devices to get started monitoring.
The discovery process is made easier by the inclusion of autodiscovery, which enables you to discover devices throughout the network by ping. It also creates sensors based on templates to monitor devices discovered in the earlier stages.
The autodiscovery process can be run once or scheduled hourly, daily, or weekly to discover new devices connected to your network continually. Scheduled discovery cuts out any unnecessary administration when adding new devices to your network.
Network Monitoring (A Look at Sensors!)
The overall network monitoring experience offered by PRTG takes place through sensors. PRTG defines sensors as "basic monitoring elements," which monitor certain parameters in your network. There are over 200 of these elements including out-of-the-box for monitoring devices, cloud, services, applications, and virtual resources.
An example of a sensor is the SNMP Traffic Sensor (pictured above), which displays the Traffic in, Traffic out, and Traffic total for devices using the SNMP protocol. Of course, these sensors can also be customized according to your own requirements.
An overview of each sensor can be viewed with dials and tables detailing performance metrics taken from Live Data or historic data over the past 2, 30, or 365 days. The clear layout of the sensors enables you to see performance metrics at a glance so there's no ambiguity.
SNMP Monitoring 
If you're looking for an SNMP monitoring solution, then PRTG Network Monitor fits the bill. The platform comes with an ample range of sensors for monitoring SNMP including the SNMP CPU load sensor, SNMP Disk Free Sensor, SNMP Memory Sensor, SNMP traffic sensor, SNMP hardware status sensor, and more.
Each sensor allows you to monitor something different about your hardware. For example, the SNMP CPU load sensor lets you monitor the CPU load of a device and the SNMP memory sensor lets you monitor the available memory on a device.
There is also a range of sensors for SNMP devices including sensors specific to particular vendors. Vendors supported include Cisco, HP, Dell, and Synology. The range of devices supported gives you lots of diversity during your monitoring.
Bandwidth Monitoring
You can also use PRTG Network Monitor for network bandwidth and NetFlow monitoring. The platform supports bandwidth monitoring with SNMP, WMI, and Netflow. In effect, you can use PRTG as a packet sniffer. There are unique sensors for SNMP, NetFlow V5, IPFIX, sFlow, NetApp Storage, Cisco ASA VPN, Windows Network Card, NetFlow V9, jFlow, Cisco ADSL, and more.
Monitoring bandwidth through the user interface is made much easier by the excellent visualizations included with the platform. The interactive graphs make it easy for you to zoom in on particular time periods to see how traffic patterns have changed over time. The user doesn't need to hop from screen to screen to create first-class graphs.
While the tool is useful for bandwidth monitoring, it doesn't come close to replacing established packet sniffing tools like Wireshark. However, the inclusion of packet sniffing alongside general hardware monitoring means that the tool is great for managing most of your network.
Dashboards and Visualizations 
When it comes down to top-down visibility, our PRTG review is that the software delivers. The dashboard is comprehensive and easy to navigate. Through the dashboard, you can monitor your network in real-time with the support of graphs, charts, dials, and maps. The dashboard is completely customizable with a drag-and-drop editor and customizable HTML that you can use to create map objects.
The mapping feature is one of the most useful visualization options you have at your disposal. Maps enable you to record the layout of your network with devices shown on the canvas.
Any maps you create can be shared with your team publicly with a unique URL or secured by a login. The high configurability of the platform gives you complete control over your perspective of network events.
Notifications
The notifications system does a solid job of updating you on performance changes throughout the network. PRTG Network Monitor supports a range of notification types including email, SMS, push notifications (iOS and Android), Slack message, Microsoft Teams message, Syslog message, SNMP trap, and more.
However, the notifications system doesn't just restrict you to alerts but also allows you to execute programs and HTTP actions. The only limitation is that you can only execute responses for the on-premises version of cloud services.
The user can control the trigger conditions that determine when alerts are generated. Parameters include sensor limits and status. For example, if the CPU load of a sensor goes above a certain percentage then the software will send you an alert. Customizing the trigger conditions enables you to stay updated on the performance information that's most relevant to your environment.
Reporting
Users can create or schedule custom performance reports, daily, weekly, monthly, or annually for particular sensors. Creating reports is easy. All the user needs to do is go to the main menu, go to Report and select Add Report. Here the user can name the report and choose a template to build the report with the timeline and orientation.
Afterward, users can then choose the schedule and the reporting period they need to monitor. After that, the user can then add sensors to the report with a drag-and-drop. The simplicity of the process enables new users to create reports that display the most pertinent information.
Mobile Application 
In addition to the desktop app, PRTG has mobile applications for iOS (on iOS the app is compatible with iPhone, iPad and iPod touch), and Android (for Android phones/tablets, blackberry, and Kindle Fire HD). With the mobile application, you can stay up-to-date about performance changes on-the-move.
Tasks you can do include scanning your network, viewing and sharing reports, responding to tickets, and more. Perhaps the biggest advantage of using the mobile app is having access to push notifications. These notifications will send updates straight to your device according to your alert conditions.
The application also uses QR code scanning which enables you to add new users and go straight to particular sensors. Features like this make it much easier to integrate the mobile app into your current operations and accommodate new users whether you're at your desk or not.
Pricing 
The pricing options for PRTG Network Monitor are excellent, with everything from a freeware version to a scalable pricing model. The freeware version supports up to 100 sensors, giving smaller enterprises more than enough to work with.
Paid versions start at $1,750 (£1,413) for 500 sensors and one server installation and go up to a custom price quote with unlimited sensors and unlimited server installations. (We've listed the full range of pricing options below). Overall the pricing options have enough flexibility to support companies of all sizes.
| Name | Sensors | Price |
| --- | --- | --- |
| PRTG 500 | 500 sensors | $1,750 (£1,413) |
| PRTG 1000 | 1,000 sensors | $3,200 (£2,583) |
| PRTG 2500 | 2,500 sensors | $6,500 (£5,247) |
| PRTG 5000 | 5,000 sensors | $11,500 (£9,284) |
| PRTG XL1 | Unlimited sensors | $15,500 (£12,513) |
| PRTG Plus | Unlimited sensors (and servers) | Custom |
You can try out the 30-day free trial.
Operating Systems and Interfaces 
PRTG Network Monitor comes available in a range of formats. There is a desktop app, mobile apps (see below), and a web-based user interface. The desktop application is available for Windows and Mac. The web-interface supports Google Chrome 72 and up, Mozilla Firefox 65 and up, and Microsoft Internet Explorer 11.
It is also important to note that the PRTG core server and probes support Microsoft Windows Server 2019, Microsoft Windows Server 2016, Microsoft Windows Server 2012 R2, Microsoft Windows Server 2012, Microsoft Windows 10, Microsoft Windows 8.1, Microsoft Windows 8, Microsoft Windows 7, and Microsoft Windows Server 2008 R2.
The range of formats and platforms supported by PRTG enables it to fit within most enterprises' infrastructure. Having a web-interface is much more convenient than a desktop app as you don't need to download anything to get things done.
PRTG Review: Is it Worth It?
Our PRTG review has shown that PRTG Network Monitor is a network monitoring tool that's strong across the board. Everything from the setup to the dashboard has been designed to make monitoring a network as non-technical as possible.
At all levels of our PRTG review, the platform does an excellent job of helping new users to start configuring their monitoring environment without jumping through needless hoops or complexity. The inclusion of features like autodiscovery and out-of-the-box sensors really help to set up the program quickly.
While the price does add up for larger organizations, there are plenty of affordable pricing options for smaller enterprises including the freeware version and PRTG 500, which are reasonably priced when compared with many other alternative products on the market. There's also something to be said about the flexibility of the pricing model and the support for custom packages.
Whether you're an SME or a massive corporation, PRTG Network Monitor has the network monitoring chops and usability to help you monitor your network effectively. If you'd like to download the program you can try out the 30-day free trial.