How do you know what's wrong with your network? If you answer "gut feeling" then you're doing it wrong! Network troubleshooting tools point you in the direction of the root cause of performance issues like latency so that you can fix the problem and improve performance while speeding up your resolution time. In this article, we're going to look at the 8 best network troubleshooting tools.
Here is a list of the 8 best network troubleshooting tools:
SolarWinds Network Performance Monitor

(FREE TRIAL)

A performance monitoring tool with autodiscovery and wifi heat maps. It includes email and SMS alerts.
Paessler PRTG Network Monitor Network, server, application, and virtualization monitoring platform with customizable alerts. It includes custom dashboards and network maps for better visibility.
ping Command-line utility for Windows that sends ICMP echo request messages to check the availability of devices. The tool also tells you the round trip time of the packets.
tracert (traceroute)  Windows-based utility that monitors the path packets take across a network and the round trip time. The user can use Tracert to monitor how much delay there is at each hop.
Wireshark A network analyzer that can inspect network traffic in real-time. It can inspect encrypted traffic that is often used in cyber attacks. The user can filter content with display/capture filters.
nmap A vulnerability scanner that can be used to find open ports in a network. The user can also find out additional information including the vendor of a device, the OS version, and uptime.
ipconfig/ifconfig Command-line tool that allows you to check the IP configuration of your computer. You can view information such as IP address, subnet mask, MAC address, and the default gateway.
ManageEngine OpManager Network monitoring platform that allows you to monitor your network, servers, applications, and services. It comes with an alert system and can even run scripts in response to events.
The best network troubleshooting tools
SolarWinds Network Performance Monitor is a network monitoring tool that can monitor devices, servers, traffic, and more. The software comes with a range of diagnostic features including a Wifi-heat map, which allows you to see where connectivity is strongest in your network on a color-coded map.
When using SolarWinds Network Performance monitor you can automatically discover network elements and start troubleshooting for poor performance. You can monitor latency, availability, and performance through the platform.
You can monitor performance through the customizable dashboard with a range of graphs and visualizations you can view. For example, you can view a graph of Network Latency & Packet Loss across your network in a given time period. Controlling what issues you look for allows you to monitor for problems specific to your environment.
An automated alert system keeps you updated on changes to your environment when they occur. You can configure alert thresholds and receive alerts when they are exceeded. For example, if the CPU of a device crosses a certain level then the tool will notify you by email or SMS. The alerts themselves contain additional information that allows you to follow up easily.
SolarWinds Network Performance Monitor is a reliable network-wide troubleshooting tool. You can use it to find issues in your environment wherever they may be. SolarWinds Network Performance Monitor starts at a price of $2,995 (£2,275). You can download the 30-day free trial.
SolarWinds Network Performance Monitor Download 30-day FREE Trial
Paessler PRTG Network Monitor is a network troubleshooting tool that can monitor devices throughout your network in real-time. It combines SNMP monitoring with syslog monitoring to provide you with a diverse monitoring platform. You can monitor everything from nodes to servers, and virtual services.
With PRTG Network Monitor you can create custom dashboards and network maps. The Map Designer allows you to create a map of your network, which you can use to help during troubleshooting. Looking at your network from a topical perspective can help to make sense of how systems relate to each other.
The tool has an alert system to let you know when to start troubleshooting. For example, if the network is running slower than usual then you will receive an alert notification. Notifications come in the form of emails, SMS messages, push notifications, Slack messages, and more. You can configure your own alert conditions to determine how you receive notifications.
PRTG Network Monitor is available for free for 100 sensors or less. Paid versions start at $1,600 (£1,238) for 500 sensors and one server installation. There are also versions with unlimited sensors available. You can download a 30-day free trial.
Ping is a command-line driven, network monitoring tool for Windows that network administrators use to assess the connection of other computers. The tool sends Internet Control Message Protocol (ICMP) echo Request messages. If you send a request but the recipient doesn't return a packet then there is a fault.
In addition, Ping provides you with more performance details. For example, the tool measures round-trip time so you can measure the performance of the connection. If a host or device takes a long time to respond to a request then the performance has been impaired and should be investigated. You can also view the number of hops between two points.
Ping is a reliable troubleshooting tool for users who want an affordable monitoring tool to test connectivity between computers. While it's not a complete network monitoring platform the utility is good for seeing if computers are up. The tool is also completely free. You can download Ping from here.
4. tracert (traceroute)
Tracert or Traceroute is a Windows-based utility that monitors the path packets take across a network to the destination. With Tracert, you can not only identify performance issues like latency and packet loss but also troubleshoot for problems in the route.
The user sends ICMP packets to request responses from devices in the network. Through the command line, the user can monitor the path a packet takes to reach the destination. The user can then monitor how much delay there is at each hop. The round-trip-time tells you how long it took for a packet to travel from sender to recipient.
The Tracertutility is ideal for troubleshooting to find out where connection issues are originated in a network. The difference between Tracert and Traceroute is that the former is for Windows machines and the latter is for Linux based machines. Tracertis available by default on Windows operating systems.
Wireshark is a network analyzer that can be used to monitor network traffic in real-time. Wireshark is a traffic analysis tool that can capture network packets, enabling you to troubleshoot for performance issues like latency, and packet loss.
Monitoring network traffic can also help you to detect cyber attacks. For example, you could discover a traffic spike, a common indicator of a DDoS attack that warrants further investigation. Wireshark can even analyze encrypted TLS traffic that many attackers try to use to slip under the radar.
Capture and display filters help you to navigate the traffic and discover the root cause behind performance issues. For example, you can use Wireshark filters to only display ICMP traffic or only show LAN traffic. Filters are useful for troubleshooting because they let you take a microscope to look for the cause of specific issues.
Wireshark is one of the top network analyzers on the market. Not only is it easy to use but it's open-source and available for free. Wireshark is available for Windows, Linux, Mac OS, Solaris, FreeBSD, NetBSD, and more. You can download the program here.
nmap, also known as Network Mapper, is an open-source ping and vulnerability scanner available for Windows and Unix. Administrators often use nmap to find open ports. The tool sends packets to systems in the network and then awaits a response from the recipient. The recipient responds and provides an IP address with additional information. Nmap uses this information to determine whether the ports are open, closed, or filtered.
The capabilities of nmap are vast, and the tool can also be used for network mapping and OS detection. For example, the tool can discover hosts and detect the operating system running on the device. The user can view information including the manufacturer of the device, the version of the OS, and uptime.
Nmap is a vulnerability scanner that still holds its own in modern network monitoring (although it may be showing its age!) Nmapis available as a command-line interface but it's also available as a graphical user interface called Zenmap. You can download the software for free.
7. ipconfig/ifconfig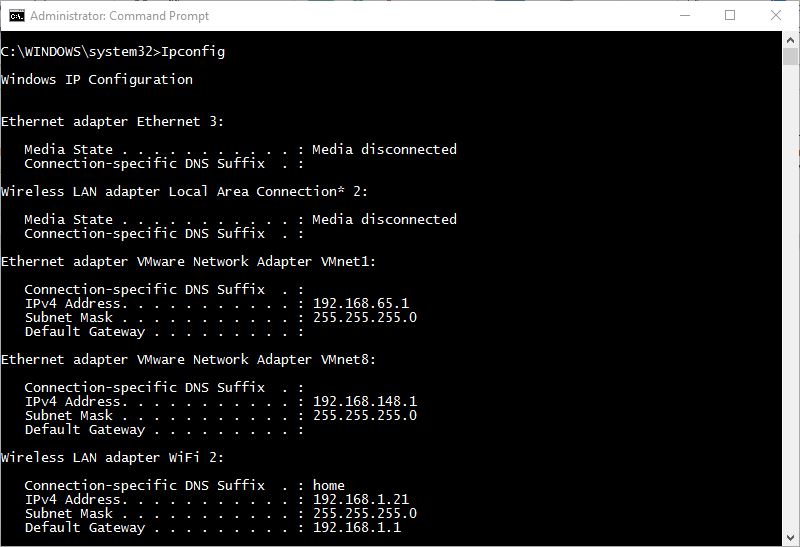 Ipconfig is a command-line tool that allows you to view information on the IP address, subnet mask, MAC address, and default gateway of network adapters. The ipconfig command's main value lies in its ability to check your computer's IP configuration and to update your settings if there is a problem. However, you can also use Ifconfig to refresh the Dynamic Host Configuration Protocol (DHCP) and Domain Name System (DNS) settings.
The ipconfig command is still a useful troubleshooting command because it allows you to view and update network addresses. Ipconfig is available for free on Windows and ifconfig usually comes pre-packaged in most Linux distros. You can use the tool by going through the Windows command prompt.
ManageEngine OpManager is a network performance monitor that can monitor devices, servers, virtual resources, and services. It has a range of network fault management capabilities to help detect and resolve performance issues. You can view real-time graphs on CPU utilization, memory utilization, disk utilization, and more.
When you find a performance issue you can use remote process monitoring to run diagnostics. With process diagnostics, you can view the Top 10 processes by CPU and memory utilization, which helps you to diagnose the cause of the problem. You can even terminate problematic processes remotely!
The alert system notifies you the moment a fault is detected by email and SMS. Alerts can also be viewed through mobile apps for Android, iPhone, and iPad. However, if you require more action you can configure the platform to run a script. For example, the platform can automatically restart a service that meets certain trigger conditions.
ManageEngine OpManageris ideal for those users that require a network monitoring tool that can troubleshoot a range of devices and services. ManageEngine OpManager is available for Windows and Linux. You can request pricing information from the company directly. There is also a 30-day free trial.
Network Troubleshooting Tools: Find the Root Cause of Your Network Problems! 
Network troubleshooting tools are valuable because they enable you to resolve performance issues quickly. If a network device or application starts to run slowly it's very useful to be able to hop on a monitoring platform and start searching for the root-cause. Tools with root-cause analysis help to point you towards the cause and lower your mean time to resolution.
Proprietary network monitoring tools like SolarWinds Network Performance Monitor, Paessler PRTG Network Monitor, and ManageEngine OpManager are worth a look on account of versatility. All of these network troubleshooting tools can be used to monitor services ranging from devices to applications and servers.