Having a clear visualization into your network can help administrators plan, troubleshoot, and prioritize more efficiently. In this article, we'll dive into the top 11 best software for mapping out network diagrams and topology.
Here is our list of the top ten network diagram, topology, and mapping tools:
SolarWinds Network Topology Mapper

(FREE TRIAL)

Automatically scans the network and builds an interactive map for you. Easy to use and scale with large enterprise-sized networks. Available for Windows and MacOS.
ManageEngine OpManager

(FREE TRIAL)

This network and server monitoring package is able to discover all connected devices and map the entire network. Available for Windows Server and Linux.
Datadog Network Performance Monitor Datadog uses sensors to monitor the network in real-time and pull-in new devices into the map as they are discovered. Datadog NPM is a SaaS.
ConceptDraw Pro Features a wide array of icons and makes creating charts, diagrams, and presentations easy with a drag and drop editor. Available for Windows and MacOS.
Lucidchart Comes with a host of icons and templates for quick mockups and diagrams, with filters that display specific security settings and network layers. Available on Windows, Chrome OS, and Linux.
Diagram Designer A free open-source network mapping tool for Windows.
Network Notepad A network diagram software with a plugin that uses auto-discovery to find new devices and collects additional network information. Free and premium versions are available for Windows.
LanFlow A simple network topology diagram tool with adequate icons and visualizations. Available for Windows.
Intermapper A network topology mapping software that supports auto-discover as well as built-in performance management. Available for Windows, Linux, and macOS.
Edraw An in-depth tool that allows for network mapping and diagram design for network layout mockups. Runs on Windows, Linux, Chrome, and MacOS.
Microsoft Visio An industry leader for network diagrams. No auto-discovery feature. Available for Windows.
The Best Network Diagram Topology and Mapping Software
While we picked the overall best tool, certain diagram tools contain features best suited for live network mapping versus hypothetical plans and drawings. Below we'll dive into the details for each tool so you can find what best fits your needs.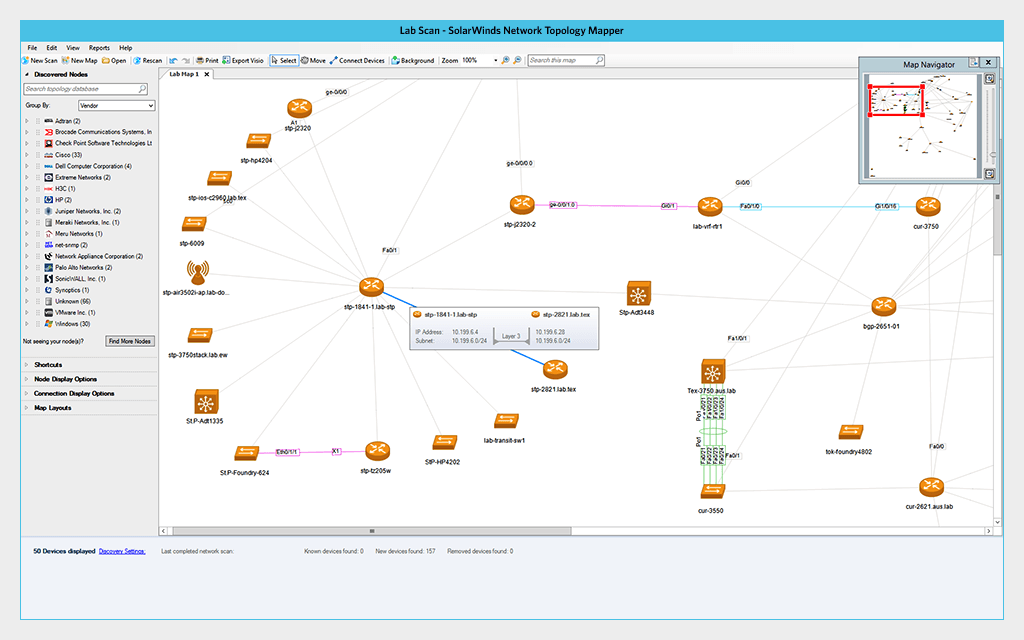 SolarWinds Network Topology Mapper is our top choice for the best network diagramming tool on the market for administrators. A built-in network scanner probes the network during its first launch to find devices and map out the architecture of your network. This probe automatically checks the network for changes, and can manually be told to check the network upon request.
The tool supports a wide range of discovery protocols including SNMP, WMI, ICMP, CDP, and numerous others. If you're a large-scale network you can use the filtering options to hide or display specific groups of devices, IP ranges, or entire subnets for view.
Icons are automatically assigned to devices upon recognition, and VLANs and subnets are tagged upon discovery leaving less work for you. Additionally, you can sort views by network layers, or your own custom groupings you create, which is ideal for specific security groups you're looking to isolate or map out.
Maps can be exported to PDF, PNG, Sharepoint, or VDX format for Visio compatibility. This tool makes networking planning, mapping, and compliance reporting truly effortless no matter the size of the network.
You can try SolarWinds Network Topology Mapper free through a 14-day trial.
SolarWinds Network Topology Mapper Download 14-day FREE Trial
ManageEngine OpManager tracks the performance of networks and servers. Its capabilities include a network scanning service that discovers all connected devices. This feeds through to an automated network topology mapper.
The scanning service of OpManager repeats continuously. This means that any changes that you make to the network are immediately reflected in the network inventory. This record of network devices forms the basis of the monitoring system with periodic system sweeps gathering status information. These live performance reports are shown in the system dashboard in color-coded charts and graphs.
The network topology map is generated each time that it is accessed. Therefore, it always shows the latest state of the network. The mapper offers different layout formats, including a layer 2 view that restricts the devices shown to switches. Other options are a 3D view of the building, a world view of a WAN, and a rack view of switch cabinets.
The OpManager system also monitors servers and virtualizations. It is able to trace each virtual server and map its relationship to virtual machines. This system will track Hyper-V, VMWare, Citrix, and Nutanix hypervisors.
OpManager is a software package for on-premises installation. It installs on Windows Server or Linux. ManageEngine package the software in three editions: Free, Standard, and Enterprise. The Free version is limited to monitoring three devices. The Standard edition can monitor up to 1,000 devices and the Enterprise edition includes distributed monitoring for multiple sites. ManageEngine offers OpManager on a 30-day free trial.
ManageEngine OpManager Download 30-day FREE Trial
3. Datadog Network Performance Monitor
A truly close runner-up is Datadog Network Performance Monitor (NPM). While many will recognize this tool for its monitoring capabilities, we identified its network mapping and diagram capabilities as one of the best on the market. This SaaS platform uses a small MSI agent to crawl networked devices and report the findings back to the Datadog cloud servers for mapping, analysis, and visualization.
The entire suite of Datadog tools has a very "done-for-you" feel, and Datadog NPM is no different. The automated discovery process is constantly running and reporting back to the cloud, so there's no need to remember to refresh or wonder if a device has gotten picked up yet. As soon as a change is made it will report back the change to the dashboard to be updated.
It is based on the device inventory, and a series of topological maps automatically created. Just like network discovery, this is a live service and dynamically changes network maps as they evolve in real-time. These nodes have the ability to be selected where you can see additional device information depending on the type of device and vendor.
Drilling down even further you can view a status screen that displays metrics such as uptime, connection health, volume, throughput, and other network-related metrics. Datadog Network Performance Monitor is a subscription-based service that starts at $5.00 per month when you subscribe annually.
Those who are looking for more features than just network mapping will find Datadog NPM pairs with its other suite of tools such as Network Device Monitor and Infrastructure Monitor.
4. ConceptDraw Pro
If you're just looking to draw out network designs, and a blank canvas doesn't scare you, ConceptDraw Pro is a great tool for network administrators. While the interface looks a bit like Microsoft Word meets MSPaint, you can't ignore its versatility that allows for business diagramming as well as network drawing.
A drag and drop interface gives you the power to create network mockups with a mix between realistic-looking switches, PCs, and devices. Creating different types of network visualizations such as wifi bridges, homegroups, or domain clusters is as simple as clicking and dragging.
If the current templates aren't good enough you can create and import your own images and save them for future use inside the icon library. For organizations that are looking for a network diagram tool, but also may be in the market for creating other types of business graphs and visualizations, ConceptDraw Pro is a great choice.
ConceptDraw Pro is compatible with Windows 7/8.1/10 both 21 and 64 bit, as well as macOS. ConceptDraw Pro is available for purchase for $199.
5. Lucidchart
Lucidchart is an excellent network mapping and diagram tool for those who need quick visuals in a hurry. Featuring a whole host of templates, small and medium-size networks can be mapped out in just a few minutes.
If you have an idea of what you're trying to diagram out, chances are one of the many templates that are available will provide a fast and easy starting point. Unlike ConceptDraw Pro, you won't have to start from scratch, so if you're not the artistic type, this might be a good fit for you.
One of the most unique features of Lucidchart is its ability to import Visio file formats directly into the software. So if you have old Visio diagrams lying around, or simply want to make a switch, you don't have to start from square one.
Pricing comes in four tiers, starting with the basic plan at $4.95 per month when paid annually. The basic plan features unlimited shapes and documents but limits you to 100MB of storage. Other tiers include more size, better graphics, and icons, as well as the option for team management features.
6. Diagram Designer
If simplicity is what you're looking for, Diagram Designer has you covered. Through a very basic user interface Diagram Designer allows you to create network design mockups and diagrams as well as flow charts and other visuals.
There's no need for tutorials, as this builder uses a simple drag and drop interface. You can choose from the very basic icons that come with the program, or import your own.
If for whatever reason your network diagram software needs to run on a very small resource footprint, this tool only takes up 2MB of space, and almost no noticeable CPU or memory. The tool fully supports importing and exporting WMF, EMF, BMP, JPEG, PNG, MNG, ICO, GIF, and PCX file formats.
Diagram Designer is completely free.
7. Network Notepad
Network Notepad is another simple network diagram tool that stands out for its ease of use and interactive visual features. It's great for small to mid-sized networks but lacks the capacity to comfortably track and map out hundreds of nodes.
While the templates and graphics can look a bit primitive, Network Notepad does allow you to fit in detailed notes inside the graph, detailing information on specific nodes, or aspects of the design.
The tool can support different types of add-ins, most notably the CDP Neighbor Tool. This add-in uses Cisco Discovery Protocol to pull information from a selected Cisco device that has CDP enabled on it. It then draws and maps out the network components based on that device's table.
A unique point about Network Notepad is that it uses vector-based graphics, meaning they're infinitely scalable and allow you to work on a very small or large scale. Outside of the templates, you're also able to create custom vector shapes that share that same flexibility.
There are two versions of Network Notepad, a free version, and a pro version. The free version is compatible with Microsoft Windows 9x, NT, 2K, XP, and Vista. The documentation does not mention newer versions of Windows.
The professional version supports new versions of Windows including 10, 8, 7, Vista, XP, and 2000. The professional version starts at £32 GBP per license, with license packs available that reflect volume discounts.
While the interface may feel a bit outdated, it's tough to beat as a free tool with the option for pro features.
8. LanFlow
LanFlow is a well-balanced network diagram tool that can double as a business diagramming tool if needed. It also sports an older design style, but don't let that take away from its simplicity and flexibility.
Like previous network mapping software, LanFlow uses a drag and drop style of editing that makes connecting icons and snapping lines to them very simple. With hundreds of symbols and line weights to choose from virtually any network you'd want to map out could be created.
Since this map is so simple, it does lack advanced features like automatically discovering and propagating IP addresses, subnets, or other network details. From a design standpoint, you'll have a range of options to choose from with different flow symbols, and simple snap-in alignments to get diagrams drawn up quickly.
A single license costs $99 with volume discounts available as well.
9. Intermapper
Intermapper works as a network diagram and topology tool as well as monitoring software that is compatible with Windows, macOS, and Linux. It allows you to build your own custom diagrams and networks as well as gives a live look into a network's configuration and overall performance.
As some of the tools at the top of our list, Intermapper uses auto-discovery to detect devices on a network and maps them out as they are discovered. Once the map is complete, users can customize the look and layout of the map with templated or unique icons, custom images, or labels.
The mapping style is hierarchical in nature, allowing you to visualize the whole network from the top down while still giving you the option to zoom into certain smaller areas of the network by facility, floor, or group.
Since Intermapper has live access to the network, it can produce a live map that colors and signals a  device's availability, uptime, and performance. The tool is a great way to both map and monitor network health for small to medium-sized networks without committing to more expensive network monitoring solutions.
Currently, Intermapper allows monitoring of up to 10 devices for free. Subscriptions start at $303 for 25 devices, with device-based licensing starting at $765 for 25 licenses.
10. eDraw
eDraw features a more updated interface and appearance than some of the other tools we've covered so far and comes as more of a business diagram software than strictly a networking diagram tool.
On top of flow charts and business presentations, eDraw gives users dozens of vector-based images to choose from when diagramming a network map. Being a vector tool means that users can scale images infinitely without losing details on the icons. This is ideal for large complicated network diagrams as well as high-quality images if the graphs needed to be printed.
Lastly, eDraw supports Visio imports from XML files, giving you the option to transfer project files and help users make the switch from Visio without losing existing design files. Currently, eDraw comes with a free trial with licensing for the full edition priced at $99.
11. Microsoft Visio
Lastly, we have Microsoft Visio, one of the most popular networking diagram tools known in the IT world. While Visio can come packaged along with Microsoft Office Pro bundles, its standalone price starting at $299 is steep and can go as high as $590 for the Professional Version.
Newer versions of Visio do shine when it comes to team collaboration. Microsoft has gone as far as adding instant messaging into the platform that integrates directly with Skype and Lync. The comments feature is a nice touch, specifically for more complicated designs and when used as a learning tool for other technicians.
Visio was built for IT professionals with hundreds of network-related design elements, and features that can help map out and describe server environments and Active Directory architecture. There are over 70 templates that can be used to jump-start a diagram, allowing for less time drawing and more time getting work done.
Visio symbols also help map out contextual parts of the network. For example, you can easily label certain areas like IoT, helpdesk, HVAC, or datacenter. The design elements are truly flexible for each and every network layout and size.
A big pitfall is the lack of live network discovery and monitoring natively in Microsoft Visio. While the tool is great for planning out networks, it could be made so much better if it featured a probe that functioned similarly to how SolarWinds Network Topology Mapper operates.
Microsoft Baseline Security Analyzer (MBSA) does have a plugin for Visio called Visio Connector, however, MBSA is fairly well depreciated at this point and shouldn't be used due to its lack of patching and updates.
Conclusion
Even when narrowed down to the top 11 network diagram, topology, and mapping tools there is still a fair amount to choose from. Which one is right for you will depend on your network size and needs.
Medium and large-sized networks can all greatly benefit from SolarWinds Network Topology Mapper. Its ease of use and robust network mapping help save time on drawing up diagrams manually and allow you to create your own network diagrams while monitoring and reflecting your network in real-time.
Smaller business networks will find that Datadog Network Performance Monitor is a flexible cloud-based tool that can scale in both size and budget as the network and business grows.
Lastly, Diagram Designer is a completely free and open-source option for smaller networks that just need simple network diagram options.
Do you use any network diagram or mapping tools? If so, what do you use them the most for? Let us know in the comments below.