Ever since the Health Insurance Portability and Accountability Act (HIPAA) was passed in 1996, healthcare and service providers holding private medical data have had a legal responsibility to protect that information from being compromised. Many healthcare providers are using HIPAA compliance software to manage compliance obligations and keep patient data secure.
In this article, we're going to look at the nine best HIPAA compliance software to help you stay compliant. We've included a mix of tools that can help you with your internal monitoring activities to solutions you can use to prepare for auditing, and conduct corrective actions to mediate threats. The list includes tools for Windows, macOS, and Linux.
Here is our list of the twelve best HIPAA compliance software:
SolarWinds Security Event Manager

(FREE TRIAL)

– Log management software that allows you to audit logs from your IT systems with event correlation, HIPAA compliance reporting, and more.
Files.com

(FREE TRIAL)

– A cloud-based file management system that gives customers a business association agreement to comply with HIPAA requirements.
ExaVault

(FREE TRIAL)

– A cloud storage service with file transfer capabilities that offers full HIPAA compliance with a BAA.
Perimeter 81

(ACCESS FREE DEMO)

A package of tools for the creation of secure networks to serve hybrid systems that fulfills the transmission and access security requirements of HIPAA. This is a cloud service.
ManageEngine ADAudit Plus

(FREE TRIAL)

– This activity logging package protects files and AD domain controllers from tampering and is HIPAA compliant. Runs on Windows Server.
ManageEngine Log360

(FREE TRIAL)

– A SIEM system and log management tool that is compliant with HIPAA and other data protection standards. Runs on Windows Server.
Netsurion EventTracker – Managed SIEM software with real-time log monitoring, automated threat detection, HIPAA compliance reports, and more.
JotForm – Online form building tool for creating HIPAA compliant forms with over 500 templates, digital signatures, encryption, automated workflows, and more.
RSA Archer – GRC software that acts as a central repository for regulatory requirements including HIPAA, with IT risk and controls documentation, and more.
ComplyAssistant – GRC software for managing compliance for HIPAA, HITRUST, NIST, and FFIEC, with dashboards, notifications, assessments, and more.
Compliancy Group HIPAA Compliance Software – Compliance management software for HIPAA with security assessments, incident management, automated employee training, and more.
HIPAA One – SaaS-based HIPAA Compliance software with privacy and breach risk analysis, training courses, vendor management, a HIPAA seal of approval, and more.
The Best HIPAA Compliance Software 
SolarWinds Security Event Manager is a HIPAA compliance tool that you can use to collect and audit logs within your IT systems. With SolarWinds Security Event Manager you can generate HIPAA compliance reports with visualization options like graphs. HIPAA reports can be used to demonstrate compliance with the regulations.
Key features:
Collect and monitor event logs
Dashboard
HIPAA compliance reports
Event log correlation
Automated responses
The platform also gives you the internal monitoring capabilities required to detect threats to your data. By monitoring event logs you can monitor user and system activity through a dashboard to see if anything is amiss. For instance, you can see an All Events by Event Type widget with a pie chart breaking down events throughout your environment.
To keep your data secure, SolarWinds Security Event Manager uses event log correlation. Event log correlation can detect anomalous behavior within your environment and respond automatically to mitigate the threat. For example, the platform can block suspicious IPs or kill applications acting suspiciously. Users can create rules to determine how the system will respond to a threat.
SolarWinds Security Event Manager is a great choice for HIPAA compliance if you require a tool to monitor the security of your systems with compliance reporting. Prices start at $2,525 (£2,023). It is available for Windows, macOS, and Linux. You can start the 30-day free trial.
SolarWinds Security Event Manager Download 30-day FREE Trial
Files.com offers a range of file management services. These cloud-based utilities center on a storage facility. This could potentially present a problem for those businesses that need to comply with HIPAA in order to stay in business.
Key features:
Full storage security
Business Association Agreement
HIPAA compliant storage
Encryption protection for data transmissions
HIPAA requires that all outsourced services that touch on data storage or handling must comply with all standards requirements as though they were part of the business seeking certification. This requirement often makes businesses decide against using outsourced services. Files.com has the solution to this problem. Any customer that asks for it gets a signed Business Association Agreement. This is an essential document needed to prove compliance with HIPAA and it explains the security measures implemented at the Files.com data center.
Files.com has passed a HIPAA audit and so it can prove that it is fully compliant. The service offers a secure file transfer system. Files uploaded to the File.com server are protected with SSH or TLS encryption-based security procedures in transit. Files at rest on the Files.com server are protected by encryption as well.
Security is enhanced by removing the need to send out files one they are resident on the files.com server. Instead, the user sends a secure link so that the recipient can access the file rather than transferring it.  Files.com is available for a 7-day free trial.
Files.com Start 7-day FREE Trial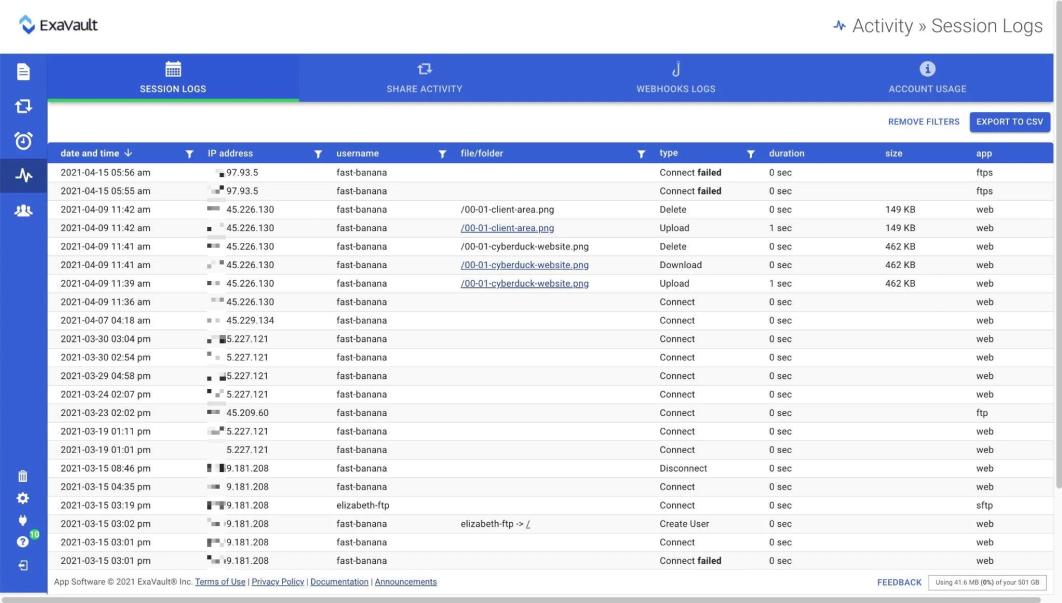 ExaVault is a secure file management package that is delivered from the cloud. The service includes a file transfer server that offers SFTP and FTPS capabilities and it also provides cloud storage space. The data centers operated by ExaVault have physical and procedural security measures that get it ISO 27001 certified. This service is suitable for compliance with HIPAA.
Key features:
Business Associate Agreement (BAA)
Datacenter security
File access controls
Activity logging
The ExaVault cloud storage system has user account-based access controls. The account area is encrypted and the administrator can impose password strength enforcement and multi-factor authentication on user credentials.
Files in the system are owned by users and a file owner can grant access to others. That access has a permission level imposed on it and all file access events are logged, tracking the user account involved. Outsiders can be invited to access files by email and their actions are also logged.
There are four plans for ExaVault but you need to get the top edition, Enterprise, for full HIPAA compliance because it is the only package that includes a Business Associate Agreement. You can assess ExaVault with a 30-day free trial.
ExaVault.com Start 30-day FREE Trial
Perimeter 81 helps with HIPAA compliance by providing application-level access controls and connection security. This is a package of tools rather than an out-of-the-box security system. The subscriber can thread together different elements of the plan to create a software-defined perimeter, a software-defined WAN, or a secure access service edge implementation.
Key Features:
Access control
Access logging
Transmission encryption
Data loss prevention
Transport security is provided by a series of VPNs. These are available for the connections of remote workers, from site to site, and between sites and cloud services. The endpoint client for this system provides users with a choice of access points – the VPN server that proxies and protects traffic.
The client also includes a selection of applications that the user can access. This is a tailored list that can be different for each accessor and the menu is populated when the user logs into the interface. The driver of this access system is a permissions structure that maps each user account to the applications that the worker can access, This list can link to cloud-based SaaS packages or on-premises resources.
The authentication screen in the endpoint client can integrate third-party single sign-on systems. This is necessary because the security strategy of Perimeter 81 implements Zero Trust Access (ZTA) which requires a login for every access event.
Perimeter 81 is a subscription SaaS package with a rate per user. Request a demo to assess the service.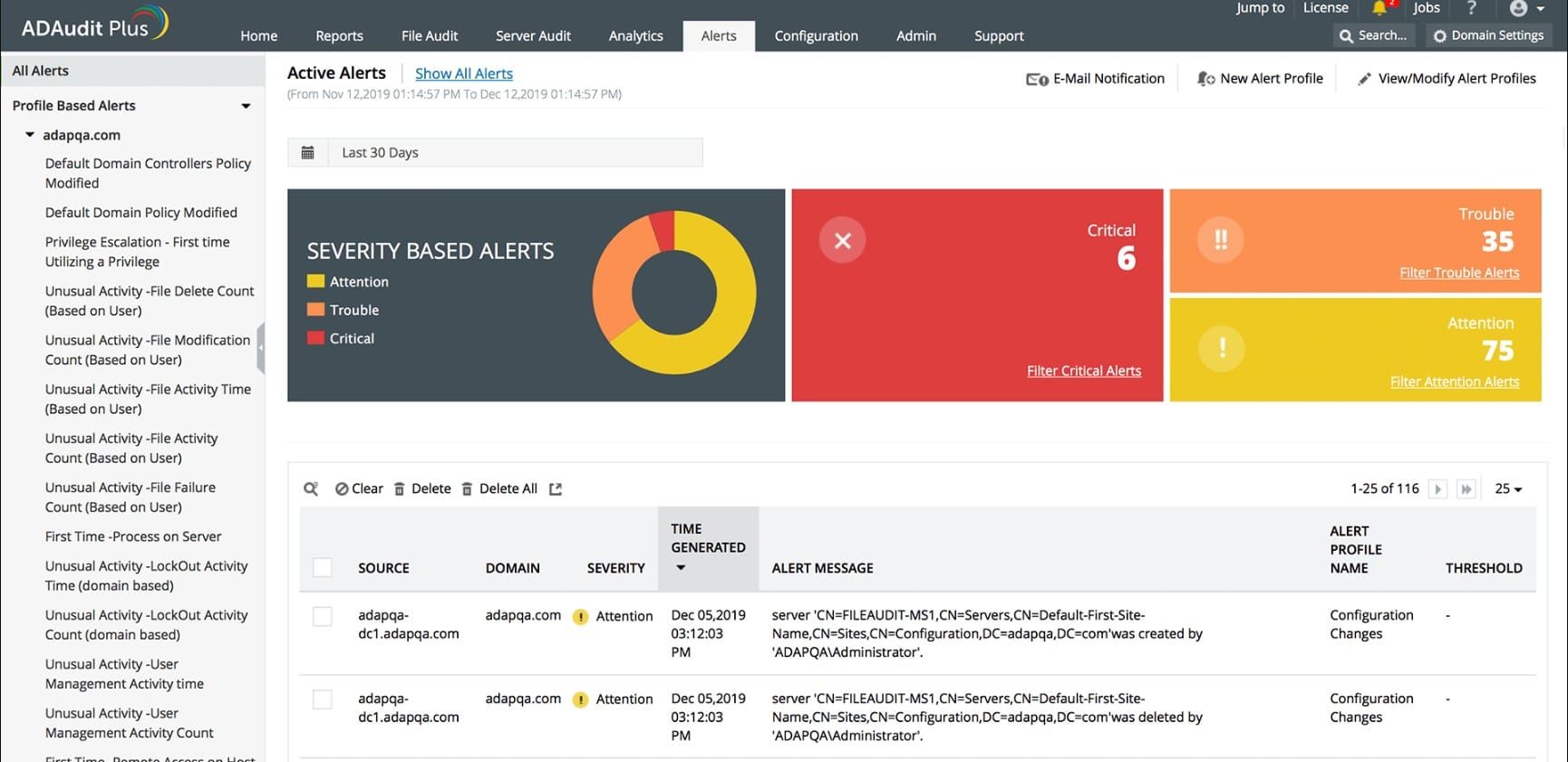 ManageEngine ADAudit Plus logs access to files and the changes made to them. It also protects Active Directory instances from unauthorized changes with the same logging routines. The tracking system identifies the user account involved in each action and the logs generated by the utility can be sorted and examined by user account and device to spot irregular behavior.
Key Features:
HIPAA compliance reporting
Compliance with GDPR, GLBA, SOX, and PCI DSS
User profiling
File integrity monitoring
This package includes reporting templates for HIPAA compliance. HIPAA isn't the only data protection standard to which ADAudit Plus caters – it is also good for PCI DSS, GDPR, GLBA, and SOX.
The logs of the ADAudit Plus feed into a user profiling routine within the ManageEngine system. This searches activity per user account and identifies a pattern of regular behavior for each. The search operates on new activity logs as they are created and it notes sudden changes in behavior. Such an event could indicate an account takeover or an insider threat. The identification of an anomalous action triggers an alert. The tool also searches for repeated fail login attempts, which could be caused by a brute force credentials cracking attempt.
ManageEngine ADAudit Plus is an on-premises software package that installs on Windows Server. It is offered in two plan levels: Standard and Professional. You can assess the Standard edition with a 30-day free trial.
ManageEngine ADAudit Plus Start 30-day FREE Trial
ManageEngine Log360 is a log manager with a SIEM tool integrated into it. The log server for this system consolidates arriving log messages by converting their different formats into a standard layout. This enables searching and storage for all the organization's logs to be unified. The availability of those logs in an accessible directory structure makes this an ideal package for HIPAA compliance auditing. The system will also manage the archiving and revival of log files.
Key features:
Log management
Compliance auditing
File integrity monitoring
A SIEM system
While logs need to be stored for compliance, they are also a useful source of information for threat analysis. Log360 facilitates threat hunting in two ways: manually and through an automated SIEM system. The manual security analysis system is provided by a data viewer, which shows live tail log records as they arrive. Records can also be read in from log files. The data viewer includes searching, sorting, and parsing tools to enable manual analysis.
Automated analysis deploys user and entity behavior analytics (UEBA) to record a standard pattern of activity per user account and per device. The SIEM is an anomaly-based system and deviations from the established behavior records are marked as suspicious. The tool generates alerts for detected anomalous behavior which are shown in the dashboard of Log360. These alerts can also be channeled through service desk tools as tickets for the attention of technicians. The Log360 system can interface to ManageEngine ServiceDesk Plus, Jira, and Kayoko.
ManageEngine Log360 is also suitable for compliance auditing for GDPR, GLBA, PCI DSS, FISMA, and SOX. The system installs on Windows Server and it is available in two editions: Free and Professional. The Free edition is limited to managing 25 devices. The Professional edition is available for a 30-day free trial.
ManageEngine Log360 Start 30-day FREE Trial
Netsurion EventTracker is a managed SIEM tool designed for monitoring logs in real-time throughout your network. With Netsurion EventTracker you can collect and analyze log data from your systems and detect data breaches. The software analyzes your log data automatically to detect security events that leave your data at risk. Automated threat detection allows you to identify and remediate security issues promptly.
Key features:
Collect and analyze log data
Automated threat detection
HIPAA compliance reports
Available on-premises or in the cloud
The software also makes it easy to create automated change documentation. You can use Netsurion EventTracker to monitor changes to access rights and privileges so you can see which employees have access to what resources. This makes it easier to identify security breaches.
For HIPAA compliance, Netsurion EventTracker comes with out-of-the-box HIPAA compliance reports. You can create user logon, user logoff, login failure, and audit logs access reports to document your compliance with the regulations. Reports are also useful from a security standpoint, For example, the login failure report allows you to log all unsuccessful login attempts so you can see if someone is trying to hack a resource.
Netsurion EventTracker suits those small to medium enterprises that require a solution for monitoring security events and reporting to prepare for auditing. For pricing information, you need to request a quote from the company directly. It is available on-premises and in the cloud. You can schedule a demo from this link here.
JotForm is an online form building tool that you can use to build HIPAA compliant forms for your website to collect health information. With JotForm you can create forms to record patient data with over 500 different form templates. Form templates include a medical history form, a new patient enrolment form, a patient feedback form, and more.
Key features:
Create HIPAA compliant forms
Sign with digital signatures
Over 500 form templates
Mobile or desktop compatible
Patients can sign documents through the use of digital signatures. Similarly, they can also upload documents and images if additional information is required. Payment forms enable the user to pay for services and healthcare.
The solution is kept secure through the use of encryption, ensuring that the data you collect from patients is protected against a data breach. It's also compatible with mobile and desktop devices so that patients can submit their data however they choose. Automated workflows allow you to export form data as a PDF and send it straight to your patients for their records.
Jotform is ideal for healthcare providers that need to collect data from patients in a way that's congruent with HIPAA regulations. Prices start at $39 (£31) per month. You can sign up from this link here.
RSA Archer is a GRC platform that can be used for compliance management. With RSA Archer you can take regulatory requirements and place them into a single searchable repository. Centralized news feeds detailing regulatory updates allow you to stay up to date on changes to regulations.
Key features:
Centralized repository of regulatory information
Document IT risks and controls
Create reports
To support the overall security of your environment, RSA Archer offers the ability to document IT risks and controls. You can also generate reports to view the performance of your controls. Reporting on risks throughout your environment allows you to see where your current controls fall short and enable you to make changes to ensure that your data stays confidential.
RSA Archer is recommended for enterprises preparing for compliance with HIPAA, GDPR, and GLBA. To view pricing information you need to contact the company directly for a quote. You can request a demo from this link here.
ComplyAssistant is a GRC tool for managing compliance processes. With ComplyAssistant you can manage compliance for regulations including HIPAA, HITRUST, NIST, and FFIEC. Through the dashboard, you can manage your compliance status by viewing elements including tasks, charts, dials, and graphs.
Key features:
Manage compliance through the dashboard
Real-time notifications
Audit third-party vendors with assessments
Store compliance documents in one location
You can also use the software to store all of your compliance documents in a single location. Storing policies and evidence together makes it much easier to manage your compliance standing, without having to jump between disparate services.
Real-time email notifications let you know about compliance tasks so that you can ensure the necessary procedures are implemented to comply with the regulations.
If you're using third party vendors to supply some of your IT services then you can use customizable external assessments to audit them. Auditing third-party vendors allows you to make sure that they have the necessary security controls in place to stop your private data from being compromised.
ComplyAssistant is a tool for enterprises that want an efficient solution for managing HIPAA compliance. For pricing information, you need to contact the company directly to request a quote. You can schedule a demo from this link here.
Compliancy Group HIPAA Compliance Software is a compliance management tool designed for the HIPAA framework. With Compliancy Group HIPAA Compliance Software you can run six different HIPAA assessments including security, administrative, technical, physical, privacy, and device audits to test your environment.
Key features:
Run six different HIPAA assessments
Built-in reports
Incident management
HIPAA seal of compliance
To increase your likelihood of implementing the correct controls, the platform offers automated employee training. Reports allow you to document the training progress of each employee including the status of their training and when they last trained, ensuring that they stay up to date on regulatory changes.
The platform also enables you to monitor security incidents and work towards a HIPAA seal of compliance. You can use the seal of compliance on your website to show that your company has complied with HIPAA security standards.
Compliancy Group HIPAA Compliance Software is a robust alternative if you're looking for a simple compliance management solution to develop a compliance checklist for HIPAA. To view pricing information for single and multiple locations you need to contact the company directly for a quote. You can download the free trial from this link here.
HIPAA One is a SaaS-based HIPAA compliance tool designed to help enterprises satisfy HIPAA privacy requirements. With HIPAA One, the user can use privacy and breach risk analysis to identify vulnerabilities that put sensitive data at risk. There is also the option to run compliance checklists to manage regulatory gaps and work toward the HIPAA One compliance seal.
Key features:
Privacy and breach risk analysis
Compliance checklists
Training courses
HIPAA One Compliant seal
The solution comes with access to a variety of HIPAA training courses including HIPAA Training for Individuals, HIPAA Security Awareness Training, HIPAA for Healthcare Organizations, and more. These courses can be accessed on a desktop or mobile device so that employees can learn more about the regulatory requirements they're subjected to.
If you're working with other vendors, you can use the platform's contract management capabilities to manage HIPAA and HITECH requirements. Features like automated task reminders notify your team about tasks they need to do to stay on top of the regulations.
HIPAA One is a good fit for enterprises that require a simple HIPAA Compliance management solution. To view pricing information, you need to contact the company directly. You can find out more information here.
Choosing HIPAA Compliance Software

Preparing for a HIPAA audit can be stressful, but if you've done your due diligence and designed your processes to comply with the requirements and chosen the right tools to give you transparency over your IT systems, then you're unlikely to run into any problems. Taking the time to prepare for auditing early will make it much more likely that you'll pass your audit with flying colors.
Tools like SolarWinds Security Event Manager, Files.com, ExaVault, and Netsurion EventTracker are good places to start if you're looking for log management tools to identify and fix security risks in your environment.
If you require more of a compliance management approach HIPAA One and Comply Assistant are worth a look. We highly recommend conducting independent research and testing out a couple of solutions before committing to purchase so you can find the solution that's right for your environment.