Microsoft's Windows Server Update Service (WSUS) can be clunky and lack many of the features sysadmins need to manage their networks effectively. Most of the tools we review below offer features that go well beyond basic patch management.
Here is our list of the best WSUS Alternatives for Patch Management:
SolarWinds Patch Manager

(FREE TRIAL)

A holistic patch and application manager customizable scheduling, software management, and pretested patch packages.
ManageEngine Patch Connect Plus

(FREE TRIAL)

An SCCM-based patch manager that is able to channel updates for non-Microsoft software through to WSUS.
SolarWinds Diagnostic Tool for the WSUS Agent

(FREE TOOL)

Powerful free tool that automatically troubleshoots and recommends fixes in your WSUS environment. Eliminates wasted time on digging through logs and looking up error codes
N-able N-sight

(FREE TRIAL)

Cloud-based remote monitoring and management software that includes patch management for Windows systems and Microsoft software.
Atera

(FREE TRIAL)

This SaaS platform of tools for MSPs includes a patch manager for Windows and macOS that can also install and update software packages.
NinjaOne Patch Management

(FREE TRIAL)

This tool is part of a cloud-based remote monitoring and management platform and it will keep operating systems and applications up to date.
Heimdal Security

(FREE TRIAL)

Patches various operating systems and third-party apps that WSUS can't.
Kaseya VSA Patching deployment with integrated remote management. Good for environments that need both patching and remote management.
WSUS Offline Tool Free patching tool built with offline in mind. Great for keeping legacy systems updated without connecting it to the internet.
Ivanti PatchLink WSUS alternative patch manager that adds detailed search and filtering options to your deployments.
PDQ Deploy Patch management solution for both WSUS and third-party apps.
BatchPatch A simple tool for patch manager with key functionality but lacks some of the more detailed reporting and enterprise features.
The best WSUS Alternatives
Let's take a look at eight of the best WSUS alternative tools.

If you're strictly looking for a WSUS server alternative, SolarWinds Patch Manager provides powerful additional WSUS features as well as graphical representations of your patching that help you visualize your patch management at a glance. SolarWinds Patch Manager is a great alternative for smaller organizations that may not be able to fully utilize all of the features found in the SolarWinds Diagnostic Tool.
After publishing a WSUS update, you can select each agent and get a pie chart view of that machine's patch status. You can also view this data in grid format if you prefer sorting by different statuses such as failed, not installed, or not applicable. Using the scheduling and grouping feature it's easy to configure your own patching groups depending on your network's needs.
If you have your own internal test environment you can mirror the patch settings of that group, to a new group. This is particularly useful if you have departments who use certain applications you might suspect will run into problems with updates. There are a number of rules you can configure to target specific machines for patching. You can filter by OU, WSUS group, domain, or workgroup.
Within your patch settings, you can also configure whether or not you want certain machines to reboot or not after a round of updates. SolarWinds Patch Manager also has a feature called Planning Mode, which does a mock run of the set patches you have configured. After the mock run, you can review the patch report to see if everything would have deployed as expected. If it did, uncheck the Planning Mode option to have the patches deployed from their set scheduled time.
The built-in reporting feature can pull information straight from WSUS to compile an overview of your agents and their patch status, as well as other information such as drive space, memory, model, and network configuration.
You can test a fully-functional trial of SolarWinds Patch Manager free for 30 days.
SolarWinds Patch Manager Download 30-day FREE Trial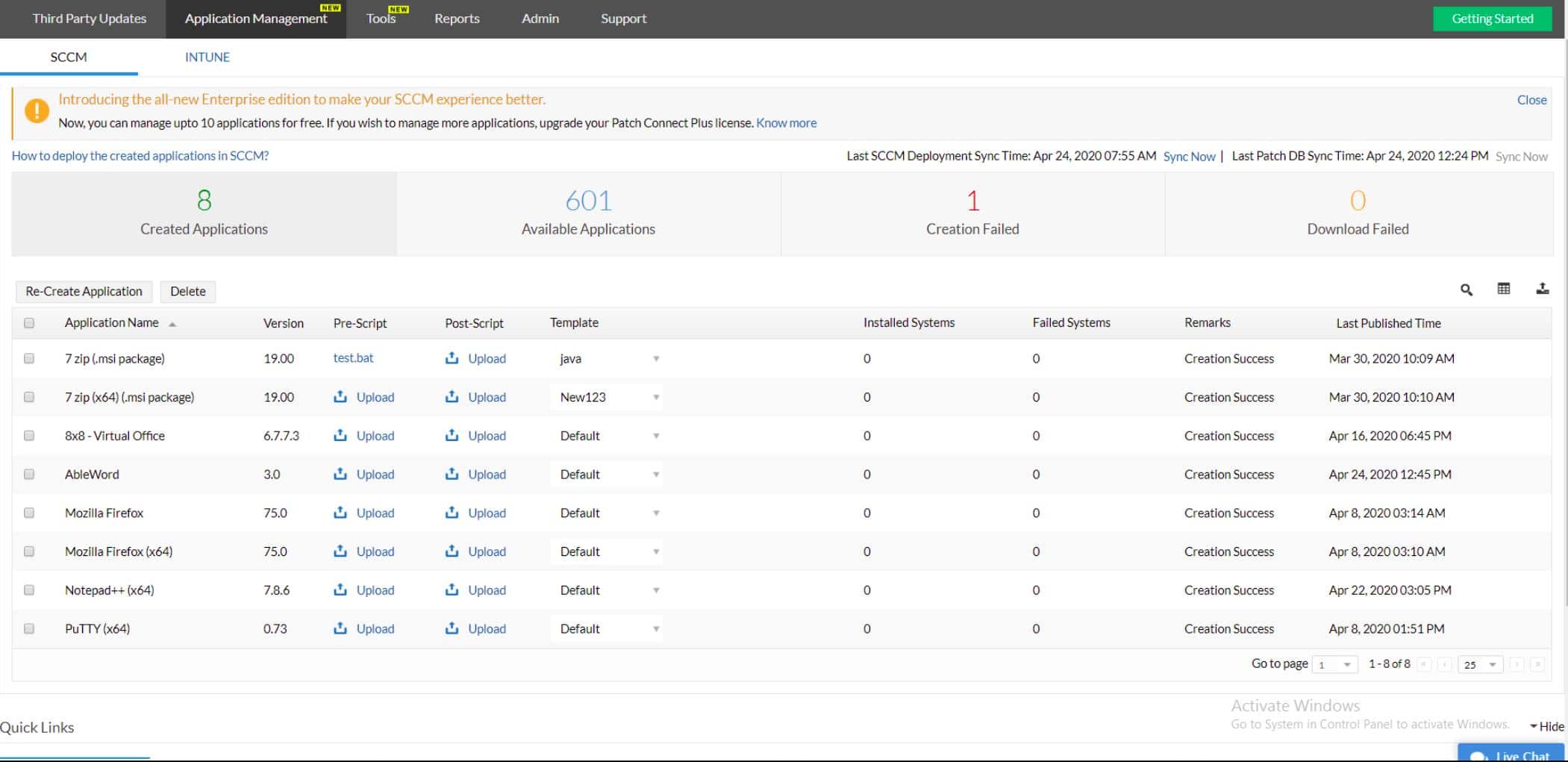 ManageEngine Patch Connect Plus offers a solution for those who don't want to use several different tools to manage software on Windows Server. Although WSUS has its faults, it is the official tool for updating Windows Server systems, so it is best practice to use it. That leaves out all of your third-party software.
Patch Connect Plus operates as a plugin to SCCM that enables updates to be sent through the WSUS system, thus enabling all patches and updates to be run through a unified system. The service checks the Windows Server environment and logs all software. It is then able to regularly check on the suppliers of those packages for any updates, listing them for installation.
The execution of updates is dictated by the setup of Patch Connect Plus, which is driven by Deployment Templates. According to whichever template you select, updates will be run through SCCM or set aside. They will be rolled out immediately, on the next occurrence of an authorized time window, or when the system administrator commands it.
The plugin adds-on a whole section of tools to SCCM. These include a patch tester and other update assessment services. It is possible to pause an update for further analysis without having to hold up everything that is set to run. Once runs have completed, Patch Connect Plus reports on completion statuses and offers the option to re-launch failed patches.
ManageEngine Patch Connect Plus is on-premises software for installation on Windows Server. The system is offered in three editions: Standard, Professional, and Enterprise. Standard is free to use but it just loads a list of third-party software updates into SCCM.
The Professional edition integrates into SCCM, offering the option to implement third-party patch rollouts with WSUS. This version includes system scans that create and update a software inventory. The Enterprise edition has more tools, such as an Applications Management system. You can try the Professional and Enterprise editions on a 30-day free trial. The trial version will only monitor up to 10 apps.
ManageEngine Patch Connect Plus Start 30-day FREE Trial

The WSUS Agent is a part of the SolarWinds Diagnostic tool that adds additional features to the WSUS process that can take the headache out of patch management. If you've ever deployed updates you'll know the pain of having to troubleshoot exactly why an agent isn't responding or is failing to even show up in WSUS at all.
The WSUS Agent can troubleshoot each agent, and ensure that it has a clear line of communication to the update server. By using this tool you can check the configurations of each agent to ensure the computer is configured correctly and that the version numbers are up to date. It can automatically provide detailed feedback on any failures and give you insight into exactly why the agent isn't working.
For example, the WSUS Agent checks DNS and can report if name resolution is the reason why it cannot connect. It may sound small, but it's these added features that end up saving you the most time on your deployments in the long run.
WSUS Agent saves you from digging through logs, deciphering error codes, and automatically tells you what the issue is in plain text. If that wasn't helpful enough it even provides useful tips for problem remediation.
When things go wrong, and let's face it, they certainly will, WSUS Agent makes your life administrating patches a whole lot easier. WSUS Agent is completely free and will leave you wondering how you ever dealt with a stock WSUS system before.
SolarWinds Diagnostic Tool for the WSUS Agent Download 100% FREE Tool
N-able N-sight is a remote monitoring and management tool that enables IT departments to conduct systems management functions centrally for several remote sites. The software service includes a comprehensive patch management function for Windows systems.
The Patch Manager of N-able N-sight seeks out all devices and logs their operating systems. It also takes an inventory of all of the services and software installed on each server and endpoint. The patch manager will update Windows implementations with any patches that arise. The responsibilities of the system don't end with patches for operating systems; it also updates essential software.
The software and services that the Patch Manager can update include services such as Adobe tools Java, and web browsers. Although the system monitoring service in SolarWinds is able to monitor devices running Linux, the Patch Manager isn't able to update the software on them.
One of the features of the N-able N-sight is an intelligence feed that not only informs on threats, it also warns against unintentional damage that some patches and updates cause. This service is called LOGICcard and it is an information system that gathers the experiences of more than 5,000,000 endpoints around the world.
The Patch Manager can be limited to a specific time window in any day or week that allows patches to be rolled out. Patches queued can be suspended or removed before they applied, which enables systems administrators to act on the information gleaned from the LOGICcard feed.
The Patch Manager produces status reports on all patch installation attempts and leaves a record in the dashboard of success or failure of each run so a manager can review events after the fact. Patches that weren't applied can be rerun or applied manually.
The N-able N-sight system is a cloud-based system and includes all supporting services. There is no setup cost involved in taking up this service, which is charged for by subscription. The N-able N-sight is available for a 30-day free trial.
N-able N-sight Start 30-day FREE Trial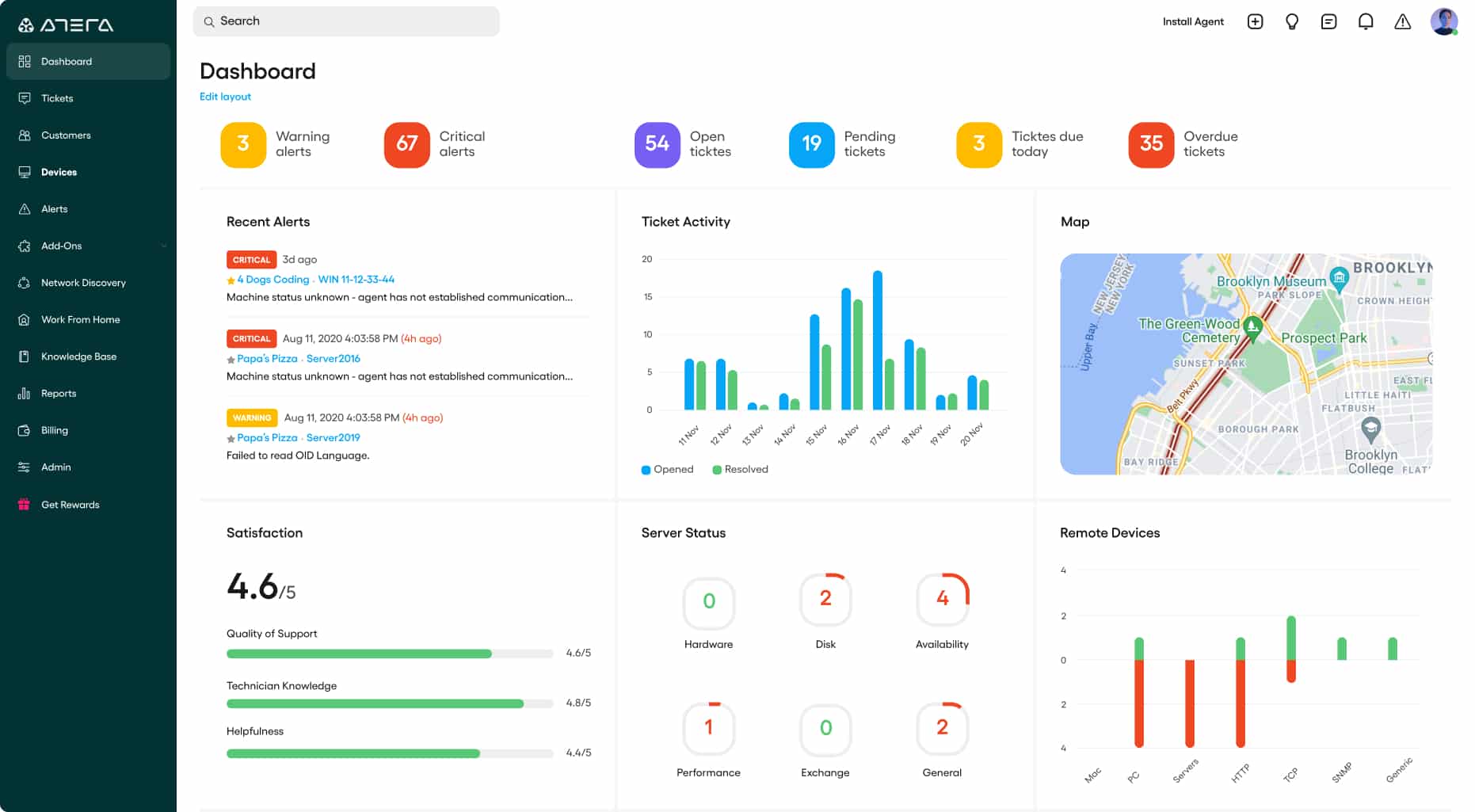 Atera is a SaaS platform that offers the software that a managed service provider (MSP) needs in order to support the systems of their clients. Accounts with this service are multi-tenanted to keep the data of different MSP clients separate and the software includes a remote monitoring and management (RMM) package. Within the RMM tools of Atera is a patch manager for Windows and macOS.
The Atera patch manager can be set up to run periodically at a suitable maintenance window. This is most likely to be out of office hours. However, there is no need to go to the expense of paying a technician to work unsociable hours in order to watch the patch rollout because the system will launch automatically on a time trigger and report completion statuses for manual verification the next morning.
The patch manager can also be used to install or update software packages and there are a number of automated tasks that the interface offers, such as the clearing out of temporary files. You can set up the patch manager to run a customized script. Therefore, this system can be used to launch just about any process on a schedule.
Other features in the Atera platform include a ticketing system and a remote access package for manual technician access to supported endpoints. The full platform offers professional services automation (PSA) functions that help MSP managers run the business.
The Atera platform can be accessed on a 30-day free trial.
Atera Access 30-day FREE Trial
NinjaOne Patch Management is a service that can perform patching for endpoints no matter where they are located. This service is part of a cloud-based system that is aimed at the IT operations departments of multi-site businesses and managed service providers. Its cloud location means it is not bound to one specific network and you can enroll any device into your account, including individual computers used by home-based employees.
The patching system offers a high degree of automation, which means that you don't have to look up whether patches have become available for the operating systems that your endpoint fleet runs. The system will also monitor the versions of more than 100 third-party applications and keep them patched.
As it is an automated system, the patch manager will run unattended during unsociable hours. The designers of this package made sure to include an easy-to-use console and activity reporting, so technicians can see the next morning whether each patch was applied successfully. The information given in the completion status report for each patch lets the support team decide whether to run the patch again, investigate further, or hold off the patch.
The patch status reports get stored and the NinjaOne package includes cloud storage space for these and other system logs. The entire NinjaOne platform offers a suite of remote monitoring and management tools, which includes a backup manager, automated IT asset inventories, and a service desk ticketing system.
You can get to know the NinjaOne platform with its patch management service by accessing a demo of the system and learning more about pricing. Investigate further with a 14-day free trial.
NinjaOne Patch Management Access 14-day FREE Trial
Heimdal Security patch management solution is a dynamic alternative to WSUS, providing an automated and personalized approach to vulnerability management. Its patch management capabilities give system administrators the ability to manage security patches efficiently and effectively.
Key features:
Ability to replace and exceed WSUS capabilities
Support for patching 120+ third-party applications
Unified patch and asset management
Offers a suite of network and endpoint security options
Heimdal Security's patch management solution offers an all-in-one platform for patch management on Windows operating systems. It can be used as an alternative to WSUS, and its customizable patching and remediation options ensure that systems stay up-to-date with the latest security patches and updates.
Pros:
Wide range of support for various environments, operating systems, and applications
Ability to granularly manage patching at scale
Multi-tenant support
Elegant and easy-to-use interface
Cons:
Can take time to explore all features available
The solution offers unified patch and asset management, providing administrators with a comprehensive view of software inventory in an easily navigable dashboard. Whether scaling patch management efforts or building a process from scratch, Heimdal Security's patch management solution provides the necessary tools for effective vulnerability management and endpoint protection.
You can test a fully-functional 30-day free trial.
Heimdal Security Start 30-day FREE Trial

Kaseya VSA is a full-fledged remote monitoring and network management tool that gives you a wide variety of features and control. One of those features is a powerful patch management component that adds additional utilities to the WSUS system.
Through the patch management console, you can automate and troubleshoot your Windows and software patches from a single dashboard. The interface provides an easy to read screen and highlights exactly which agents are in critical condition. Not all patches are created equally, Kaseya VSA knows this and brings important security patches to your attention so you can properly prioritize your deployments.
In a few clicks, you can easily create different patching schedules for your devices and even block out specific times when patches won't run. The dashboard also allows you to blacklist specific updates that may cause issues with your applications. Microsoft is known for pushing out a bad update from time to time, so having that ability to blacklist certain patches can save you a lot of trouble down the road.
Patch management through Kaseya VSA works both while devices are on and off the network. When a device isn't connected to the network, it can push out critical updates through .CAB files. One of the few downsides of using this tool is the lack of reporting and patch testing. If reporting and compliance are a major part of your business you might want to look towards a more holistic solution.
You can try a 14-day free demo of Kaseya VSA to see if it's right for your patch management needs.

If your network supports older versions of Windows and other legacy products, WSUS Offline Update tool is a great application to manage patches for them. WSUS Offline Update helps you fill the gaps in your patching without having to connect to the internet or download every single missing patch from Microsoft.
If you're someone who needs to keep archaic systems up and running, this tool will prove useful in getting out critical security patches, bug fixes, and even feature updates to your legacy end of life servers. If your server is strictly only accessible from the LAN WSUS Offline Tool gives you the option to limit your older servers exposure to the internet while still getting critical patches to it.
In addition to operating system patches, you can even patch older versions of Microsoft Office and choose exactly what you want to be included. You'll have the option to include or exclude runtime libraries, service packs, Microsoft Security Essentials updates, language packs, and Windows Defender definitions.
While WSUS Offline Tool is certainly focused on legacy products, it has the ability to provide patching for modern servers and operating systems as well. WSUS Offline Tool is completely free and is a powerful add-on for any sysadmin who has to support older environments.

PatchLink is a WSUS patching tool designed for larger networks and provides a vast array of features and options to help you manage your patching on an enterprise level. PatchLink puts security and uptime and the forefront by pre-testing all patches that come through the software.
One of my personal favorite features of PatchLink is it's intuitive search functions and filtering. From the patching dashboard, you can search both installed and available patches based on vendor, security level, type of product, and KB number. This feature really shines in larger environments with more endpoints.
PatchLink can tap directly into Microsoft's System Center Configuration Manager (SCCM) to provide reporting, OS deployment, software distribution, and patching for third-party applications.
You can test out PatchLink for yourself by requesting a free trial on Ivanti's website.

PDQ Deploy is a lightweight but powerful program that can handle all aspects of both WSUS and third-party application patch management. There is a lot of versatility under the hood outside of just patch management as well. You can execute and run custom scripts, send commands, and fully install and uninstall programs from the dashboard.
Inside the patch management section, you'll have access to scheduling features that can be configured in a number of different ways to suit even the most non-traditional environments.
If you struggle with keeping laptops up to date because they go missing for months at a time, you'll be happy to know that PDQ Deploy will wait for that agent to come online and queue its missing patches for deployment. This itself is a huge time saver, and you won't have to worry about an old vulnerable laptop coming online and jeopardizing your network's security.
If you have a large number of applications to patch in addition to Windows updates, PDQ Deploy has over 250 applications that they label as "ready to deploy." This means their servers have the latest tested versions and are ready to go.
Lastly, you can configure PDQ Deploy to send you or your team email notifications when a patch deployment or script execution is successful. PDQ Deploy is completely free with limited access to some features. Full access pricing starts at $500.00 (£394.16) a year per admin.

BatchPatch is a very simple and easy to use bulk patching program that extends the usefulness of WSUS. Much like most of the WSUS alternatives in this list BatchPatch provides more visibility and control over the entire patching process through features like patch scheduling, offline mode, remote script execution, and custom reboot options.
When a PC reboots or is undergoing updates BatchPatch has a live ping feature that you can set up to see exactly when a PC comes back online, which is specifically useful for machines that haven't been patched in a long time in a remote environment.
If you're a stickler for detailed and visual reporting BatchPatch might not be for you. The software does have a reporting feature but appears to be limited to HTML and text exports. Their site also has a number of tutorials which I personally found helpful. These are blog-style format tutorials that go over some of the most common uses and functions you'd want to implement with the program.
You can download a fully functional evaluation version for free. In order to have more than four target machines, you'll need to purchase BatchPatch. Pricing starts at $399.00 (£314.17) per user.
Which WSUS Alternative Is For You?
It's pretty clear that WSUS native functionality isn't enough for most sysadmins these days. To get the most for your money you'll want to choose a tool that suits your needs, and is appropriate for the number of agents you're looking to patch and manage.
SolarWinds Diagnostic Tool for the WSUS Agent is able to add troubleshooting elements and additional functionality completely for free, while still offering core features that medium to large-sized networks rely on. These include inventory management, third-party patching, and reporting on the patch management end.
PDQ Deploy is also a solid option if you're looking for a bit more depth with additional features such as deploy ready applications and scripting capabilities. I'd recommend PDQ Deploy as a paid patch management tool for smaller networks under 250 agents. If you're dealing with more than 250 agents, SolarWinds Patch Manager is more refined and suited for larger corporate environments.
Feel free to test out any of the trials to see what's right for your network. How do you feel about WSUS tools? Do you think alternative tools are needed to patch networks effectively? Let us know in the comments below.