What exactly is a Wake-on-LAN tool?
A Wake-on-LAN (WoL) tool is a tool that turns the computer on remotely through a signal over the local area network. As long as a machine is accessible from the LAN, it can be turned on through the use of what is called a magic packet.
This packet communicates directly with the motherboard of the machines and sends a power-on command to the device, as long as the machine is configured to do so in BIOS. As you can imagine as more people work remotely from home, this has a wide array of applications.
Here's our list of the best WoL Tools:
SolarWinds Wake-on-LAN

(FREE TOOL)

Ideal for networks who want to enable WoL at scale across a medium to large-sized organization.
ManageEngine OpUtils A suite of network tools including a utility for remote troubleshooting that comes with a WoL option.
NirSoft WakeMeOnLAN Work to scan the network to find machines that have WoL already enabled. Good for small-scale quick audits.
Wake-on-LAN X Great for single use, but also has the ability to batch and schedule reboots.
Aquila Wake-on-LAN Comes with an intuitive interface and allows for simple WoL commands via MAC address.
How is Wake-on-LAN useful?
WoL can help tech support teams access workstations remotely to perform routine maintenance or close-out tickets after hours. A common problem among tech support staff is that users will power down their computers at the end of the day and go home. This of course prevents any after-hours work from getting done and keeps tickets open longer. With a Wake-on-LAN tool, support staff can send a request to that machine to power it back on.
WoL can also be used for physical hosts running virtual machines as well. In the event of a power failure or brownout, connection can still be restored via a Wake-on-LAN command. While many server hosts have dedicated RMM built into the NIC, WoL is still a good option to keep just in case.
What do I need to do to use a Wake-on-LAN?
The beauty with WoL is that it's simple. As long as the PCs have WoL enabled in their BIOS, a magic packet signal will turn them back on or wake them up. The magic packet signal itself is very small, containing only about 100 bytes of information that specify the target IP address, port, and raw data.
All motherboards will have their own unique BIOS settings, but normally WoL can be found under the Advanced tab in BIOs, or under Networking.
The second trick is to make sure the computer's NIC is configured to receive the packet. This can be done under Device Manager by right-clicking on the Network Adapter and selecting Properties.
Under the Advanced Tab choose the "Wake on Magic Packet" from the list and switch the value to enabled. In the same window under the Power Management tab, make sure all that "Allow magic packet to wake the computer" and "Allow this device to wake the computer" is checked.
If you're looking to make all PCs WoL compatible, you can use OS images with this already enabled, or create a group policy to enable these settings throughout your network. Note that the BIOS changes will need to be done manually, per PC.
Best WoL Tools
Below is an overview of a few of the best Wake-on-LAN tools you can use to wake up machines remotely.
SolarWinds WoL is a suite of tools for sysadmins, technicians, and network engineers that contains over a dozen tools that are designed to make tech work easier. In that kit is a super intuitive WoL tool that stands out for doing exactly what you need to, and nothing you don't.
A clean interface allows you to choose a PC to send the magic packet to, and then sends that signal out in multiple intervals, ensuring that the WoL signal is received. This is great for larger congested corporate LANs, and NICs that may have connectivity issues. If you have the need, the tool can also be integrated into scripting automation, that can fire off WoL packets if a certain condition is met.
SolarWinds WoL balances ease of use with a slick UI that just gets the job done, no matter what size network you deploy it on. If you're not in the market for the full toolset, you can purchase SolarWinds WoL on it's own. You can test out all the tools in the Engineer Toolset through a 14-day free trial.
SolarWinds WoL Download 100% FREE Tool
2. ManageEngine OpUtils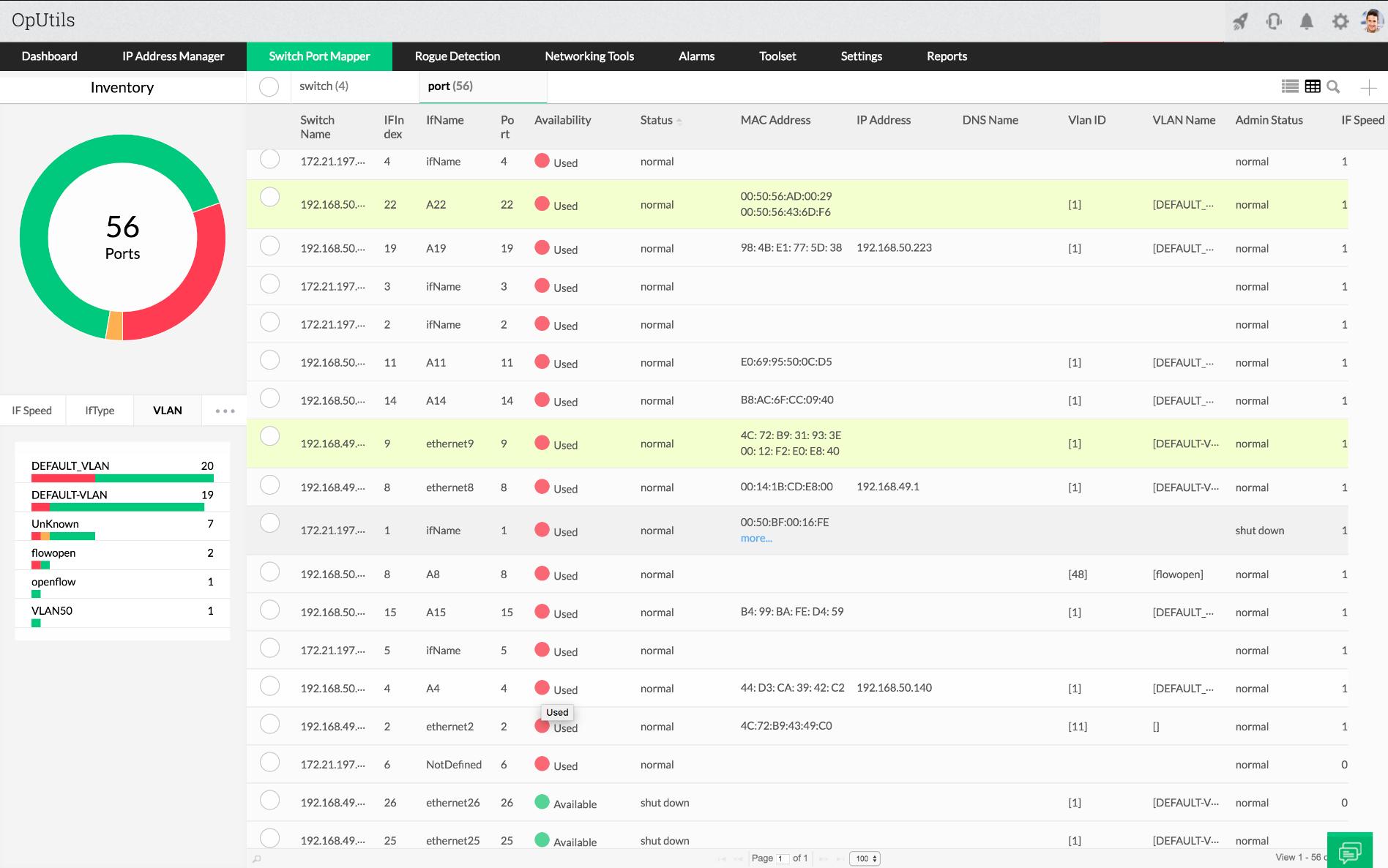 The ManageEngine OpUtils is a collection of tools that help administrators map out networks, discover new devices, monitor IP address assignments, and of course, send Wake-on-LAN commands.
OpUtils is a network discovery tool that elegantly includes a WoL solution. This is a great tool to throw in your tool bag when troubleshooting devices outside your network, or tracking down machines who may have lost their IPs, or gone offline due to sleep settings.
Very rarely does a multi-purpose tool excel at just one thing, but OpUtils is an exception. The software has one of the best interfaces on this list, and allows you to send out magic packets for WoL to either groups, individual machines, or the entire network.
Every time a machine is queried with a WoL command, that action is recorded for auditing to help the admin get a better understanding of why or why not WoL is working. On top of that, magic packets can be scheduled to get sent out across the network. This is ideal for environments that still want to enforce a PC sleep setting, but struggle to connect during after-hour maintenance windows.
The dashboard lets you view exactly which machines have WoL enabled, and which ones failed when sending the packet. This is great for larger networks and gives you the option to export results so you can create a separate ticket to investigate the issue.
The ManageEngine OpUtils is a package installation and runs off of a lightweight Linux or Windows-based server. You can test out the toolset free through a 30-day trial.
3. NirSoft WakeMeOnLAN
NirSoft is known for its collection of excellent free software, and WakeMeOnLAN is no exception. Through an extremely low-footprint installation, the NirSoft package can scan particular parts of the network to discover new devices, much like how LanSweeper works.
Once machines are identified their corresponding IP, hostname, MAC, and status will become visible in the search results along with their power status. Through a simple click of a button, any selected machines will be sent WoL packets, and those machines will power on if configured to do so.
What's great about WakeMeOnLAN is that the entire tool can be run and executed from a command-line interface, making it a fan among CLI lovers and older network environments. The tool is completely free but lacks a decent interface for larger network environments and heavy users.
4. Wake-on-LAN X
Wake-on-LAN X is a flexible standalone tool that allows admins to power on and off machines, as well as group them into batches. The software offers a lightweight GUI as well as the option to run WoL commands directly from a CLI.
The tool goes beyond most WoL tools by adding additional features that help give admins context into the network. These can be great walk-ins where you're not completely familiar with the environment. For example, Wake-on-LAN X can report exactly when the PC was last started, as well as how much disk space is free on the target drive. It can also peer into what services it has running.
While most remote management systems can do all of this, Wake-on-LAN X is impressive because it is so portable. There's no need to have a monitoring service or server in place to gather this information. The tool can be a bit clunky to use, but you really can't complain too much considering it's completely free.
5. Aquila Wake-on-LAN
The Aquila Wake-on-LAN tool is a versatile program that gives technicians a few different options for waking up machines, as well as discovering devices and IP addresses on the network.
Just like Wake-On-LAN X, Aquilla can operate both via the GUI and a CLI, making it flexible and great for lower-end machines. WoL packets can be sent in batches, individually, or manually set from the command line.
In addition to Wake-on-LAN, you can view each discovered machine's IP address, MAC address, and FQDN. From here you're able to run basic remote diagnostics such as sending ping commands to the machines or initiating a remote desktop connection.
Aquila is free software and available for any modern Windows machine.
6. EMCO WakeOnLAN
EMCO is a robust monitoring and network discovery tool that can be used to perform reconnaissance in new environments as well as monitor established environments. Wake-on-LAN is just one of the many features the platform offers.
The EMCO tool was built with larger networks in mind, and while that might be the case the interface still can feel cluttered especially when pulling in hundreds of new devices. With that said, it's still an excellent tool that can detect devices through either NetBIOS, WMI, or WinAPI, making it incredibly flexible in its deployment.
Focusing on the WoL feature, admins can send magic packets out individually, all at once, or on a schedule. This is a great option if you for instance discover that a machine has a worm or malware after hours at a remote location.
The schedule is handy for ensuring that PCs are on and connected to the network during maintenance windows, and helps avoid sending out the same email request to users to keep their computers turned on.
This tool further extends its scope by offering additional monitoring and alerting services that can send alerts to technicians via email. While this isn't the most proficient way to monitor machines, the fact that this lightweight software has options impresses nonetheless.
EMCO is available both as a free and paid tool, with WoL being available in both versions.
7. FusionFenix
This is definitely one of the older WoL solutions still on the market, but considering it's free and it works, it still gets an honorable mention on this list. FusionFenix does one thing, and that's send a magic packet to an individual PC. Some see this limitation as simplicity, and if the only thing you want to do is send a single magic packet, FusionFenix has you covered.
Unlike the other scanners, you must know the IP address of the target machine, so it can pull the MAC address. Simply input the IP address, enter the password if needed, and click "Turn on PC." It's that simple.
The tool has a handy Android app as well, which might come in handy to turn on individual machines. Due to its limitations, it would not be ideal for a business environment but would be sufficient enough for a small workgroup or home-based WoL needs.
What's the best Wake-on-LAN tool for you?
While we usually dedicate this space to list out multiple tools for different situations, this list has one clear winner. SolarWinds Wake-on-LAN is an excellent WoL tool that not only provides Wake-on-LAN commands but allows you to easily scale your WoL deployment if it was a part of your routine workflow.
With it being part of the Engineers Toolset you get a plethora of networking monitoring and troubleshooting tools to help flush out your virtual toolkit when you're at work or on the road. For those who don't want the tools set, they can opt to purchase the standalone version as well.
Do you ever use Wake-on-LAN in your network? If so, what do you mostly use it for? Be sure to let us know in the comments below.