Monitoring tools, also known as observability solutions, are used to keep a check on the state of essential IT applications, networks, infrastructures, and websites, among other things. The finest IT monitoring systems discover resource problems immediately and alert the appropriate people to tackle the major issues. Observability solutions are used by response teams to acquire real-time insights regarding resource availability, stability, and performance.
Infrastructure difficulties are unavoidable, and teams must use the best IT monitoring solutions available to minimize the impact of an outage. In this article, we'll look at some of the best observability tools that response teams may utilize to speed up the detection and resolution of incidents. The top IT monitoring solutions keep a constant eye on crucial resources.
Here is our list pg the best mainframe monitoring tools:

SolarWinds Server & Application Monitor

(FREE TRIAL)

SAM presently monitors on-premises and public cloud Windows and Linux-based apps, as well as giving AWS RDS endpoint latency metrics.
Datadog Marketplace Datadog's visualizations make it straightforward to spot problems like ineffective searches or bottlenecks that arise during peak traffic periods.
BMC Automated Mainframe Intelligence (AMI) The BMC provides the speed of deployment required by application development teams without sacrificing the safeguards needed to keep the Db2 database stable and available
ASG TMON for z/OS The heart of the live performance tracking system is the ASG-TMON Health Monitor. When problems develop, it seeks to give a root cause analysis trail.
Pandora FMS Pandora FMS continuously monitors the resources required by mainframes. This will assist you in determining costs so that you can adjust the appropriate parameters to save money.
ManageEngine An innovative developer of Enterprise IT Management Software, offering huge network management frameworks with premium capabilities at competitive costs to businesses worldwide.
SolarWinds Server & Application Monitor (SAM) is a comprehensive monitoring platform that allows enterprises to track the health and performance of IDM database servers, as well as the host server and supporting network infrastructure.
Key Features:
Start in a matter of minutes
Inspect Azure and AWS IaaS, PaaS, and SaaS services
More than 1,000 community designs, including over 1,200 monitoring templates out of the box
REST API, WMI, SNMP, and PowerShell scripts for custom monitoring
Server monitoring that can be customized
SolarWinds Server & Application Monitor is a cost-effective and simple-to-use systems monitoring tool that provides detailed insight into application and server performance issues. Discover your system's environment automatically and begin monitoring in minutes.
SolarWinds SAM is cost-effective and simple to set up, utilize, and customize. In less than an hour, you may automatically find your system's environment and begin monitoring. There is no requirement for expert assistance or consultation.
My company's monitoring toolset includes SolarWinds Server & Application Monitor (SAM), which adds to the entire value proposition of our SolarWinds Orion investment. We use four Orion instances across several data centers and public cloud providers because we are a global corporation.
SAM provides historical metrics in addition to being part of a larger toolkit for real-time troubleshooting. For speedier troubleshooting, pinpoint the source of complicated issues. Obtain a contextual understanding of the application's relationship dependencies with the underlying physical and virtual server infrastructure. You can monitor virtually any commercial or home-grown application using a combination of out-of-the-box monitoring templates and easy modification possibilities.
SAM includes templates for a wide range of servers and databases, including IBM Db2. Monitoring on many platforms is simple by using the templates. When the agent is installed, it will start reporting performance parameters such as average buffer size, total database space available, index hit ratio, and average read time, among others.
It is incredibly scalable and efficient since it detects network or application faults by testing at regular intervals throughout the year. It also enables proactive 24-hour, 365-day monitoring of all network services and trends. Its purpose is to implement, validate, and establish real-time corrections in virtual infrastructure hardware and software end areas, as well as real network traffic on a continuous schedule, inter-node, or mesh basis.
You can try SolarWinds Server & Application Monitor (SAM) through a free and fully functional 30-day trial.
SolarWinds Server & Application Monitor (SAM) Download a 30-day FREE Trial
2. Datadog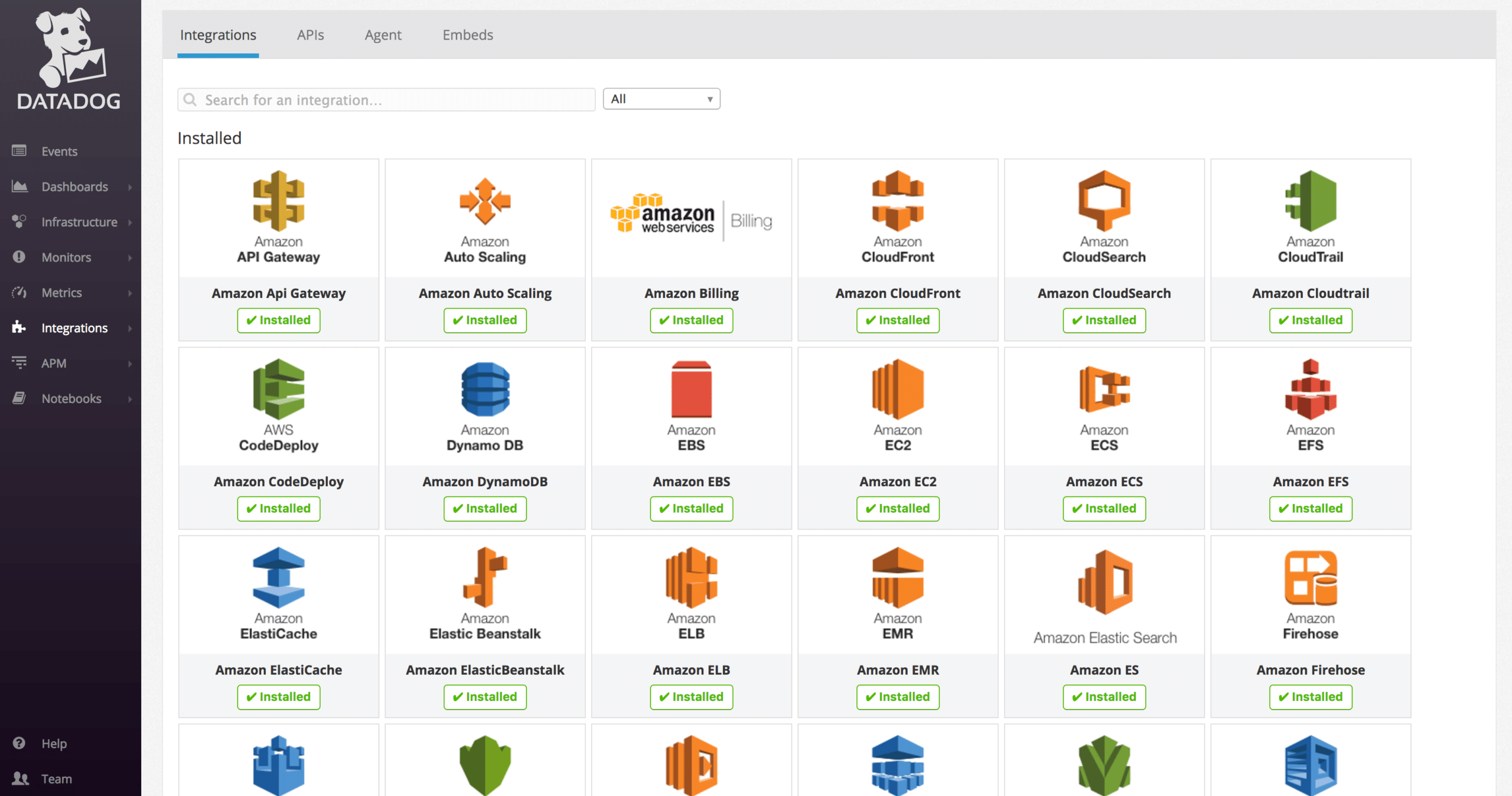 Datadog is a very adaptable monitoring platform that may be used with a variety of tools. This program analyzes the health of your IBM Mainframe z/OS systems so you can keep track of their overall health and performance.
Key Features:
Using automatic notifications, quickly resolve Db2 deadlocks
Keep track of how well mainframe services are performing
Consider the mainframe and CPU performance
Make mainframe data a critical component of your APM
The Datadog Marketplace now has Mainstorconcept's z/IRIS product, allowing you to seamlessly combine z/IRIS traces and metrics with the rest of your application data. You can troubleshoot faster, lower your mean time to recovery, and increase the reliability of your system by having access to important infrastructure data, detailed error messages, and alarms. You can also set up Db2 deadlock notifications to be notified when a deadlock occurs.
The integration includes a built-in dashboard that's already configured to track and display some of Db2's most significant key metrics, such as query rates, database size, and server resource use. While Datadog provides several pre-configured monitoring and reporting templates, you can still tweak them or develop your internal template from scratch.
You may set up alerts for important service level indicators like latency to automatically detect problems that could harm your users' experience. If you need to look into a performance problem, traces provide error details from z/OS servers to help you discover the source quickly.
You can use current historical metrics to visually identify aberrant behavior, as well as take a snapshot of your IBM Db2 performance and compare it to previous performance benchmarks. The package also includes two pre-built dashboards that provide comprehensive visibility into REST API and Java database connectivity (JDBC) statistics.
3. BMC Automated Mainframe Intelligence (AMI)
BMC announced various new features and updates for its Automated Mainframe Intelligence (AMI) and Compuware portfolios, allowing BMC mainframe customers to preserve uptime and availability, defend against cybersecurity threats, and accelerate enterprise DevOps.
Key Features:
Improves Digital Experience
Enhances the Ecosystem as a Whole
Boosts Availability and enhances Security
BMC Automated Mainframe Intelligence (AMI) is a suite of tools for monitoring and optimizing mainframe systems. It also aids in maximizing the full power of these technologies for your company while reducing the resources required for operations, maintenance, and integration.
The BMC solution, which combines built-in domain expertise, machine learning, intelligent automation, and predictive analytics to help companies automatically manage, diagnose, heal, secure, and optimize mainframe processes, is the newest addition to BMC's AMI services. Another AMI product is BMC AMI for Security. It allows users to monitor mainframe systems and data automatically to discover and respond to security incidents.
Using the BMC, application development teams may release their code more quickly without jeopardizing the security and availability of their Db2 database. Even as the business becomes more agile, this ensures that applications stay reliable and available.
BMC AMI DevOps for Db2 also integrates with Jenkins, an application development orchestration tool, to automatically research and determine database schema change requirements, streamline the review and approval process, and safely implement database schema changes, allowing development and operations teams to be more efficient and agile.
Customers can improve threat detection and response capabilities by using the BMC AMI Security solution's enhanced security controls, out-of-the-box security tests, and more indicators of compromise. With the new Compuware zAdviser dashboards, DevOps teams can now determine which Compuware DevOps toolchain products and capabilities are underutilized.
They may also provide applications and services faster thanks to the expanded automated testing capabilities of the Compuware Topaz for Total Test package, which simplifies automated test case generation, expands test coverage with negative testing, and decreases rework.
4. ASG TMON for z/OS
ASG TMON for z/OS is a system management tool that incorporates performance monitoring. The system is installed directly on your mainframe IBM z series. The tool can be networked, and an extract can be created to feed into other data processing programs.
Key Features:
Monitors z/OS performance across the entire organization in real-time
Detecting performance anomalies involves Planning for capacity
Extracted data and IBM's Health Checker are integrated for quick problem investigation and resolution
ASG-TMON for z/OS is a dynamic monitoring solution for IBM's z/OS operating system across all partitions in your organization. It delivers real-time performance statistics on critical software and hardware resources, as well as long-term online data for post hoc analysis of resource utilization trends, service levels, I/O contention, job delays, exceptions, and other issues.
It also features strong exception processing and productivity-enhancing applications, as well as being developed primarily for systems programmers, performance analysts, application tuners, and operations personnel. NaviGate requires a database to store extracted data and provides an HTML-based graphical user interface. NaviPlex is another tool that may be used for activity analysis. This program runs on Windows and allows you to sort, mine, and display data in many forms.
Data center managers and system programmers can use ASG-TMON for IMS to quickly respond to, identify, and address IMS issues. It was created to improve IMS application performance and provide instant visibility into application and IMS subsystem performance.
You can identify and resolve problems, evaluate tasks and exceptions, and manage IMS resources with ASG-TMON for IMS. ASG-TMON for IMS also eliminates the need for separate monitors for each IMS subsystem, lowering costs and increasing profits. Performance analysts and capacity planners can use ASG-TMON for IMS to discover patterns, enhance application throughput, and plan for expansion, avoiding costly upgrade charges. IMS and FastPath transactions and databases are monitored by ASG-TMON.
5. Pandora FMS
Pandora FMS is an out-of-the-box monitoring system with over 50,000 customer deployments across five continents. Pandora FMS enables you to swiftly identify and resolve problems, scaling them to be generated from any source, on-premise, multi-cloud, or a combination of both. You now can find any problem, even the ones that are difficult to find, throughout your whole IT stack and analytics.
Key Features:
Majorly Cost-cutting and offers Monitoring from afar
A Shared Perspective
Pandora FMS has a control panel that allows users to monitor networks, servers, virtual environments, business processes, user experience, Internet of Things (IoT), applications, and SAP. Furthermore, Pandora FMS will enable you to manage thousands of devices in a consistent, flexible, and automated manner.
Pandora FMS is an excellent remote monitoring and network monitoring solution, particularly in data-sensitive environments. Pandora FMS serves as a dependable security guard, keeping us informed of any questionable activity and assisting us in resolving it. For convenience and brevity, it employs various services for network monitoring and remote monitoring.
It also allows you more control over the specifics of your billing. Pandora FMS is simple to use because mainframe monitoring is integrated into the same visual panel. This gives you a comprehensive view of your whole infrastructure's health and performance, as well as where your mainframe system fits in. The ability to remotely monitor Pandora FMS is a key feature. You can remotely monitor a server without installing any additional software on the mainframe. RMF Data Portal Monitor is a component of Pandora FMS that harvests and analyzes data from LPAR, Sysplex, and other sources.
Pandora FMS is a good software compared to most monitoring programs; it is simple and covers a wide range of rules; I like everything that is presented in the workstation, in addition to having a very well detailed interface; it is very intuitive; it also offers very good services such as network motorization, service-oriented motorization, application motorization, and many other things; I like it more than I expected.
The best feature of the Pandora monitoring system is the ability to combine everything monitoring into one tool, including networking, servers, apps, and databases. Unlike other solutions, we can incorporate plugins for all the platforms we want to monitor with Pandora FMS.
6. ManageEngine
ManageEngine provides an agentless solution to keep track of your IBM Db2 environment's health, metrics, and availability. You can use the program to collect and view core database server metrics from any browser. The reporting dashboard is basic, but it does the job for most Db2 settings.
Key Features:
Enterprise-ready and volume reductions
Tracks custom queries
The grouping capability enables you to bundle your databases by the process for larger databases, allowing you to construct different infrastructure clusters for each business deliverable you have operating. This can also be combined with sophisticated reports that provide critical information on performance and usability to both tech and business development teams.
We found the uniform design of the OpManager central and probe server web interfaces to be quite intuitive. It gives you quick access to the four core OpManager features of discovery, visualization, administration, and reporting. The main web console has been revamped to make it even easier to use.
It starts with a network overview full of color-coded icons and graphs that make it easy to see device status and access each icon. You may construct many dashboards with a variety of widgets and incorporate Google maps into them to show the physical position of all probes. There is a slew of new capabilities in OpManager 9, including IT Workflow Automation, which promises to make general network maintenance and troubleshooting duties less tedious.
Custom SQL queries can also be monitored on any IBM DB2 database, allowing for more granular monitoring and insights. Alerting is based on configurable thresholds, and those activities are carried out automatically depending on the trigger.
OpManager now monitors both Microsoft's Hyper-V and VMware, giving it a boost in virtualization capabilities. We had both systems in the lab, and adding them was simple after OpManager correctly mapped the detected VMs to the appropriate host. They were available under the virtualization console tab once they were finished.
For Hyper-V hosts and their VMs, all normal OpManager system monitoring features are accessible, allowing you to keep a careful check on performance, the interface, CPU, memory, and disk utilization. To monitor Windows services, URLs, or processes, you can add more monitors to selected VMs and attach them to monitoring intervals, thresholds, and notification profiles.
Final thoughts
The availability and performance indicators of hardware systems and subsystem resources are monitored by Mainframe Monitoring Tools across the company. Due to their access to system data, several real-time monitors have automation extensions to respond to events or thresholds. The benefits of being able to quickly locate, diagnose, and respond to problems are evident.
Datadog is the best-known out of all the top mainframe monitoring tools since its IT infrastructure monitoring allows you to watch the health and performance of your whole environment. Datadog provides extensive visibility into your complete IT stack from a single unified platform, thanks to over 600+ vendor-backed integrations.