Password Managers for Enterprise are an excellent solution to strengthen your corporate's security and eliminate the headaches associated with storing and securing complicated passwords for each business account. When it comes to password management, the options are numerous, but the distinctions are few.
Here is our list of the best enterprise password management solutions:

ManageEngine ADSelfService Plus – EDITOR'S CHOICE provides complete visibility into your AD environment to streamline password management, AD security, and authentication to your workplace apps.Start a 30-day free trial.
N-able Passportal One of the most effective password management solutions available, with features such as auditing, credential injection, automated password change, and reporting. Passportal is ideal for managed service providers and information technology agencies.
NordPass Enterprise A sophisticated business password management solution that enables organizations to better manage password security and user productivity, while also providing administrators with a full picture of the organization's password state.
Keeper Enterprise Password Manager A reputable tool that includes messaging capabilities, zero-knowledge protocols, and expert-led training. It's an excellent resource for both individuals and businesses.
Dashlane Provides users with a free premium personal account and a system of Smart Spaces in which employees can have a personal and business space.
LastPass It immediately notifies the administration if someone attempts to use your personal information. With LastPass, you can easily share notes and passwords.
1Password Enables users to easily create and manage safe passwords, as well as rapid access when necessary. According to customers, the service is extremely convenient and secure.
Bitwarden Includes developer-friendly features such as a command-line interface, API access, customized roles and rules, and even an MSP version for reselling.
When it comes to protecting sensitive customer data and safeguarding private business information from illegal access, selecting the best business password manager should be a top priority. For the majority of people, it's really difficult to recall each credential. As a result, they began utilizing the same password across multiple web applications.
As a result, cybercriminals discovered it was relatively simple to crack or use the old password to compromise data. After all, once data has been compromised, re-establishing customer or client trust is extremely difficult. Additionally, professional password managers are a straightforward but necessary solution if your business manages multiple employee accounts that must be secured.
What is the purpose of Enterprise Password Management Solutions?
Enterprise Password Managers (Business Password Management) provide a solution. These products help users manage their passwords by saving them all in a fully protected password vault. This simplifies the user experience and assists administrators in ensuring that everyone uses unique, secure passwords across all of their accounts.
While password management is frequently a subset of identity management, identity management as a whole is a distinct paradigm of account security that relies on more than just a password or a second factor to validate identity.
When a user attempts to sign up or create an account, the application proposes an automatically generated password. Passwords produced automatically are often lengthy, alphabetic, contain characters, and are tough to guess. As a result, the likelihood of an attacker cracking the account is decreased. If you choose password managers, the effective tool will prevent you from filling in fields and will protect you from phishing websites.
The Best Enterprise Password Management Solutions
Our methodology for selecting an enterprise password manager:
Enables users to distribute login credentials for shared accounts securely.
Possess the ability to generate unique, safe passwords.
Provide multiple methods of authentication.
Be able to be managed centrally by IT.
Support cross-device functionality and applications.
Employ appropriately secure cryptography.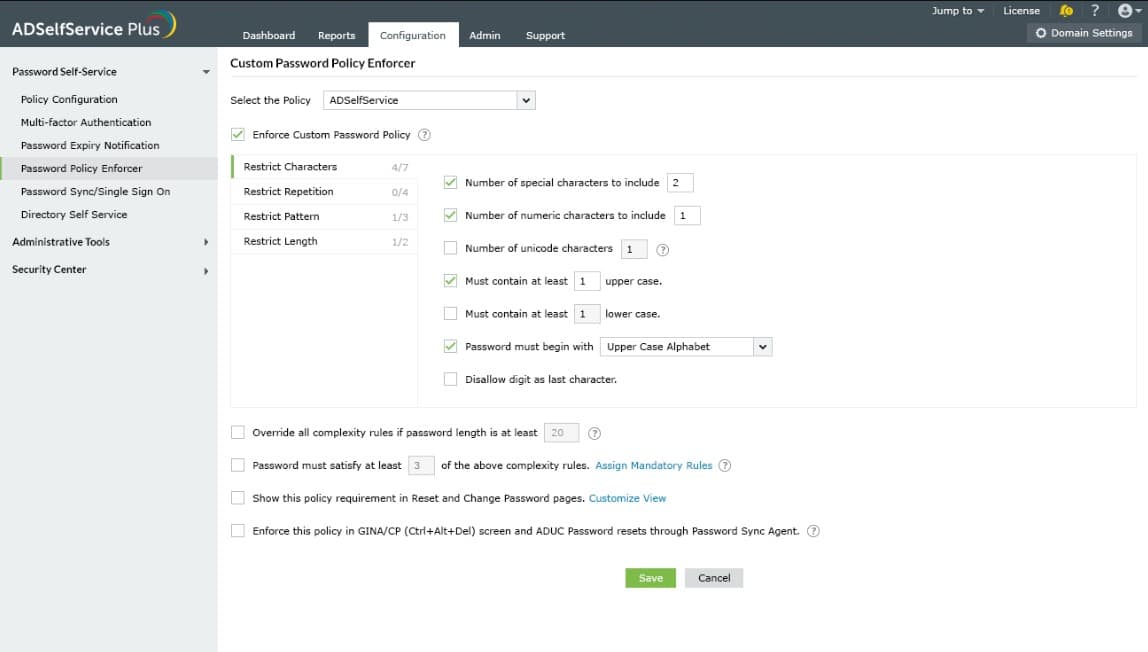 ManageEngine ADSelfService Plus is a comprehensive identity security solution that can help prevent identity-related breaches and achieve Zero Trust.
Key Features:
Identity management and monitoring
Ability to detect and prevent ATO attacks
Wide range of authentication methods
The platform provides a range of features to secure multiple IT resources including identities, machines, and VPN, reduce the burden on IT help desks, empower users with self-service capabilities, and gain 360-degree visibility and control over identities spread across on-premises, cloud, and hybrid environments.
The platform provides self-service password management tools that empower users to reset their Active Directory passwords and unlock their accounts, while enhancing security with stringent password policies. The password management system is easy to use, and it allows remote employees to reset their Active Directory passwords and automatically update cached credentials to ensure uninterrupted work.
ADSelfService Plus also offers Adaptive MFA and Enterprise single sign-on capabilities to improve user experience and eliminate password fatigue. The platform allows end-users to keep their Active Directory attributes, group memberships, and passwords up to date with self-service options.
ADSelfService Plus offers a free edition for up to 50 domain users, as well as Standard and Professional editions with pricing starting at $595 and $1195 respectively for 500 domain users. Additionally, there are add-ons available for purchase such as Endpoint MFA and Failover and Secure Gateway Services.
Pros:
Provides a self-service portal for users to reset their passwords
Integrates with Active Directory for on-premises and cloud systems
Provides a single sign-on environment
Can implement two-factor authentication
Syncs passwords across AD domains
Cons:
Can't manage access for Linux systems
You can get started with a 30-day free trial for both the Standard and Professional editions.
EDITOR'S CHOICE
ManageEngine ADSelfService Plus is our top pick for an enterprise password management solution because it provides all of the mechanisms that modern businesses need to secure user accounts. You can set up a single sign-on system, enforce password security policies and implement two-factor authentication with this package. The self-service portal for users lets them reset their passwords themselves when they forget them. This relieves the Help Desk of a lot of routine calls. This system will also help you manage Active Directory domains and sync accounts and passwords across DCs.
Download: Get a 30-day FREE Trial
Official Site: https://www.manageengine.com/products/self-service-password/download.html
OS: Windows Server, Azure, and AWS
2. N-able Passportal
Passportal is a cloud-based password management service aimed at Managed Service Providers (MSPs). Passportal is ideal for managed service providers and information technology agencies. It is an N-able product that provides cloud-based services and aids in the generation of strong credentials. Additionally, audit trails can be used to trace modifications.
It provides MSPs with privileged client documentation capabilities, which enables technicians to quickly and efficiently provide critical information. Additionally, Passportal offers a completely white-labeled password management-as-a-service solution that you can distribute to your clients.  MSP customers comment on the interactive nature of the interface, which makes it simple to assign passwords and other information to client accounts.
The robust tool includes a variety of templates that streamline processes and knowledge sharing. It is one of the best tools available and has been instrumental in eradicating hacking and data exposure for many years. Furthermore, you can securely share a password between technicians without causing them any stress or anxiety.
N-able Passportal is an excellent choice for MSP customers who require a system to manage all of their clients' passwords, or for MSPs interested in offering password management as a service to their clients.
Pros:
Provides a standardized user interface.
Centralized management of passwords.
Enforced password rotation is supported.
Assists in the generation of strong passwords.
Passportal automates password updates.
Saves time by enabling fast access to client information.
Assists in meeting regulatory requirements.
Cons:
Not advantageous for tiny networks.
Additionally, by using Passportal, your employees will never have to worry about forgetting their passwords. It is an N-able solution that delivers cloud-based services that aid in the generation of strong credentials. Additionally, audit trails can be used to trace modifications.
3. NordPass Enterprise
It is extremely secure, simple to use, widely supported, and less expensive than some other providers. Biometric authorization and optical character recognition (OCR) scanning are two of the features we enjoy the most about NordPass. These features help you save time and make using NordPass a breeze. Another business-oriented feature that makes the platform excellent for enterprises is password sharing.
NordPass is a simple to deploy and manage cloud-based solution, with users having the option of using the Web Vault (which can be accessed from any browser) or downloading the NordPass mobile app for Windows, macOS, Linux, Android, and iOS. Additionally, it provides browser extensions for Chrome, Safari, Edge, and Firefox.
When you need to access your passwords, the encrypted data automatically syncs back to your smartphone, where it must be decrypted using your master password. As indicated previously, NordPass claims to use a zero-knowledge architecture, which means the corporation will never learn your master password and thus will never be able to decrypt your data.
Beyond passwords, NordPass enables users to securely store notes and credit card information in their safe vault. Credit card data can be added in the following formats: title, card number, expiration date, CVC, and zip code. Moreover, there is a dropdown menu for selecting a folder to share with others.
Pros:
It is quite affordable.
Authorization via biometrics.
Scanning using OCR.
End-to-end Encryption using XChaCha20.
Cons:
Inadequate administrative control.
NordPass offers an excellent value proposition and is a compelling password management tool. We would, however, like to see features such as Wi-Fi sharing and enhanced administrator analytics and management.
4. Keeper
They are another excellent password management tool that will assist you in maintaining logins and securing passwords. Enterprise users receive all of the features available to Business users, plus automated team administration, enhanced two-factor authentication capabilities, AD and LDAP syncing, SCIM, email, command line and Azure AD provisioning, and developer APIs.
Dark web monitoring capabilities and password managers ensure that all information linked with the password is kept safe and secure. Additionally, it facilitates third-party audits for increased assurance and data protection. While Keeper allows for the addition of additional passwords, the tool is limited to a single device.
Additionally, you must upgrade to the premium subscription to use some of the software's additional capabilities, including cross-platform synchronization and record sharing.
Pros:
Contributes to team management functions.
Enables the creation of user roles and permissions.
Two-factor authentication is supported.
Reporting tools assist in identifying anomalous activity immediately.
The premium plan provides options for sharing records.
Paid plans provide platform-agnostic synchronization.
Cons:
Monitoring the dark web and storing files requires costly add-ons
Keeper has a wealth of capabilities, making it a perfect alternative for large enterprises with the budget for integrations and modifications. Its business grade is equally suitable for small businesses, but Keeper's biggest features are reserved for companies with deep pockets.
5. Dashlane
Dashlane is loaded with an admirably user-friendly interface, which is always a plus – and, in our opinion, it is sleeker than its primary competitor LastPass in terms of design. It has been a mainstay in the password manager space for many years. It is available for free, but users must upgrade to the paid version to access premium features and sync across all devices.
The free version of the software allows for single-device use. It protects your accounts with 256-bit AES encryption, two-factor authentication, and biometric identification. Besides that, you have the option of adjusting the password length and generating strong passwords.
Dashlane is a household name in password management, and the company offers two business-oriented plans: Team and Business. Both plans include Dashlane's 'best in class security architecture,' which includes AES 256-bit encryption and two-factor authentication. Perhaps the primary disadvantage is that it is not the cheapest password management system available, costing slightly more than LastPass.
Pros:
It includes an integrated password generator.
Cloud-based password storage
Allows for the secure exchange of passwords or notes
Two-factor authentication is supported
Compatibility with biometric authentication
Cons:
Apps may require some fine-tuning
Admins can keep an eye on password security using the latter, but they can't access the staff member's personal account, ensuring privacy. Dashlane's Business plan (which is still in preview) gives customers with premium family accounts and SAML-based single sign-on for simple and convenient logins across numerous accounts.
6. LastPass
LastPass is a web-based password manager. The password management system enables the online storage of protected passwords. It provides an advanced structure and identified navigational links that make performing operations easier for users. The sturdy free version is straightforward and safe, supports bookmarklets, and has a variety of unique features. Furthermore, it is compatible with Microsoft Windows, Mac OS X, and Linux operating systems.
Both tiers include the same basic features, such as dark web monitoring and basic reporting, but if you want the most advanced features given by LastPass, you must not only pay the higher tier, but also an additional cost per seat.
LastPass has an advanced SSO option that removes the business plan's limit of three single sign-on app integrations for an additional $2 per seat per month (it is not accessible at the Teams level at all).
The second optional add-on for Business tier users is "Advanced MFA," which according to LastPass "expands password-less authentication to all endpoints" via a combination of biometric authentication and contextual policies. This add-on charges $3 per month per user for each seat.
LastPass is owned by GoTo, a company that develops remote access and collaboration technologies such as LogMeIn and GoToMeeting. If you're in the market for new tools in that field, pair them with LastPass to save money.
Pros:
Assists in monitoring the dark web
Securely stores all digital records
Payment and shipping information are automatically filled in
The auditing tool enables you to keep track of all logins and attempted logins.
Cons:
Inadequate customer support and unpredictable downtime
LastPass Teams is a stripped-down version of the Business tier, but by enclosing what should be basic security features behind an additional paywall, LastPass may have unintentionally improved their program for SMBs and small teams looking for the essentials.
7. 1Password
1Password is a password management service that caters to both consumers and businesses. The company password management service is centered on employee convenience, security controls, auditing, and simple deployment. The service is comparable to that provided by the majority of cloud-based password managers, with employee passwords securely kept in a vault.
End users can have access to their passwords via a mobile application or browser extension. Additionally, there is an admin site that provides controls and analytics. They store passwords in vaults so that administrators can grant end-users access to access multiple accounts.
1Password is designed to be simple to use for anyone. It integrates with a variety of IAM solutions, and business-tier features such as usage reports, simple GUI policy authoring, and other admin capabilities make it an excellent alternative for both enterprise-level firms and SMBs looking for a low-cost, scalable solution.
Pros:
Authentication using two factors
Dedicated business assistance
Numerous business plan
Additionally, 1Password integrates with Active Directory and Slack, allowing passwords to be securely shared across groups. Additionally, administrators gain access to activity logs and use reports, which provide a holistic view of your organization's security.
8. Bitwarden
Bitwarden is the only open-source option on this list, so if that is a criterion in your decision, you've found the right software. The Bitwarden Password Manager is a market-leading password management solution that enables users to securely manage and control data from any place worldwide. Additionally, the software is cross-platform, supporting Windows, Linux, and macOS. The business edition is offered in two varieties: Teams and Enterprise. The Teams edition requires a minimum of five users. The Enterprise edition, on the other hand, has no such restriction.
As an open-source tool with a lot going on in the background, a self-hosting option, and an MSP program for reselling Bitwarden to clients, it's evident that this is a platform geared toward large organizations with a high level of technical expertise.
Bitwarden is highly customizable, reasonably priced, and provides knowledgeable users with a high degree of control. If you're building something with this much customizability, be sure your team is capable of dealing with all of the potential sites of failure.
Pros:
Passwords can be created and managed from any device or location.
Assists in achieving enterprise-level security and compliance
Obtain End-to-End Encryption
Extremely adaptable
It facilitates self-hosting
Cons:
Only premium subscribers have access to the integrated monitoring tools.
Self-hosting, as well as free family plans and single sign-on integration, are accessible to Enterprise-tier clients. Additionally, both tiers contain an authenticator software and encrypted file attachments up to 1GB.
Final thoughts
Having a strong password for each of your accounts has become critical for any business. Cybercriminals are evolving and developing new techniques for tracking and cracking accounts.
Thus, having password managers enables businesses to safeguard their data and information at all times, regardless of whether data is stored in the cloud or on-premises data centers. The software tools outlined above will ensure that your critical data is protected at all costs.
These robust technologies encrypt all of your accounts and save your data securely. Consider the password management solutions discussed above and weigh their advantages and disadvantages before making a purchase.