The majority of businesses are now shifting to digital platforms to take advantage of technological advancements and expand their reach and efficiency. Enterprises can manage and grow their businesses more effectively thanks to the cloud's ability to interact with numerous networks regularly. But several cloud-based cybersecurity issues need a cloud-based system to be safe.
There are now Cloud Security Posture Management (CSPM) tools available on the market for identifying compliance issues in the cloud architecture. CSPM products, their features, relevance, and considerations for purchasing IT security technologies for the enterprise will be discussed here. The top CSPM tools on the market have also been selected for your company's benefit.
What are Cloud Workload Security Platforms (CWSP)?
CWSP tools enable enterprises to identify and remediate security compliance issues via automated monitoring and assessments. They keep an eye out for both incorrectly implemented rules and incorrectly configured cloud apps, containers, infrastructure, and services. Anomalies and misconfigurations may be automatically fixed by CWSP tools, which are triggered by administrator-defined rules.
Security posture monitoring (CWSP) is the only tool that provides continuous monitoring and visibility of security posture across heterogeneous computing environments while providing automated detection and remediation of issues.  CWSP tools are the only ones that can provide this level of automation across a wide range of platforms.
Why do we need Cloud Workload Security Platforms (CWSP)?
With the help of CWSP, one may protect the cloud environment and limit the risk of data breaches in a cloud environment.
Every day, a cloud makes connections to a variety of different networks. Cyberattacks are more likely as a result of this. As a result, cloud-based systems should be protected and secured by CWSP tools. Multi-cloud visibility is made possible by security technologies, which shield data from unintentional vulnerability or setup errors. It is also possible to scan and analyze the surroundings in real-time and find concealed risks. In addition, it reduces false positives, i.e., artificial intelligence's alert fatigue.
Things to remember before choosing Cloud Workload Security Platforms (CWSP)
A CWSP tool must be chosen based on several factors:
The company's demand Evaluate your needs in light of the company's priorities and identify the most pressing issues. Don't rush into investing in new technology without thoroughly considering the security risks of your firm and the cloud environment. Go over a variety of options before deciding on the best one for your organization.
Check out the Extraordinary Features  Advanced features such as monitoring capabilities and automatic setups must be taken into account when selecting a solution for your firm.
Price Information Keep in mind your spending limit at all times. Online, you'll find a wide range of tools with a wide range of functions for a low price. An investment in an affordable tool with similar features is preferable to an investment in an expensive tool with the same features. Don't rush into deciding before you've looked at the plans and price of all the options.
Access to the Free Trial Session  Many tools offer free trial features that include all of the resources needed to begin the task. It's best to look for these tools and see if the members of the team think they're adequate before starting the procedure. It can also help you evaluate the tool and switch if necessary.
The Best CWSP Tools
The following are some of the most common CWSPW tools, which may be used by both small and large enterprises.
1. Datadog
 
Datadog's monitoring software may be implemented on-premises or as a cloud service (SaaS) as one of the top CWSP tools. Datadog is available for Windows, Linux, and macOS X users alike to download and use. It is supported by cloud service providers such as Amazon Web Services (AWS), Microsoft Azure, Red Hat OpenShift, and Google Cloud Platform.
Its prominent characteristics include:
One-stop-shop for IT/DevOps team infrastructure (including servers, apps, metrics, and other services)
Dashboards that may be rearranged and redesigned
Messages are sent out in response to critical issues
More than 250 product integrations are supported
Automated collection and evaluation of event logs, latency, error rates, and other metrics
It allows you to use the API's functionality
Java, Python, PHP, .NET, Go, Node, and Ruby-based applications are also supported
Its agent is developed in Go and its backend consists of Apache Cassandra, PostgreSQL, and Kafka. Datadog connects to a wide range of services, tools, and programming languages through a Rest Application Programming Interface (API).
Integrations with Chef, Puppet, Ansible, Ubuntu, and Bitbucket are just a few of the possibilities. Dashboards may be configured to show graphs based on data from several sources in real-time. Datadog may also alert customers when a collection of KPIs, such as compute rates, is experiencing performance issues.
Website link: https://www.datadoghq.com/product/security-platform/cloud-workload-security/
2. CrowdStrike Horizon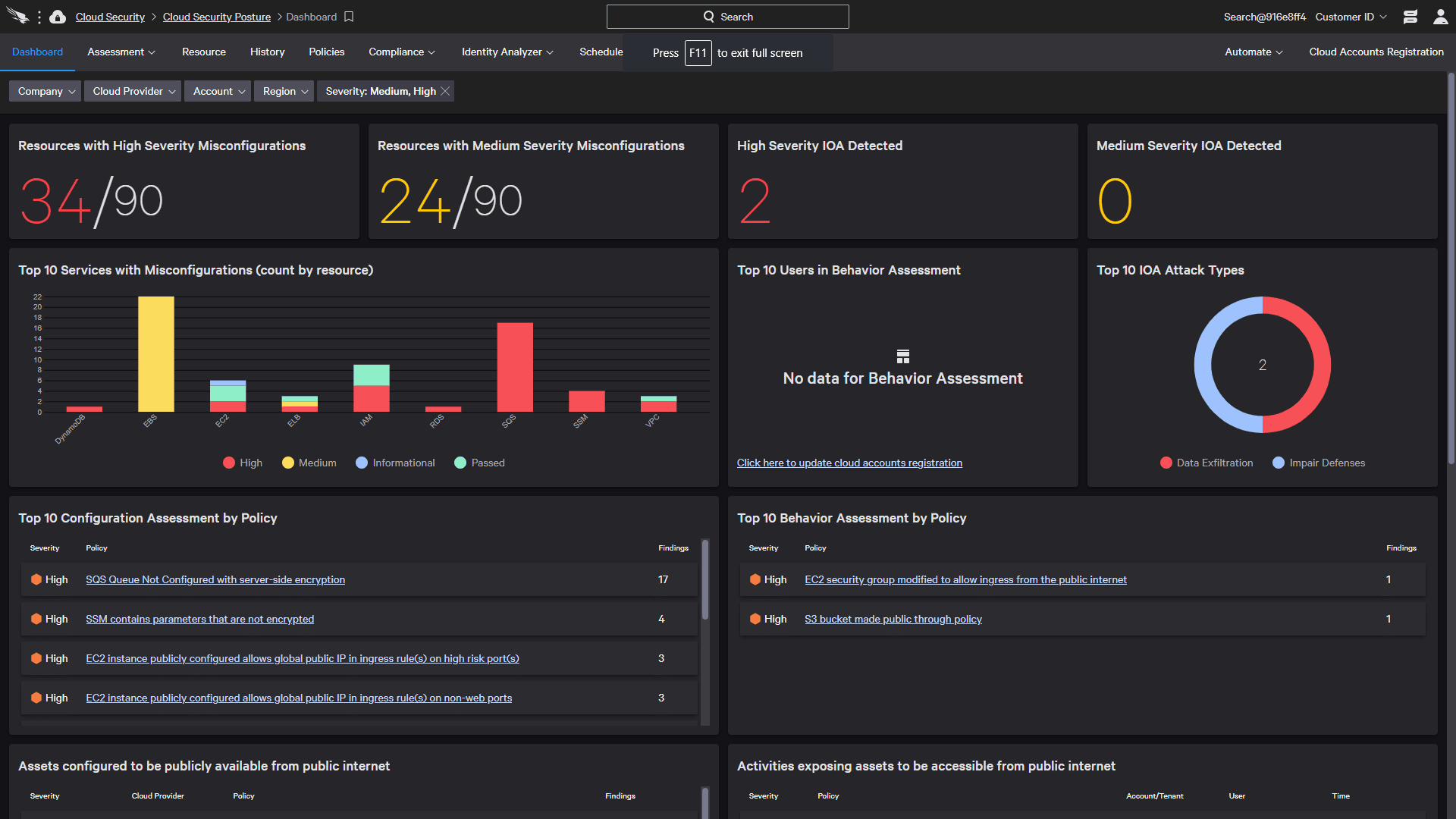 It's an agentless cloud-native Defense that constantly checks your environment for errors. CrowdStrike Horizon Agentless helps to eliminate security omissions. CrowdStrike Falcon Horizon delivers a single source of truth for cloud resources, providing you a complete insight into a multi-cloud environment.
Its prominent characteristics include:
Constant and intelligent monitoring of cloud resources to uncover errors and dangers before they become an issue.
Secure cloud application deployment with greater speed and efficiency.
Unified visibility and control across many cloud environments.
Security problems are handled in a step-by-step manner.
For developers, guardrails are a way to keep them from making expensive errors.
Targeted threat detection is designed to minimize alarm fatigue.
The integration with SIEM solutions is seamless.
The facts and insights you get about your overall security posture are complemented by suggestions on how to prevent future security concerns.
Website link: https://www.crowdstrike.com/cloud-security-products/falcon-horizon-cspm/
3. CloudGuard's Posture Management 
API-based agentless SaaS platform CloudGuard Posture Management optimizes administration across multi-cloud assets as part of the CloudGuard Cloud-Native Security Platform. Misconfiguration detection, security posture assessment, and visualization are some of the services provided, as are the implementation of security best practices and compliance frameworks.
Its prominent characteristics include:
CloudGuard Posture Management enables users to apply gold standard criteria across projects, accounts, virtual networks, and geographies. Users may view their security posture and target, prioritize, and automatically fix problems.
CloudGuard Posture Management ensures that users automatically adhere to regulatory requirements and security best practices. Users are constantly informed of their security and compliance status through comprehensive reporting.
Privileged identity protection, based on Identity Access Management (IAM) roles and users, allows users to prevent unauthorized access to critical activities. CloudGuard Posture Management conducts frequent audits of IAM users and roles to look for anomalies.
Website link: https://www.checkpoint.com/cloudguard/cloud-security-posture-management/
4. Lacework
Data-driven cloud security platform Lacework automates cloud security at scale, enabling customers to innovate quickly and safely. Lacework gathers, analyses, and correlates data across an organization's Kubernetes, AWS, Azure, and GCP systems with pinpoint precision, and then distills it down to a few important security events. Its automatic detection of intrusions, security visibility, one-click investigation, and easy cloud compliance sets Lacework apart from its rivals.
Its prominent characteristics include:
Lacework alerts enterprises to any changes to rules, roles, or accounts, and notifies them of any new action. It does this by detecting new activity, documenting changes, and alerting users.
Lacework discovers IAM issues, checks for logging best practices monitors essential account actions such as illegal API requests, and maintains safe network setups to ensure that users aren't missing anything.
Lacework users may maintain their compliance and security up to date with a daily re-audit. Unusual actions are accounted for in lacework analysis, regardless of whether they are legal or illegal.
Website link: https://www.lacework.com/
5. Fugue
Security and compliance platform Fugue safeguards the whole development lifecycle with a uniform policy engine backed by the Open Policy Agent (OPA). Security and cloud engineering teams have greater confidence in cloud security because of Fugue, enabling them to operate more effectively and efficiently. Security checks on CloudFormation, AWS, Kubernetes manifests, and docker files can be performed using Fugue and actionable remedial feedback may be sent using developer-friendly interfaces.
Its prominent characteristics include:
Open-source policy engine Fugue enables organizations to implement compliance and security policies across the software development lifecycle.
Fugue's resource data engine delivers extensive visualization and reporting capabilities by continually capturing snapshots of client cloud settings to record detailed cloud resource configurations, connections, characteristics, and drift.
Fugue's Regula policy engine lets clients safeguard their CloudFormation and Terraform IAC at every stage of development and deployment.
Website link: https://www.fugue.co/
6. Threat Stack
Through the integration of development, security, and operations in to a single, observable platform, Threat Stack Cloud Security Platform improves user productivity. Observability may be found in the cloud management dashboard, containers, hosts, orchestration, and serverless layers. Using Threat Stack, organizations can identify known threats at scale and immediately discover abnormalities in their computer systems.
Its prominent characteristics include:
Threat Stack CWSP uses AWS CloudTrail data to notify customers of changes made, such as instances being created in unused regions.
Threat Stack's approach to IAM rules involves monitoring your AWS accounts to verify that users are adhering to the regulations, such as root access and password requirements.
Visibility allows users to examine an inventory of servers and instances in many AWS accounts. They may also be able to view vital information such as the ID, IP, area, kind, and so on.
Threat Stack gathers data from a wide range of AWS profiles by scanning setups across the major AWS services.
Website link: https://www.threatstack.com/
7. Trend Micro Hybrid cloud security solution 
Security for cloud architects is the focus of the Trend Micro Hybrid Cloud Security Solution. With this solution, customers can easily protect their cloud infrastructure with a single, integrated platform. Because of the cloud's security, clients may take advantage of its advantages and efficiency. It's not only cloud platforms that Trend Micro Hybrid supports, but also DevOps processes and toolchains.
Its prominent characteristics include:
While covering the network layer, Trend Micro Hybrid Cloud automates the detection and protection of cloud environments and provides easy and scalable cloud security throughout migration and growth.
Security for your cloud services is made easier with Trend Micro Cloud One's application-aware protection that keeps up with the latest development methodologies and technologies.
Website link: https://www.trendmicro.com/en_us/business/products/hybrid-cloud.html
8. BMC Helix Cloud Security
Using BMC Helix Cloud Security, services like Infrastructure as a Service (IaaS) and Platform as Service (PaaS) can be set up securely and consistently, with an audit trail, without the need for any scripting. Improved control and reduced risk are achieved by integrating compliance and security testing into the service delivery and cloud operations of BMC Helix Cloud Security.
Its prominent characteristics include:
BMC Helix Cloud Security simplifies the administration of cloud security posture for customers that utilize Center for Internet Security (CIS) rules for cloud assets.
The software's self-driving remediation, automated remediation through an intuitive user interface, and customized remediation assistance all simplify the repair process for end-users. users.
CIS, GDPR, and PCI are just a few of the regulations that BMC Helix Cloud Security adheres to. BMC Helix also supports the creation of custom policies.
Website link: https://www.bmc.com/it-solutions/bmc-helix-cloud-security.html
Conclusion
CWSP is a robust set of tools for securing your cloud data and identifying and resolving problems in various cloud infrastructures due to incorrect configuration. As more and more individuals migrate to the cloud, the need for effective security technologies has grown.
This is where CWSP tools are put to use. Compliant risk detection, risk visualization, and risk assessment capabilities are all provided by these software applications. In addition, they provide alert systems that keep cloud customers up to date on attacks and other security concerns they may be exposed to.
With these tools, administrators can execute instance scanning for misconfigurations, maintain consistency across all cloud environments, monitor storage buckets, and conduct risk assessments. DataDog, a famous and highly regarded CWSP tool, has also been featured in this blog post, which can be quite valuable for cloud security. CWSP tools allow you to see and secure your whole cloud infrastructure. You can choose from a large variety of security products and compare their characteristics before making a decision.