Microsoft Azure is one of the leading cloud computing services today. And as its popularity continues to rise – it has over 6000 services and more than 700 million users at present – the need for monitoring tools to make sure the users get an optimal return on their investments also continues to grow. It is towards this end that administrators are always on the lookout for the best Azure monitoring tools.
In this post, we will have a look at eight of the best of these tools on the market today. Although we will be looking into each one in detail, below is a list with a brief description of each of these tools.
Here's our list of the nine best Azure Monitoring Tools:
SolarWinds Server & Application Monitor (FREE TRIAL) The complete tool for administrators looking to take complete control of their Azure installation; it easily integrates with other great products for a more complete and detailed analysis – agentless installation makes it tiny and yet able to monitor complex architectures in minute details. Start a 30-day free trial.
Serverless360 Azure Monitoring

(FREE TRIAL)

This cloud management platform for Azure allows you to group services into applications, map their dependencies, and use distributed tracing to monitor their performance. The system also includes an Azure resource usage tracker for bill checking. Offered as a SaaS package or as a privately hosted Azure service. Start a 15-day free trial.
Site24x7 Azure Monitoring

(FREE TRIAL)

A package of system monitors that covers servers, servers, and applications. This includes cloud monitoring for platforms such as Azure. This is a SaaS system. Start a 30-day free trial.
Paessler PRTG Network Monitor (FREE TRIAL) A collection of powerful Azure monitoring systems for networks, servers, and applications; this tool is further enhanced with the collaboration of other powerful partners' tools to deliver accurate real-time information about the whole cloud stack.
AppDynamics Application Performance Monitoring (APM) The solution for managing an enterprise Azure cloud stack – from the end-user in front to the database servers in the back – it comes with automatic discovery that analyzes business transactions for better insight into UX.
Datadog A natively embedded tool for Azure portal where it can build streamlined experiences for purchasing, configuring, and managing it directly from inside the portal; an ideal choice for DevOps teams.
LogicMonitor A SaaS monitoring service for monitoring Azure infrastructure, services, applications, and other resources –regardless if they are running in an on-premises, cloud, or hybrid cloud architecture.
Sumo Logic Azure Management A tool that supports Azure apps, services, and complex hybrid architectures. It is a tool that integrates with other popular tools. It can monitor Office 365, Kubernetes, and more – a very "friendly" monitor indeed.
Dynatrace Azure Monitoring Advanced observability for the entire stack, once it is automatically deployed it discovers all assets – hardnai – and software – in the entire cloud stack; it uses AI to set and monitor baselines and performances.
What about Microsoft's Azure Monitor?
Let's not forget that Microsoft has Azure Monitor – its own native monitoring tool. You may also have noticed that it is not included in the list above.
So, let's have a look at it first.
Azure Monitor helps administrators achieve optimal availability and performance of the services and applications on the cloud platform. It collects data from all over a cloud (or hybrid) domain to make it easy for administrators to analyze, and act on, events that may cause issues – both in the present and in the future.
This data that is collected from sources like user activity, applications, and operating systems is of two main types:
Metrics – the lightweight numerical values that represent an aspect of a system at a particular point in time and that can be presented in near real-time.
Logs – records containing types of data that are grouped into different sets of properties; for example, events and traces can be stored as logs that are then retrieved for analysis.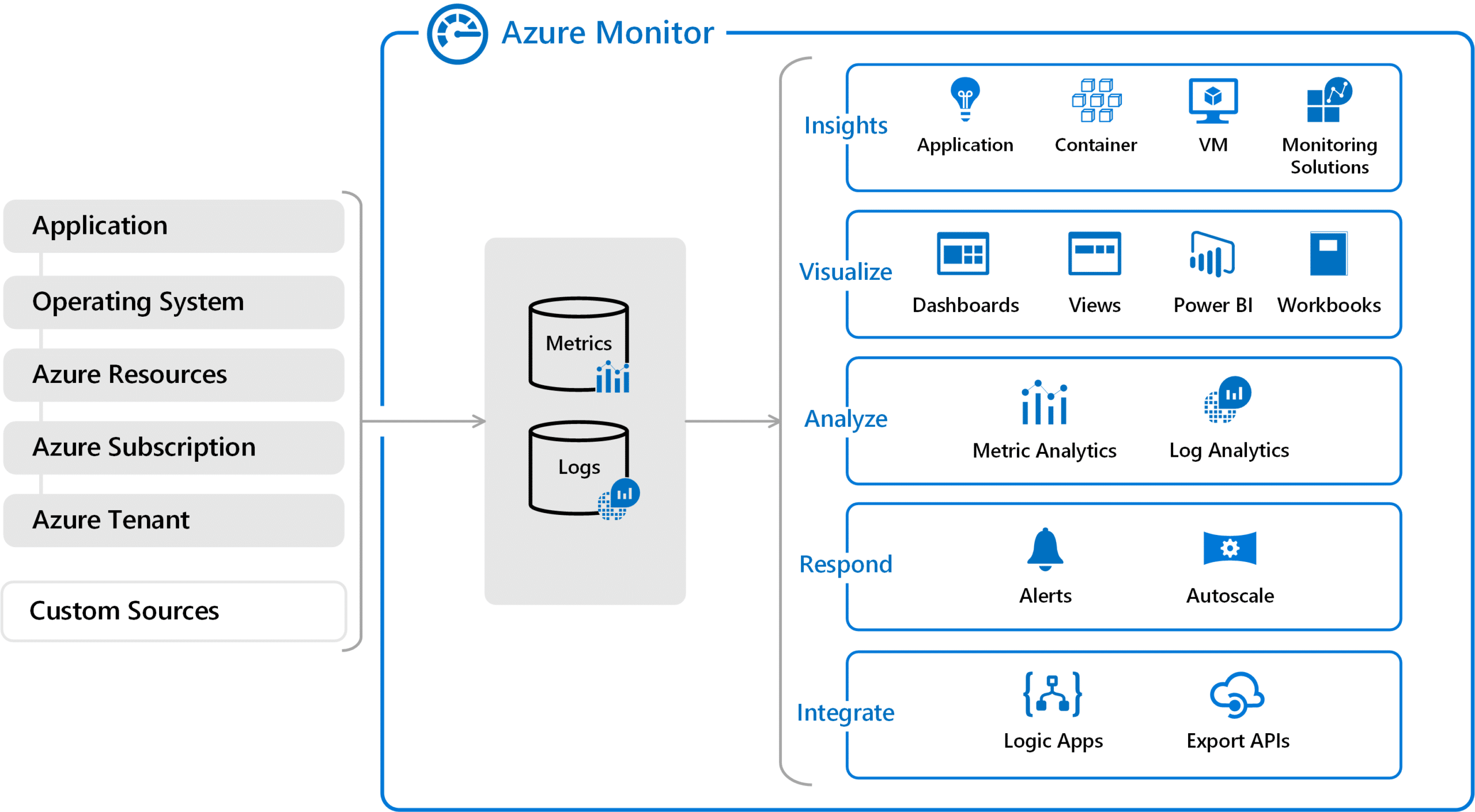 Here are some more features of Azure Monitor:
Application Insights detects and diagnoses issues across applications and dependencies.
It can correlate infrastructure issues with VM insights and container insights.
It has smart alerts which can be coupled with automated actions in response.
It was made for the platform by the platform makers meaning administrators don't face an uphill battle when configuring, running, and troubleshooting it – it integrates well into Azure.
As you can see, this is an effective tool that is capable enough in its own rights, and could even meet all your requirements.
And if it works for you, that is all well and good.
But, we think you should know that there are options out there and some of them might even impress you enough with their additional features and extended capabilities that make them easier to work on wider network architectures, with customized configurations, for example, because they cover scopes that are complex and larger.
Try Microsoft Azure for FREE for 12 months.
How do we define an Azure monitoring tool?
We can define Azure monitoring tools as:
Azure monitoring tools are software solutions that assist in the different aspects of managing and monitoring the cloud infrastructure, software, services, and applications that are offered by Microsoft as part of Azure – their cloud computing services.
Of course, as we have just seen, these monitoring tools can be products from either Microsoft itself or a number of other, third-party solutions providers.
Once installed, the Azure monitoring tools help administrators detect, troubleshoot, and resolve issues across the whole cloud computing stack covering applications, VMs, containers, and everything else residing or connected to the platform.
Meanwhile, their data logging and reporting features help preserve the history of every event that occurred in any part of the cloud service – or beyond – which also helps in forensic data analysis.
What type of data do Azure monitoring tools track?
These tools keep track of data that includes:
Application data – data regarding the performance and functionality of code.
Azure resource data – data related to the operation of an Azure resource.
Azure tenant data – data about the operation of tenant-level Azure services.
Azure subscription data – data concerning the operation and management of Azure subscriptions.
Virtual machine and cloud services data – system data and logging data on VMs.
Application insight data – that is related to Application Performance Monitoring (APM).
Azure Active Directory reporting data – data regarding users' sign-in and system activities.
Activity logs – data collected on operations performed on resources.
Network security logs – data on traffic flowing through a network.
The best Azure monitoring tools
SolarWinds Server & Application Monitor (SAM) is the tool for a complete performance monitoring of an Azure environment – including all applications and infrastructures involved – be it in the cloud, on-premises or in a hybrid setup. It comes with both agent and agentless monitoring capabilities.
A single dashboard gives insights into systems, applications, and infrastructure performance, again, regardless of where they reside.
The tool's monitoring can be divided into two broad categories:
Azure PaaS monitoring – performance monitoring for PaaS services such as App Service, Event Hubs, and SQL Database.
SAM is designed to monitor, trend, and correlate key Azure services and metrics for many Microsoft software products, such as Windows, Office 365, Exchange, and SQL Server. It also monitors critical Azure components such as CPU, memory, requests, response times, and more for your dynamic Azure workloads.
Azure IaaS monitoring – monitor and track the performance for IaaS services such as virtual machines (VMs) and Kubernetes.
SAM has auto-discovery capabilities to ensure any Azure VM or container starts being monitored as soon as it is created. It also monitors network communication between the VMs themselves, or with other applications, and visualizes it in dynamic maps.
More features from SAM include:
The tool offers dynamic baselining and alerting which helps set the performance "normal" that can then be used as a minimal expected performance level.
Administrators can view and correlate infrastructure metrics in regards to application performance for a comparative outlook of their Azure architecture's health.
They can also view the history of Azure performance over time to help ensure service delivery in the future while also monitoring the current Azure region, configuration, and security details to guarantee optimal performance in the present.
You can try a fully functional SolarWinds Server & Applications Manager (SAM) through a 30-day free trial.
SolarWinds Server & Applications Manager Download a 30-day FREE Trial
Serverless360 is a package of operational tools for monitoring Azure services. The system can define logical applications, which are based on groups of Azure services. This simplifies their monitoring because Azure provides separate streams of statistics for each of its services. The dashboard for this Business Applications service shows live performance data for each logical application as if it really was a single unit.
The logical applications will be included in an application dependency map so that you can identify the services and resources that feed into them and the applications that use their services. This map makes root cause analysis easier in case performance issues arise.
The Business Activity Monitoring tool in the Serverless360 platform implements distributed tracing. This watches each of your business processes as they activate leading applications and then continues to follow activity as each supporting application and service gets triggered. This system provides live performance displays in the Serverless360 dashboard and also writes to log files, which can be queried in the event of a problem.
The system administrator can set expectation thresholds on each of the metrics that the Serverless360 system provides. If one of those levels gets crossed, the Serverless360 monitor generates an alert. The system alerts can be forwarded to key technicians by Slack, PagerDuty, Webhook, or Microsoft Teams.
The third module in the Serverless360 platform is the Azure Documenter. This tracks the utilization of resources in each Azure account. The package produces a summary of activity at the end of each day, and this can be used to check Azure invoices for metered services.
The Serverless360 system is available as a SaaS platform. It is also possible to install the package on your own servers to run as a virtual appliance. Another option available is to get each module as a service within your Azure account. In terms of pricing, the Business Application Monitoring and Management module starts at $150 month, the Business Activity Monitoring end-to-end distributed tracing module (BAM) starts at $300 per month, and the Azure Documenter starts at $49 per month. All modules are billed annually. You can learn more about Serverless360 with a free demo. You can also start a 15-day free trial.
Serverless360 Azure Monitoring Start a 15-day FREE Trial
Site24x7 Azure Monitoring is part of a cloud-based infrastructure package that checks on the functions of all of the software that supports user-facing interfaces. This includes virtualizations and cloud platforms. The Azure monitor in Site24x7 Infrastructure will keep track of the performance of the services that you subscribe to on Azure as well as the operating system of the platform. The Site24x7 system is also able to monitor AWS, Google Cloud Platform, and Microsoft Office cloud servers.
The notable features of the Site24x7 Azure monitoring system are:
A monitoring service for more than 100 native Azure services including the Apps, containers, databases, and storage management systems that will be implementing the various services that you subscribe to on Azure.
A tracking system that identifies the root cause of poor performance or errors in your front-end apps by chaining back through the dependencies to the real resources that are failing.
A system of alerts that will notify technicians if service errors on Azure are identified. This means that your IT operations team can leave the monitoring to Site24x7 knowing that they will be notified if problems arise.
An AI-based detection system that is able to spot combinations of processes that spell trouble. The monitor spots when resources are locked and processes are hanging and works out why.
Automated remediation actions can be set up to ensure that problems are dealt with even when all of the technicians are out of the office. Standard maintenance actions can also be taken care of with out-of-hours automated processes.
A Site24x7 can be set up to provide a multi-tenancy structure, suitable for the needs of managed service providers, keeping the data and operations of each client completely separate.
Site24x7 Infrastructure is offered as a base package, called Starter, which can be built upon with add-on services, which are paid extras. There is a free version, which will just monitor the uptime of up to five servers or URLs.
Get started with a 30-day free trial .
Site24x7 Azure Monitoring Start 30-day FREE Trial
With the PRTG Network Monitor from Paessler, we get a collection of monitoring systems for networks, servers, and applications that reside on cloud platforms like Azure. It is used to monitor network devices, bandwidth, servers, applications, virtual environments, remote systems, IoT, and much more.
Getting started or switching from another network monitoring tool is easy thanks to the PRTG auto-discovery and pre-configured device templates.  Once installed on Windows Server it gets to work:
It provides a comprehensive overview of an organization's entire Azure infrastructure through a centralized, customizable dashboard.
PRTG makes sure Microsoft Azure virtual machines are up and running around the clock.
Its Microsoft Azure Virtual Machine Sensor monitors the status of each VM and displays CPU usage – as well as used and remaining CPU credits.
Paessler's partner AutomonX offers a pack of 18 Azure sensors for PRTG which also collects relevant metric values and information and reports back to PRTG and provides custom error limits in a form that is understandable by the EXE/Script Advanced Sensor.
In case of issues, it can be configured to give prompt alerts – administrators simply define threshold values and then choose how they want to receive alerts: via SMS, email, or push notification.
Also, with its full integration with Microsoft Azure and Martello iQ, all Azure resources are tracked and their performance or availability is viewable in one dashboard.
Download an unlimited 30-day free version of Paessler PRTG Network Monitor (after 30 days, the tool reverts to a free version).
Paessler PRTG Network Monitor Download a 30-day FREE Trial
The Application Performance Monitoring (APM) tool is AppDynamics' solution for managing an enterprise Azure cloud stack – from the end-user in front to the database servers in the back.
Administrators can use APM to track and identify – and then troubleshoot and resolve – any performance issues in applications as well as services like Azure Cloud Services, Microsoft Azure Queue, Microsoft Azure Remote Services, VMs, and Microsoft SQL Server instances.
Some more features from APM:
It automatically discovers, maps, and visualizes the topology and performance of production applications running inside Azure.
This allows organizations to understand the application tiers, roles, and service dependencies inside the Azure cloud so they can rapidly isolate any components that are responsible for slow performance or poor QoS.
Administrators can migrate their applications to Azure faster with the help of automatically generated application topology maps, business correlation, resource utilization tracking, and the ability to compare pre- and post-migration benefits.
AI-powered problem identification and root cause analytics allow for fast, accurate, and efficient monitoring and troubleshooting of applications, clusters, and the core cloud infrastructure.
Admins can optimize applications in Azure with business performance monitoring; this gives a clear, understandable correlation between the quality of performance with the end users' experiences for speedy mean time to recovery or mean time to restore (MTTR).
In fact, a point that needs to be mentioned here about AppDynamics production monitoring is that the key unit of measurement is business transactions. It can auto-discover business transactions that end users are experiencing in the application giving a better insight into UX as well as understanding how transactions flow across, and inside, each application tier, role, and service.
Start a 14-day FREE  trial of AppDynamics Application Performance Monitoring (APM).
Thanks to its partnership with Microsoft, Datadog can be natively embedded in the Azure portal. This allows the tool to build streamlined experiences for purchasing, configuring, and managing it directly from inside the portal.
As for the tool itself, it is a monitoring and analytics tool that can be used to determine performance metrics as well as event monitoring for the Azure infrastructure as a whole. And it is because it can monitor services such as servers, databases, and applications in particular that Datadog is useful to DevOps teams.
Looking at even more features:
Datadog Application Performance Monitoring (APM) provides tools to collect, search, and analyze traces across fully distributed architectures. It can monitor containers, cloud instances, and more in on-premises as well as hybrid architectures.
It provides functionalities to isolate the services that interact with the applications of interest for the investigation of service disruptions.
Datadog reports and dashboards let administrators drill down on performance metrics, by using any required tag, for better in-depth understanding and analysis.
Advanced dashboards make it easy to monitor alerts and troubleshoot the issues that caused them to begin with.
Administrators can get metrics from VMs with or without installing Agents.
Datadog collects and correlates all the data streaming in from these complex environments and makes sense of it all with extensive support for over 40 Azure services via easy-to-install integrations.
Downolad a 14-day FREE of Datadog.
The LogicMonitor Azure Monitoring tool is offered as a Software-As-a-Service-based (SaaS) automated monitoring service. The tool focuses on the infrastructure and application performance of Azure resources –regardless if it is running on-premises, in the cloud, or on hybrid cloud architecture.
The LM Exchange is a central repository for LogicMonitor's growing collection of technology integrations. These integrations, or LogicModules, are templates and instructions that tell the system what data to collect, how to collect it, how to show it, and how to alert on it. With over 2,000 pre-built integrations covering AWS, Cisco, Microsoft, and more, LM Exchange makes it easy to find, customize, update, and share out-of-the-box templates.
This visibility is achieved with a cloud monitoring strategy that includes the three components critical to measuring the overall health of cloud infrastructures:
Resource Performance Monitoring – tracking various Azure components to make sure they run efficiently
Azure Availability Monitoring – ensuring high uptimes for the whole cloud infrastructure
ROI Monitoring – check and balancing investment in the platform for optimal ROI
The tool makes migrations to the cloud more manageable and cost-effective with LM Cloud's complete cloud monitoring strategy.
There's more:
Administrators get instant visibility into their cloud deployment with automatic discovery of resources across regions, services, and accounts; they are the first to know of Azure availability issues that may impact services.
It eliminates gaps in monitoring with out-of-the-box application and OS-level metrics that complement data collected via its Azure Monitor.
The tool visualizes the health of an Azure cloud deployment with automated dashboards and reports.
What is impressive about LogicMonitor is that it helps with the financial cost-benefit analysis of an Azure installation, as a whole, by monitoring and analyzing the overall cost of subscriptions, services, operations, and much more. This means administrators will never be caught by surprise when it comes to settling their bills.
Try LogicMonitor FREE for 14 days.
Administrators using Sumo Logic Azure Management can expect a tool that supports Azure apps, services, and complex hybrid architectures. It is a tool that integrates with other popular tools. In fact, it integrates – quite effectively – with services like Azure Monitor, Event Hub, Azure Audit, Network Inspector, SQL, Active Directory, and more.
This, coupled with the fact that Sumo Logic Azure Management uses machine-learning for correlating issues, errors, and failures to detect patterns – helps in identifying and resolving root causes.
The tool gives a full insight into business tools with support for Microsoft Office 365, including monitoring and analysis of Office 365 audit logs. It also has native integrations for Kubernetes, Docker, Azure AKS, as well as other Azure functions.
In addition, Sumo Logic Azure Management also has dedicated apps that help with the smooth running of an Azure deployment which include:
Azure Audit – sifts through Microsoft Azure Audit Logs and Active Directory information which helps in spotting threats and suspicious activity in real-time.
Azure Web Apps – monitors the performance of web applications with the help of data from the Azure web server and application diagnostic logs that is then converted into real-time
Azure SQL – keeps an eye on the health and performance of Azure SQL Databases.
What stands out with Sumo Logic Azure Management is perhaps the fact that administrators can satisfy local data sovereignty and privacy requirements with Sumo Logic's global deployments that include locations in Europe, Asia, and the U.S.
Start a FREE trial of Sumo Logic Azure Management.
Dynatrace Azure Monitoring offers advanced observability for the entire stack of the Azure infrastructure. Administrators get insights into their installation's traces, metrics, and logs.
Once the tool has found an asset via auto-discovery – which is a non-stop process to ensure the architecture map is up-to-date at all times – it goes on to automatically monitor Azure cloud services like App Service, Database Performance, AKS, HDInsight, and more.
There are even more features from this tool:
Hit the ground running – its automated deployment ensures total coverage across all Azure applications and the infrastructure they sit on without manual deployment, configuration, or updates necessary.
Administrators can achieve visibility into every part of their Azure installation – at the level of hosts, VMs, containers and orchestration, network, devices, logs, events, and more – with the help of AI-assisted issue tracking.
This AI – called "Davis" – continuously analyzes billions of dependencies to provide precise root cause analysis allowing resolutions to occur in mere minutes, and before any negative impacts occur.
Davis continuously baselines performance and adapts as the environment changes; it offers deeper insights as it automatically captures transactions across the stack – from server to the code level.
This Azure monitoring tool serves as a single, reliable source of mission-critical performance data that administrators find to be crucial as they try to manage their cloud service single-handedly or collaboratively as a team.
The clear, accurate feedback and information administrators receive paints a complete picture of any issue so they can focus on quick resolution instead of panicking – even if there is a major crisis.
Try Dynatrace Azure Monitoring FREE for 15 days.
Which Azure monitoring tool is right for you?
We have come to the end of our post on the eight best Azure monitoring tools. We hope you have found the information useful. If you think we have missed an Azure monitoring tool please, let us know about it. Leave us a comment below.